Pope to Anglican head: "New and serious difficulties have arisen on the path to unity"
In comments universally seen as critical of the Episcopal Church USA's confirmation of a gay bishop, Pope John Paul II Saturday warned Archbishop Rowan Williams that ecumenical efforts between the two leaders' churches were in danger.
"As we give thanks for the progress that has already been made we must also recognize that new and serious difficulties have arisen on the path to unity," the Pope said.
These difficulties are not all of a merely disciplinary nature; some extend to essential matters of faith and morals. In light of this, we must reaffirm our obligation to listen attentively and honestly to the voice of Christ as it comes to us through the Gospel and the Church's Apostolic Tradition. Faced with the increasing secularism of today's world, the Church must ensure that the deposit of faith is proclaimed in its integrity and preserved from erroneous and misguided interpretations. …
The world needs the witness of our unity, rooted in our common love for and obedience to Christ and his Gospel. It is fidelity to Christ which compels us to continue to search for full visible unity and to find appropriate ways of engaging, whenever possible, in common witness and mission.
These comments came during the public portion of the two leaders' meeting. Privately, the two men met for only 10 minutes, but a papal aide told Reuters that the pontiff began by asking directly about "the situation in your church."
(In a surprise act, after the Williams kissed the Pope's ring, the Pope returned the act, kissing a ring that Pope Paul VI had given to former Archbishop of Canterbury Michael Ramsey.)
Cardinal Walter Kasper, who heads the Vatican's council on ecumenism, was even more direct than the Pope. "Until recently, one could state with relative confidence that Catholics and Anglicans shared the same moral principles regarding human sexuality," he said. "We hope that it will remain so, for the world today needs our common witness." The Anglican Communion's approval of gay priests, Kasper said, "concerns us not a little. … Such decisions, depending on how the situation is resolved, could cause new problems in our relations."
In his comments with the Pope, Williams spoke only vaguely of "possibilities and challenges of our way forward together," but was more direct during a press conference after the meeting.
"We are conscious of the ecumenical implications of what has been done. We shall need to consider them very carefully," he said. "In these days [at the Vatican] we have listened hard to what has been said to us. … I hope that none of what we have achieved over these many years of friendship will be lost."
Among news coverage Weblog has seen, only The Daily Telegraph picked up on comments by Williams that suggest he's willing to crack down on the Episcopal Church USA.
"Very few primates" want to see the Anglican Communion split, Williams said.
But if it is not to, we have a good deal of work to do to find the right mechanisms, the right language, to hold this without fudging the questions about boundaries which we are certainly facing.
The biggest challenge before us as primates is to find two things. One is a clear sense of the limits of what the Communion can stand at any one moment—the obvious difficulty created by one province moving in a different direction.
And secondly, how we actually make real a sense of responsibility to one another and therefore some mechanisms for better decision-making in common.
"His remarks will dismay liberals who had seen him as their champion, and suggest that he hopes to avoid making any final decisions at the meeting [of Anglican primates] at Lambeth Palace on Oct 15 and 16," the Telegraph's Jonathan Petre rightly notes. "He could propose a subcommittee of primates to study various options, reporting to the next meeting of the Anglican Consultative Council, which could be held as early as next year. This approach may not, however, appeal to the hardline conservatives, who want the American Episcopal Church expelled … and are threatening to walk out of the Anglican Communion if Dr. Williams does not take urgent action."
Meanwhile, orthodox Anglicans continue to worry about reported plans to limit the debate at the primates meeting. If you missed it, check out last week's article from The Birmingham News, as well as follow-ups by The Church of England Newspaper
More on Anglican troubles:
Poor Dr Rowan: solving the gay row will only lead to another one | If he throws out the gay-friendly branches of the Anglican Communion, he will disgust his own supporters in this country, and lose the wealthiest churches abroad that acknowledge him. If he tells the Southern Hemisphere that the Episcopal church of America has a perfect right to elect an openly gay bishop if it wants to, he will lose a lot of his own wealthiest parishes in England to a well-organized and completely ruthless evangelical campaign that aims to leave him a powerless figurehead even within his own church, as he is outside it. If he does nothing the row will just go on for years (Andrew Brown,

The Daily Telegraph

)


Related Elsewhere
Suggest links and stories by sending e-mail to weblog@christianitytoday.com
Check out Books & Culture's weblog, Content & Context.
See our past Weblog updates:
October 3 | 2 | 1 | September 30 | 29
September 25 | 24 | 23 | 22
September 19 | 18 | 17 | 16 | 15
September 12 | 11 | 10 | 9 | 8
September 5 | 4 | 3 | 2
August 29 | 28 | 27 | 26 | 25
August 22 | 21 | 20 | 19 | 18
and more, back to November 1999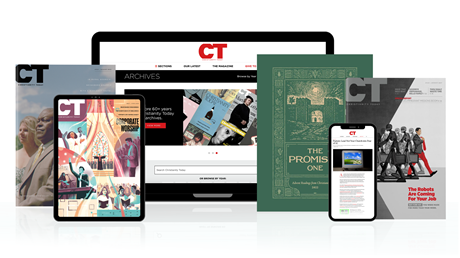 Annual & Monthly subscriptions available.
Print & Digital Issues of CT magazine
Complete access to every article on ChristianityToday.com
Unlimited access to 65+ years of CT's online archives
Member-only special issues
Subscribe
Pope Warns Archbishop of Canterbury of Unity 'Difficulties'
Pope Warns Archbishop of Canterbury of Unity 'Difficulties'