India fears violence as Dara Singh and a dozen others are found guilty of murdering missionary and sons
After a two-and-a-half-year trial, a court in the capital of Orissa state, India, found radical Hindu activist Dara Singh (a.k.a Ravindra Kumar Pal) and 12 others guilty of the 1999 murder of Australian missionary Graham Staines and his two sons.
Staines and his sons, ages 8 and 10, were sleeping in their Jeep outside a church in the Orissa town of Manoharpur when a mob, led by Dara Singh, attacked the vehicle, dousing it with gasoline and setting it ablaze. "Justice has been done!" some shouted. "The Christians have been cremated in Hindu fashion." According to some eyewitnesses, the mob kept the fire going for more than an hour, threatening would-be rescuers.
Police had originally arrested 53 men in connection with the attack, and later charged 18 of them along with Dara Singh, who was in hiding for a year. By the time the case went to trial, the number had been whittled down to 14. One of them was acquitted yesterday for lack of evidence.
The other 13, meanwhile, now face a possible death sentence. Judge Mahendra Nath Pattnaik promised to sentence the murderers next Monday, but the case has been delayed so often that it would not be terribly surprising if the sentencing was postponed too.
John Staines, Graham's brother, says he doesn't want the men executed. "We have forgiven them in Christ's name," he told the Associated Press. "I think that these men have to face up to what they've done. By the same token, I don't want to see them put to death over it."
Prosecutor Sudhakar Rao was expectedly pleased with the verdict. "We are 100 percent satisfied," he said. "It is the triumph of truth."
Dara Singh's lawyer, meanwhile, promised to appeal the conviction.
But Dara Singh and his Hindu conspirators aren't the only ones facing death as a result of this verdict. The radical Hindu leader's "supporters have formed several organizations … claiming to espouse his cause," reports India's Rediff.com. "They describe him as the savior of Hinduism." That has put India's law enforcement officers on guard today, and there are fears that the verdict could lead to new waves of persecution against Christians in India, especially foreigners. Meanwhile, it will be interesting to read the reaction of more mainstream Hindu groups that have publicly supported Dara Singh.
The Man in Black wears white
The dozens upon dozens of tributes to Johnny Cash, who died Friday at age 71, can't help but spend considerable space on the Man in Black's faith. When J.R. Cash first went to Sam Phillips's Sun Records, he said he was a gospel singer. Phillips signed him right up—but demanded that he sing country & western music songs like "Hey Porter" and "Cry Cry Cry" instead. Four years later, Cash left Sun for Columbia Records over Phillips' continued refusal to let him sing explicitly about Jesus.
This week, everyone who has heard Johnny Cash has heard him sing about Jesus—a Jesus who brings peace to the troubled, who brings a cure to the addicted, who brings salvation not just from hell but from self.
There's so much being said about Cash—and so much more to say. Below are a few of the many great tributes. For some focusing explicitly on his faith, see articles by Good News editor Steve Beard, who is making the Johnny Cash religious tribute beat his own cottage industry. He has pieces at National Review Online, Beliefnet, and his own Thunderstruck site, among others. Our sister magazine Christian Reader has posted an article from 1983 on Cash's faith.
Suggest links and stories by sending e-mail to weblog@christianitytoday.com
Check out Books & Culture's weblog, Content & Context.
See our past Weblog updates:
September 12 | 11 | 10 | 9 | 8
September 5 | 4 | 3 | 2
August 29 | 28 | 27 | 26 | 25
August 22 | 21 | 20 | 19 | 18
August 15 | 14 | 13 | 12 | 11
August 8 | 7b | 7a | 6 | 5 | 4
July 30 | 29 | 28
and more, back to November 1999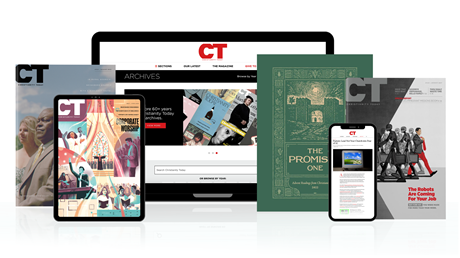 Subscribe to Christianity Today and get access to this article plus 65+ years of archives.
Home delivery of CT magazine
Complete access to articles on ChristianityToday.com
Over 120 years of magazine archives plus full access to all of CT's online archives
Subscribe Now
13 Hindu Extremists Convicted of Murdering Missionary Graham Staines and His Sons
13 Hindu Extremists Convicted of Murdering ...