true
On the face of things, The Gospel of John seemed like it would be a difficult narrative to convincingly bring to life on the silver screen. For starters, how would they get an audience to sit still for the all-talk-and-no-action Farewell Discourses in John 14-17, not to mention other long discourses in John's gospel?
Then there is the difficulty of the Johannine Jesus, whom Bible scholar Ernst Kasemann once said "bestrides the stage of this Gospel like a colossus, as a deity." How do you convincingly portray Jesus saying things like "before Abraham was, I am" and make it believable in an early Jewish setting—coming from a truly human being? How do you convince the audience that this is the same Jesus of the other Gospels, when John's gospel has no exorcisms, few if any parables, no Sermon on the Mount, no birth narratives, and Jesus spends more time in Judea than in Galilee?
How do you pull this off when the screenplay is a verbatim transcript of the Good News translation of this Gospel—with no words added or subtracted? How do you successfully weave together the voice of the narrator and the dialogue of the characters in the drama?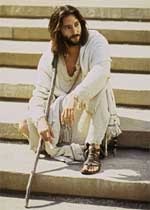 Despite these and other daunting challenges, this first ever full-length film on the Gospel of John is a convincing and powerful portrayal of the Johannine Jesus. It's not the first film in the Visual Bible series (Matthew and Acts are among the others), but it is decidedly the first that involves world-class actors (culled from the Royal Shakespeare company and elsewhere), a world-class actor turned narrator (Christopher Plummer), and world-class producers and cinematographers. The film's beautiful soundtrack to the movie is of equally high quality, and involves replicas of musical instruments used in Jesus' day.
It all adds up to what I think is the best portrayal of Jesus ever offered in a feature length film.
Interestingly, this beautifully shot film (mostly filmed in Spain with the Temple scenes filmed in a studio in England) was financed by a wealthy Jewish Canadian. Various biblical scholars—led by Dr. Peter Richardson of Toronto—were on the committee to assure its authenticity.
The film runs some three hours, and the DVD package comes with two discs of the film, and a third disc of background information, interviews with the principles and some wonderful extras like maps and much more.
And though the film is a stunning success, that's not to say it is without its weaknesses. If you were to compare the Passion narrative as portrayed in this film to Franco Zeffirelli's 1977 portrayal in Jesus of Nazareth, I think you would come away finding the Zeffirelli version more compelling and having more pathos. It is a fair comparison since Zeffirelli largely follows John's gospel in his portrayal of Jesus before Pilate and Jesus on the cross.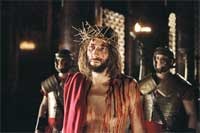 The crucifixion scene is relatively bloodless in The Gospel of John (a deficiency Mel Gibson's The Passion of The Christ makes up for in spades). Furthermore, the portrayal of Lazarus' resurrection is more telling and more dramatically rendered in Zeffirelli's film than in this one.
But these are niggling complaints. On the whole, the portrayal is telling and sometimes compelling—thanks especially to the fine acting by Henry Ian Cusick, who plays Jesus. With a beguiling simple grace and style, Cusick convincingly presents us with a Jesus who is both human, and so very clearly more than human—no small task. There is a warmth and passion to Cusick's winsome portrayal. He tells his first followers "Come and see," and even as a viewer, you want to do so.
While it is doubtless true that Mel Gibson's film has received far more press, it is hard to believe it could be more impressive than this film. The Gospel of John film has the advantage of telling the entire story, not just focusing on its violent conclusion.
Thanks to The Gospel of John, the "Word made flesh" has now become the Word made visible. In an age of visuals, it might just attract many who would never take the time to read John's gospel.
Dr. Ben Witherington, III, is Professor of New Testament at Asbury Theological Seminary.
What Other Critics Are Saying
compiled by Jeffrey Overstreet
from Film Forum, 09/18/03
Chattaway goes on to mention another Jesus movie showing at film festivals: The Gospel of John, the latest installment in the series called The Visual Bible.
In Phillip Saville's adaptation of John's gospel, Henry Ian Cusick plays Jesus. The film is scheduled for limited release on September 26. It will spread to other cities throughout the autumn. You can listen to an interview with producer Garth Drabinsky at this link.
A few religious press critics have already seen it. Holly McClure (Crosswalk) says, "The story is so compelling and entertaining that it doesn't feel like a long movie. And when it was over, I wanted more. Watching this movie gave me a renewed appreciation for Jesus and the struggles he went through to bring God's message to the world."
Movieguide's critic says, "There are other Jesus movies in preparation, but [this film] is the one that most Christians have been waiting for. It is inspired truth, a biblical sermon. Christians need to go into all the world to bring their friends to watch the Good News of our Lord and Savior, Jesus Christ, in The Gospel of John."
Mainstream critics caught the film at the Toronto Film Festival on "the symbolically chosen September 11." Richard Ostling (Associated Press) notes that the movie "consists entirely of John's Gospel, word for word. But that verbal straitjacket doesn't sap the drama and sometimes enhances it, creating thought-provoking entertainment."
Ron Csillag (Seattle Times) calls it "a sprawling, visually stunning work … [its authenticity] reinforced by a haunting musical score created with instruments from Jesus' time, and with hundreds of meticulously researched period costumes, using only fabrics from the era. The movie, like the book, is poetic, restless—almost otherworldly."
James Adams (The Globe and Mail) says, "Saville has done an admirable job … pulling together a handsome, polished production. Gospel's greatest overarching characteristic, besides textual integrity, is sincerity, evinced in both Christopher Plummer's measured, almost sotto voce narration and British actor Henry Ian Cusick's assured, robust portrayal of Jesus." (Commentary from religion columnist Michael Valpy is also online.)
Taking a different view, Martin Knelman (Toronto Star) calls it "relentlessly high-minded, making one yearn for the trashy sacrilege of a Hollywood biblical potboiler."
from Film Forum, 10/02/03
The Gospel of John , a film that follows John's Scriptural account word by word, is gaining more praise from Christian critics. David DiCerto (CNS) applauds the efforts of director Phillip Saville (Metroland): "Beautifully shot on a modest budget and with a running time of three hours, the film … eschews biblical pageantry in order to paint an intimate portrait of Christ true to its source material. The film's tasteful handling of Jesus' death achieves equilibrium between the salvific suffering and the redemptive triumph of the cross, without fixating on its more grisly aspects."
Similarly pleased, Michael Medved (Crosswalk) writes, "The Gospel of John represents such an honorable, even heroic effort that it seems almost unfair to focus on its cinematic shortcomings … but the carefully crafted images never take on a life of their own beside the solemnly recited Biblical narrative and dialogue. [It] inevitably feels like a very high class Sunday school film strip rather than an emotionally satisfying cinematic experience."
Then Medved asks a troubling question: "Why has this New Testament story failed to produce the hysterical denunciations that have already greeted Mel Gibson's upcoming (and superb) crucifixion epic, The Passion? Having seen both films, I can report that neither project deserves condemnation for anti-Semitic messages, though Jewish audiences should feel far more concerned about The Gospel of John."
from Film Forum, 10/23/03
Patricia Paddey (Faith Today) investigates how the movie manifesting The Gospel of John came into being.
from Film Forum, 10/30/03
Michael Elliott (Movie Parables) says, "The Gospel of John is exactly what its title suggests: a word for word rendition of the book of John using The Good News Bible as its sole textual source. The result is a faithful, reverential version of what remains to this day to be the greatest story ever told."
from Film Forum, 01/02/04
Hal Conklin (Cinema in Focus) nominates The Gospel of John. "In all of the hype about the release of The Passion of the Christ, this film is remarkably honest and convincing, and has made no waves at all." This film is now available on DVD. Mixed responses from mainstream critics are posted here.
from Film Forum, 04/22/04
In the midst of Passion mania, Christian moviegoers should not miss the opportunity to see the other major film about Jesus recently released. Phillip Saville's The Gospel of John presents the whole story of Christ as it is narrated in one book of the Bible. The actors provide the dialogue, while the narration is read by Christopher Plummer. This three-hour production may not have the big budget or the notoriety of Mel Gibson's film, but it deserves attention and will reward viewers with its careful dramatization of Scriptural events. Henry Ian Cusick is a passionate, human, persuasive Christ, and he makes the dialogue work even though he has to say, "I tell you the truth … " dozens of times.
Peter T. Chattaway (Canadian Christianity) writes, "The film suffers a bit from a common tendency in this genre to make nearly everyone sound like a well-educated Briton (though the traitor Judas is played by a Canadian). But Henry Ian Cusick delivers one of the more charismatic, confrontational and compassionate interpretations of Christ around; and Christopher Plummer's subtle, supple narration is a treat for the ears."
Christianity Today Movies reviewed the film in March.
REVIEW
A Break-through film makes the Word visible.reviewed by Ben Witherington IIIChristianity Today, May 10, 2004
Related Elsewhere:
A ready-to-download Movie Discussion Guide related to this movie is available at ChristianityTodayMoviesStore.com. Use this guide after the movie to help you and your small group better connect your faith to pop culture.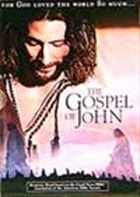 Browse All Movie Reviews By: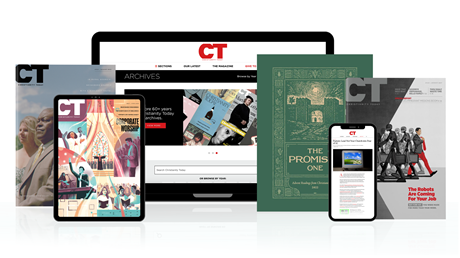 Annual & Monthly subscriptions available.
Print & Digital Issues of CT magazine
Complete access to every article on ChristianityToday.com
Unlimited access to 65+ years of CT's online archives
Member-only special issues
Subscribe
The Gospel of John
The Gospel of John