PBS/U.S. News & World Report survey of evangelicals has some surprises
Evangelicals have been surveyed many times over, so it seems unlikely that another survey will turn up anything new about who evangelicals are and what they believe.
Even surveys that repeat the basics can be helpful to non-evangelicals who have mistaken views about such believers. But a new survey commissioned by PBS's Religion & Ethics Newsweekly and U.S. News & World Report magazine has some results that many evangelicals will find surprising.
Many of the results really are predictable—in fact, some go to the heart of what it means to be evangelical. "White evangelicals hold a conservative set of religious beliefs about the interpretation of the Bible and salvation from personal faith alone," the survey says (it breaks out white evangelicals from African-American and Hispanic evangelicals, though the survey shows the same can be said for evangelicals as a whole). "They are also deeply committed to their religious imperative to spread their faith."
Evangelicals incorporate their faith into daily life; they volunteer, give to charity, are concerned with moral values, oppose gay marriage, and tend to be politically conservative. They don't really attend megachurches (only 14 percent go to churches with more than 1,000 members) and aren't enthusiastic about a federal marriage amendment (a majority say the issue is best left to the states). For the most part, we've heard that before, but much of it bears repeating.
Here's some numbers you haven't seen:
The media often look to Pat Robertson and Jerry Falwell to speak on behalf of all evangelicals, yet less than half of all evangelicals themselves (44%) have a favorable view of Falwell, and only a slight majority (54%) view Robertson favorably. In contrast, evangelical leaders Franklin Graham and James Dobson are both viewed favorably by 73% of all evangelicals, and Pope John Paul II is viewed more favorably by all evangelicals (59%) than either Falwell or Robertson.
On the political front, John Kerry is viewed favorably by 23 percent of evangelicals (18 percent of white evangelicals), and Bush by 61 percent (69 percent of white evangelicals).
There are interesting findings on the culture-wars front, too:
There are notable discrepancies between how evangelicals think members of the wider society view them, how they view themselves, and how society says it views evangelicals. A strong majority (72%) of all evangelicals feel the mass media are hostile to their moral and spiritual values. Almost half (48%) believe that evangelical Christians are looked down upon by most Americans. And 75% of all evangelicals say they must fight to make their voices heard. In contrast, less than half (46%) of non-evangelicals think evangelicals must fight to be heard, and only 35% of non-evangelicals think Americans look down on evangelicals.
They may feel mistreated, but when it comes to challenging actual persecution in hostile nations, white evangelicals say it's not as important as making America strong:
White evangelicals prioritize the "strength" issues when it comes to the United States' foreign policy agenda. In this way, their political attitudes seem to be more influenced by their political conservatism than the altruism of spreading their faith or doing God's work abroad. When it comes to international priorities, they think first of those that will keep America safe from foreign aggression. Homeland security and the war on terrorism are the top priorities for white evangelicals, rather than reaching out to the disadvantaged or even protecting the rights of religious minorities such as Christians in other countries.
With more than 150 questions, there's much more to this survey, and both Religion & Ethics Newsweekly and U.S. News & World Report will be looking more deeply at the numbers and what they mean, starting with this weekend's PBS broadcast (check local listings). Religion & Ethics Newsweekly's web site has posted the survey results (PDF | DOC), the questions (PDF | DOC), and the methodology (PDF | DOC).
Look out below
While Weblog rejoices in the Resurrection on Easter Monday, professionally it's is always a day of trepidation, since the world's mainstream media inevitably break out loads of religion stories. This year, with The Passion, marriage debates, and other major religion stories, it's almost unbearable. There are many important news stories below, including persecution against Christians in Indonesia, Vietnam, and China (hey, white evangelical folks, religious freedom abroad really is an important issue), ELCA abuse trial and settlements, and the religion angle of the Iraq hostages.
Indonesia | China | Vietnam | Religious freedom | Terrorism | Iraq | Rwanda and Sudan | Nigeria | Israel | Crime | Abuse | Life ethics | AIDS | Politics | Church and state | Church life | Easter | Catholicism | Pope John Paul II | Jesus | Archaeology | The Passion of The Christ | Film | Television | Music | Art | Books | Media | Business | Popular religion | Youth | Education | Missions & ministry | Mormonism | Atheism | Spirituality | Sexual ethics | Same-sex marriage | Other stories of interest
China:
Vietnam:
Religious freedom:
Terrorism:
Iraq hostages:
South Korean missionaries released in Iraq:
Iraq:
Rwanda and Sudan:
Nigeria:
Israel denies priests entrance:
Crime:
Abuse:
Life ethics:
Abortion:
AIDS:
Australian politics:
International politics:
Politics:
George Bush:
John Kerry:
Church and state:
Amish:
Church life:
Easter:
Easter celebrations:
Easter sermons:
Meaning of Easter:
Losing Easter:
Easter in the Holy Land:
Sunrise services:
Easter and Pascha:
Greek Easter:
Maundy Thursday:
Catholicism:
Miracles and relics:
Marginal Catholics:
Pope John Paul II:
Jesus:
Shroud of Turin:
1,400-year-old Christian Saxon king's spoon discovered:
The Passion and Easter:
The Passion:
Passion and history:
Passion and revival:
Passion marketing:
Passion on location:
Passion and movies:
Passion violence:
Passion blockbuster:
Aramaic:
Film:
Television:
Music:
Madonna to sing on Sunday in Ireland:
Art:
Books:
Media:
Lou Sheldon accuses columnist of faking interview:
Business:
Popular religion:
Youth:
Education:
Missions & ministry:
Latter Day Saints:
Atheism:
Spirituality:
Gay mag on conservative's son:
Sexual ethics:
Gay marriage:
Related Elsewhere:
Suggest links and stories by sending e-mail to weblog@christianitytoday.com
Check out Books & Culture's weblog, Content & Context.
See our past Weblog updates:
April 12
April 8 | 7 | 5
April 2 | 1 | March 31 | 30 | 29
March 26 | 25b | 25a | 24 | 23 | 22
March 19 | 18 | 17 | 16 | 15
March 12 | 11 | 10 | 9 | 8
March 5 | 4 | 3 | 2 | 1
and more, back to November 1999
Weblog
Launched in 1999, Christianity Today's Weblog was not just one of the first religion-oriented weblogs, but one of the first published by a media organization. (Hence its rather bland title.) Mostly compiled by then-online editor Ted Olsen, Weblog rounded up religion news and opinion pieces from publications around the world. As Christianity Today's website grew, it launched other blogs. Olsen took on management responsibilities, and the Weblog feature as such was mothballed. But CT's efforts to round up important news and opinion from around the web continues, especially on our Gleanings feature.
Ted Olsen is Christianity Today's executive editor. He wrote the magazine's Weblog—a collection of news and opinion articles from mainstream news sources around the world—from 1999 to 2006. In 2004, the magazine launched Weblog in Print, which looks for unexpected connections and trends in articles appearing in the mainstream press. The column was later renamed "Tidings" and ran until 2007.
Previous Weblog Columns: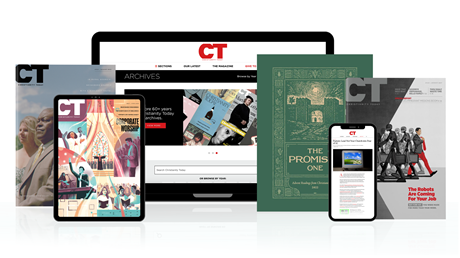 Annual & Monthly subscriptions available.
Print & Digital Issues of CT magazine
Complete access to every article on ChristianityToday.com
Unlimited access to 65+ years of CT's online archives
Member-only special issues
Subscribe
Survey Gets Specific on Evangelical Attitudes—and Finds We Like the Pope Better than Robertson or Falwell
Survey Gets Specific on Evangelical Attitudes—and ...