Traditionally, this week usually sees the major mainstream news weeklies putting Jesus on their covers or in some other way referencing Holy Week. Not coincidentally, those covers are often some of the magazines' biggest sellers on the newsstand.
Why is this year different from all other years? Because thinking about Christ's Passion came early, thanks to Mel Gibson. Newsweek already put "Who killed Jesus?" on its cover, and for the last six weeks or so other news outlets have examined similar questions raised by The Passion of The Christ. So several magazines that might have normally been inclined toward religion cover stories took a pass this year, including U.S. News & World Report, which doesn't have any religion articles in this week's issue.
Time, however, went the other direction.
Time asks why Jesus died
Weblog was beginning to wonder where Time's religion reporter, David van Biema, was off to. The magazine did a fine job profiling Rick Warren without him, for example, but it was odd to see such an article without his byline. Now we know the answer: Van Biema was busy putting together one of the best religion cover stories the magazine—or any mainstream news magazine—has ever done.
First off, yes, it's extremely refreshing to see an article about the way The Passion of The Christ depicts Jesus' death that doesn't focus on who's to blame. The question here isn't who killed Jesus, but why Jesus died. The theological term for how Jesus' death reconciled man and God is atonement.
Weblog can't do much more than encourage people to read this story, which reveals a thorough knowledge of the subject. There are some great lines from John R.W. Stott, as well as comments from Mark Noll, Jack Graham, Frederica Mathewes-Green, Al Mohler, Randy Balmer, and others. The main voices, of course, are those of Anselm and Abelard, with a healthy dose of Augustine, Calvin, and Luther thrown in, too.
The hook is that most Christians in the pews haven't been thinking much about the atonement lately, but "without at least an intuitive comprehension of atonement, a believer stands little chance of making sense of the faith's promises of redemption and eternal life."
The Passion of The Christ however, has reignited thought and discussion about what Jesus' death means, and also suggests the many answers to that question.
"The film's stance on atonement could best be described as substitutionary (that initial Isaiah quote sets the theme) with a strong dose of Catholic Passion piety (the very gory details), a pinch of exemplarism (the flashbacks to Jesus' teachings) and those sulfurous whiffs of the ancient good-vs.-evil model," van Biema summarizes, after he has explained those stances more thoroughly above.
"It is still possible to have a really good fight about the meaning of the Cross," says van Biema, and it's worth noting that those fights aren't limited to conservative free-church evangelicals vs. mainline church liberals. In 2000, InterVarsity Press published Recovering the Scandal of the Cross by evangelical New Testament scholar Joel B. Green and Mark D. Baker, a book that questions traditional substitutionary understandings of the atonement. (IVP let the book go out of print, and it's now published by Paternoster.)
While Time hits the main atonement theories, Christian scholars have listed many reasons why Jesus had to die. Those interested may especially want to check out John Piper's inexpensive The Passion of Jesus Christ (Crossway), which lists 50 purposes of Christ's death. Be sure also to check out Books & Culture's series on the atonement, which began with an excellent essay by Fuller Seminary's Richard Mouw.
Newsweek picks up on CT & Leadership's pastors & porn reporting
Newsweek, meanwhile, keyed down its religion reporting this week, with a 572-word article without a whit of historical theology. Still, it should get quite a few readers: the subject is pastors and pornography.
The article for the most part seems to be a belated follow-up on a 2001 study from Christianity Today sister publication Leadership Journal that found 40 percent of ministers saying they had visited pornographic web sites. Sadly, Newsweek plays down the destructiveness of pornography, saying it's "a far cry from the scandals of the Roman Catholic Church, the hundreds of documented cases of priests preying on minors. These clergymen tend to be looking for escapist sexual thrills in an anonymous cyberworld. They are, after all, no less human than their followers in the pews." The only problem, Newsweek says, is that they're putting their jobs in jeopardy. But pornography is far more insidious and progressively destructive than this article would have you believe. A pastor reading this article may find comfort, feeling that his viewing of pornography is no big deal. That's a tragedy.
The New Yorker examines James and Madeline
Another weekly magazine with a heaping dose of religion this week is The New Yorker, which has articles both on the James ossuary and on fantasy writer Madeline L'Engle. Sadly, neither is available online right now, so Weblog doesn't know what's inside.
Related Elsewhere:
Suggest links and stories by sending e-mail to weblog@christianitytoday.com
Check out Books & Culture's weblog, Content & Context.
See our past Weblog updates:
April 2 | 1 | March 31 | 30 | 29
March 26 | 25b | 25a | 24 | 23 | 22
March 19 | 18 | 17 | 16 | 15
March 12 | 11 | 10 | 9 | 8
March 5 | 4 | 3 | 2 | 1
February 27 | 26 | 25b | 25a | 24 | 23
and more, back to November 1999
Weblog
Launched in 1999, Christianity Today's Weblog was not just one of the first religion-oriented weblogs, but one of the first published by a media organization. (Hence its rather bland title.) Mostly compiled by then-online editor Ted Olsen, Weblog rounded up religion news and opinion pieces from publications around the world. As Christianity Today's website grew, it launched other blogs. Olsen took on management responsibilities, and the Weblog feature as such was mothballed. But CT's efforts to round up important news and opinion from around the web continues, especially on our Gleanings feature.
Ted Olsen is Christianity Today's executive editor. He wrote the magazine's Weblog—a collection of news and opinion articles from mainstream news sources around the world—from 1999 to 2006. In 2004, the magazine launched Weblog in Print, which looks for unexpected connections and trends in articles appearing in the mainstream press. The column was later renamed "Tidings" and ran until 2007.
Previous Weblog Columns: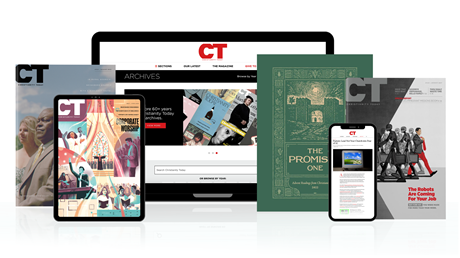 Annual & Monthly subscriptions available.
Print & Digital Issues of CT magazine
Complete access to every article on ChristianityToday.com
Unlimited access to 65+ years of CT's online archives
Member-only special issues
Subscribe
Holy Weeklies After The Passion
Holy Weeklies After The Passion