Editor's note:
Holy Week reminds us, in case we're in danger of forgetting, that Christianity is a historical faith, its claims embedded in the messy particulars of time and place even as it transcends them. To celebrate that "curious contingency"—and to mark the beginning of National Poetry Month—here is a poem by T. M. Moore:
A Curious Contingency
Confessions of a Wordsmith
The modern order is largely
a product of contingency.
- Stephen Jay Gould
The fruits of my vocation blossom from
a kind of cosmic soup of latent power:
books, note cards, memos, shreds and shards of some
fresh-excavated pile or file; an hour
on this, an hour on that—the only plan
a loose and highly opportunistic scheme,
a kind of curious contingency more than
a plan: so my haphazard style must seem
to some—things finished, in the works, or just
not ever put away, the sediment
of labors past now buried beneath the dust
of new endeavors. An unlikely bent
for one whose work insists on forms, designs,
and arguments tight as a sonnet's lines.
T. M. Moore is the author of many books, includingEcclesiastes: Ancient Wisdom When All Else Fails—A New Translation and Interpretive Paraphrase (InterVarsity).
Related Elsewhere:
Books & Culture Corner appears every Monday. Earlier editions of Books & Culture Corner and Book of the Week include:
"Trust but Verify" | Ronald Reagan's faith. (March 29, 2004)
Baseball Preview 2004 | Plus a look back with some Negro League veterans. (March 29, 2004)
How Do You Live with a Torturer? | A novel of Haiti by the brilliant young writer, Edwidge Danticat. (March 08, 2004)
God Is in the Details | A scientist affirms his faith. (Feb. 23, 2004)
History Repeats Itself, Sort of | How the fate of Eugene McCarthy's insurgency against LBJ sheds light on the 2004 presidential campaign. (Feb. 16, 2004)
The Worst President Ever? | Former Nixon aide John Dean attempts to rehabilitate the reputation of Warren G. Harding. (Feb. 09, 2004)
Wholly, Wholly, Wholly | Calvinists and conga drums in Grand Rapids: a report from the seventeenth annual Calvin Symposium on Worship and the Arts. (Feb. 02, 2004)
The Doom of Choice | Fate, free will, and moral responsibility in Tolkien. (Feb. 02, 2004)
A Rose Among Thorns | A new novel by the author of Father Elijah illumines the spiritual consequences of our simplest decisions. (Jan. 26, 2004)
Baptized in Fire | A new book on Martin Luther King, Jr., emphasizes his spiritual transformation. (Jan. 19, 2004)
Article continues below
O'Connor v. the Antichrist (Jan. 12, 2004)
Moody, the Media, and the Birth of Modern Evangelism | A cautionary tale. (Jan. 05, 2004)
A Few Coming Attractions from 2004 | Plus: What to buy with those gift cards, and some of the books in my to-read stacks. (Dec. 29, 2003)
The Top Ten Books of 2003 | Plus: The Worst Book of the Year, more good reading, digital books, and a little Christmas music. (Dec. 22, 2003)
Books at Warp Speed | We continue our annual roundup of noteworthy books. (Dec. 15, 2003)
Is "Sensual Orthodoxy" a Contradiction in Terms? | Read this unconventional collection of sermons and judge for yourself. (Dec. 8, 2003)
Books, Books, Books! | We begin our annual roundup. (Dec. 8, 2003)
Urban Eden | In City: Urbanism and Its End, a new history of New Haven, Connecticut, the city (in its late 19th-century form) is an ambiguous heaven-and the suburbs that relentlessly followed are hell. Which leaves us where, exactly? (Dec. 01, 2003)
Cool Drink of Water | A poet's voice in the evangelical wilderness.
Faith, Hope, and Charity in North Carolina | New novels by Michael Morris—whose first novel, A Place Called Wiregrass, was a word-of-mouth hit— and Jan Karon, who continues her beloved Mitford saga. (Nov. 17, 2003)
Remember Afghanistan? | Two inside reports. (Nov. 10, 2003)
The Troubled Conscience of a Founding Father | An Imperfect God examines George Washington and slavery. (Oct. 27, 2003)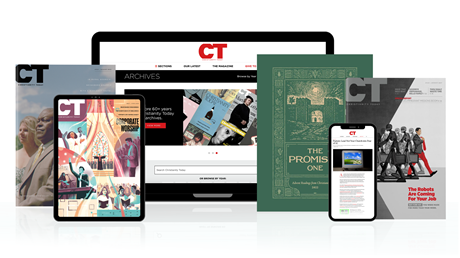 Annual & Monthly subscriptions available.
Print & Digital Issues of CT magazine
Complete access to every article on ChristianityToday.com
Unlimited access to 65+ years of CT's online archives
Member-only special issues
Subscribe
A Curious Contingency
A Curious Contingency