Well, the Senate last week almost took up the issue of equal opportunity for faith-based services. On the floor for debate was reauthorization of the 1996 welfare reform law—the first law to include Charitable Choice language. Reauthorization is long overdue, but disputes over child-care funding and toughening the work requirement had stymied Senate action. The debate finally started last week, and additional child care money was added. Then the process collapsed in a dispute over loading the bill with a minimum-wage measure. Welfare reauthorization is back off the Senate agenda, it appears, at least until the end of June, when the law's current extension ends.
So what about Charitable Choice? In fact, it doesn't need to be reauthorized: it is now part of welfare's legal framework. But supporters and opponents were poised to act. Supporters like Sen. Rick Santorum (R-Pa.) want to expand Charitable Choice to cover the Social Services Block Grant program, to ensure that faith-based groups have full opportunity to compete for those funds.
Opponents wanted to weaken Charitable Choice through the reauthorization process. There's still the view out there that the concept violates the Constitution. In fact, it is an equal opportunity measure, not a theocratic idea. It tells officials to make sure government funds go to the best providers, whether secular or religious. It bolsters legal protections for the religious character of faith-based providers, while protecting the religious liberty of beneficiaries. It even requires states to provide an alternative for anyone who doesn't want service from a faith-based provider. And it requires government money to be spent on services and not be diverted to pay for evangelism, a synagogue's roof, or scripture instruction.
It's not easy these days to get steamed up about this balanced package of rights and duties, particularly when Charitable Choice has enabled a broader range of faith-based groups to partner with government and those groups are serving the poor with respect. But opponents are sure one part of the concept is intolerable: Charitable Choice's safeguarding of the federal civil right of religious organizations to take account of religion when they decide who to hire. Some federal funding programs restrict that right. Charitable Choice says the right doesn't disappear when a faith-based group accepts federal funds to offer welfare services.
But what happens when the federal money is funneled through the welfare agency in a state that requires all of its grantees and contractors to hire without regard to religion? Many states don't restrict religious hiring, but others do, and so do many large cities. So whose rules dominate: the federal freedom or the state or local restriction?
Some Senators hoped to clarify the law in favor of the restrictions, modifying Charitable Choice to say that the federal freedom must give way to state restrictions on religious staffing and to municipal requirements that every contractor must provide domestic partner benefits. Yet, if the whole point of Charitable Choice is to remove the restrictions and uncertainty that keep many effective faith-based providers from participating with other groups, isn't it clear that the federal rule protecting the hiring right should prevail over restrictive state and local policies?
Stay tuned! The Senate has avoided Charitable Choice yet again, but the issue can't be ducked forever. Now is the time to educate Senators on the importance of upholding religious freedom in the government's rules for its social-service funding programs. Urge your Senator to strengthen and expand Charitable Choice, because when the government invites faith-based providers to be its allies for the good of families in need, it should protect and not restrict the employment policies that enable those providers to be distinctive.
Stanley Carlson-Thies is a Fellow at the Center for Public Justice in Washington, D.C. This commentary originally ran on the CPJ's web site.
Related Elsewhere:
Past Christianity Today articles on the faith-based initiative include:
The Twelfth of Never | Bush administration drastically lowers goals for faith-based initiative. (Dec. 22, 2003)
Faith-Based Lite | Administration still seeks 'revolutionary' change. (May 14, 2003)
Faith-Based Initiative Bill Isn't So Faith-Based Anymore | Senate guts faith-based initiative bill (March 28, 2003)
Faith-Based Legislation Stalled | White House moves ahead on regulatory, funding fronts. (Nov. 1, 2002)
New Study Answers Many Criticisms of White House's Plans | Hudson Institute's "Fruitful Collaborations" underscores the need for hiring freedom. (Nov. 1, 2002)
'I Am a Realist' | U.S. Rep. J.C. Watts Responds to Weblog. (Oct. 28, 2002)
Congress's Charitable Choice Expansion Is Dead | Senate may not pass "faith-based" bill, but Watts says he won't oppose it. (Oct. 16, 2002)
Will the Faith-Based Initiative 'Explicitly Prohibit Hiring Discrimination'? | Barney Frank says current bill will lead to discrimination and racism. (Sept. 26, 2002)
Article continues below
Faith-Based Initiative Is Republican Ploy, Says Washington Post | But are Democrats really interested in explaining White House plans to their constituents? (Sept. 17, 2002)
House's Faith-Based Initiatives Bill May Not Be Dead Yet | Rep. J.C. Watts pushes for better faith-based initiative bill in Senate. (March 28, 2002)
Faith-Based Give-in | Compromise bill for religious nonprofits gains grudging support. (March 14, 2002)
Shortchanging Charities | Americans will surrender their constitutional values if nobody acts to expand Charitable Choice. (March 7, 2002)
Court Strips Faith Works of State Funds | Wisconsin vows to appeal setback of Bush-supported initiative. (Feb. 20, 2002)
Bush Backs Senate Faith-Based Initiative Bill | Allowing folks who don't itemize deductions on their tax returns to deduct for charitable giving is apparently huge. (Feb. 2, 2002)
Implacable Foes Find (Some) Common Ground on Faith-Based Initiatives | Diverse working group's recommendations represent the minimum, not the maximum, that is politically possible. (Jan. 30, 2002)
The State of the Faith-Based Initiative | One year after Bush outlined his plan to let religious social-service groups compete for government funds, little has actually made it through Congress. (Jan. 30, 2002)
Where Does the Faith-Based Initiative Stand? | Observers look to Bush support, discussion, and the hiring exemption as keys to Charitable Choice legislation. (Sept. 7, 2001)
House Approves Charitable Choice Bill | Hiring protections for religious organizations stays in the bill, but back-room negotiations may mean they won't stay. (July 27, 2001)
DiIulio Pitches Charitable Choice to Cautious NAE Delegates | Meanwhile, group suggests religious broadcasters reconsider severing ties. (March 21, 2001)
No More Excuses | Bush's faith-based initiative should reinvigorate our mission of service. (March 15, 2001)
Charitable Choice Dance Begins | Faith-based organizations cautious but eager for government aid. (March 15, 2001)
Bush's Faith-Based Plans | George W. Bush, Texas governor and presidential candidate, has placed government cooperation with faith-based initiatives at the core of his campaign. (Oct. 25, 1999)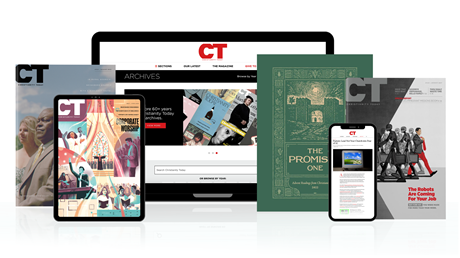 Subscribe to Christianity Today and get access to this article plus 65+ years of archives.
Home delivery of CT magazine
Complete access to articles on ChristianityToday.com
Over 120 years of magazine archives plus full access to all of CT's online archives
Subscribe Now
AWOL Again on the Faith-Based Initiative
AWOL Again on the Faith-Based Initiative