The Religious Right's Nader
The Religious Right's Nader
Today's Washington Post has a lengthy profile of Constitution Party presidential candidate Michael Peroutka. But unless Peroutka has an unwavering belief that all publicity is good publicity, he's unlikely to be pleased with the treatment. The Post basically suggests the party is full of racist theocrats, and that its candidate is a drunken fool.
One would think that a major profile of the Constitution Party might focus on its attraction to religious conservatives who are adamantly opposed to the Iraq war. If the letters to Christianity Today are to believed, there is a substantial group of evangelicals who would line up with much of the Constitution Party's platform: staunchly antiabortion, skeptical of the faith-based initiative, and troubled by both the war on terrorism and the war in Iraq. (We almost never hear from readers on many of the party's other issues, like abolishing the IRS.) Could the Constitution Party, properly marketed, be the 2004 Bush campaign's equivalent to Al Gore's 2000 challenge from Ralph Nader?
It's an obvious question, so the Post seems bored by it. Better to unearth the seamy underbelly of the party. The Post's Matthew Mosk writes,
Some ideas at the heart of Peroutka's campaign have also drawn the attention of the Southern Poverty Law Center, a civil rights law firm that tracks hate groups. Mark Potok, editor of the center's monthly intelligence report, said his group took note when Peroutka received a rare national endorsement from the League of the South, which he describes as a coalition of hard-line, "neo-Confederates" who espouse racist, anti-gay and anti-immigrant ideas.
The League of the South and the Constitution Party are "intimately related," Potok said. "About the only real differences are the Constitution Party essentially says nothing about race, at least explicitly, and it has no position on secession," the rights of Southern states to secede from the Union.
Otherwise, he said, they are extremely similar. Their key issues are a fervent opposition to abortion, spirited support for gun and states' rights, and strident views about the role Christianity should be playing in American life, he said. …
"As far as race is concerned," Peroutka said, "I believe there is one race, and that's the human race. That's my position."
Uh, so, other than the race thing, the Constitution Party is racist? Is that the idea? Since when does opposing abortion and opposing gun control tie you to "neo-Confederate" groups? And then there's this:
Party leaders overlooked a trail of personal problems unearthed this year by the Baltimore City Paper, which included being stopped in the early 1990s on suspicion of driving under the influence — [Peroutka] was not convicted -- and a painful split with his wife's two teenage daughters from a previous marriage. The couple lost custody of the girls to the state.
Okay. But there was that mention that the former Alabama Chief Justice Roy Moore was almost the party's candidate. And he apparently enjoys considerable support from religious conservatives around the country. Is this party reaching Moore fans?
A more interesting story might have played down the personal "scandal" of someone who's clearly not going to be elected, and focused on what the party's existence—and reported ability to get on the ballot in 41 states—says about many religious conservatives.
Weblog, for one, would be interested to see how Moore fans who might be attracted to the party are reacting to Peroutka's attacks on Focus on the Family founder James Dobson, one of Roy Moore's biggest supporters (and a Constitution Party voter in 1996). Or how pro-lifers attracted to the Constitution Party's call for abolishing abortion are responding to the candidate's slams on the pro-life movement. Are such statements attracting voters? If so, a slice of American politics just got a lot more interesting.
More articles:
Sudan:
Rwandan troops arrive in Darfur region | Dozens of Rwandan soldiers arrived in Sudan's troubled Darfur region Sunday, the first foreign armed force deployed in the area since Arab militiamen began a rampage against black African farmers, killing thousands (Associated Press)
Support for Mr. Bush on Sudan policies | Evangelicals aren't really exerting political pressure on a reluctant White House (Charles Colson, The Washington Post)
Still dying in Darfur | More pressure on Sudan from other Arab and African governments could avert an even higher death toll in the Darfur region. (Editorial, The New York Times)
Crisis in Sudan: Thorny issues underlying carnage in Darfur complicate world's response | There is deep disagreement among world leaders over how to respond to the war under way in Africa's largest country (The New York Times)
A tragedy that defies definition | Facts on Darfur (Los Angeles Times)
The word for mass murder | The U.S. can supply the food, but with well over 100,000 troops in Afghanistan and Iraq, it has all too good a reason to leave to other countries the question of whether to provide soldiers (Editorial, Los Angeles Times)
Pope JohnPaul II at Lourdes:
Pope, visiting Lourdes shrine, urges compassion for the sick | As Pope John Paul II visited here on Saturday, he counted himself as one of the thousands of ailing Roman Catholics who come to this pilgrimage town in the Pyrenees foothills every year to pray to a shrine dedicated to the Virgin Mary, but the Vatican denied that he came seeking a cure (The New York Times)
Pope's journey, Vatican letter elevate women | It is hard to conceive of a more feminine, loving atmosphere than that of Lourdes (Uwe Siemon-Netto, UPI)
Pope's visit shines light on the practical side of Lourdes | The pope's second visit to Lourdes and a procession by candlelight on Saturday evening, which sent a massive stream of flickering lights through the town, illuminated just how popular this town has become to religious pilgrims (The New York Times)
Pope struggles through Mass at Lourdes | A sick man among the sick, Pope John Paul II struggled through Sunday Mass at a French shrine that draws desperate people seeking miracle cures (Associated Press)
Frail Pope ends tiring Lourdes pilgrimage | Pope John Paul, a sick man among the sick, wound up a emotional visit to this miracle shrine Sunday and struggled with iron determination to finish a sermon in order to encourage others suffering around him (Reuters)
Where both faith and commerce join hands in prayer | The town of Lourdes, France, has developed into something of a sacred shopping center (The New York Times)
Lourdes' heat tests last reserves of ailing Pope | Exhausted pontiff struggles to deliver service to 300,000 pilgrims at French shrine (The Guardian, London)
The Pope fights back the pain to address followers at miracle shrine (The Telegraph, London)
Pope celebrates Mass in Lourdes | Battling age and illness, Pope John Paul II has celebrated an open-air Mass at the Roman Catholic shrine in Lourdes, south-western France (BBC, video)
Pope's pilgrimage may have been farewell to life says cardinal (PA, U.K.)
Pope delivers emotional Lourdes sermon (The Belfast Telegraph)
Related Elsewhere:
Suggest links and stories by sending e-mail to weblog@christianitytoday.com
Check out Books & Culture's weekly weblog, Content & Context.
See our past Weblog updates:
August 13 | 12 | 11 | 10 | 9
August 6 | 5 | 3 | 2
July 30 | 29 | 28 | 27
July 23 | 22 | 21 | 20 | 19
July 16 | 15 | 14 | 13 | 12
July 9 | 8 | 7 | 6
and more, back to November 1999
Weblog
Launched in 1999, Christianity Today's Weblog was not just one of the first religion-oriented weblogs, but one of the first published by a media organization. (Hence its rather bland title.) Mostly compiled by then-online editor Ted Olsen, Weblog rounded up religion news and opinion pieces from publications around the world. As Christianity Today's website grew, it launched other blogs. Olsen took on management responsibilities, and the Weblog feature as such was mothballed. But CT's efforts to round up important news and opinion from around the web continues, especially on our Gleanings feature.
Ted Olsen is Christianity Today's executive editor. He wrote the magazine's Weblog—a collection of news and opinion articles from mainstream news sources around the world—from 1999 to 2006. In 2004, the magazine launched Weblog in Print, which looks for unexpected connections and trends in articles appearing in the mainstream press. The column was later renamed "Tidings" and ran until 2007.
Previous Weblog Columns: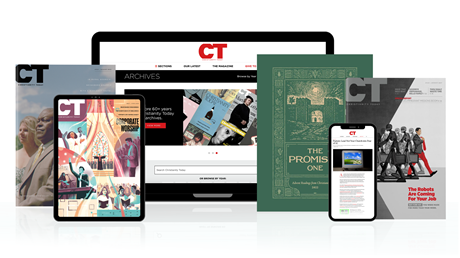 Annual & Monthly subscriptions available.
Print & Digital Issues of CT magazine
Complete access to every article on ChristianityToday.com
Unlimited access to 65+ years of CT's online archives
Member-only special issues
Subscribe
The Antiabortion, Antiwar, Pro-Jesus Party
The Antiabortion, Antiwar, Pro-Jesus Party