It's been a lovely morning working from home. With the plumber. Fixing the leak in the basement. The leak of sewage. So yeah, there's commentary—but it's not on religion, and you don't want to hear it. Meanwhile, here's today's religion news links.
Religious speech:
Police to probe pastor's Islam outburst | Police today launched an investigation into comments by a Norwich religious leader branding Islam "an evil religion" (Evening News, Norwich, England)
Also: Police probe pastor's BNP comments | Police are to investigate the comments of a Norfolk religious leader who branded Islam evil (EDP24, Norfolk)
Federal judge blesses couple's religious tiles | Court rules Arizona school district unfairly restricted Paul and Ann Seidman's religious speech by not allowing them to use words 'God bless' on commemorative tiles (Associated Press)
Too loud churches:
Church concedes to worship less loudly | Leaders of a Kalihi church say their 5 a.m. worship service six days a week reflects the congregation's Korean culture, which has a tradition of early-morning worship. Some neighbors, however, say the joyful noise is a nuisance so early in the morning (Honolulu Advertiser)
Police ticket church after noise gripes | Elgin police ticketed a pastor at the Mision Apostolica Church for violating the city's noise ordinance during Sunday afternoon services (Chicago Sun-Times)
Banning home worship:
Worship conflict heats up | The banning of a worship group from the Savanna Club is a violation of federal fair housing rules, a lawyer representing the worshippers said (Stuart News, Fla.)
Worshipers complain to U.S. about Savanna Club board | About 100 residents of the Savanna Club retirement community in Port St. Lucie have filed federal complaints against the homeowners association's board of directors, claiming the board violated the Fair Housing Act when members voted last month to ban religious services in the community's common areas (Palm Beach Post)
Earlier: PSL community bans religious services | The Savanna Club Homeowners Association board may have voted to ban religious services within the large adult community, but the ruling has done nothing to dampen the resolve of the Savanna Club Worship Service's pastor to continue his weekly gatherings (Palm Beach Post)
Persecution:
Persecuted for their faith -- and ignored by the U.S. | If Bush truly believes religion is the "first freedom of the human soul," why isn't his administration pressuring countries that persecute people for their beliefs? (Judd Legum, Salon.com)
Three Chinese Christians jailed | A Chinese court has sentenced three Christians to up to three years in jail for leaking state secrets (BBC)
Also: Chinese sentences 3 activists to prison | A Chinese court on Friday sentenced three activists in the independent Protestant church to up to three years in prison for leaking state secrets, a court official and overseas church activist said (Associated Press)
Supreme Court to determine constitutionality of Bill today | 21 petitioners challenge Prohibition of Forcible Conversion of Religion Bill (Daily News, Sri Lanka)
Iraq:
A church rocked to its ancient foundations | George W. Bush and Tony Blair claim to have made the world a safer place by invading and occupying Iraq. Whether they have remains to be seen. What is certain is that they have rendered Iraq far, far more unsafe for the average Iraqi, and my own Christian relatives in particular (Leilah Nadir, The Globe and Mail, Toronto)
City cleric caught in Baghdad bomb horror | Canon Andrew White, director of international ministry at Coventry Cathedral, was conducting a service at St George's Church in Baghdad on Sunday when four bombs went off near churches in the capital and one in the northern city of Mosul (Coventry Observer, England)
Kurdish Muslims to honor Christians | A minority in Christian Nashville, Kurdish Muslims today will honor the Christian minority in their native Iraq, where at least seven people have been killed recently in bloody attacks on churches (The Tennessean, Nashville)
Sudan:
Silence on Sudan | The "peace" movement prefers to ignore genocide by non-whites (Editorial, The Wall Street Journal Europe)
UN says Sudan agrees Darfur steps | The United Nations says Sudan has agreed to a plan to tackle the crisis in Darfur, where thousands have been killed by pro-government militias (BBC, video)
Militia 'under orders' | Militia accused of atrocities in Sudan that have caused over a million people to flee have said they were acting under orders from the government (Sky News)
Protests:
Priest to speak against N.M.'s nuclear arsenal | A Roman Catholic priest, barred from participating in a Hiroshima Day peace vigil in Los Alamos last year by the archbishop of Santa Fe, plans to attend Friday's 59th anniversary observance of the bombing (The New Mexican, Santa Fe)
Live nude Christian protesters! | The 200 block of Jones Street brings together homeless people, incensed Christians, and adult amusements (SF Weekly)
Politics:
Slots barred from ballot | D.C. calls flaws 'monumental'; appeal is planned (The Washington Post)
Falwell on 'thugs' and taxes | The Christian right leader said he is tired of being accused by civil liberties groups of abusing his ministry's tax-exempt status just because he has a few things to say about the direction of the country (The Washington Post)
Some churches veer into politics | NPR's Barbara Bradley Hagerty reports on the political activities of churches, spurred largely by the gay marriage issue (All Things Considered, NPR)
Good faith and bad faith | Behind the fig leaf of nominal nondiscrimination, tax dollars will trickle and then flood into organizations whose very nature is exclusionary and whose criteria of success may have less to do with need and more to do with creed (Bill Fried, The Boston Globe)
Republicans:
The silent (Christian) majority | James Dobson on Bush, Kerry, Thune, gay marriage and the impact of Christians on the 2004 election (Hugh Hewitt, The Weekly Standard)
Republicans look to harvest Amish vote | Amish almost always side with the Republican Party when they do vote — making them an attractive, if unlikely, voting bloc (Associated Press)
Bush talks of religions understanding each other | Sounding evangelical at times, President Bush preached to a Republican choir Thursday during his second visit to Ohio in less than a week. (The Repository, Canton, Oh.)
Too many Methodists? | Presidential politics and mainline religion (David C. Steinmetz, The Orlando Sentinel)
The Right Rev. George W. Bush | Among the worshippers at the president's traveling revival show (Slate)
Democrats:
Democrats' religion adviser quits | Local woman was denounced over stance on Pledge (Lexington Herald Leader, Ky.)
Religious liaison for Democrats resigns | Minister backs taking 'God' out of Pledge (The Courier-Journal, Louisville, Ky.)
Furor over Pledge stance prompts Democrat to quit | The Democratic National Committee's director for religious outreach resigned after 13 days on the job because of "negative publicity" about her backing of a U.S. Supreme Court case seeking to remove the words "under God" from the Pledge of Allegiance (The Washington Times)
Outreach goes only so far | Are the Democrats religion-friendly? (Terry Eastland, The Wall Street Journal)
The religification of John Kerry | How the candidate found his soul (Steven Waldman, Slate)
Party of stem cells | The Democrats' new wedge issue (Timothy Noah, Slate)
Abortion:
Bishops harden abortion stance | No Communion for pro-choice politicians, regional leaders say (The Atlanta Journal-Constitution)
'I had an abortion' T-shirt stirs debate | Some offended, others empowered by declaration (Milwaukee Journal-Sentinel)
'I had an abortion' T-shirts stir up controversy | Through Monday, 200 shirts have been purchased and commentators on all sides of the abortion issue have registered opinions about it. Reactions have ranged from gratitude to unease to hostility (Chicago Tribune)
Abortion clinic fears pre-poll political assault | Sydney's largest abortion provider has been threatened with having its Medicare funding withdrawn, prompting accusations of a pre-election clampdown on pregnancy termination (The Sydney Morning Herald)
Economics as reason for abortion | It is middle-class married battlers, not promiscuous teenagers, who are making up the bulk of abortion patients in Australia (The Sydney Morning Herald)
Why is my church so silent on abortion? | The Anglican Church can no longer ignore this most confronting of issues (Peter Watson, Anglican Archbishop of Melbourne, The Age)
State of decay | Allowing secret abortions for minors mocks the rule of law, and adds to the corruption of national life (Peter Hitchens, The Spectator, U.K.)
Coors: Brewer to end abortion coverage | Pete Coors, who is aggressively courting conservative Republicans in his Senate bid, says the brewery he ran for years is changing its health plans so they no longer cover abortion (The Denver Post)
Courts:
Husband awarded $2M in church adultery case | A former Montgomery preacher will pay dearly for the sin of adultery (Montgomery Advertiser, Ala.)
Woman fired for eating 'unclean' meat | Attorney: 'It's a classic case of religious discrimination'(WKMG, Orlando, Fla.)
Officer played 'religion card' after nonarrest, city says | A police officer who said he refused to arrest a homeless man in a parking garage because of principle and his faith actually wanted only to get home on time that night and later used "the religion card," a lawyer for the city said at the close of the officer's Police Department trial yesterday (The New York Times)
Also: Cop on trial for refusing homeless arrest | An officer on trial for refusing to arrest a homeless man took the stand Thursday, saying he was punished for trying to help needy people instead of locking them up (Associated Press)
Crime:
Local pastor charged with indecent exposure | He was pastor of Piney Grove Baptist Church in Anderson County for about a year (WATE, Knoxville, Tenn.)
Beaten and bruised, but unbowed in Brooklyn | After a burglar pummeled him in the rectory of St. Brigid Church in Brooklyn, Msgr. James Kelly said he looked as if he had been in "The Passion of the Christ" (The New York Times)
Scam suspects denied bond again | Couple accused of running pyramid-style schemes using "church and Christianity" (Mobile Register, Ala.)
Talley extortionist receives 20 months, $100,000 fine | U.S. District Court Senior Judge James H. Jarvis had a simple question for a man accused of trying to extort money from a nationally known gospel singer: What would Jesus do? (Knoxville News-Sentinel, Tenn.)
Also: Judge gives extortionist who targeted Christian singer 20 months | Knoxville federal judge has sentenced a Johnson City man to prison, brushing aside his argument that "moral outrage" drove his attempt to extort money from Christian singer Kirk Talley (Associated Press)
Abuse:
All but 1 party accepts church settlement | All but one of 46 people who accused priests of sexually abusing them as children have agreed to accept a more than $7 million settlement with the Diocese of Springfield, an attorney for the alleged victims and a spokesman for the diocese said Thursday (Associated Press)
Religion in the news: Abuse knows no gender | The sexual abuse crisis in the Roman Catholic Church has focused primarily on molestation by priests, but in Louisville, two dozen people are now suing an order of nuns that staffed an orphanage decades ago (Associated Press)
Advocacy group criticizes diocese | Lawsuit defense prompts complaint (The Kansas City Star)
Two removed from priesthood in Ariz. | Two Roman Catholic priests in the Tucson diocese who were suspended years ago because of sexual abuse allegations have been removed from the priesthood, church officials said Thursday (Associated Press)
Diocese giving police its files | Complaint against priest investigated (The Courier & Press, Evansville, Ind.)
Earlier: Levco wants diocesan files on priest (The Courier & Press, Evansville, Ind.)
Earlier: Priest relieved of duties | Viewing of online pornography alleged (The Courier & Press, Evansville, Ind.)
Catholicism:
In search of a pope | Media commentators love to speculate about the power politics of the next conclave. They keep forgetting about the most important factor of all (Paul Elie, The Atlantic Monthly)
The blunt hard-liner at Pope John Paul's side | Doctrine czar stands against progressives (John L. Allen Jr, Los Angeles Times)
Cardinal Law says his faith strengthened | The cardinal told reporters he was "very happy, very happy" after leading a solemn, centuries-old ceremony in packed St. Mary Major's Basilica in the heart of Rome (Associated Press)
Church declares weeping Virgin statue a hoax and chases the missing donations | After finding that a statue of a weeping Virgin Mary was an elaborate hoax, the Catholic Church is investigating another mystery: where is the money donated by the faithful who came to see it?(The Sydney Morning Herald)
10 more parishes to close this year | Archdiocese sees new maps in Lawrence, Lowell (The Boston Globe)
Church life:
Episcopal Church intact despite issue of gays | Upcoming report to discuss if the Communion can survive (The Star-Ledger, Newark, N.J.)
Church taking its message to people | Methodists' ads add worshippers (Pittsburgh Post-Gazette)
Chapel's final resting place | A church in Fifield is being forced to abandon its chapel after 137 years because of a change in the law. The Independent Evangelical Church is leaving Fifield Village Chapel because it can not afford to carry out alterations to the wooden building necessary to comply with new legislation (icBerkshire.co.uk)
Steeple toppled, but school will open on time | Christ Memorial Church and Academy knew its stone steeple, a piercing needle on the West Philadelphia skyline for more than a century, was in trouble (Philadelphia Daily News)
Sex and marriage:
Religion Today: Episcopalians bless same-sex unions | At least six dioceses have interpreted even the watered-down legislation that eventually passed as a go-ahead to develop services or policies for blessing same-gender couples, saying language in a resolution passed last year encouraged formalizing the ceremonies in local parishes (Associated Press)
Gay marriage is not inevitable | Don't count FMA out. (Stanley Kurtz, National Review Online)
Courts hold marriage key | How many more "adverse" court decisions will it take before the case for an amendment becomes compelling? (Terry Eastland, The Dallas Morning News)
Woman ordered to quit porn to get daughter | A former porn star was awarded custody of her 3-year-old daughter, but the judge added one condition: that she not make any more adult movies (Associated Press)
Tri-City pastors to revive standards, policy on marriage | With hopes of curbing a national divorce rate estimated at 40 percent, a cross-section of Tri-City area pastors is working to reinvigorate a "Community Marriage Policy" that sets minimum standards for couples wanting to wed (The Argus, Fremont, Ca.)
Gay marriage judge hailed, berated | Downing's favorite e-mail calls him 'stench from the bench' (Seattle Post-Intelligencer)
Money and business:
Jesus credit card raises a few eyebrows | A new credit card featuring the Calvary's three empty crosses begs the question: What's in God's wallet? (KCRG, Iowa City)
Wal-Mart battles church | In a hearing that started this week, a two-member Ontario Municipal Board panel will decide whether a 12,541 square-metre Wal-Mart store is compatible with the adjacent Ignatius Jesuit Centre, a rural property that includes a retreat house for people from all over the world (Canadian Press)
Missions & ministry:
Issaquah missionary's body found in Honduras | Wreckage of man's plane discovered earlier on peak (Seattle Post-Intelligencer)
Also: Local missionary remembered after deadly plane crash | Mike Hines was a missionary and pilot who loved Christian music and loved flying his thousands of relief missions throughout Central America (KOAA, Pueblo, Co.)
Faith-based group uses counseling, tutoring and Bible study to combat juvenile delinquency | Omega Joshua Generation Counseling Services also "in-house," or look after, children who are suspended from school (South Florida Sun-Sentinel)
It sure beats The Priory | The evangelical Alpha course makes the rich and beautiful feel good about themselves and provides them with a dating agency (Celia Walden, The Spectator, U.K.)
Luis Palau crusade:
Luis Palau, spiritual spitfire | One wonders, at times, when Luis Palau actually breathes (Minneapolis Star-Tribune)
Evangelist cutting across many faiths | Palau to bring mainstream message to Capitol grounds (Pioneer Press, St. Paul, Minn.)
Gospel on bikes & boards | Extremists are nothing new in religion, but Paul Anderson is putting a new twist and an occasional spin on the subject (Minneapolis Star-Tribune)
A deed trumpeted is a deed undone | That's the paraphrase of a Bible passage that inspires many — connected through the Palau organization — to quietly carry out their good works (Minneapolis Star-Tribune)
Pawlenty endorses Palau evangelism festival | Gov. Tim Pawlenty took a detour on his way to meet President Bush in Mankato on Wednesday to endorse this weekend's Twin Cities Christian evangelism festival of Luis Palau (Minneapolis Star-Tribune)
Palau and paper: An unholy pair? | Readers must have faith that there's a difference between sponsorship and endorsement (Doug Grow, Minneapolis Star-Tribune)
Music:
It's rock with redemption | Christian fest offers kids secular sounds, spiritual meaning (The Denver Post)
Evanescence singer takes Christian band in new direction | While it would be understandable if Amy Lee grew weary of explaining her decisions to disavow Christian radio and to split with Ben Moody, she'll answer the questions (Houston Chronicle)
Books:
The social history of the afterlife | From heavenly choirs to the circles of Hell, from sitting shiva to waiting for resurrection, the peoples of the book have evolved their ideas of the afterlife as they traveled through history. A conversation with Alan Segal, author of Life After Death : A History of the Afterlife in Western Religion (Talk of the Nation, NPR)
The Guardian profile: Dan Brown | The author of The Da Vinci Code, the world's biggest selling hardback novel, has a taste for religious controversy, conspiracy theories and Jeffrey Archer. His next book is set in Washington and tackles the Freemasons (The Guardian, London)
Other stories of interest:
'Pledge' not to take the words lightly | My students still say the Pledge, but not as regularly as we are directed to say it. When we do, I ask them to consider the words instead of just saying them (Dan Kimber, News-Press, Glendale, Ca.)
Mormons mix science into spirituality | With words like "hypothalamus," "neuroanatomy" and "variables," it was anything but a typical LDS discussion on homosexuality (Daily Herald, Provo, Ut.)
Evangelicals seen forging alliance with 'Messianic Jews' | Some observers say a new era could be dawning, with evangelical Christian groups more willing to risk their good relations with Jews and Israel by allying themselves with the messianists (Forward)
Judicial choice | Shariah comes to Canada (Jesse Walker, Reason)
No skirting the issues | Teen whose uniforms have skirts takes sports, religion seriously (Jackson Sun, Tenn.) Preferred KOCE buyer yet to pay up | The station's fundraising arm gets yet another deadline extended to turn in a big down payment (Daily Pilot, Newport Beach, Ca.)
Religion news in brief | Pope John Paul II on the Iraq church bombings, Meeting of U.S. Greek Orthodox fuels tension between laity and hierarchy, Arkansas Catholics told to give up bingo, King of Tonga dedicates Methodist church in Utah, and more (Associated Press)
Related Elsewhere:
Suggest links and stories by sending e-mail to weblog@christianitytoday.com
Check out Books & Culture's weekly weblog, Content & Context.
See our past Weblog updates:
August 5 | 3 | 2
July 30 | 29 | 28 | 27
July 23 | 22 | 21 | 20 | 19
July 16 | 15 | 14 | 13 | 12
July 9 | 8 | 7 | 6
July 3 | 2 | 1 | June 30
and more, back to November 1999
Weblog
Launched in 1999, Christianity Today's Weblog was not just one of the first religion-oriented weblogs, but one of the first published by a media organization. (Hence its rather bland title.) Mostly compiled by then-online editor Ted Olsen, Weblog rounded up religion news and opinion pieces from publications around the world. As Christianity Today's website grew, it launched other blogs. Olsen took on management responsibilities, and the Weblog feature as such was mothballed. But CT's efforts to round up important news and opinion from around the web continues, especially on our Gleanings feature.
Ted Olsen is Christianity Today's executive editor. He wrote the magazine's Weblog—a collection of news and opinion articles from mainstream news sources around the world—from 1999 to 2006. In 2004, the magazine launched Weblog in Print, which looks for unexpected connections and trends in articles appearing in the mainstream press. The column was later renamed "Tidings" and ran until 2007.
Previous Weblog Columns: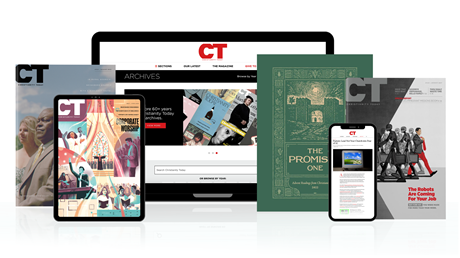 Subscribe to Christianity Today and get access to this article plus 65+ years of archives.
Home delivery of CT magazine
Complete access to articles on ChristianityToday.com
Over 120 years of magazine archives plus full access to all of CT's online archives
Subscribe Now
Another U.K. Religious Speech 'Crime'
Another U.K. Religious Speech 'Crime'