U.S. forces tenured Fuller theologian to leave country
Veli-Matti Kärkkäinen is a tenured associate professor of systematic theology at Fuller Theological Seminary and one of the most prominent evangelical theologians in the world, having published important works on pneumatology (the work of the Holy Spirit), Christology, and other subjects.
And now he's back in his native Finland, having been forced out of the country by the Department of Homeland Security.
Howard Loewen, dean of Fuller's School of Theology, told Ecumenical News International and Religion News Service that the visa rules are to blame. The problem behind one new rule, governing visas for religious professionals, isn't described in detail. But another new rule is problematic for several schools: A seminary must now be directly tied to a single denominational body for the U.S. government to consider it legitimate. Since Fuller is interdenominational, it apparently no longer counts.
"I suspect that Fuller looks to [the government] more like a multidenominational university rather than a training ground for ministers," the dean told The Christian Century, which broke the story (but doesn't offer it online).
"If a theology professor from Finland can't stay here, there is something wrong with the administrative process," Kärkkäinen said. "A free and democratic society should be able to discern those who are a threat and those who can make a contribution."
There are many unanswered questions. Will the new rules affect other Fuller faculty members? Kärkkäinen is not the school's only non-American. And what about other seminaries? Many of the country's top evangelical seminaries, including Dallas, Gordon-Conwell, and Asbury, aren't directly tied to a single denominational body. Will they also be prohibited from hiring scholars from abroad? With the rise of global Christianity, this would be a major problem.
We also need more information on the changing definition of "religious professional," which will affect far more organizations than just seminaries. Will parachurch groups see more problems bringing in foreign professionals even temporarily? One of Christianity Today's three executive editors, J.I. Packer, is not an American citizen, and we've had one small roadblock since 9/11 getting him to our offices from Vancouver, where he teaches at Regent College. How tightly are the gates closing?
The U.S. Citizenship and Immigration Services website isn't much help, since it seems to indicate that Kärkkäinen should stay. Immigrant religious workers "must be a member of a religious denomination that has a non-profit religious organization in the United States," the site says, but then definesreligious denomination to include any "inter-denominational religious organization which is exempt from taxation pursuant to section 501(c)(3) of the Internal Revenue Code of 1986." That would include Fuller. And the law includes "religious instructors" in its definition of "religious occupation," which one would imagine extends to a professor of systematic theology. The problem may be with the law's requirement that such workers be "a member of the denomination for two years." How would one be a member of a 501(c)(3) organization for two years? Who knows, but perhaps Kärkkäinen's 1989 Master's degree from Fuller would count for something in that regard. Weblog doesn't know anything about immigration law—this is just what's on the USCIS site.
But Weblog does think that kicking Kärkkäinen out of the country is a bad sign. As the theologian told the news outlets, "A free and democratic society should be able to discern those who are a threat and those who can make a contribution."
More articles of interest
Iraq church bombings, one week later:
On Sunday in Iraq, Christians warily gather | A week after deadly bomb attacks at churches in Baghdad and Mosul, worshipers struggle with the changes in a land they have long called home (Chicago Tribune)
Iraqi priests defy bombers in half-empty churches | Priests thundered defiance on Sunday at attackers who bombed Iraqi churches a week ago, but fears of more strikes ensured they were preaching to half-empty pews (Reuters)
Iraq groups deny militants behind church blasts | Three Islamist groups denied on Wednesday their militants were behind the church bombings in Iraq that killed at least 11 people, according to a statement posted on Islamist Webs sites (Reuters)
Boston churches unite against violence:
Outpouring of prayers for city peace | Churches vow to counter violence (The Boston Globe)
Amid street turbulence, church leaders call out for help | Urge outreach, more funding (The Boston Globe)
Boston religious leaders plead for peace | Archbishop Sean P. O'Malley and other religious leaders pleaded for peace over the weekend after a spate of violence that has prompted calls for action from community leaders and city officials (Associated Press)
Faith in the streets | The glory days of Boston are not likely to be seen again without the return, in force, of large-scale street ministries (Editorial, The Boston Globe)
George Bush as the rich young ruler:
Bush listens to sermon on material wealth | A clergyman implored his affluent congregation, including President Bush's family, to jettison their material possessions, gently mocking George H.W. Bush's struggles on the golf course to drive home his point (Associated Press)
Rendering unto God | At St. Ann's in Maine, Luke 12 and Bush 43 (The Washington Post)
Bush family attends church in Kennebunkport (Morning Sentinel, Waterville, Maine)
Related Elsewhere:
Suggest links and stories by sending e-mail to weblog@christianitytoday.com
Check out Books & Culture's weekly weblog, Content & Context.
See our past Weblog updates:
August 6 | 5 | 3 | 2
July 30 | 29 | 28 | 27
July 23 | 22 | 21 | 20 | 19
July 16 | 15 | 14 | 13 | 12
July 9 | 8 | 7 | 6
July 3 | 2 | 1 | June 30
and more, back to November 1999
Weblog
Launched in 1999, Christianity Today's Weblog was not just one of the first religion-oriented weblogs, but one of the first published by a media organization. (Hence its rather bland title.) Mostly compiled by then-online editor Ted Olsen, Weblog rounded up religion news and opinion pieces from publications around the world. As Christianity Today's website grew, it launched other blogs. Olsen took on management responsibilities, and the Weblog feature as such was mothballed. But CT's efforts to round up important news and opinion from around the web continues, especially on our Gleanings feature.
Ted Olsen is Christianity Today's executive editor. He wrote the magazine's Weblog—a collection of news and opinion articles from mainstream news sources around the world—from 1999 to 2006. In 2004, the magazine launched Weblog in Print, which looks for unexpected connections and trends in articles appearing in the mainstream press. The column was later renamed "Tidings" and ran until 2007.
Previous Weblog Columns: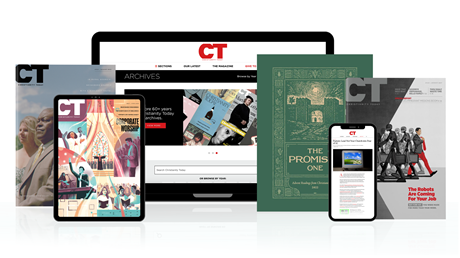 Subscribe to Christianity Today and get access to this article plus 65+ years of archives.
Home delivery of CT magazine
Complete access to articles on ChristianityToday.com
Over 120 years of magazine archives plus full access to all of CT's online archives
Subscribe Now
Fuller Prof Ordered to Leave U.S.
Fuller Prof Ordered to Leave U.S.