Standing before a joyful crowd packing St. Peter's square in November 1950, Pope Pius XII declared "that the Immaculate Mother of God, the ever Virgin Mary, having completed the course of her earthly life, was assumed body and soul to heavenly glory." By this proclamation the pope defined belief in Mary's assumption into heaven as a dogma, or divinely revealed teaching, of the Catholic Church. However, belief that Mary "fell asleep" at the end of her life and was miraculously transported to heaven dates back to the early medieval church and has been a source of devotion for centuries in the Catholic and Orthodox traditions.
Although Scripture reveals nothing about the manner of Mary's death, traditions surrounding her life after Christ's resurrection soon arose in the church. References to her dormition (literally "falling asleep") and assumption appear as early as the seventh century. In the most famous account, St. John Damascene (d. 749) passed on a story reportedly told at the Council of Chalcedon (451) that Mary had died in the presence of the Apostles, but when they opened her tomb they found it empty, "wherefrom the Apostles concluded that the body was taken up to heaven." By the end of the eighth century, feasts celebrating Mary's dormition included prayers referring to her assumption as well.
Mary's bodily assumption into heaven has traditionally been celebrated as the firstfruits of Christ's resurrection. Catholic and Orthodox believers affirm that because Mary was assumed body and soul into heaven, she experiences the resurrected glory for which all Christians hope. Vatican II teaches that "she shines forth on earth … a sign of certain hope and comfort to the pilgrim people of God." Her assumption serves as a promise of the work that God will do for all believers, and as a reminder that resurrected humanity will be an uncorrupted union of body and soul.
The exact origin of the Feast of the Assumption is not known, but like many Marian practices, it seems to have a very early beginning. Celebrated in Palestine before the year 500, probably in August, it was also kept by the early Egyptian monks, though in January. The 6th-century church in Gaul borrowed the feast, as it did many other things, from the Eastern monks, again celebrating it in January. In the Greek Church, some followed the monastic dating of January, others the Palestinian dating of August. Finally Emperor Maurice (d. 602) set the feast for the Greek Empire on 15 August. In the Christian West, the feast seems to have been adopted somewhat later, but was observed as one of the principal festivities of Rome by the time of Sergius I (700).
The next issue of Christian History & Biography, a Christianity Today sister publication, will focus on Mary, the mother of Jesus. Subscribe now to receive a copy of this special issue. More Christian history, including a list of events that occurred this week in the church's past, is available at the magazine's website, ChristianHistory.net.
Christianity Today's December 2003 cover story focused on the life and witness of Mary.
Other CT articles on Mary include:
The Serene Contradiction of the Mother of Jesus | Why I reclaimed the virgin mother as a significant figure in my faith. By Kathleen Norris (Dec. 23, 2002)
There's Something About Mary | Beliefs about Jesus' virgin mother vary between Christians of the early church, Roman Catholics, and modern-day Protestants, but this model of total trustful devotion has lessons to teach all Christians. An interview with J.I. Packer and Tom Oden (Dec. 23, 2002)
Mel, Mary, and Mothers | The Passion of the Christ does not treat Jesus' mother as an object of veneration, but it uses her as a witness to gospel events (Feb. 20, 2004)
Reuniting Mary and Martha | Theology is women's work, too. (Nov. 01, 2001)
Mary, Mary, Quite Contrary? | Experiencing Marian devotion as a Protestant (Jan. 29, 2001)
Mary, Mother of Darth Vader | NBC's "Mary, Mother of Jesus" tries to make Mary more noble, but only by making everyone else worse. (Nov. 1999)
Let Mary Be | Why the pope shouldn't give Mary that which belongs to her Son. (Dec. 8, 1997)
Mary Rejoicing, Rachel Weeping | How shall we reconcile the glorious birth of the Savior with the bloody deaths of the boys of Bethlehem? (Dec. 8, 1997)
The Text This Week has more information and other resources on the Assumption of Mary, along with other information on Mary. Many Protestant churches do not recognize the Assumption of Mary, but do celebrate her life this Sunday.
A ready-to-download Bible Study on Mary article is available at ChristianBibleStudies.com. These unique Bible studies use articles from current issues of Christianity Today to prompt thought-provoking discussions in adult Sunday school classes or small groups.
Christian History Corner, a weekly column from the editors and writers of Christian History & Biography, appears every Friday on Christianity Today's website. Previous editions include:
Article continues below
The Amish Come Knocking | UPN's Amish In the City shows us our modern selves in a mirror that is positively medieval (July 30, 2004)
All of Christian History in 6 Hours | This audio tour de force is strong meat for a mature Christian audience. (July 23, 2004)
The Prohibition of Gay Marriage | We can learn from the defeat of American Christian activism's greatest legislative victory. (July 16, 2004)
Hey, John Kerry, WWFFD? | "What Would the Founding Fathers Do" about the application of Christian principles to American politics? A few cautionary words. (July 09, 2004)
Testify! | A glimpse inside the world of "holiness testimony," through the story of an ex-slave woman evangelist. (July 02, 2004)
To Spank or Not to Spank? | A 6th-century abbot and a group of 17th-century Calvinist "divines" weigh in on the issue (June 24, 2004)
Should We Fight for "Under God"? | The right approach to these two little words may not be obvious. (June 04, 2004)
I Was in Prison and You Abused Me | What would Jesus do at Abu Ghraib? (May 28, 2004)
Do Nigerian Miracle Ministries Discredit the Faith? | The spiritual dynamism of West African Christianity is now well known even in the West. Do credulity-stretching, highly publicized miracles discredit what God is doing in that region? (May 21, 2004)
Holy America, Phoebe! | It swept across church lines, transforming America's urban landscape with its rescue missions and storefront churches. Yet today, the "holiness movement" and its charismatic woman leader are all but forgotten. (May 14, 2004)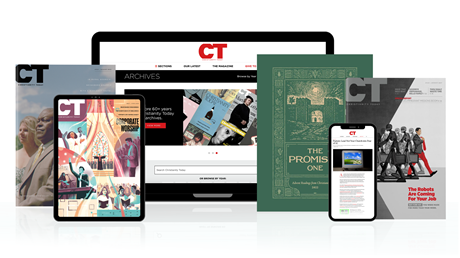 Annual & Monthly subscriptions available.
Print & Digital Issues of CT magazine
Complete access to every article on ChristianityToday.com
Unlimited access to 65+ years of CT's online archives
Member-only special issues
Subscribe
The 'Assumed' Fate of Jesus' Mother
The 'Assumed' Fate of Jesus' Mother