U.S. District Court: Broadly religious groups can hire and fire based on faith
Linda LeBoon's case against the Lancaster (Pa.) Jewish Community Center (LJCC) hasn't received much press, but it's a case that should probably get much more attention.
In one sense, you'd expect this headline to be bad news for the evangelical community: "'Jews for Jesus' Concertgoer Loses Employment Suit Against Jewish Center."
The LJCC argued that their firing of evangelical Christian bookkeeper Linda LeBoon had everything to do with economics, and nothing whatsoever to do with her attending a Jews for Jesus concert at her church, where she ran into a Jewish counter-missionary who had conducted a seminar at the center.
An LJCC receptionist testified during the case that the counter-missionary reported LeBoon's attendance at the concert to LeBoon's supervisor just days before her termination. Several LJCC board members were also notified, the receptionist said.
The LJCC fired her for religious reasons, violating Title VII of the Civil Rights Act, LeBoon's lawyers argued. Since the LJCC is "essentially secular," isn't affiliated with any synagogue or denomination, and offers its services to everyone regardless of religion, it can't claim Title VII's exception for religious organizations, LeBoon's lawyer argued. "It isn't spiritual," said Michael Considine, who has argued other religious liberty cases.
Actually, it's spiritual enough, U.S. District Court Judge Jacob P. Hart ruled. LeBoon's case, he said, "fails to take account of the fact that the LJCC seeks to sustain a specifically Jewish community … an environment where all members of the Lancaster Jewish community could feel comfortable participating."
(Hart's decision isn't available online yet, but it may soon be available here. All Weblog has seen so far is a detailed report in The Legal Intelligencer of Pennsylvania.)
Offering social services to all comers, Hart said, "does not change the underlying purpose and orientation of the organization."
And that's where this ruling becomes good news for Christians. Remember March's California Supreme Court ruling against Catholic Charities, which argued just the opposite: Employing and offering social services to non-Catholics makes the ministry non-religious. Remember also the U.S. government's revoking Veli-Matti Kärkkäinen's "special immigrant religious worker" visa because Fuller Seminary isn't tied to a denomination.
Where this may probably be the best news is in any expansion of the faith-based initiative. Some pundits and politicians have been adamant that publicly funded religious organizations be forbidden from making staffing decisions on religious grounds. Hart's decision may help to shore up the rights of faith-based groups to stay rooted in their faith. Religious organizations must have the right to fire employees whose actions and religious beliefs are diametrically opposed to that organization's mission.
Those interested in this topic should be overjoyed with the release of The Freedom of Faith-Based Organizations to Staff on a Religious Basis, by Carl Esbeck of the University of Missouri-Columbia, the Center for Public Justice's Stanley Carlson-Thies, and Evangelicals for Social Action president Ron Sider. ESA is selling it for $10, but you can download it for free here or here.
More articles
December Dilemma (news) | December Dilemma (opinion) | Christmas at School | Christmas Images in Public | Christmas at Church | Christmas, Non-U.S. | Christmas History | Christmas & the Bible | Bethlehem | Mary | Interfaith Holidays | Music | Salvation Army and Target | Education | Evolution | Pledge of Allegiance | Church & State | Amish Jury Duty | Religious Freedom | China | Sudan | Cuba | Religious Speech | Religion & Politics | Same-Sex Marriage | Religion & Homosexuality | Sexual Ethics | Morality & Family | Life Ethics | Pro-Life Democrats | Abortion | War & Terrorism | Murder | Crystal Cathedral Death | Fraud & Crime | Abuse | Catholicism | Church Life | Freemasonry in Kenya | UCC Ad | Missions & Ministry | Bible Newspaper Insert | Film & TV | Sports | Books | Science & Medicine | History | People | Spirituality | Religion in 2004 | Other Articles
December dilemma news (non-U.S.):
Saying 'Merry Christmas':
December dilemma, opinion:
December dilemma in school:
Christmas images in public spaces:
Public crèches:
Christmas at church:
Christmas, non-U.S.:
Christmas history:
Christmas & the Bible:
Bethlehem:
Mary:
Interfaith holidays:
Music:
Salvation Army and Target:
Education:
Higher education:
Evolution:
Pledge of Allegiance:
Church & state:
Ohio Amish to be exempt from jury duty:
Religious freedom:
Religious freedom in China:
Sudan:
Cuba:
Religious speech:
Religion & politics:
Same-sex marriage:
Religion & homosexuality:
Morality & family:
Life ethics:
Pro-life Democrats:
Abortion:
War & terrorism:
Murder:
Crystal Cathedral mourns death:
Fraud & crime:
Abuse:
Catholicism:
Church life:
Freemasonry symbols removed from Kenya church:
UCC ad:
Missions & ministry:
Bible newspaper insert:
Film & TV:
Sports:
Books:
Science & medicine:
History:
People:
Spirituality:
Religion in 2004:
More articles of interest:
Related Elsewhere:
Suggest links and stories by sending e-mail to weblog@christianitytoday.com
Check out Books & Culture's weekly weblog, Content & Context.
See our past Weblog updates:
December 17 | 14b | 14a
December 10 | 9 | 7 | 6
December 3 | 2 | 1
November 24 | 23 | 22
November 19 | 18 | 17 | 16
November 12 | 11 | 10
November 5 | 3b | 3a | 2 | 1
Weblog
Launched in 1999, Christianity Today's Weblog was not just one of the first religion-oriented weblogs, but one of the first published by a media organization. (Hence its rather bland title.) Mostly compiled by then-online editor Ted Olsen, Weblog rounded up religion news and opinion pieces from publications around the world. As Christianity Today's website grew, it launched other blogs. Olsen took on management responsibilities, and the Weblog feature as such was mothballed. But CT's efforts to round up important news and opinion from around the web continues, especially on our Gleanings feature.
Ted Olsen is Christianity Today's executive editor. He wrote the magazine's Weblog—a collection of news and opinion articles from mainstream news sources around the world—from 1999 to 2006. In 2004, the magazine launched Weblog in Print, which looks for unexpected connections and trends in articles appearing in the mainstream press. The column was later renamed "Tidings" and ran until 2007.
Previous Weblog Columns: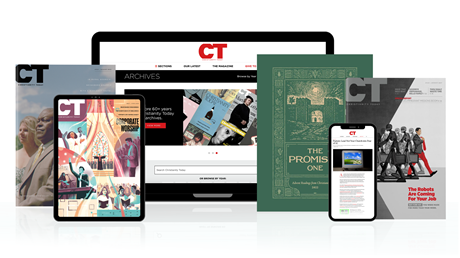 Subscribe to Christianity Today and get access to this article plus 65+ years of archives.
Home delivery of CT magazine
Complete access to articles on ChristianityToday.com
Over 120 years of magazine archives plus full access to all of CT's online archives
Subscribe Now
Bad News for Fired Christian Is Good News for Christian Organizations
Bad News for Fired Christian Is Good News for ...