As the death toll continues to rise following Sunday's Indian Ocean tsunami, Indian churches and Christian organizations are speeding up their relief efforts.
The 9.0 magnitude quake and its resulting tsunami devastated life along 1,200 miles (2,000 kilometers) of South India's coast, so far leaving more than 12,000 dead in India and many thousands missing. The overall death toll from the affected countries like Indonesia, Sri Lanka, Thailand, Malaysia, Burma, the Maldives, and Somalia is now above 114,000—far more than earlier feared.
India's Christian community was not spared. "It has been a terrible tragedy since it all happened on Sunday when the church service was on, and it occurred during the Christmas period," Donald H.R. De Souza, spokesman for the Catholic Bishops' Conference of India, said earlier this week. "In the Kottar area of Tamil Nadu, about 300 Christians who were attending a religious service died."
One of the country's holiest Christian sites, the Basilica of Our Lady of Good Health in Velankanni, was hit severely. The shrine, typically busiest during the Christmas season, has reported at least 700 deaths, and that number is expected to rise dramatically.
John Dayal, secretary general of the All India Christian Council, calls the tsunami "a greater tragedy than many others faced in the past" by the country's Christians. It's especially hard on the Christian community, he said, since "most of the boatmen and fishermen in the coastal areas are Christians."
The areas most affected by the tsunami are in the states of Tamil Nadu, Kerala, Andhra Pradesh, Pondicherry, and the Andaman and Nicobar Islands. Anthropologists fear that some of the 72 indigenous tribes living in isolation on the 319 islands in the Andaman and Nicobar chains might have been wiped out by the tsunami.
Besides the terrible loss of human life, fear of massive disease haunts medical authorities. The United Nations has warned of an epidemic as corpses rot and drinking water, food, and shelter become scarce. In India, dead bodies are being disposed of in mass burials and cremations.
The country has also had to face panic in the wake of the devastation: A tsunami alert was issued yesterday, and the government urged people to leave coastal areas. Hours later, the alert was retracted, with Science Minister Kapil Sibal explaining that it had been based on faulty information.
The unprecedented tragedy has shattered the local economies of small towns and villages in the coastal areas. The basic infrastructure and amenities have been wiped away by the waves, and the local communities have been impoverished.
"Providing livelihood to the fisher folks would be our main focus to begin with," says Dayal. "Fishermen need nets and boats. We will be focusing on that along with giving them trauma counseling and providing long-term rehabilitation."
Indian churches and Christian organizations are "deeply involved" in aid and relief efforts, says Richard Howell, secretary general of the Evangelical Fellowship of India. "We have been on site from day one providing relief. We have already sent appeals for funds within India and abroad. We see it as a tragedy of human family. We will serve every needy person irrespective of his caste or religion."
James Christian, Bishop's Chaplain for the Church of South India's Diocese of Madras, told Christianity Today that his denomination is providing shelter and clothes and collecting money for relief, but the situation remains "terrible and sad."
"We are doing our best but our resources are insufficient," he said. "A lot more needs to be done. It is a time of great tragedy and we need prayers."
India's churches are organizing a nation-wide day of prayer January 2, but their work with the tsunami victims will likely continue for years.
"It won't be a one-time relief," says Howell. "We are going to be with them, walking with them until they are rehabilitated."
Related Elsewhere:
Christianity Today's coverage of the tsunami includes:
Disaster Prompts 'Neighborly Love' | The director of Youth for Christ in Sri Lanka meets Christian survivors straining to deliver aid to victims despite their own losses. (Dec. 30, 2004)
Tsunami survivors desperate for aid | Christian groups worldwide mobilize massive relief effort to South Asia. (Dec. 29, 2004)
More coverage of the tsunami's impact on India is available from Rediff.com, The Times of India, The Indian Express, and The Hindu. NDTV offers text news and video from India.
More tsunami coverage in general is available from Yahoo full coverage, the BBC, and most other news sites.
Past Christianity Today coverage of India is available here.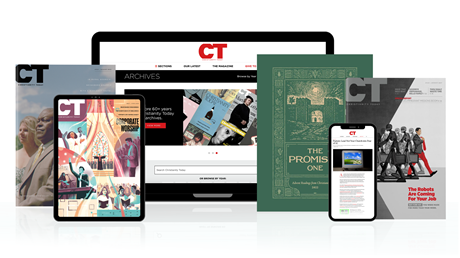 Subscribe to Christianity Today and get access to this article plus 65+ years of archives.
Home delivery of CT magazine
Complete access to articles on ChristianityToday.com
Over 120 years of magazine archives plus full access to all of CT's online archives
Subscribe Now
India's Christians Prominent in Casualties and Aid
India's Christians Prominent in Casualties and Aid