Both Newsweek and Time have Jesus on their covers, and neither article quotes an evangelical scholar in its attempt to narrate how Christians concocted the story of the birth of Jesus.
Newsweek's piece says, "We live in an age of great belief and great doubt, and sometimes it seems as though we must choose between two extremes, the evangelical and the secular. 'I don't want to be too simplistic, but our faith is somewhat childlike,' says the Rev. H. B. London, a vice president of James Dobson's conservative Focus on the Family organization in Colorado Springs. 'Though other people may question the historical validity of the virgin birth, and the death and resurrection of Jesus Christ, we don't.'
A Newsweek poll found that most Americans side with London. It "found that 84 percent of American adults consider themselves Christians, and 82 percent see Jesus as God or the son of God. Seventy-nine percent say they believe in the Virgin Birth, and 67 percent think the Christmas story—from the angels' appearance to the star of Bethlehem—is historically accurate." As Nicholas Kristof, columnist for The New York Times, likes to point out, more people believe that stuff than evolution.
Newsweek says they want to find the middle, somewhere between London's childlike faith and severe skepticism. Then, author Jon Meacham goes on to report only what those scholars say who do not believe what the Gospels report about Jesus' birth. "The first followers, we should always remember, believed that the Risen Lord was going to return and usher in a new apocalyptic age at any moment."
But when Jesus didn't return, these followers decided they'd better write down the story of Jesus' life, says Meacham. This Gospel story, Newsweek says, cannot be trusted historically because early Christians were by then far removed from the actual events, and, besides, they were only using the story as a means to gain believers.
"If we dissect the stories with care, we can see that the Nativity saga is neither fully fanciful nor fully factual but a layered narrative of early tradition and enduring theology," Newsweek writes. While explaining away the virgin birth (a belief caused by a mistranslation into the Greek of Isaiah 7:14), the star over Bethlehem, Jesus' birth in Bethlehem, and the trip to Egypt, Meacham goes on to say, "almost nothing in Luke's story stands up to close historical scrutiny." In addition:
"The Gospel writers collected traditions in circulation and told Jesus' story—not in a clinical way but, as John put it, so 'that you may believe that Jesus is the Christ, the Son of God, and that believing you may have life in his name.'"
"The accounts of Jesus in the Canon are not history or biography in the way we use the terms."
"If we examine the Nativity narratives as classical biography, then the evangelists' means and mission—to convey theological truths about salvation, not to record just-the-facts history—become much clearer."
"If the virginal conception were a historical fact, however, it is somewhat odd that there is no memory of it recorded in the Gospel accounts of Jesus' ministry or in the Acts of the Apostles or in the rest of the New Testament."
Maybe there isn't that much to report if the story of Christmas is simply that most Americans believe it, as is. But because the article begins by seeking a middle ground between skepticism and belief, it would have been helpful to include scholars who find historical, reasonable explanations for what gives these modern scholars so much trouble.
But, rather than telling us why many scholars find no contradiction between faith and history, Meacham gives those of us who do believe the Gospel story a piece of advice. "Christianity is a religion of perplexing contradictions. To live an examined faith believers have to acknowledge those complexities and engage them, however frustrating it may be."
So, don't believe the Bible, it's wrong. But there's some spiritual truth there, which you can also find elsewhere.
"The Christmas star is just one such light; there are others. Whatever our backgrounds, whatever our creeds, many of us are in search of the kind of faith that will lead us through the darkness, toward home."
For those searching for such a light, Jesus said, "I am the light of the world. Whoever follows me will never walk in darkness, but will have the light of life."
Time's story goes through all the same scholarly dilemmas, but with a little more sympathy. For example, some of the differences between Gospel narratives, David Van Biema writes, can be understood by recognizing the different audiences intended to read the story.
Van Biema, though, ends without condescending advice. Even those with a "politically progressive analysis of Scripture" find something miraculous in the birth of Christ, as the Gospels tell it. During the nativity pageant at Arlington Heights First Presbyterian in Illinois, pastor Dianne Shields won't be including her historical qualms. She's preached her "scholarly sermons on the Magi and the meaning of Mary's answer to Gabriel," says Van Biema. But she's also going to play the angel in the play.
As she walks down the aisle holding Jesus, Van Biema says, "Many will cry out, if only silently within their hearts, Hallelujah!"
Even for the skeptic, the story of Jesus' birth is compelling. The son of God born to a virgin, the jealous ruler who slaughters a generation, the Magi who come to pay tribute, the king born in a manger, God with us.
Maybe the news angle isn't why so many people disbelieve the story, but why so many people cling to it.
Millard Fuller, after sexual harassment accusation, worries Habitat will be 'just another nonprofit'
Millard Fuller, founder of the home-building ministry, Habitat for Humanity, stepped down recently as CEO of the huge nonprofit. According to the Associated Press, "Accusations of 'inappropriate conduct' … led to Mr. Fuller's temporary banishment from the headquarters of the Christian home-building organization that he and his wife, Linda, founded 28 years ago. Mr. Fuller said the board of directors was on the verge of firing him before he asked former President Jimmy Carter, Habitat's most visible volunteer, to intervene."
The board eventually found "insufficient evidence" to substantiate the charges that Fuller acted inappropriately during a car ride to catch an Atlanta plane. Fuller said the charges were lies, but agreed to step down as CEO. He is now "founder and president."
But the new title leaves him little real authority to act against a board that Fuller fears is changing the ministry movement to a bureaucratic nonprofit. The AP writes, "In a Nov. 5 letter to members of the search committee, Mr. Fuller expressed his concerns that the board would hire a high-paid bean counter instead of someone with 'strong Christian commitment.'
"'The danger, I fear, is that Habitat for Humanity will become a bureaucracy,' he wrote. 'If we lose the 'movement mentality,' we will not go out of existence, but we will stagnate and become 'just another nonprofit' doing good work across the country and around the world.'"
For more on the struggle between good work and Christian ministry, see CT's profiles of Fuller and Habitat for Humanity. Also, the Associated Press has a slightly older article about the immediate power struggle.
Stem-cell conspiracy
Stem-cell conspiracy
According to Dennis Byrne, writing in the Chicago Tribune, stem cells can help the paralyzed stand up and walk. "On Thanksgiving Day, a South Korean woman, Hwang Mi-Soon, paralyzed for 20 years after a spinal-cord injury, rose from her wheelchair and, tearfully and with the help of a walker, took a few steps."
"Why didn't Hwang make the front page of every American newspaper?" Byrne asks. "It's because the stem cells used in Hwang's therapy were from umbilical-cord blood instead of embryos." Because the media has pushed so hard for embryonic stem-cell research, they weren't too interested in a medical cure that didn't cross ethical boundaries.
"Adult and cord stem cells hold as much, if not more, promise as the embryonic types. For years, [they have] been used to treat leukemia. The good news about adult and cord stem-cell advances flows so steadily, it's hard to imagine how a journalist with any news judgment could ignore it."
Related Elsewhere:
Suggest links and stories by sending e-mail to weblog@christianitytoday.com
Check out Books & Culture's weekly weblog, Content & Context.
See our past Weblog updates:
December 3 | 2 | 1
November 24 | 23 | 22
November 19 | 18 | 17 | 16
November 12 | 11 | 10
November 5 | 3b | 3a | 2 | 1
October 29 | 28 | 27 | 26 | 25
October 22 | 21b | 21a | 18b | 18a
Weblog
Launched in 1999, Christianity Today's Weblog was not just one of the first religion-oriented weblogs, but one of the first published by a media organization. (Hence its rather bland title.) Mostly compiled by then-online editor Ted Olsen, Weblog rounded up religion news and opinion pieces from publications around the world. As Christianity Today's website grew, it launched other blogs. Olsen took on management responsibilities, and the Weblog feature as such was mothballed. But CT's efforts to round up important news and opinion from around the web continues, especially on our Gleanings feature.
Ted Olsen is Christianity Today's executive editor. He wrote the magazine's Weblog—a collection of news and opinion articles from mainstream news sources around the world—from 1999 to 2006. In 2004, the magazine launched Weblog in Print, which looks for unexpected connections and trends in articles appearing in the mainstream press. The column was later renamed "Tidings" and ran until 2007.
Previous Weblog Columns: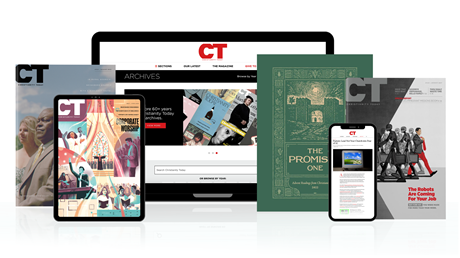 Subscribe to Christianity Today and get access to this article plus 65+ years of archives.
Home delivery of CT magazine
Complete access to articles on ChristianityToday.com
Over 120 years of magazine archives plus full access to all of CT's online archives
Subscribe Now
The Virgin Birth? Come on!
The Virgin Birth? Come on!