Antony Flew: Science pretty much proves God's existence
Alister McGrath was more prescient than he knew when he published The Twilight of Atheism earlier this year. One of the most prominent atheists of the last century now says he believes there must be some kind of God, based on scientific evidence. But Antony Flew is careful to say that he's merely a deist, and rejects any notion of a God of revelation.
"I'm thinking of a God very different from the God of the Christian and far and away from the God of Islam, because both are depicted as omnipotent Oriental despots, cosmic Saddam Husseins," he told the Associated Press. "It could be a person in the sense of a being that has intelligence and a purpose, I suppose."
The Associated Press interview is based on a new DVD where Flew describes his change of mind. But those interested will certainly want to check out Philosophia Christi's interview between Flew and Liberty University's Gary Habermas.
"I don't believe in the God of any revelatory system, although I am open to that. But it seems to me that the case for an Aristotelian God who has the characteristics of power and also intelligence, is now much stronger than it ever was before," Flew says.
The 5,600-word interview is pretty packed, but it's worth reading to the end. Or, better yet, why not have Weblog spoil the ending for you? Keep in mind this note from the AP's Dick Ostling: "Flew first made his mark with the 1950 article 'Theology and Falsification,' based on a paper for the Socratic Club, a weekly Oxford religious forum led by writer and Christian thinker C.S. Lewis."
HABERMAS: C. S. Lewis explained in his autobiography that he moved first from atheism to theism and only later from theism to Christianity. Given your great respect for Christianity, do you think that there is any chance that you might in the end move from theism to Christianity?
FLEW: I think it's very unlikely, due to the problem of evil. But, if it did happen, I think it would be in some eccentric fit and doubtfully orthodox form: regular religious practice perhaps but without belief. If I wanted any sort of future life I should become a Jehovah's Witness. But some things I am completely confident about. I would never regard Islam with anything but horror and fear because it is fundamentally committed to conquering the world for Islam. It was because the whole of Palestine was part of the land of Islam that Muslim Arab armies moved in to try to destroy Israel at birth, and why the struggle for the return of the still surviving refugees and their numerous descendents continue to this day.
HABERMAS: I ask this last question with a smile, Tony. But just think what would happen if one day you were pleasantly disposed toward Christianity and all of a sudden the resurrection of Jesus looked pretty good to you?
FLEW: Well, one thing I'll say in this comparison is that, for goodness sake, Jesus is an enormously attractive charismatic figure, which the Prophet of Islam most emphatically is not.
Los Angeles Times: Rap needs God
Flew might not (yet) love Jesus, but the Los Angeles Times sure does. Specifically, an editorial today praises Kanye West's "Jesus Walks" along with other indications that the rap industry is getting religion.
"The popularity of 'Jesus Walks' may well reflect an unheralded, if unfocused, spirituality among the genre's fans," the paper says. "It resonates, West told MTV, because 'I'm expressing a lot which the regular person is going through.' Its rough language isn't going to appeal to the Amy Grant crowd, but it may be a new expression for old musical roots."
Primate of Ireland: Episcopal Church 'never likely to face discipline'
Robin Eames, head of the Anglican Church in Ireland, offers The Church of England Newspaper a preview of the upcoming meeting of Anglican Primates (heads of the various Anglican provinces) in February. And conservatives probably won't be happy.
"I would welcome decisions [at February's Primates' meeting] more if they're directed to how we deal with the nature of Communion rather than reiterating 'they did something wrong' or 'they didn't express regret,'" he said "I think we need to move on in terms of what have we learned from this—I'm a great believer in trying to learn the lessons of these things. I think we must move on."
And by "move on," Eames apparently means forgetting about the Episcopal Church's repeated repudiation of church doctrine and teaching (including a brazen rejection of The Windsor Report, the product of a commission Eames himself chaired). "Moving on" apparently doesn't mean actually addressing the current situation, where the American body has leaders in open rebellion against biblical, ecclesiastical, and traditional teachings and promises to add to these.
For orthodox Anglicans, however, the question hasn't been whether Eames thinks the Episcopal Church USA will be (or ought to be) disciplined in some way. It's whether those who lead the majority of the world's Anglicans, those in the Global South, think disciplinary action must be taken.
Craze Mass in China
The Guardian has a very odd description of Christmas in China that's worth reading. Xinran writes that in years past, confusion reigned:
I once asked a market trader in Nanjing, a woman in her 60s wearing a red beret, "What is Christmas? What's it for?"
"That is the date for USA God! You see my hat, this is their Craze Mass hat, westerners like the color red … I did wonder if that was true after everybody said capitalists like black; but as you know, those rich capitalists are very colourful. Money and wealth bring colour to human lives … come on, buy one, forget your age … we have missed out on a lot."
Ah, but the Spirit of Christmas, or at least of Herod, is alive and well in China. The China Aid Association says the Chinese government has arrested Zhang Rongliang, a prominent "house church" leader. "The Fangcheng Mother Church and China for Christ Church are among China's largest underground church networks, with an estimated 10 million members," the Associated Press reports.
More articles
Canada clears way for same-sex marriage:
Religious groups mull options as Canadian court okays gay marriage | Religious and pro-family groups who oppose gay marriage tried to make the best of Thursday's Supreme Court ruling that paves the way for Canada to become the third country to allow nationwide recognition of gay marriages (Religion News Service)
The right learns from its loss | Social conservatives acknowledged yesterday they could use a public-relations overhaul in light of the Supreme Court opinion that cleared the way for legalized same-sex marriage, but they insisted there is still room in this country for people who support "traditional" values on issues such as marriage, abortion and religion's role in society (The National Post, Canada)
Opposing groups to target MPs | Pleasantly caught off guard by yesterday's Supreme Court decision, conservative church and family organizations suggested their task now is to persuade members of Parliament that the same-sex marriage issue is too complex for simple legislation (The Globe and Mail, Toronto)
Passage of bill depends on Liberal support | With the voting intentions of the opposition parties fairly clear, the question for Prime Minister Paul Martin is how many of his own MPs are willing to rewrite the traditional definition of marriage (The Globe and Mail, Toronto)
Canada's Supreme Court clears way for same-sex marriage law | The decision will give political cover to the government as it pushes legislation that has been promised for more than a year (The New York Times)
Canada to move on gay marriage after court ruling | Prime Minister Paul Martin plans to introduce a redefinition of marriage early next year (Reuters)
Canada to allow gays to 'marry' | Canada's highest court gave its blessing to homosexual "marriage" yesterday, but protected religious organizations from being forced to sanction same-sex unions (The Washington Times)
Two more countries back gay marriage | Marriage between two men, or two women, looks set to become legal in Canada and New Zealand after legal rulings in both countries yesterday (The Times, London)
Same-sex unions win court's blessing | Top-court ruling opens path for bill to allow marriage (San Francisco Chronicle)
High court in Canada backs gay marriage | The court gave the go-ahead to Parliament to legalize gay marriage nationally, a step that has strong public support (The Washington Post)
Homosexuality & religion:
Gay rights activists reassess strategy | Lack of activists' success in the United States stands in contrast to Canada (Associated Press)
Gay activists refuse to bargain away rights | Dozens tell lawmakers they're against any plan to pull back from fight for equality (The Washington Post)
Religion Today: Was defrocking decisive? | Last week's defrocking of a United Methodist Church pastor who broke church law by living openly with her lesbian partner was a victory for the denomination's conservative wing. But more broadly, did it signify a decisive turn for the denomination? (Associated Press)
American Church 'never likely to face discipline' | The Irish Primate, Archbishop Robin Eames, warned that the Communion's conservative provinces should not expect calls to be answered for the American Church and diocese of New Westminster, which authorised same-sex blessing rites, to be punished (The Church of England Newspaper)
Going straight for Jesus | I know that Christ can change our lives. But not in the way that ex-gay groups say he wants us to change (Gareth Fenley, Southern Voice, gay newspaper)
Va. lesbian files appeal in custody battle | A woman who lost custody of a daughter born during a now-dissolved civil union granted in Vermont has appealed a court decision that gives Virginia jurisdiction in the legal battle (Associated Press)
Gay Jesus:
UK Christian protesters seek to prosecute gay play | A group of Christian protesters in Scotland has called on police to prosecute a theater company for blasphemy because it is putting on a play about a gay Jesus (Reuters)
Fury over 'gay Jesus' production | Police have been urged to prosecute a theatre company over a production which depicts Jesus as homosexual (BBC)
British religious hate bill:
Lighten up, and put more lights up as well | The ability of religious people to laugh at themselves, and tolerate being laughed at, is precisely what is being debated in Britain at the moment, as the now scandalously famous Home Secretary, David Blunkett, puts forward a bill outlawing religious vilification (Julia Baird, The Sydney Morning Herald)
Free speech v religion | An unlikely alliance defends the right to make jokes (The Economist)
Also: Shop is slammed for 'totally insulting' religious products | A grandmother has branded a shop's range of novelty items, bearing an image of Jesus alongside humorous slogans, as 'blasphemous' (Chester Chronicle, England)
Beckham nativity:
Celebrities are as much God's children as the rest of us | If the censorious spokesmen of modern Christianity feel their religion is too precious and fragile to embrace a little holy foolishness (admittedly the Tussauds confection consists of a large slab of foolishness, very lightly dusted with holiness), it is hard to see why anyone hovering outside the refined and exclusive circle of faith should be tempted to join in (Jane Shilling, The Times, London)
Nativity: the agony and the ecstasy | Whatever you do this week, don't mention the N-word (BBC)
Celebrity nativity 'to be annual event' | Madame Tussaud's will make its "celebrity nativity" an annual event despite controversy over the scene involving Victoria and David Beckham (The Independent, London)
Christmas:
Greed is all we need | Shop to your heart's content: no one cares any more. You might even be saving society as we know it (Matt Wade, The Sydney Morning Herald)
The true spirit of Christmas | Boozy winter orgies, evil sprites and pagan fertility gods . . . Some of the murky origins of the religious feast day (The Belfast Telegraph)
Trying to keep the 'Christ' in Christmas | December - the time of Christmas, Hanukkah, Kwanzaa and the Buddhist Bodhi Day - lands many public schools in the holiday hot seat (Daily Herald, Chicago suburbs)
Cover story | Time and Newsweek put the Gospels to the test (George Sim Johnston, The Wall Street Journal)
The Christmas cavilers | Some people seem to want a lump of bile in their stockings (Editorial, The Wall Street Journal)
Christmas reminds us of our duty to children | The celebration of Christmas came to First Nations people through the Christian missionaries, who took our people into residential schools (Sandford Big Plume, Calgary Herald)
De-Christmasing Christmas:
Onward Christian soldiers | I guess I'll have to put Target, Best Buy, Circuit City and some other retailers on my naughty list, and spend my Christmas dollars elsewhere (Deborah Simmons, The Washington Times)
Target's bell-ringer ban stirs customer revolt | Other stores heed backlash from chain's decision to turn away Salvation Army's red kettles (Seattle Post-Intelligencer)
Can the carols … Give me Target and Sarah Jessica Parker | there's no turning back from Christmas's lapse into velvety excess (Emily Green, Los Angeles Times)
Happy Chrismahanukwanzakah to you! | New 'holidays' bring tidings of joy and oy (ABC News)
December dilemma:
Bridging a holiday divide | It's the season of coming together. But when the topic is the observance of the season itself, you readers are as polarized as states red and blue (Danny Westneat, Seattle Times)
Unhappily misguided holidays | California jumped into the yearly fray over why Christmas symbols and carols get banned from schools and other public places when that well- known religious radical, Gov. Arnold Schwarzenegger, pointedly called the state's official "holiday" tree its "Christmas" tree (Jill Stewart, San Francisco Chronicle)
A joyful season provokes quarrels | Hanukkah's here and it's almost Christmas, time for the never-ending fight over religious decorations on public property (Jeffrey Page, The Record, Hackensack, N.J.)
Christmas quiz | What kind of cards to buy for holidays? (Stu Bykofsky, Philadelphia Daily News)
'Merry Christmas' debate hot | Ad, responses reflect heartfelt concerns on national level (The News & Observer, Raleigh)
Outing Santa as a fake | Christianity-free Christmas has been creeping up on us for some time and we've done nothing about it, which is most alarming. (Jane Fraser, The Australian)
It's a wonderful strife | Where did anyone ever get the idea that there's is a right, in this country, not to be offended? (Mike Rosen, Rocky Mountain News, Denver)
Church & state:
Bush administration enters fray over Ten Commandments displays | A looming Supreme Court fight over public displays of the Ten Commandments could become a vehicle for a major overhaul of the legal standard that has governed the church-state balance for the past three decades (The New York Sun)
Christian college sues state over vouchers | An evangelical Christian university based in metro Denver has filed a federal lawsuit against the Colorado Commission on Higher Education after it denied the school's application to a new college voucher program for in-state students (The Denver Post)
Religion & politics:
President prays at menorah lighting | At a menorah-lighting ceremony Thursday on the third night of Hanukkah, President Bush prayed for the safety and quick return of U.S. soldiers serving in Iraq (Associated Press)
Texas conservatives plan all right moves | GOP-backed social policies top legislators' agenda for January (The Dallas Morning News)
Limbaugh asks Christians to stand strong | David Limbaugh, noted author and Missouri attorney, urged the nearly 500 people in the audience Thursday evening not to succumb to secularism in education and politics (Lancaster Eagle-Gazette, Pa.)
Let evangelists first heal themselves | I'm getting tired of being lectured on morals by my moral inferiors. I'm talking about Bible-thumping evangelists; the braying hypocrites who populate our nation's airwaves and the smarmy virtue police who are more interested in raising our moral level than their own. This, apparently, makes me a moral leper in the eyes of the New Taliban, the evangelical, Holier-than-Thou crowd that is taking over our government and our national life. (Donald Kaul, Topeka Capital-Journal)
Shifts in society affect religion's role | Trying to answer "Where the heck are the liberal (or progressive) (or moderate) Christians?" (Anthony B. Robinson, Seattle Post-Intelligencer)
War & terrorism:
Muslim scholars increasingly debate unholy war | The debate over violence in Islamic cultures is swelling, with suggestions that the problem lies in the way Islam is being interpreted (The New York Times)
Serbian church sues over Kosovo | The Serbian Orthodox Church has filed a lawsuit against the UK, France, Germany and Italy for allegedly failing to protect its churches in Kosovo (BBC)
Nigerian universities close after religious clashes | Nigerian authorities said on Friday they have shuttered two universities after the latest outbreak of Christian-Muslim fighting in restive northern Nigeria, hoping to calm tensions after a student religious debate turned violent (The Mail & Guardian, South Africa)
Abortion:
State to fight law that lets doctors refuse abortions | California's attorney general will try to reverse a key victory for the pro-life lobby by suing to overturn a recently passed federal law designed to protect health care providers from retribution if they refuse to support abortion (The Washington Times)
Lockyer to sue for abortion rights | Bush has signed bill penalizing states that protect choice (San Francisco Chronicle)
California says will sue over new U.S. abortion limits | California's attorney general said on Wednesday that he would sue to block a new U.S. rule that could limit federal funds to states that provide access to abortions (Reuters)
Lawmakers urge abortion ban reinstatement | Twenty-six Republican members of Congress asked an appeals court Thursday to reinstate the Partial Birth Abortion Ban Act, struck down by a federal judge in September (Associated Press)
Little Calvin a miracle in the making | Now that abortion is back in the news, we're starting to hear things that haven't been spoken about publicly before (Michael Duffy, The Daily Telegraph, NSW, Australia)
Human rights:
Zimbabwe to outlaw groups that promote human rights | Human-rights activists have denounced this legislation and other proposals as part of a plan to suppress opposition political activity (The New York Times)
Divestment drive targeting Sudan | Activists are launching a drive to get Harvard University and the retirement funds for Massachusetts and Boston workers to sell off their holdings in companies that do business in Sudan, which has been accused by the United States of waging a genocidal campaign in its long-running civil war (The Boston Globe)
Inaction's consequence | The violence in Darfur has worsened (Editorial, The Washington Post)
Prison ministry:
Alabama officials balk at relocating a Vt. sex offender | The Church at Prison works with prison inmates and helps them adjust to life outside (Associated Press)
Prisons used as dustbins, say bishops | Prisons in England and Wales are being used as society's "dustbin" and must be radically reformed, the Roman Catholic bishops said yesterday (The Telegraph, London)
Faith-based prison programs raise eyebrows | To reform criminal minds, some prison officials are turning to religion (Fox News)
Crime & fraud:
U.S. to probe death of Haitian pastor | U.S. officials have agreed to investigate the death of an 81-year-old Haitian pastor who died last month in the custody of immigration authorities, a U.S. congressman said Thursday (Associated Press)
Telemarketers for charities in state pocket 71% on average | The report's results were similar to past years, with nearly three-quarters of the 566 charity telemarketing campaigns that operated in Massachusetts in 2003 funneling less than half the money they raised to the charity itself (The Boston Globe)
Baby's killing draws attention to church | Authorities say Dena Schlosser killed her 10-month-old daughter last month by cutting off the child's arms. Doyle Davidson said the curiosity that followed about his Water of Life Church and its beliefs can only spread his message, which is broadcast on television (The Dallas Morning News)
Music teacher jailed for drug dealing | A music teacher at a strict religious school was jailed for three years today for dealing cocaine (The Western Mail, Wales)
Thief takes hand chimes from Ventura church | St. Paul's Episcopal will have holiday concerts, thanks to Oxnard help (Ventura County Star, Ca.)
Missing church cash got a Morris pastor 'retired' | 3 years later, new bishop told prosecutor (The Star-Ledger, Newark, N.J.)
Abuse:
Nuns deny requests by abuse victims group | An association representing 75,000 Roman Catholic nuns has rejected a proposal from a victims advocacy group designed to encourage people who were sexually molested by nuns to come forward and get help (The Washington Post)
Mahony in '80s banned two priests | Deposition reveals he ousted pair accused of molestation from U.S. while he was Stockton bishop. He said incidents had slipped his mind (Los Angeles Times)
Taking cover under the red, white and blue | Canada lets 4 accused of child molestation call U.S. home (The Dallas Morning News)
Runaway priests: When the law looks the other way | Authorities allow accused priests to live abroad (The Dallas Morning News)
Brownsville bishop says he never advised priest to flee | Brownsville Catholic Bishop Raymundo Peña denied Tuesday that he advised a priest suspected of sexual abuse to flee the country (The Dallas Morning News)
Warrant languishes on fugitive cleric | S. Texas DA says he doubts he could find Nigerian priest (The Dallas Morning News)
Fugitive priests blamed on law enforcement (Associated Press)
Fleecing the shepherd | Will the Church settle the sexual-abuse cases this time around? (The Boston Phoenix)
Church life:
Planners, residents talk church | Commission doesn't have a St. Andrew's expansion opinion to present to council as of press time (Daily Pilot, Newport Beach, Ca.)
'Greatest love story ever told' | Churches' musical explores the life of Jesus' parents (The Journal Gazette, Fort Wayne, Ind.)
Choosing a church's leader | With a pastor shortage in many Christian and Jewish denominations, the search for a pastor often takes at least a year. So what's involved in that process? (The Express-Times, Easton, Pa.)
Transition to new pastor scary, exciting | "It's a buyer's market, if you can call a minister a buyer" (The Express-Times, Easton, Pa.)
Ordination reflects facets of culture, churches | Four-hour ceremony draws on new priest's Yup'ik ties (Anchorage Daily News, Ak.)
Missions & ministry:
Christian party animals | Evangelizing to the young and wasted in party centers around the globe, members of the 24-7 Prayer team hope to bring Jesus to the raving, godless masses (Salon.com)
UCC pastor offers 'extravagant welcome' | The man who spends the night on a park bench calls it the "9:30 Club." The chef calls it Zaccheus Community Kitchen. The United Church of Christ pastor who devoted three years to raising $1 million to renovate the building so it can serve the homeless in downtown Washington calls it a place of welcome offering spiritual and physical nourishment (UPI)
Education:
Another no-confidence vote for Baylor president | Baylor University President Robert Sloan has received a resounding no-confidence vote from his faculty members and administrators. (Editorial, Austin American-Statesman, Texas)
Pontifical university to take on the devil | A Vatican university said on Thursday it will hold a special "theoretical and practical" course for Roman Catholic priests on Satanism and exorcism in response to what the Church says is a worrying interest in the occult, particularly among the young (Reuters)
Catholicism:
Recognize faults, rise again, pope tells U.S. church | The American Roman Catholic Church must recognize its failings in the priestly sexual abuse scandal and rise up again with determination to heal the deep wounds, Pope John Paul told U.S. bishops on Friday (Reuters)
Far-flung flock | Speaking in flawless English with a hint of a brogue, a legacy from his years as an undergraduate in Dublin, Archbishop Paul N. Sayah could be called a "jolly" prelate (The Jerusalem Post)
Cardinal Theodore McCarrick | The intersection of religion and politics was a subject of dispute this year when the question arose over whether Catholic politicians who support legal abortion should receive communion. McCarrick is the archbishop of Washington, D.C., and heads of the task force on Catholic Bishops and Catholic Politicians (Fresh Air, NPR)
Attorney urging Catholic priests to unionize | Calling the Archdiocese of Hartford "arbitrary, capricious and arrogant," a New Haven attorney is urging priests around the state to unionize to protect their due process rights when they're accused of sexual misconduct (Bristol Press, Conn.)
Wilton Gregory brings charisma | Bishop Wilton Gregory, one of the most charismatic figures in the U.S. Roman Catholic church, has been named archbishop of the Atlanta archdiocese by Pope John Paul II (The Atlanta Journal-Constitution)
Also: New archbishop offers balance | The new archbishop of Atlanta comes at a critical time, both locally, for the burgeoning Catholic population in North Georgia, and nationally, as the church continues to heal the deep wounds remaining from the worst scandal in its history (Editorial, The Atlanta Journal-Constitution)
History:
Last Russian czar's remains in doubt | The Russian Orthodox church said Wednesday that Japanese researchers had confirmed its doubts about the authenticity of the remains of Russia's last czar, Nicholas II (Associated Press)
Scholar sees lessons for U.S. in apostle's challenge to Rome | The Caesars are gone. Someone else is now known as the son of God. And the story of that transition has meaning for modern Americans, says John Dominic Crossan, co-author of a new book about the Roman Empire and the Apostle Paul, who preached Christ in the first century and became Christianity's first theologian (Newhouse News Service)
Communion cup has on-again, off-again history | For more than 400 years, Catholics were denied wine at Holy Communion, the ritual meal that is at the heart of their worship. The chalice was restored to the laity in 1970, but it may be denied again (Steve Gushee, Palm Beach Post)
Religion statistics:
Figures draw America's portrait | About 159 million of us say we're Christians, up from 151 million in 1990. Of that, 51 million are Catholic, 37 million are Baptists and 4.6 million are Protestant — a figure that stood at 17.2 million in 1990 (The Washington Times)
72% have belief in a god | Reports of Britain's descent into atheism seem to have been a little premature. According to a new survey, 72% of the population believe in some kind of god, while almost as many - 69% - associate themselves with a particular religion (The Guardian, London)
Happiness is Christianity, believe it or not | Christians are happier than atheists and more generous, a new survey suggests (The Age, Melbourne, Australia)
Film & theater:
In 'Notre Musique,' going to hell and back | Jean-Luc Godard's "Notre Musique," a film about war and reconciliation, is deeply Christian, a study in humility and the moral uncertainty at the core of the Christian message (Philip Kennicott, The Washington Post)
A few talking points | Craig Wright insists his play "Grace" -- whose action centers on an evangelical Christian couple and a pie-in-the-sky gospel-hotel deal -- is really not about religion (The Washington Post)
Is this shark gay? Kiddie cartoons and the culture wars | Does 'Shark Tale' have a pro-gay message? Does 'The Incredibles' mock schools where everyone's 'special'? Should anyone care? (Frederica Mathewes-Green, Beliefnet)
'Satanic symbols' in Kenyan churches:
Anglicans wary on 'satanic symbols' | Anglican Archbishop Benjamin Nzimbi yesterday waded into the dispute over so-called Satanic symbols in Protestant churches with an appeal for caution in judging Freemasons (The Nation, Nairobi)
PCEA leaders speak on 'satanic' symbols | Talking to Rev Dr George Wanjau, the moderator of St Andrews Church and retired minister Dr Timothy Njoya, who are on opposite sides of the "satanic" symbols debate (The Nation, Nairobi)
Sports:
We'll quit before we play on a Sunday | Two of Irish League football's most talented strikers may be forced to consider their future in the game if the Irish FA permits the playing of domestic fixtures on a Sunday (The Belfast Telegraph)
For Danny Williams, it's a spiritual journey and a title shot | What happens when a boxer's brutal ambitions run smack into his religious convictions that forbid him from doing physical harm to others? British heavyweight contender Danny Williams has reached that crossroad. (KRT)
More articles of interest:
Plant a tree at Easter, Nobel laureate says | Kenyan Nobel Peace Prize Laureate Wangari Maathai on Friday called on people around the world to plant trees at Easter as a symbol of renewal and to protect the planet (Reuters)
Chain of prayers built for Jeanna worldwide | In two month's time, 15-year-old Jeanna Giese's recovery from rabies has been deemed so triumphant that believers around the world have attributed it to the miracle of prayer (Fond Du Lac Reporter, Wis.)
Interview with Creation Science Society of Milwaukee president Ken Bahr | Finding common ground in the Bible, science (Milwaukee Journal-Sentinel)
Articles of faith | Ceramist Claire Curneen's latest body of work is inspired by religious images she was exposed to as a child (Western Mail, Wales)
The greatest catastrophe | Aids worst disaster in history, says UN chief (The Guardian, London)
Related Elsewhere:
Suggest links and stories by sending e-mail to weblog@christianitytoday.com
Check out Books & Culture's weekly weblog, Content & Context.
See our past Weblog updates:
December 9 | 7 | 6
December 3 | 2 | 1
November 24 | 23 | 22
November 19 | 18 | 17 | 16
November 12 | 11 | 10
November 5 | 3b | 3a | 2 | 1
October 29 | 28 | 27 | 26 | 25
Weblog
Launched in 1999, Christianity Today's Weblog was not just one of the first religion-oriented weblogs, but one of the first published by a media organization. (Hence its rather bland title.) Mostly compiled by then-online editor Ted Olsen, Weblog rounded up religion news and opinion pieces from publications around the world. As Christianity Today's website grew, it launched other blogs. Olsen took on management responsibilities, and the Weblog feature as such was mothballed. But CT's efforts to round up important news and opinion from around the web continues, especially on our Gleanings feature.
Ted Olsen is Christianity Today's executive editor. He wrote the magazine's Weblog—a collection of news and opinion articles from mainstream news sources around the world—from 1999 to 2006. In 2004, the magazine launched Weblog in Print, which looks for unexpected connections and trends in articles appearing in the mainstream press. The column was later renamed "Tidings" and ran until 2007.
Previous Weblog Columns: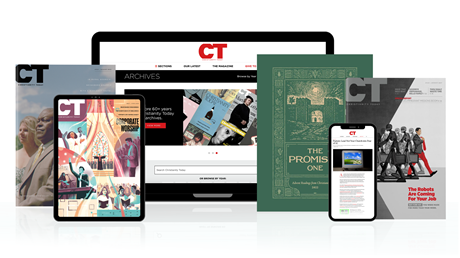 Annual & Monthly subscriptions available.
Print & Digital Issues of CT magazine
Complete access to every article on ChristianityToday.com
Unlimited access to 65+ years of CT's online archives
Member-only special issues
Subscribe
Atheist No More, Flew Still Rejects Revelation
Atheist No More, Flew Still Rejects Revelation