David Aikman is former senior correspondent and bureau chief in Eastern Europe and Beijing for Time Magazine. His latest book is Jesus in Beijing, which discusses the rise of Christianity in China and what a Christian China might mean for global Christianity and world politics. Aikman is chairman and founder of Gegrapha, a fellowship of Christian journalists, and he contributes regularly to the to the American Spectator and the Weekly Standard.
Talk about how things have changed so dramatically since you were a bureau chief.
When I was in China in the 1980's it was just beginning to open up. The decisions by Deng Xiaoping in 1978-79 began to open China right after their hibernation during the cultural revolution. But it has taken two decades for the changes to shake down through society. Now, you still have very tight restrictions on religion and you still have persecution there, of course. But it's possible to get around China, to go to places without asking permission from the Foreign Ministry, and that was not the case two decades ago.
What are some of the dynamics that have meant that right now is a time where there can be some tremendous growth and opportunities for growth of the Church in China?
I think probably the most dramatic growth may be over. I would say that occurred in the '80s and '90s. Throughout the 1980s and then in the early '90s. Christianity is still growing a lot. I think the point is that there is a spiritual vacuum in China that for quite a long time nobody has believed in Marxism-Leninism, and people want to know what's life all about?
What is the Three Self Church.
The Three Self Patriotic Movement is an umbrella organization for Protestant churches in China, which was set up in the 1950s to enable the ...
1
The Dick Staub Interview
Dick Staub was host of a eponymous daily radio show on Seattle's KGNW and is the author of Too Christian, Too Pagan and The Culturally Savvy Christian. He currently runs The Kindlings, an effort to rekindle the creative, intellectual, and spiritual legacy of Christians in culture. His interviews appeared weekly on our site from 2002 to 2004.
Previous The Dick Staub Interview Columns: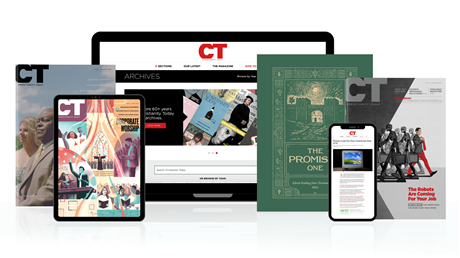 Find hope and historical insight. For a limited time, explore 60+ years of CT archives for free!
Daily devotions from Timothy Dalrymple during this pandemic.
Hundreds of theology and spiritual formation classics from Philip Yancey, Elisabeth Elliot, John Stott, and more.
Thought journalism that inspires you to think more deeply about your faith.
Join now and get print issues access to archive PDFs.
China's Christian Syndrome
China's Christian Syndrome