Supreme Court: States don't have to treat "devotional theology" like all other subjects
The Supreme Court stood on its head today. Actually, had five of the seven justices actually done headstands in the Supreme Court building, it would perhaps have been less of a surprise than today's decision in Locke v. Davey.
Here's a little history: In Rosenberger v. Rector & Visitors of the University of Virginia (1995), the Supreme Court said that the government must fund a religious publication if it funds other student publications. In Good News Club v. Milford Central School (2001), the Supreme Court similarly said that a public school can't ban a religious group if it opens the door to all other groups.
Hear the principle? Open the door to some, open the door to all—even the religious.
It seemed straightforward enough, but apparently the Supreme Court is singing from a different songbook than thought. Today, it said that Washington State may deny scholarships to students pursuing religion-related degrees even if the door is open to all other areas of study. In other words, it seems, the state may discriminate against religion.
Washington is one of 36 states with what's known as a "Blaine amendment" in the state constitution. These amendments, part of an anti-Catholic campaign a century and a half ago, ban any public funding of religious education. And seven of the justices have no problem with that.
"Washington's program imposes neither criminal nor civil sanctions on any type of religious service or rite," Chief Justice William H. Rehnquist wrote for the court majority. "It neither denies to ministers the right to participate in community political affairs … nor requires students to choose between their religious beliefs and receiving a government benefit. … . The State has merely chosen not to fund a distinct category of instruction."
Ah, but the court didn't pretend like religion had nothing to do with it. "Training for religious professions and training for secular professions are not fungible," Rehnquist wrote. "Training someone to lead a congregation is an essentially religious endeavor. Indeed, majoring in devotional theology is akin to a religious calling as well as an academic pursuit." And giving a state scholarship for that that, Rehnquist suggested, is troublesome and un-American. "We can think of few areas in which a State's antiestablishment interests come more into play," he said. "Since the founding of our country, there have been popular uprisings against procuring taxpayer funds to support church leaders, which was one of the hallmarks of an 'established' religion."
How nice of the court to start considering Framers' intent, but as Justice Antonin Scalia wrote in his dissenting opinion (to which Justice Clarence Thomas signed on), "One can concede the Framers' hostility to funding the clergy specifically, but that says nothing about whether the clergy had to be excluded from benefits the State made available to all. No one would seriously contend, for example, that the Framers would have barred ministers from using public roads on their way to church."
Rehnquist denied that the court's previous "take one, take 'em all" decisions even applied in this case, since cases like Rosenberger applied to free speech. "The Promise Scholarship Program is not a forum for speech," Rehnquist wrote. "The purpose of the Promise Scholarship Program is to assist students from low- and middle-income families with the cost of postsecondary education, not to encourage a diversity of views from private speakers." (But was Milford Central School District trying to "encourage a diversity of views from private speakers" when it started allowing extra-curricular clubs, or was it trying to assist and extend children's education and development?)
Scalia, as usual, is direct in his dissent. "Let there be no doubt: This case is about discrimination against a religious minority," he wrote. "In an era when the court is so quick to come to the aid of other disfavored groups, its indifference in this case, which involves a form of discrimination to which the Constitution actually speaks, is exceptional."
Here's why it's discrimination, in Scalia's words: "When the State makes a public benefit generally available, that benefit becomes part of the baseline against which burdens on religion are measured; and when the State withholds that benefit from some individuals solely on the basis of religion, it violates the Free Exercise Clause no less than if it had imposed a special tax."
And now, get ready for more such "special taxes" on religion. Almost certainly this case is a huge blow for the school choice movement in its efforts to have vouchers available to students who want to attend religious schools. In 2002, the Supreme Court ruled that students in Ohio could attend parochial schools under a state voucher program, but voucher opponents won't be able to apply that decision in the states that have Blaine amendments.
Likewise, this case can have implications for Bush's faith-based initiative and similar measures in states around the country. The court didn't say that religious organizations must be denied government funds (that much, at least for now, the Supreme Court has said is unconstitutional), but now the court is saying that religious organizations can be denied public money.
"We are very disappointed with a decision that clearly sanctions religious discrimination," American Center for Law and Justice chief counsel Jay Sekulow, who argued the case, said in a press release. "It is troubling that the decision is irreconcilable with more than a half century of Supreme Court precedent regarding the free exercise of religion."
Eugene Volokh, everyone's favorite law blogger, agrees. "The result, I think, genuinely is the discrimination against religion that people have complained about (sometimes wrongly, but here rightly)–not just exclusion of either pro-religion or anti-religion messages from the government's own speech, but a regime where the government may discriminate against private religious institutions and programs, but may not discriminate in their favor," he wrote. "Now this is a wrong that is indeed worth amending the Constitution over."
This is a huge decision—an earthquake for church-state relations, so expect more commentary in the days to come. In the meantime, keep your eyes on the First Amendment Center, which has some great background information on Locke v. Davey and other related cases.
Passionate?
Weblog thought about spinning off a comprehensive Passion blog, but there's simply too many articles out there on this film to wade through. Every news outlet is covering this story from several different angles—or, more accurately, the same four or five angles. Weblog has stopped linking to most of the local reaction stories ("Pastor Bill Smith of First Baptist loves it and wants to use it for evangelism. Rabbi Joe Steinberg is concerned about its portrayal of Jews"). Still, that leaves dozens upon dozens of stories still worth noting.
The Passion:
Churches and the Passion:
Jesus on screen:
Passion reviews:
Passion language:
Passion violence:
Passion theology:
Marketing:
Anti-Semitism:
Film:
More articles
Life ethics:
Religious tolerance:
Religious freedom:
Iraq:
Catholic/Orthodox meeting:
Gay marriage:
Marriage amendment:
Religion and politics:
William Pryor:
Education:
Amish in the City:
Books:
"Zero tolerance" for abusive clergy:
More on clergy abuse:
Related Elsewhere:
Suggest links and stories by sending e-mail to weblog@christianitytoday.com
Check out Books & Culture's weblog, Content & Context.
See our past Weblog updates:
February 25a | 24 | 23
February 20 | 19 | 18 | 17 | 16
February 13 | 11 | 10 | 9
February 6 | 5 | 4 | 3 | 2
January 30 | 29 | 28 | 27 | 26
January 23 | 22 | 21 | 20 | 19
January 16 | 15 | 14 | 13 | 12
and more, back to November 1999
Weblog
Launched in 1999, Christianity Today's Weblog was not just one of the first religion-oriented weblogs, but one of the first published by a media organization. (Hence its rather bland title.) Mostly compiled by then-online editor Ted Olsen, Weblog rounded up religion news and opinion pieces from publications around the world. As Christianity Today's website grew, it launched other blogs. Olsen took on management responsibilities, and the Weblog feature as such was mothballed. But CT's efforts to round up important news and opinion from around the web continues, especially on our Gleanings feature.
Ted Olsen is Christianity Today's executive editor. He wrote the magazine's Weblog—a collection of news and opinion articles from mainstream news sources around the world—from 1999 to 2006. In 2004, the magazine launched Weblog in Print, which looks for unexpected connections and trends in articles appearing in the mainstream press. The column was later renamed "Tidings" and ran until 2007.
Previous Weblog Columns: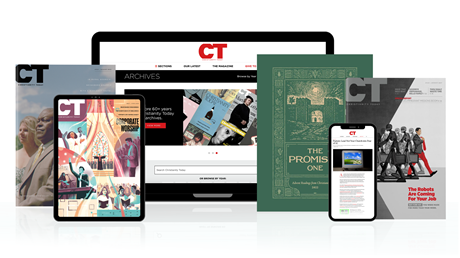 Annual & Monthly subscriptions available.
Print & Digital Issues of CT magazine
Complete access to every article on ChristianityToday.com
Unlimited access to 65+ years of CT's online archives
Member-only special issues
Subscribe
Supreme Court Clouds Church-State Rules
Supreme Court Clouds Church-State Rules