"America's present need," Warren Harding said in 1920, "is not heroics, but healing; not nostrums, but normalcy; not revolution, but restoration; not agitation, but adjustment; not surgery, but serenity"—and so on, abysmally. Textbook authors George Tindall and David Shi call Harding's prose "clumsy," but that doesn't quite capture the phenomenon. H. L. Mencken said it reminded him of "stale bean soup. … so bad that a sort of grandeur creeps into it." That's better. The image that comes to my mind is of barely thawed hamburger plummeting to the cold tile below. "Progression is not proclamation nor palaver. It is not pretense nor play on prejudice. It is not of personal pronouns nor perennial pronouncement." Thud.
John Dean, himself no prosemaster, tries to breathe life into this stuff. His more important purpose is to show that, massive opinion notwithstanding, Warren Harding was a good president. It's a daunting task. (I plugged warrenhardingrocks.com into Google and came up empty.) But The American Presidents Series, edited by Arthur Schlesinger Jr., required a volume on Harding, someone had to write it, and that someone might as well be a person who managed to be both a Nixon aide and, in time, an aide to Nixon's prosecutors (and who thus knows something about executive branch scandal). Dean also happens to have grown up in Harding's hometown of Marion, Ohio. And he has read much relevant unpublished material along with "almost every book written about Harding."
In a biography this short (170 small pages), Dean couldn't rescue Harding's reputation from the abyss labeled "America's worst president." But Dean is persuasive when he claims that the views of early-20th-century Harding haters (such as Mencken) have been accepted uncritically and repeated unthinkingly. Harding is regularly panned, Dean writes, because "the actual record of his presidency has … been largely overlooked." That may be so, and it would probably take a biographer of enormous skill—Robert Caro comes to mind—to make Harding interesting to more than specialists. But Dean's slim volume makes such a thing seem possible.
This book also serves to remind readers—and, more important, history teachers—that there is value in seeking to achieve even if great achievement itself is elusive. Harding called for federal anti-lynching measures, which were passed by the House but stopped by Southern Democrats in the Senate. Harding made genuine efforts to assist farmers (for example, by bolstering the Farm Land Banks' capitalization). In a day of laissez-faire, he prodded local and state governments to provide the unemployed with public works projects. He pushed, successfully, for shortening the steel industry's 12-hour workdays. He shut down railroad strikes that interfered with the delivery of mail. He put William Taft, a successful chief justice, on the Supreme Court. He argued against discrimination at the ballot box and against unequal schools for whites and blacks. He worked to stem the global naval race that would contribute to the advent of massive war in the Pacific.
And he was liked by most who knew him well. Harding's approach—"offend no one, make friends everywhere, bring together … factions as the peacemaker"—succeeded. Dean writes that Harding was "shrewd," "prescient," and "modest." Combine these with cunning and clever self-promotion and it's easy to see how such a person could become president. Harding's victory in the presidential campaign of 1920 (his chief rival was Democrat James Cox) was the largest landslide any Republican had gained to that point.Until his death, Harding was a popular president. He got along well with the press. He genuinely sought advice and counsel from his cabinet members.
But, of course, appreciation can only go so far. At the least, Harding's judgment is suspect. Some of his cabinet members—especially, perhaps, Herbert Hoover—were highly capable and upright. But others were, or became, mere criminals. Harding's Secretary of the Interior, Albert Fall, was imprisoned for exchanging public resources for private gain. Charles Forbes, head of the Veterans Bureau, also went to jail. Others connected to the executive branch committed suicide. Harding himself was never directly implicated in scandal. But his natural bonhomie seems to have blinded him to the pathology of "friends" in his midst.
In August 1923, a month after he paid tribute to the completion of the Alaska Railroad at the town of Nenana (he was the first president to visit Alaska territory), Warren Harding died. His vice-president, that breathing barrel of monkeys Calvin Coolidge, took the reins in Washington. Harding's wife, Florence, died the following year. Then news of scandals, the result of government investigations, began to break. And Harding's descent into textbook ignominy began.
For the next two decades or so, Dean writes, political journalists enjoyed a "muckfest." Harding's real accomplishments were ignored. His name became nearly synonymous with Teapot Dome, itself a synonym for mammoth corruption. The link, Dean says, is unfair. And so is Harding's now taken-for-granted place at the bottom of the presidential pile.
If nothing else, John Dean's sometimes dreary but ultimately satisfying short biography makes a good case: An intelligent and wide-ranging reassessment of Warren Harding's presidency is in order.
Preston Jones, a contributing editor for Books & Culture, teaches at John Brown University.
Related Elsewhere:
Warren G. Harding is available from Amazon.com and other book retailers.
Books & Culture Corner appears every Monday. Earlier editions of Books & Culture Corner and Book of the Week include:
Wholly, Wholly, Wholly | Calvinists and conga drums in Grand Rapids: a report from the seventeenth annual Calvin Symposium on Worship and the Arts. (Feb. 02, 2004)
The Doom of Choice | Fate, free will, and moral responsibility in Tolkien. (Feb. 02, 2004)
A Rose Among Thorns | A new novel by the author of Father Elijah illumines the spiritual consequences of our simplest decisions. (Jan. 26, 2004)
Baptized in Fire | A new book on Martin Luther King, Jr., emphasizes his spiritual transformation. (Jan. 19, 2004)
O'Connor v. the Antichrist (Jan. 12, 2004)
Moody, the Media, and the Birth of Modern Evangelism | A cautionary tale. (Jan. 05, 2004)
A Few Coming Attractions from 2004 | Plus: What to buy with those gift cards, and some of the books in my to-read stacks. (Dec. 29, 2003)
The Top Ten Books of 2003 | Plus: The Worst Book of the Year, more good reading, digital books, and a little Christmas music. (Dec. 22, 2003)
Books at Warp Speed | We continue our annual roundup of noteworthy books. (Dec. 15, 2003)
Is "Sensual Orthodoxy" a Contradiction in Terms? | Read this unconventional collection of sermons and judge for yourself. (Dec. 8, 2003)
Books, Books, Books! | We begin our annual roundup. (Dec. 8, 2003)
Urban Eden | In City: Urbanism and Its End, a new history of New Haven, Connecticut, the city (in its late 19th-century form) is an ambiguous heaven-and the suburbs that relentlessly followed are hell. Which leaves us where, exactly? (Dec. 01, 2003)
Cool Drink of Water | A poet's voice in the evangelical wilderness.
Faith, Hope, and Charity in North Carolina | New novels by Michael Morris—whose first novel, A Place Called Wiregrass, was a word-of-mouth hit— and Jan Karon, who continues her beloved Mitford saga. (Nov. 17, 2003)
Remember Afghanistan? | Two inside reports. (Nov. 10, 2003)
Article continues below
The Troubled Conscience of a Founding Father | An Imperfect God examines George Washington and slavery. (Oct. 27, 2003)
The Year of the Fish | The 2003 baseball season concludes with a bang—and 2004 is just around the corner. (Oct. 27, 2003)
I Shop, Therefore I Am | Critics of "consumer culture" are all wet, Virginia Postrel says. The riot of choices available to us resonates with our deepest aesthetic instincts (Oct. 20, 2003)
Back to the Future | A sprawling new novel by the author of Snowcrash and Cryptonomicon goes to the 17th century to investigate the birth of the modern world. (You won't be surprised to learn that the Puritans are among the Bad Guys.) (Oct. 13, 2003)
Poetry, Prayer, and Parable | The playful provocations of Scott Cairns (Oct. 06, 2003)
Terrorists on Trial | How the nation responded to an earlier attack. (Sept. 29, 2003)
The Contemplative Christian | Eugene Peterson calls believers to a life lived with "wholeness, honesty, without contrivance"-against the grain of much that's currently driving the church in America. (Sept. 29, 2003)
Recalling California | Want to understand what's going on in the Golden State? Toss your newsmagazines and pick up Joan Didion's new book (Sept. 22, 2003)
The Ph.D. Octopus, 100 Years On | How Christians can make a difference in the upside-down world of graduate school (Sept. 15, 2003)
The Difference Between Conservatives and Prolifers | William Saletan unspins, and respins, the abortion debate (Sept. 8, 2003)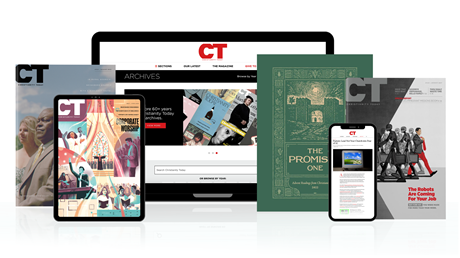 Annual & Monthly subscriptions available.
Print & Digital Issues of CT magazine
Complete access to every article on ChristianityToday.com
Unlimited access to 65+ years of CT's online archives
Member-only special issues
Subscribe
Books & Culture's Book of the Week: The Worst President Ever?
Books & Culture's Book of the Week: The Worst ...