Presbyterian Church of America targets yuppies
Don't be misled by the Washington Times headline, "Church opens just for yuppies." Thirty percent of the congregation at Grace DC aren't urban professionals under the age of 30. But the church has been created to draw this demographic, the Times reports, as part of a Presbyterian Church of America campaign "to begin a network of hip, theologically conservative churches for young urban professionals in the hearts of America's cities."
"It's part of a movement to plant churches in cosmopolitan, world-class cities," Stephen Um, pastor of CityLife Church in Boston, told reporter Julia Duin. "We reach out primarily to post-everything professional urbanites and bohemians."
Such a trend is very encouraging. Most churches, after all, turn away rich young white folks at the door.
More on Dean and religion
Weblog is loath to regularly quote the latest religion comments from the presidential campaigns, but some of these comments are so remarkable that we can't just let them go by, buried in other news dispatches. And it's not like Weblog has some kind of obsession with Dean: it's just that it's his religious comments that are getting quoted; mainly because they're so remarkable.
Take, for instance, Dean's comments on Friday, criticizing President Bush for taking religious values into account in opposing embryonic stem-cell research.
"I think we ought to make scientific decisions, not theological and theoretical decisions," he told a town hall meeting in Rochester, New Hampshire. "I think that what the president did on stem-cell research was based on his religious beliefs, and I think that is wrong."
Several news outlets noted that Bush didn't make his decision to limit embryonic stem-cell research on religious values alone (and it should be noted that he hasn't limited research on stem cells from adults). In his August 2001 address outlining the limitations, Bush said he consulted "scientists, scholars, bioethicists, religious leaders, doctors, researchers, members of Congress, my Cabinet and my friends." He added, "I also believe human life is a sacred gift from our Creator. I worry about a culture that devalues life, and believe as your president I have an important obligation to foster and encourage respect for life in America and throughout the world."
Is Dean saying that such belief is wrong? To act on such a belief is wrong?
Fortunately, there was a follow-up question to Dean's remark, as a reporter asked the candidate the difference between the Bush's stem-cell decision and Dean's decision to support same-sex civil unions in Vermont. (Just three days earlier, Dean had said that his Christian beliefs had influenced his decision.)
"I would differentiate it from my support of civil unions because I didn't deprive anybody of anything by supporting civil unions," he said. "That was really a choice that had to do with, many people would say, morality or ethics. That's a different thing, I think, than applying your religious beliefs, with the result of depriving people really, literally, in some cases, a very long disease-free life as opposed to one that has significant complications."
Okay. So morality and ethics are okay, so long as they're divorced from religious belief? Eh? The difference between moral conviction and religious belief is that religious belief deprives people of something? Huh?
And does Dean really believe that embryonic stem-cell research is equivalent to "a very long disease-free life"? If so, he needs to read the newspapers more often.
Sunday, at another town hall forum, this one in Oelwein, Iowa, Dean declared, "George Bush is not my neighbor. … It is time not to put up any of this 'love thy neighbor.' I tell you, I love my neighbor, but I want that neighbor back in Crawford, Texas, where he belongs The president is always my president but the president is not my neighbor if he takes 500,000 kids off their health care benefits."
File that one away for the next time you're preaching on Luke 10:25-37.
Does Clark support infanticide?
Dean's comments are sad, unformed, and troubling. But again, we're not electing a theologian-in-chief, and we've had any number of presidents whose policies have been unaffected by their religious beliefs (or lack thereof), and who don't demonstrate love for their neighbor. Voters must look carefully at policy, not platitudes.
So it may be that the most troubling comments on the campaign trail this week come not from Dean, but from Wesley Clark.
"Life begins with the mother's decision," he told the Manchester (N.H.) Union Leader. "I don't think you should get the law involved in abortion. It's between a woman, her doctor, her faith and her family and her conscience. You don't put the law in there."
"I don't have litmus tests," Clark said, but later promised not to appoint prolife judges. That's not a contradiction, he said. "You just work through what the judge has done and if you find guys who follow judicial and established precedent, you're not going to find a judge who is prolife," he said.
But wait a second. If life begins with the mother's decision, and the law should stay out of such decisions, then should a mother who abandons her child at birth be subject to criminal prosecution? Is a woman who kills her 8-year-old son a criminal?
That's a messy can of worms. Which is perhaps why, as the Union Leader interview continued, Clark backed off. "I'm not going to get into a discussion of when life begins. I'm in favor of choice, period. Pure and simple." Yeah, except that it's not so simple, Mr. Clark.
More articles
More on the 2004 presidential election:
Jack Kelley:
Kenyan Anglican bishop scandal:
Persecution and religious freedom:
Marriage:
Sexual ethics:
Sexual abuse:
Christian media:
More articles:
Related Elsewhere:
Suggest links and stories by sending e-mail to weblog@christianitytoday.com
Check out Books & Culture's weblog, Content & Context.
See our past Weblog updates:
January 12
January 9 | 8 | 7 | 6 | 5
January 2 | December 31 | 30 | 29
December 26 | 23 | 22
December 19 | 18 | 17 | 16 | 15
December 12 | 11 | 10 | 9 | 8
and more, back to November 1999
Weblog
Launched in 1999, Christianity Today's Weblog was not just one of the first religion-oriented weblogs, but one of the first published by a media organization. (Hence its rather bland title.) Mostly compiled by then-online editor Ted Olsen, Weblog rounded up religion news and opinion pieces from publications around the world. As Christianity Today's website grew, it launched other blogs. Olsen took on management responsibilities, and the Weblog feature as such was mothballed. But CT's efforts to round up important news and opinion from around the web continues, especially on our Gleanings feature.
Ted Olsen is Christianity Today's executive editor. He wrote the magazine's Weblog—a collection of news and opinion articles from mainstream news sources around the world—from 1999 to 2006. In 2004, the magazine launched Weblog in Print, which looks for unexpected connections and trends in articles appearing in the mainstream press. The column was later renamed "Tidings" and ran until 2007.
Previous Weblog Columns: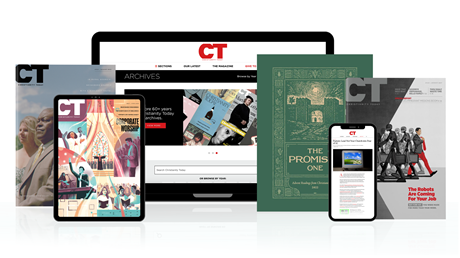 Subscribe to Christianity Today and get access to this article plus 65+ years of archives.
Home delivery of CT magazine
Complete access to articles on ChristianityToday.com
Over 120 years of magazine archives plus full access to all of CT's online archives
Subscribe Now
Presbyterian Church of America Shoots for the Hip
Presbyterian Church of America Shoots for the Hip