If Stephen King writes your nightmares, then this is the one where they send you to jail for a crime you didn't commit. But, as in so many of his stories, King wants to do much more than scare us out of our theatre seats—and for proof, look no further than The Shawshank Redemption, now briefly showing in theaters on the 10th anniversary of its original release. (A special edition DVD will hit stores on October 5.)
Shawshank charms, intrigues and inspires us, and maybe that's why it stands at No. 2 in the Internet Movie Database Top 250, an ongoing poll of IMDb users. A remarkably faithful Frank Darabont adaptation of King's novella Rita Hayworth and The Shawshank Redemption, the movie lost money at the box office in 1994 but went on to bag seven Oscar nominations. And by the time it was in the hands of video vendors, those golden statues that it didn't quite get and the platinum word of mouth that it did get turned it into a genuine phenomenon.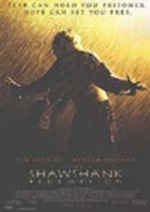 I admit I wasn't wowed by it at first, but now I count myself among its fans. I love the film's easy pace and the welcoming, let-me-tell-you-a-story voice of its narrator—a star-making performance by Morgan Freeman who, after a couple decades in mostly smaller roles in mostly minor films, hit big with stand-out stuff in Unforgiven, Shawshank and Se7en. I love the agonizing tension between how bad the place is and how good the things that happen there can be. It's dark as hell inside Shawshank prison, but I love watching soft-spoken banker Andy Dufresne (Tim Robbins) kick at it—quietly, relentlessly, for decades—until it bleeds daylight. Robbins shares his co-star's ease and calm within the role, and director Darabont deserves huge credit for getting performances ...
1