true
"I ain't here to argue about His facial features, or here to convert atheists into believers/I'm just trying to say that the way school needs teachers, the way Kathie Lee needs Regis/That's the way I need Jesus"
— from "Jesus Walks"
Call it a cultural thing, but hip–hop music is just as prone to ecclesiastical excommunication as crossover gospel music. Some believers this side of the musical divide cringe when one of their own gets a little mainstream exposure—say, a Yolanda Adams performing R. Kelly's "I Believe I Can Fly" or a Kirk Franklin sharing the stage with R&&B chanteuse Mary J. Blige at the Grammys. Others almost mechanically cry "sellout" the moment the artists they love decide to record a pop album for a change (Take 6, BeBe Winans, and soon his sister CeCe). In this context, rap music becomes the mere appearance of evil—and understandably, considering mainstream rap's rep as "that devil music about hoes, bling, and drugs." Still, there's an increasing number of overtly spiritual tunesmiths and emcees—Lauryn Hill, Talib Kweli, Blackalicious, and others—who wisely sidestep the hackneyed gangsta clichés and opt for something a little more wholesome.
Rapper–producer Kanye West seems to be on both sides of the fence at once. On one hand, his debut The College Dropout offers vacuous, uninspiring lyrics about everything that's wrong with hip–hop; on the other, it brings to life a fire–and–brimstone advocate for the Lord, willing to indict the very ills he himself celebrates.
In the impressive "Jesus Walks" (excerpted above), West is a soldier of God who wants to break racial barriers and bring peace to all despite the hurdles: "God show me the way because the devil try to break me down/The only thing that I pray is that my feet don't fail me now." And: "I don't think there's nothing I can do to right my wrong/I wanna talk to God but I'm afraid 'cause we ain't spoke in so long." He concludes with a dig at mainstream radio: "Radio needs this/They said you can rap about anything except for Jesus/That means guns, sex, lies, and videotape/But if I talk about God, my record won't get played?"
God shows up again in West's version of the hymn "I'll Fly Away," interpreted in classic quartet fashion, upright piano and all. "All Falls Down," while not directly about the Father, addresses materialism; in the hook, West uncannily uses a vocal interpolation of Lauryn Hill's "Mystery of Iniquity," a track teeming with biblical imagery. In the inspirational "Never Let Me Down," guest poet J–Ivy drops these divine nuggets: "I'm not just another individual, my spirit is a part of this/That's why I get spiritual, but I get my hymns from Him/So it's not me, it's He that's lyrical…Let it been known that God's penmanship has been signed with a language called love/That's why my breath is felt by the deaf/And why my words are heard and confined to the ears of the blind."
Despite these overtones, be forewarned: The College Dropout is far from pious, with an array of expletives and lyrical undesirables. One wonders why West so adamantly makes a case for Christ in "Jesus Walks," yet quickly dismisses him via duplicitous party rhymes. The answer is probably in the album's liner notes, where West openly declares that he's not where he needs to be, despite still being on God's side. "Matter of fact, [I'm] far from it," he says. Referring to Bible prophets, he then says that when somebody is given a word to preach, one will always have an excuse. "I don't got no excuse," he reaffirms, then adding, "You spared my life, but somehow I'm still on [stuff]. Amen. You're the Executive Producer of my life."
Unless specified clearly, we are not implying whether this artist is or is not a Christian. The views expressed are simply the author's. For a more complete description of our Glimpses of God articles, click here.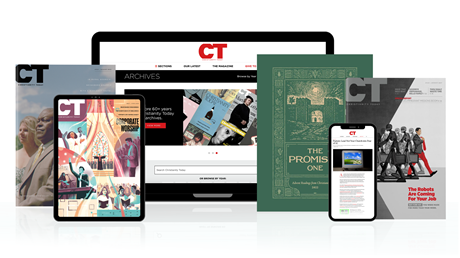 Annual & Monthly subscriptions available.
Print & Digital Issues of CT magazine
Complete access to every article on ChristianityToday.com
Unlimited access to 65+ years of CT's online archives
Member-only special issues
Subscribe
The College Dropout
The College Dropout