Pastor killed, four wounded in another Indonesia church attack
Susianti Tinolele (also spelled Tinulele) was shot in the head while while preaching Sunday night at Effata Presbyterian Church in the Central Sulawesi capital of Palu, Indonesia.
"Local media reported Tinolele, 29, fell straight to the church floor after a bullet rammed through her skull, prompting around 100 churchgoers to frantically run for safety," reports Reuters. Four teens were injured—one critically—as the unidentified gunman sprayed bullets into the congregation.
Provincial police spokesman Victor Batara told the AFP news service that the gunman was "one of a group of five attackers" who arrived on two motorbikes.
Most news services suggest that the attackers were trying to reignite the country's religious war, which left about 1,000 dead between 2000 and 2001.
Here's AFP:
In Jakarta, acting security minister Hari Sabarno said the "inhuman" attackers were trying to trigger renewed conflict. … The attack was intended "to create a horizontal conflict," Sabarno said, using the Indonesian term for conflict between different sectors of society.
Here's Reuters:
The motive was not known, [police spokesman Victor] Batara said. "But clearly they want to disturb security as it has been relatively safe recently."
But here's Nathan Setiabudi, head of the Communion of Churches in Indonesia:
"[President Megawati Soekarnoputri] has ordered the police to catch the criminals. There is no religious motive. We should not be provoked."
No religious motive? The Jakarta Post notes, "Susianti was the second reverend shot dead in Central Sulawesi in the past four months. Another reverend, Freddy Wuisan, was shot dead in Membuke, Poso regency in March this year. Two weeks after Freddy's murder, two unknown assailants showered bullets on churchgoers attending an Easter sermon at the Tabernacle Church in the religiously divided regency of Poso. Seven people were injured."
And Reuters has another statistic: The attack on Effata Presbyterian "was the fifth on Christians in the province this year."
Setiabudi, surely, is trying to stop retaliation before it starts. But as Weblog has previously noted, absurd claims from leaders can exacerbate tensions, not relieve them. When gunmen pull up to a church during a service, shoot the minister in the head, fire repeatedly into the congregation, then leave, it's rather difficult to claim that religion had nothing to do with the motivation. One would think that many Christians would stop listening to Setiabudi at "there is no religious motive" and not hear the call against retaliation.
Sloan opponents: He'll be ousted this week
Yesterday's Weblog noted widespread expectations that the board of regents at Baylor University wouldn't vote again on whether to retain Robert Sloan as president, since they just did that in May.
What a difference a day makes. The Committee to Restore Integrity to Baylor, a group opposing Sloan, says the tide has turned, and there are now enough votes on the board to remove him.
"We're now convinced that the votes are there, and this is the first time we've been convinced," group president Bill Carden told The Dallas Morning News.
"We have good reason to think it's going to happen at this meeting," he told the Ft. Worth Star-Telegram. He must be very convinced to make such comments before Friday's formal meeting, since one imagines that doing so would provoke Sloan supporters to rally. Three students are doing just that with a pro-Sloan op-ed in today's Houston Chronicle.
In any case, the vote hasn't happened yet, and Sloan may stay. But if he goes, Waco Tribune-Herald Assistant News Editor Joseph Gyure has a suggestion for his next job: Governor of Texas.
A note about those young conservatives
Saturday's New York Times ran an article by conservative-beat-reporter David D. Kirkpatrick on the next generation of conservatives. Among those highlighted is Caleb Stegall, founder of The New Pantagruel. All well and good, but Christianity Today readers will want to read this site not simply because it's "an irreverent Web site about religion and politics named for the jovial drunkard created by Rabelais" that the Times is promoting as a kind of new National Review. They'll want to read it because it's more or less the offspring of the now-deceased re:generation quarterly, a great magazine edited by CT columnist Andy Crouch. It's also edited by Caleb Stegall, who has written for our Books & Culture Corner. The latest issue of The New Pantagruel even has an article on the battle for Baylor.
These religious Times
The Times has been busy on the religion beat lately. Be sure to check out yesterday's front-page story on evangelical singles, which prominently features Camerin Courtney, an editor with our sister publications Christian Singles Today and Today's Christian Woman.
This weekend also saw Times columnist Nicholas Kristof return to the religion beat with "Jesus and jihad." His bottom line: Americans should be more critical of religious intolerance. And by religious intolerance he means non-universalism. Belief that non-believers will perish in hell, he says, is "not what America stands for, and I doubt that it's what God stands for." He also equates the latest Left Behind novel with the belief "that African-Americans were cursed as descendants of Noah's son Ham, and were intended by God to be enslaved."
Kristof, however, does not note (nor do three letters published in response to the column) that there's a fundamental difference between interpretations of the "curse of Ham," Left Behind's eschatology, and the doctrine of hell. The first was an application of an interpretation of an obscure text and a historical aberration. The second is a recent (19th-century construct drawn from the interpretation of various verses, but not one that has been held by the historic church. The third, however, the doctrine of hell, has been held universally by the Christian church for 2,000 years because it is explicitly taught in Scripture.
"I don't want to mock anyone's religious beliefs," says Kristof. "Yet ultimately I think it's a mistake to treat religion as a taboo. … Since I've praised the work that evangelicals do in the third world (Christian aid groups are being particularly helpful in Sudan, at a time when most of the world has done nothing about the genocide there), I also feel a responsibility to protest intolerance at home."
Well, fine. But let's recognize that doctrine is not the same as opinion. And let's also recognize that Christian work in the third world is motivated by the same concern as our discussion of hell—we are commanded by God to aid in his rescuing work.
More articles
Iraqi Christians:
For Iraqi Christians, a shadow of insecurity | War has brought 'very real freedom' -- and dangers, archbishop says (The Washington Post)
Radicals make liquor sales hard in Iraq | It's getting harder and harder to buy a beer in Baghdad. At least five stores selling liquor in the Ghadeer district alone were blown up by Islamic militants in the last week, prompting other store owners to close or to stop selling liquor (Associated Press)
Christians in Baghdad commemorate mass baptisms with festival | The Sunday morning attacks in a Baghdad neighborhood weren't the kind that people might expect in this violence-plagued nation. Armed with buckets of water balloons, grinning children hurled them for hours at each other, unwary pedestrians and passing cars (Knight Ridder)
Sudan:
Sudan works angles to avoid U.N. sanctions | Its envoy shows savvy in his dealings at the world body. Some say the regime is trying to string out its commitment to ending strife in Darfur (Los Angeles Times)
Sudan accused of using rape as 'weapon of war' | Sudan was accused of using rape as a weapon of war in Darfur yesterday when Amnesty International detailed hundreds of cases of sexual assault on girls as young as eight (The Telegraph, London)
Sudanese militias accused of using rape as a weapon (The Independent, London)
Arab women singers complicit in rape, says Amnesty report | While African women in Darfur were being raped by the Janjaweed militiamen, Arab women stood nearby and sang for joy, according to an Amnesty International report published yesterday (The Guardian, London)
Mosques in U.S.:
Hamtramck will vote on call to prayer | Ordinance allows use of loudspeakers for Muslim ritual (The Detroit News)
Call to prayer is at the heart of election | Noise ordinance, board recall on Tuesday ballot (Detroit Free Press)
Federal observers to monitor Hamtramck vote | The Justice Department will send federal observers and members of its civil rights division to monitor Tuesday's referendum vote and recall election, officials said (Associated Press)
Residents battle for say in plan to build mosque | Federal mediation upsets some in Ill. (The Boston Globe)
Religious freedom:
Kremlin sued for return of churches | More than 80 years after its churches were seized by "godless Bolsheviks" and turned into anything from grain stores to shoe factories the Russian Orthodox Church is launching an unprecedented legal battle to win back its property (The Independent, London)
Russian art or religious hatred? | On orders from Russia's parliament, Moscow prosecutors are probing a question that could create new limits on free speech: When does artistic expression cross the line into criminality? (The Christian Science Monitor)
When does religion become a hate crime? | The government of Prime Minister Tony Blair, with its eye on Islamist militants, has begun a nationwide campaign to make inciting religious hatred a crime punishable by imprisonment (The Washington Times)
Covert Carolina religious war | After being sued and embarrassed in the court of public opinion in 2003, there is now credible information indicating the UNC administration is waging a new underground war on religious organizations, all in the name of diversity and tolerance (Mike Adams, The Washington Times)
House approves sanctions on Vietnam | The House voted Monday to restrict U.S. aid to Vietnam if that country fails to improve what lawmakers said was a deplorable human rights record (Associated Press)
Neighbors seek to oust religious order | Residents of the River Valley Estates neighborhood are fighting a special-use permit request that would allow members of a Catholic religious order to continue using a house as an office and dormitory (The Atlanta Journal-Constitution)
Bad moon on the rise | Freedom of religion is a hard-won, fundamental right. Yet as more and more faiths and religious practices are deemed worthy of human rights protection, employers are increasing seeing the erosion of their right to use and enjoy their property -- i.e., their businesses -- as they see fit. And the costs, in terms of lost productivity, replacement staff and workplace modifications are beginning to add up (Editorial, The National Post, Canada)
Church & state:
Dodging the issue | The Pledge case should have been ruled upon for its merits alone, not for a technicality. But because it wasn't, because the door was left ajar, it won't be long before another God-hating, America-bashing kook will walk through it, trying to stomp all over our rich American tradition (Pat Boone, The Washington Times)
Ministry protests WWII memorial | Christian Defense Coalition plans to demonstrate today at the National World War II Memorial, demanding the addition of a plaque commemorating the role that religion played in sustaining the country during the war (The Washington Times)
Government bans Bibles for newcomers | The federal government has told the Canadian Bible Society to end its 50-year tradition of offering the New Testament to new Canadians at citizenship ceremonies because doing so is inconsistent with Canada's promotion of multiculturalism (The National Post, Canada)
Religion & politics in Africa:
Zimbabwe needs inspiration, says brave priest | Pius Ncube is now being called "Zimbabwe's Desmond Tutu", and very few would disagree (The Sunday Independent, South Africa)
Witness: Minister used witchcraft in poll | Foreign Affairs minister Ali Chirao Mwakwere used witchcraft to scare away voters in Matuga constituency during the last General Election, a witness has claimed (The East African Standard, Nairobi, Kenya)
Churches have failed the nation | The Chief Justice, Mr. Justice George Kingsley Acquah on Saturday said the modern church growth movement was a failure because it was trading biblical Christianity for entertainment religion (Ghanaian Chronicle)
Life ethics:
A final resolution | An Oregon man suffering from an untreatable cancer lives in the only state where he can legally take his own life. He makes the decision (Los Angeles Times Magazine)
Speak up, stem cell advocates | While nothing may prompt the opponents to think differently about embryonic stem cell research, those of us who support stem cell research -- including the scientists doing the most important work -- have been far too quiet (Scott Kirsner, The Boston Globe)
'Designer baby' plans spark row | Plans to relax "designer baby" rules to allow more screening and selection of embryos have been welcomed by medics but condemned by pro-life groups (BBC)
Earlier: 'Designer baby' rules up for debate | The rules governing "designer babies" could soon be relaxed to allow more screening and embryo selection (BBC, video)
'Designer babies': Relax the rules? | The rules governing 'designer babies' may soon be relaxed to allow more screening and embryo selection (BBC)
Germany commemorates Nazi resistors:
Germans urged to remember Nazi resistors | Helmuth James von Moltke was among German resistance leaders being remembered Tuesday, the 60th anniversary of the most famous plot to kill the German dictator (Associated Press)
Earlier: German bishop honors Hitler coup plotters | Germany's main Protestant bishop paid tribute Sunday to the dissident army officers who tried to blow up Adolf Hitler in a failed coup 60 years ago, calling them an example to the nation (Associated Press)
Hitler plot 'heroes' commemorated | Germany's leaders have paid tribute to the plotters who attempted to assassinate Adolf Hitler 60 years ago (BBC)
Brazil to shoot down drug planes:
Brazil set to start shooting down drug planes | Controversy grew after Peru accidentally shot down a small plane in 2001, killing an American missionary and her child (Reuters)
Earlier: Anti-drug flight program that killed missionary and daughter will resume (Weblog, Aug. 20, 2003)
Abortion:
Television's most persistent taboo | Why nearly every unplanned pregnancy on television ends in a canceled abortion (The New York Times)
Kerry abortion comment stokes fire on both sides | View on stem cell widens argument (The Boston Globe)
GOP Senate race intensifies in Okla. | Former representative Tom Coburn, a practicing physician, caused a political uproar this week by declaring in an interview that he favors the death penalty for "abortionists and other people who take life" (The Washington Post)
Catholics, abortion, and politicians:
Archbishop warns Catholic politicians on abortion | Supporters' view at odds with faith, Brunett says (Seattle Post-Intelligencer)
Seattle archbishop would not deny communion To Politicians | Seattle Roman Catholic Archbishop Alex Brunett said Monday that he would not deny communion to politicians because of their political decisions (KOMO, Seattle)
1962 case may not apply, scholars say | Archbishop Joseph Francis Rummel did not excommunicate three Catholic public figures merely because they espoused racist views contrary to church teaching, several church officials said (The Times-Picayune, New Orleans)
US Catholics make desirable but tricky political targets | Roman Catholics, who make up the largest religious denomination in the United States and about 25 percent of the electorate, have emerged as a key constituency in the presidential race (AFP)
Religion & politics:
Identity crisis politics | Bush and Chirac both lead societies that are responding unevenly and uncertainly to the pressures of swirling cultural change and confusion (Jim Hoagland, The Washington Post)
Rumblings are felt at base of Bush's support | As his campaign makes an effort to attract more moderates, some social conservatives protest (Los Angeles Times)
On trail, Bush stays close to right wing | On issue after issue, from stem cell research to Cuba policy, Bush has shown little appetite for ''tacking to the middle," as political operatives call it -- and his campaign advisers freely describe their strategy as one designed to motivate millions of conservatives to vote rather than attract the narrow slice of the electorate that is still undecided (The Boston Globe)
Bush's risky bet that gay marriage will inflame voters | Dig down into the polling data, analysts say, and the riskiness of the strategy becomes clear (San Francisco Chronicle)
Gotta have faith? | It seems like everyone wants John Kerry to talk more openly about religion -- but is "getting God" really what he needs? (Matthew Yglesias and Ayelish McGarvey, The American Prospect)
Clerics resist Bush strategy to seek aid of churchgoers | A 22-point plan by the Bush-Cheney campaign to marshal support from churchgoers has met resistance from some religious leaders (The Miami Herald)
Counting our blessings: Faith's demographics | Treasurer Peter Costello's appeal to the Ten Commandments is likely to resonate with at least seven out of 10 Melbourne vote (The Age, Melbourne, Australia)
Costello's faith call hits home | Acutely aware of the potent mixture politics and religion can be, Costello nevertheless vehemently affirms his belief in the separation of church and state (The Age, Melbourne, Australia)
Churches & politics:
Going to the mat for Kerry | A Sunday fundraiser urges L.A. yogis to actualize their spirituality by supporting the Democratic ticket (Los Angeles Times)
Mixing politics and religion | How far should religious leaders go when it comes to political advocacy? Religious leaders respond (Daily Pilot, Newport Beach, Ca.)
Pastor's election-year crusade: 60,000 new voters in state | The senior pastor of one of the largest churches in the state, who is leading a statewide effort to rally social conservatives to re-elect President Bush, Fuiten believes "God wants us to be involved in government" (Seattle Times)
AIDS:
AIDS activists misfiring | Activists, or at least some of them, are in danger of tipping from heroism into shrill anti-Americanism (Sebastian Mallaby, The Washington Post)
A voice for the poor in AIDS battle | Priest focuses on orphans, elderly (The Boston Globe)
AIDS and the single girl | In the global fight against AIDS, calls for a new focus on girls and young women (The Boston Globe)
Can Islam polygamy curb Aids? | No scientist has thought yet that polygamy can be a tool against Aids. In fact, an argument of this sort would go on and on. But in a world that so desperately needs a solution to the Aids scourge, anything can be possible (New Vision, Kampala, Uganda)
Missions & ministry:
A chance to thank one of their own | Police rally behind injured chaplain (The Boston Globe)
Christian wrestling goes for grip on souls | Turn the other cheek? How about break the other arm? (The Atlanta Journal-Constitution)
The ha-ha-hallelujah comedy movement | At Christian clubs, humor is heavenly (The Washington Post)
Answering the call to duty | Rev. William Brunold, First Lutheran Church pastor and U.S. Army reservist, will soon report for duty in Middle East (Burbank Leader, Ca.)
YMCA reportedly boots member for evangelism:
Atlanta-area YMCA ousts member for witnessing | An evangelist from Georgia says his local YMCA terminated his family's membership because he shared the gospel with two young men just outside the facility (Agape Press)
Kicked out of the YMCA … for witnessing??! | (Living Waters newsletter, via FreeRepublic)
Crime:
Brooklyn nun is recovering after attack near convent | A Roman Catholic nun wearing her habit was attacked and robbed yesterday on a street corner a block and a half from her convent in Brooklyn, the police said (The New York Times)
Three recent burglaries put church to the test | Since mid-June, Taylor Evangelical Methodist Church has been the victim of three burglaries, the first break-ins in about 10 years for the 49-year-old church (The State, Columbia, S.C.)
Pastor to talk in fraud case | Ralph Wilkerson's lawyer says he will answer questions about Gregory Setser, accused of taking $160 million from Christians (Los Angeles Times)
Church life:
Protestant majority disappearing in U.S. | The United States will no longer be a majority Protestant nation in years to come, due to a precipitous decline in affiliation with many Protestant churches, a new survey has found (Associated Press)
Orthodox self-rule just start of vision | Syrian leader hopes for American unity (Pittsburgh Post-Gazette)
Historic church is a cornerstone of the community | Pleasant Mound congregation plots future (The Dallas Morning News)
Update: Church's milestone gets overflowing response | The Pleasant Mound United Methodist Church could barely contain its congregants Sunday morning (The Dallas Morning News)
Priest forms new Episcopal parish | Splinter group, most from Wauwatosa church, rejects gay bishop (Milwaukee Journal-Sentinel)
A new senior Kahu | Pastor's debut: Curtis Kekuna heads Kawaiaha'o Church, Hawaii's oldest Christian congregation (Honolulu Star Bulletin)
Maine churches add environmentalism to ministries | Congregations have been introducing environmentalism into Sunday schools, undergoing energy audits of their churches, reducing cars idling and changing the very buildings in which they meet, with window replacements and added insulation (The New York Times)
New A.M.E. bishop will take international post | The Rev. Carolyn Tyler Guidry, who is used to achieving firsts, is tapped to lead 94 churches in Europe and the Caribbean (Los Angeles Times)
In making faith matter, denominations are our downfall | Though we may argue the fine points of our differences, those who say "Jesus is Lord" must affirm our familial relationship. We are one (Jimmy Dorrell, Waco Tribune-Herald, Tex.)
Minister remembered as vibrant, dedicated | Minister recalled as vibrant, dedicated Rev. Kalagher left career in business (The Boston Globe)
Revisiting Unitarian Universalism | Has the Unitarian Universalist church, renowned for its diversity of religious viewpoints, gone too far in pursuing diversity? (The Boston Globe)
N.O. board rejects proposals from Verizon Wireless | A plan to disguise a cell phone antenna in a church bell tower is grounded after neighbors of Gentilly Baptist complain (The Times-Picayune, New Orleans)
Hearts are best in vestment | The church is as traditional, and for the most part has its priests and bishops wearing vestments that derive from Roman imperial dress, as if at a certain moment, when everyone else had abandoned such apparel, the church should stand still, a stance that may be symbolic (James Murray, The Australian)
Church outreach:
Anglicans in bid to fill empty pews | Australia's Anglican leaders will be asked to consider "imaginative" new ways of worship in response to a report on declining church attendance (The Age, Melbourne, Australia)
Bishop urges the Church to get into the clubbing spirit | Traditional religious services can learn from the music, rituals and mysticism of nightclubs, says Richard Chartres (The Times, London)
Methodists:
New Methodist bishop seen as moderate | Thirty-three years ago, Bishop Hee-Soo Jung says he was introduced to Jesus on Kanghwa Island in the Yellow Sea off the coast of his native South Korea (Chicago Sun-Times)
Group gets 1st female bishop | Methodists choose a woman as spiritual leader at conference (Houston Chronicle)
First female to lead Va. United Methodists | Bishop Charlene P. Kammerer, resident bishop of the Western North Carolina group, starts Sept. 1 (Daily Press, Hampton Roads, Va.)
Ward, top public school official, resigns | Mike Ward will at the end of August leave his job as North Carolina's top public school official to follow his wife to her new job as a United Methodist Church bishop in Mississippi (Associated Press)
Methodists reassign bishops | Detroit congregation supports its accused pastor (Detroit Free Press)
Gender & Church of England:
Bishops plan his and hers Church | Proposals to divide the Church of England into two - one part with female clergy and one without - are being discussed by Church leaders to avert an exodus of traditionalists when women become bishops (The Telegraph, London)
Church split on gender lines | The Church of England is considering a split on gender lines to avoid a future schism over the ordination of women bishops, it emerged last night (The Times, London)
Catholicism:
Old-time religion | Conservative Catholic groups share reverence for doctrinal orthodoxy (The Dallas Morning News)
Nuns walk to show opposition to war | They call for disarmament and sisterly love toward all (The Cincinnati Enquirer)
Nicaraguan cardinal forgives Sandinistas | Roman Catholic Cardinal Miguel Obando y Bravocelebrated a Mass "for peace and reconciliation" in memory of more than 50,000 people who died during the wars of the 1970s and 1980s (Associated Press)
Also: Nicaraguan church, Sandinistas pray together | Nicaragua's former Marxist leaders and Catholic clergy prayed together for reconciliation Monday, the 25th anniversary of the Sandinista revolution that divided the nation and alienated the church hierarchy (Reuters)
A career finding common ground | Gerry D'Avolio, lobbyist for the Catholic Church in Massachusetts, and Nancy Kaufman, executive director of the Jewish Community Relations Council of Greater Boston, paused in a bustling plaza off the Western Wall, one of the holiest sites in Judaism (The Boston Globe)
Archdiocese's funding more stable | Abuse settlement had had triggered cutstriggered cuts (The Courier-Journal, Louisville, Ky.)
Catholicism & Ireland:
Call to lift Catholic monarchy ban | Prime Minister Tony Blair could boost the peace process in Northern Ireland by lifting the ban on Catholics ever becoming King or Queen, it has been claimed (PA, U.K.)
Pope plans return to Ireland | The Pope has accepted an invitation to visit Ireland to mark the 25th anniversary of his first trip to the country (The Telegraph, London)
Pope to visit 'most loyal' Irish flock | The Pope is to return to Ireland a quarter of a century after his last visit inspired a bout of unprecedented religious fervour and brought millions of Catholics out on to the streets to greet him (The Guardian, London)
The Passion:
Gibson sues over Passion profits | Mel Gibson's film distribution company is suing a second US cinema chain in a dispute over revenues for The Passion of the Christ (BBC)
Israeli moviegoers get the 'Gospel' truth | Israel still hasn't had an official screening of The Passion, but here comes "The Gospel According to God," which transports God and His family to modern-day Israel and follows a reluctant Jesus as he prepares for a rerun of His crucifixion and resurrection, which His wearying Father hopes will finally bring peace on Earth (Associated Press)
The furor, the fizzle | 'The Passion' spurred predictions of wrath, violence. Didn't happen. And 'spiritual tsunami.' Nope. But Mel Gibson's film is having a subtle impact (Los Angeles Times)
Sexual ethics:
Curing Casanova | A pharmacological infidelity inhibitor just may be on its way. Should we welcome it? (The New York Times Magazine)
Teen sex conference draws strong reaction from opponents, supporters | The 350 youth who attended the 15th annual Nobody's Fool sex education conference Thursday in Waco had to walk past several dozen adults from area churches adamant that they not be there (Waco Tribune-Herald, Tex.)
Extent of child net porn revealed | BT says it is blocking more than 10,000 attempts each day to access child porn (BBC)
Also: British Telecom foils child porn seekers | Company has stopped 200,000 attempts to access such images in just three weeks (PA, U.K.)
Brazil 'slavery' damned by report | At least 25,000 people are working as slave labourers in Brazil, according to a new report obtained (BBC)
Music:
Rocking for salvation | With an untamed sound, Christian musicians share their beliefs (The Indianapolis Star)
Onward, Christian radio | Though far from the dominant format among the nation's 13,898 stations, Christian radio, which covers a wide range of formats, including gospel, contemporary and "preach and teach," is thriving (Denver Post)
Christian rocker from Seattle speaks from hard experience | Shawn McDonald says Christian music is "real … not just some happy, feel-good thing" (The Seattle Times)
Keeping their faith | Switchfoot put best forward (Calgary Sun)
Da Vinci Code:
Chapel visitors are welcome. Just don't expect the Grail | Readers of Dan Brown's theory-spinning "Da Vinci Code" have been flocking to Scotland's Rosslyn Chapel looking for the Holy Grail (The New York Times)
Codded by Da Vinci Code | `Everyone loves a conspiracy,'' writes Dan Brown in his best-seller The Da Vinci Code. Judging by the veritable blizzard of follow-ups, he could be right (The Sunday Business Post, Ireland)
Media:
Fans set up church of SpongeBob | US fans of the flamboyant cartoon character SpongeBob Squarepants have set up a church in his name (BBC)
How Disney bypassed God to preach the gospel of dreams coming true | Entrepreneur who became icon of family values shied away from religious imagery, and none of his company's theme parks contains a church (The Guardian, London)
Moved by the movies | As religious films proliferate, directors turn to the faithful for funding (The Sacramento Bee)
Miracle broadcast: Court disagrees with NBC | A Federal High Court in Abuja at the weekend dismissed the preliminary objection filed by the National Broadcasting Commission (NBC), challenging the suit filed by some members of Christ Embassy opposing NBC's stoppage of miracle broadcast (This Day, Lagos, Nigeria)
Spirituality:
Do we tend to muzzle our pastors? | The fault for a lack of courage in the church doesn't just lie with pastors. It lies with people in the pews -- the ones too indifferent or self-centered to relish being prodded and pushed (Ken Garfield. The Charlotte Observer, N.C.)
What would Jesus weigh? | In the church, the body's back in vogue (Henry G. Brinton, The Washington Post)
Spirit of change lifts all lives | Shabbat was once described to me as the greatest gift God gave to humankind. I came to learn that that gift was freedom (Manya A. Brachear, Chicago Tribune)
Religion's rebels | Robert C. Fuller probes Americans' unique views of spirituality (Houston Chronicle)
Sunday melts into just part of the week | Once, within living memory, it was a day apart in many places: a 24-hour stretch of family time when liquor was unavailable, church was the rule, shopping was impossible and — in some towns — weekend staples like tending the lawn and playing in the park met with hearty disapproval. But America changed, and it dragged Sunday along with it. (Associated Press)
Scientology:
Scientology's town | As Scientologists launch unprecedented expansion, downtown Clearwater's identity is at stake (St. Petersburg Times, Fla.)
Striving for mainstream, building new connections | A local lawyer and political consultant are hired to help break down barriers for Scientology (St. Petersburg Times, Fla.)
Related: More articles from the St. Petersburg Times on Scientology
Earlier: Building Scientopolis | How Scientology remade Clearwater, Florida—and what local Christians learned in the process (Sep. 8, 2000)
Same-sex marriage:
Homophobia and apple pie | Deep down, under layers of commercially sustained coarseness, religious fakery and politically inspired meanness, we are, I believe, the most open and charitable people on God's Earth when we manage to get around to it (Robert Scheer, Los Angeles Times)
Gay couples exchange vows in Colorado Springs | Fifty gay and lesbian couples celebrated the U.S. Senate's defeat of the Federal Marriage Amendment by exchanging vows Sunday in the heart of the conservative Christian movement and the shadow of Pikes Peak (Associated Press)
Standing up for their commitment | Protests don't deter 30 gay couples from taking symbolic vows in Springs (Rocky Mountain News, Denver)
Gays take stand, vows in Springs | 50 couples wed (The Denver Post)
If at first you don't succeed … | Think the defeat of the gay-marriage ban will quiet the debate? Think again (Andrew Sullivan, Time)
Granite State's Sununu often goes against GOP grain | Cultural conservatives were appalled at his no vote on cloture for the Federal Marriage Amendment (The Boston Globe)
Montana adds referendum on marriage to its ballot | Montana became the eighth state to add a constitutional marriage referendum to its ballot this year (The Washington Times)
Kerry and homosexual marriage | It appears that Mr. Kerry voted against leaving same-sex "marriage" up to the states before he said that the issue should be left up to the states (Editorial, The Washington Times)
Gay-suit petition by GOP berated | A Thurston County Superior Court Judge yesterday blasted 22 Republican lawmakers who sought to intervene in a lawsuit against the state over gay marriage (Seattle Times)
Homosexuality & religion:
Bishop urges gay ban in clergy | Presses overhaul for screening priests (The Boston Globe)
Pastor apologizes for last week's remark in Tribune | He said gay marriage is like terrorist attack on traditional family (San Luis Obispo Tribune, Ca.)
Portland diocese bankruptcy:
Bankruptcy a risk for Portland archdiocese | By filing for bankruptcy, the Roman Catholic Archdiocese of Portland has begun a complicated legal process that could backfire — perhaps forcing church officials to reveal documents they would rather not disclose and give up assets, legal experts say (Associated Press)
Archdiocese filing bears high price | The Portland bankruptcy buys time to deal with lawsuits while limiting power and increasing fiscal scrutiny (The Oregonian)
Child porn at Austria Catholic seminary:
Vatican enters Austria seminary dispute | Facing rising protests in Austria, the Vatican named a special inspector Tuesday for an Austrian seminary implicated in a child pornography scandal (Associated Press)
Polish student charged in porn case | A 27-year-old Polish seminary student has been charged with possession and distribution of child pornography, a prosecutor said Monday as an investigation widened into Austria's worst church sex scandal in nearly a decade (Associated Press)
Sexual misconduct charged at an Austrian seminary | Disclosures took on added importance because the person in charge of the St. Pölten Seminary is Bishop Kurt Krenn, for decades a prominent and outspoken conservative (The New York Times)
Abuse:
Ruling may affect L.A. abuse suits | A Bay Area judge's decision to let actions proceed against the Catholic Church may influence Southern California cases (Los Angeles Times)
Clergy abuse victims seek out some peace at The Farm in Ky. | Site is first backed by Catholic leaders (The Boston Globe)
Defrocked priest sentenced to 20 years in prison | State District Judge Phil Kazen revoked Carlos Lozano's deferred adjudication sentence Tuesday after a hearing on sexually explicit material allegedly found on Lozano's home computer hard drive (Houston Chronicle)
Church 'still fails' victims | The Anglican Church still cared too much about its reputation at the expense of the victims of child sex abuse, a leading expert has warned (The Advertiser, Adelaide, Australia)
More articles:
Court dismisses P&G lawsuit against Amway | Procter & Gamble does not get a second "bite at the apple" in its lawsuit against Amway Corp. over false rumors that P&G was linked to Satanism, the 5th U.S. Circuit Court of Appeals said Monday in rejecting the case (Associated Press)
Earlier: Procter & Gamble's Satanism Suit Against Amway Tossed | U.S. Appeals Court: Procter & Gamble wasn't defamed by Satanism rumors (Weblog, Jan. 8, 2003)
Israeli cabinet extends separation law | Israel's Cabinet approved Sunday the extension of a law banning Palestinians with Israeli Arab spouses from living in Israel (Associated Press)
Earlier: Israel's Anti-Family Values | Christians should be outraged by a law thwarting Israeli-Palestinian marriages (Gary Burge, Christianity Today, Aug. 4, 2003)
Apology over bequest plea | A bishop has apologized for an over-enthusiastic piece of fundraising which saw a 99-year-old hospital patient visited by a chaplain and then sent a suggestion that she remember the local cathedral in her will (The Guardian, London)
Board of Education cuts ties to Christian Learning Centers | The decision came after Walton School Superintendent Dr. Tim Lull presented a report outlining how the system's affiliation with the CLC violated laws and accrediting standards (The Walton Tribune, Monroe, Ga.)
Good and evil | Two new exhibits explore artists' perceptions of God and Satan (The Orange County Register)
Related Elsewhere:
Suggest links and stories by sending e-mail to weblog@christianitytoday.com
Check out Books & Culture's weekly weblog, Content & Context.
See our past Weblog updates:
July 19
July 16 | 15 | 14 | 13 | 12
July 9 | 8 | 7 | 6
July 3 | 2 | 1 | June 30
June 25 | 24 | 23 | 22 | 21
June 18 | 17 | 16 | 15 | 14
and more, back to November 1999
Weblog
Launched in 1999, Christianity Today's Weblog was not just one of the first religion-oriented weblogs, but one of the first published by a media organization. (Hence its rather bland title.) Mostly compiled by then-online editor Ted Olsen, Weblog rounded up religion news and opinion pieces from publications around the world. As Christianity Today's website grew, it launched other blogs. Olsen took on management responsibilities, and the Weblog feature as such was mothballed. But CT's efforts to round up important news and opinion from around the web continues, especially on our Gleanings feature.
Ted Olsen is Christianity Today's executive editor. He wrote the magazine's Weblog—a collection of news and opinion articles from mainstream news sources around the world—from 1999 to 2006. In 2004, the magazine launched Weblog in Print, which looks for unexpected connections and trends in articles appearing in the mainstream press. The column was later renamed "Tidings" and ran until 2007.
Previous Weblog Columns: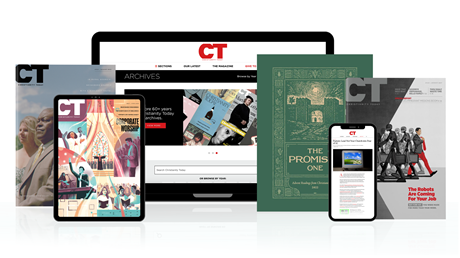 Subscribe to Christianity Today and get access to this article plus 65+ years of archives.
Home delivery of CT magazine
Complete access to articles on ChristianityToday.com
Over 120 years of magazine archives plus full access to all of CT's online archives
Subscribe Now
Presbyterian Pastor Killed While Preaching in Indonesia
Presbyterian Pastor Killed While Preaching in Indonesia