An expected vote to oust Baylor's controversial president, Robert Sloan, didn't happen during the university's board of regents' July 21-23 meeting. Instead, regents unanimously restated their support of Baylor 2012, the university's 10-year vision.
"The Regents of Baylor University reaffirm our commitment to Vision 2012 and recognize the positive impact it has made to our campus and in the lives of our students," read the board's resolution.
Baylor provost David Jeffrey said after the meeting, "It's a quasi-miracle. Nobody is cocky. Nobody can cease to be but prayerful."
Sloan left a late-morning press conference in the School of Business building and greeted applauding supporters who had gathered for a prayer vigil. That vigil was cut short by the abrupt end of the meeting that many expected to last possibly into the afternoon.
Regents took a secret vote on Sloan in their last meeting May 14, which reportedly tallied 18-17. That means Sloan was retained as president by a single vote. The May meeting emboldened Sloan's critics. One of their leaders, William Carden, recently said in media reports that a majority of regents was prepared to dismiss Sloan.
Carden has organized the opposition into the Committee to Restore Integrity at Baylor University. He and other critics believe that the Sloan administration has severely weakened Baylor financially and has alienated donors, alumni, and faculty.
During an interview with Christianity Today before the regents' announcement, Carden said, "The PR fiasco has gone on for nine years—bumbling, administrative missteps." About Sloan, Carden said, "He's as likeable a guy as I'd ever want to meet. That doesn't mean he's qualified as administrator of a university. He's just administratively incompetent."
Carden said the Sloan administration wants to "make this a battle between the Christians and the secularists, as if everybody opposed to Sloan and 2012 is ready to march hand-in-hand with the Devil." He said he and his committee members are "committed conservative Christians." He said, "There's nothing more we want than a vital Christian ethos to reverberate 24 hours a day across that campus."
'We're already healing'
Baylor is the world's largest Baptist university and Texas' oldest university. The Baylor controversy has echoed around not only Texas, but also in higher education circles nationwide. This past week, The Dallas Morning Newseditorialized that Sloan "has not displayed the leadership skills or conciliation needed to close the rift," but his critics have "played dirty."
During his press conference, Sloan said he was pleased with today's vote supporting Baylor 2012. "What's important is the direction of Baylor, and the regents have reaffirmed it. The 2012 program aims to advance Baylor into the nation's elite tier-one universities, while strengthening its profile as a Christian institution.
"I'm not resigning because there's too much going on that is good," Sloan said. "There's too much affirmation and too much that we're accomplishing."
Asked how to heal the division among regents and the campus split between pro- and anti-Sloan factions, Sloan told reporters, "There will always be those who disagree. I think we're already healing." He said he will continue to meet with critics both one-on-one as well as in smaller focus groups.
Texas lawyer Will Davis, a 1954 Baylor alumnus, was chairing his first session of a regents meeting. Davis said he has spent much time during the past five weeks talking with individual regents about their concerns.
The first two days of the regents' "summer retreat" was spent with faculty, students, and others about progress on the 2012 program. The Friday session, where the vote to oust Sloan was to occur, lasted less than one hour. The atmosphere outside the regents meeting was tense as about 50 Baylor students, alumni, and others gathered in front of the building.
This summer, Baylor has completed a $100 million building program, including a major science facility and new residence halls. The science building is a four-story structure with 508,000 square feet.
Davis said he would not speculate on why the regents took no vote. He said that the message from the regents is that they would "stick with the [2012] plan."
Clifton Robinson, head of the Friends of Baylor, told Christianity Today that the dispute was "a family fight, but not a war." He said many of Sloan's critics should now "come on board before they get left behind." Robinson said one sign of healthy support is that there are 3,500 new donors to Baylor.
The next Baylor regents meeting is scheduled for September. Classes for the fall semester begin August 23.
Related Elsewhere:
Baylor offers a 14-minute video of the post-meeting news conference with board chairman Will Davis and Baylor president Robert Sloan.
"CRIB and I stand by the statement that there are enough votes to remove Robert Sloan as president," Bill Carden told the San Antonio Express-News after today's meeting. But Carden also said that "the group will take a step back from its efforts so that the regents can resolve their conflicts," according to the paper.
Article continues below
The Ft. Worth Star-Telegram reports that Baylor provost David Jeffrey addressed a group of about 30 Sloan supporters after the meeting. "We have passed through a very dark time," he said. "Thank you for your prayers."
More coverage of the regents' decision not to vote on Sloan's job includes:
Baylor regents decline to take vote on firing Sloan (The Dallas Morning News)
Baylor regents wrap up meetings, vote on Sloan's future not taken (KWTX)
Baylor regents don't vote on Sloan, reaffirm 2012 plan (The Baptist Standard)
"Personally, I am wholeheartedly in favor of his staying, and am greatly relieved by today's news," says Dallas Morning News columnist Rod Dreher on the newspaper's blog. His colleague Henry Tatum disagrees, saying, "Why does a school president want to stick around when such a significant number of people want him gone?"
"The real issue at Baylor is whether the price of academic respectability is the surrender of Christian identity," Charles Colson said in his Breakpoint commentary earlier this week.
More Christianity Today coverage of the battle for Baylor includes:
2012: A School Odyssey | Baylor strives to go where no Christian university has gone before—in ten years (Nov. 22, 2002)
Weblog: Sloan Opponents Say They Have Enough Regents' Votes to Oust Baylor President | Group: He'll be ousted this week (second item) (July 20, 2004)
Weblog: Baylor Regents to Assess Expansive Vision | Will Baylor University regents vote on Sloan again? (July 19, 2004)
God and Man at Baylor | Even if Robert Sloan fails, what he has set in motion is irreversible. (June 24, 2004)
Weblog: Baylor President Narrowly Survives Regent Vote | Baylor's president keeps post, but barely (May 19, 2004)
Baylor Reaps the Enlightenment Whirlwind | Ultimately, the challenge to creating a top-level Christian research university lies in combating individualism gone awry. (Oct. 07, 2003)
Christian History Corner: Breaking Down the Faith/Learning Wall | How the history of Christians in higher education has stacked the deck against Robert Sloan's "new Baylor" (Sept. 19, 2003)
Weblog: Baylor Regents Overwhelmingly Support President | After a very bad week at Baylor, good news for Sloan's vision of Christian higher education (Sept. 12, 2003)
Weblog: Showdown at Baylor, Continued | Baylor U.'s sports troubles leak into school's religion debate (Aug. 01, 2003)
Weblog: Showdown at Baylor | Baylor's president faces off against critics this week amid multiple controversies (July 18, 2003)
Design Interference | William Dembski fired from Baylor's Intelligent Design center (Nov. 28, 2000)
Unintelligent Designs | Baylor's dismissal of Polyani Center director Dembski was not a smart move (Oct. 23, 2000)
Books & Culture Corner: Defending Faith and Learning | Baylor University's Polanyi Center comes under fire from the university's faculty (April 24, 2000)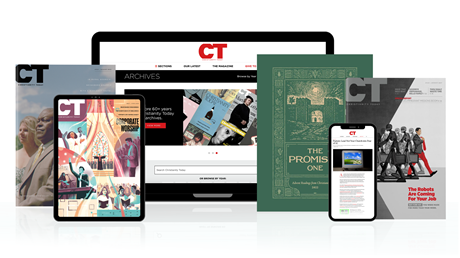 Annual & Monthly subscriptions available.
Print & Digital Issues of CT magazine
Complete access to every article on ChristianityToday.com
Unlimited access to 65+ years of CT's online archives
Member-only special issues
Subscribe
Baylor's Sloan Keeps His Job—Again
Baylor's Sloan Keeps His Job—Again