Baylor University president Robert Sloan has been vilified by some members of his faculty and a few of the university's regents, and he has had to face increasingly fierce organized opposition. But according to two professors at Harvard's Kennedy School of Government, he shouldn't take it personally.
In their book, Leadership on the Line (Harvard Business School Press, 2002), Ronald A. Heifetz and Marty Linsky focus on the dangers leaders face when they guide an organization through "adaptive change." Adaptive change is the kind of change that cannot be met merely by the authorities within an organization or by people simply doing what they already know how to do—only doing it more or better or faster or with greater resources. Many challenges in organizational life require more-better-faster technical adjustments. But adaptive change requires a willingness to experiment and changes in values, attitudes, and behaviors.
Top-tier research universities are unlike small liberal arts colleges in fundamental ways. And intentionally Christian faculty members are different from those who do not try to integrate faith and learning or have no faith at all. Making the transitions to top-tier status and to a Christian approach to learning require fundamental attitudinal and value changes.
Heifetz and Linsky want leaders to understand that it is dangerous to guide an institution through such fundamental and pervasive change. This is so because, at the beginning, people can see far more clearly the losses they are likely to sustain than the gains that the institution will make. People who resist such change are not necessarily bad people. They prize the status quo for good reasons, write Heifetz and Linsky. It is not usually just a matter of personal or communal inertia. Managers and executives who recruited them imparted certain values and understandings, and they feel they are compromising their loyalties if they participate in the change. "People do not resist change, per se," these authors write. "People resist loss."
Heifetz and Linsky warn leaders that those who resent loss will readily confuse message and messenger, and they will transmute their distress over the challenges of change into hostility for the leader who confronts them with the issues of change.
Thus Heifetz and Linsky caution leaders not to let people make the leader the issue. Keep the focus on the adaptive challenges and the need for change. If you don't, you could go down, they say, citing the assassination of Israeli prime minister Yitzhak Rabin as an extreme example.
Israel's right wing, they write, "tried to debate the issue" of exchanging land for peace, "but they were losing the argument. So they began to make Rabin himself the issue, rather than his policies." Thus, they assert, even Rabin's murder was not personal, but an extreme method of silencing the discussion.
Much of Heifetz and Linsky's advice comes back to this point: Don't let the opponents of change make you the issue. Unfortunately, in media reports, the opponents of change at Baylor have managed to make President Sloan the issue. However, experienced observers of organizational dynamics will recognize that—whatever missteps Sloan's opponents may have seized on—the kerfuffle is really about some changes in fundamental values.
This is what Ralph Wood, university professor of theology and literature at Baylor, argued on this website last October. In "Baylor Reaps the Enlightenment Whirlwind," Wood exposed certain commonly cherished pieties at Baylor as being more closely tied to Enlightenment thinking than to authentic Baptist theology. But when baptized Enlightenment individualism has permeated a community, other ways of thinking are threatening, and huge sense of loss looms.
Does there come a tipping point in the process of change? A point at which so much change has already been accomplished that it is futile to resist the change and pointless to attack the leader?
Baylor's Vision 2012 is a ten-year program, which still has eight years to go. But with the opening of two new buildings this month, including a $103 million science building, the tide of change becomes increasingly difficult to turn back. Perhaps such construction projects mark the tipping point. Or perhaps a reported resurgence in applications or the acquisition of 3,500 new donors mark the tipping point.
Or perhaps the Board of Regents' unanimous reaffirmation of support for Vision 2012 on July 23 marks the tipping point. In a matter of hours or even minutes, that Regents meeting went from being President Sloan's widely expected doomsday to being an occasion for unanimous affirmation of adaptive change. Earlier in the week, antagonistic regents had claimed that they finally had the votes to oust Sloan—and that they would use them. But prayer and Providence (and perhaps negotiation) avoided the showdown and kept hope alive. Provost David Jeffrey called it "a quasi-miracle," and said "nobody is cocky; nobody can cease to be but prayerful."
The Baylor dustup may or may not continue. The changes, however, will likely keep on apace. In gospel terms, knowing how to move forward constructively is called not looking back once one has put one's hand to the plow. What everyone now owes Baylor is a shift of focus: from the midwife of change to the continued challenges of change.
David Neff is editor of Christianity Today.
Related Elsewhere:
More Christianity Today coverage of the battle for Baylor includes:
Baylor's Sloan Keeps His Job—Again | Regents steer clear of vote on president; unanimously reaffirm Vision 2012. (July 23, 2004)
2012: A School Odyssey | Baylor strives to go where no Christian university has gone before—in ten years (Nov. 22, 2002)
Weblog: Sloan Opponents Say They Have Enough Regents' Votes to Oust Baylor President | Group: He'll be ousted this week (second item) (July 20, 2004)
Weblog: Baylor Regents to Assess Expansive Vision | Will Baylor University regents vote on Sloan again? (July 19, 2004)
God and Man at Baylor | Even if Robert Sloan fails, what he has set in motion is irreversible. (June 24, 2004)
Weblog: Baylor President Narrowly Survives Regent Vote | Baylor's president keeps post, but barely (May 19, 2004)
Baylor Reaps the Enlightenment Whirlwind | Ultimately, the challenge to creating a top-level Christian research university lies in combating individualism gone awry. (Oct. 07, 2003)
Christian History Corner: Breaking Down the Faith/Learning Wall | How the history of Christians in higher education has stacked the deck against Robert Sloan's "new Baylor" (Sept. 19, 2003)
Weblog: Baylor Regents Overwhelmingly Support President | After a very bad week at Baylor, good news for Sloan's vision of Christian higher education (Sept. 12, 2003)
Weblog: Showdown at Baylor, Continued | Baylor U.'s sports troubles leak into school's religion debate (Aug. 01, 2003)
Weblog: Showdown at Baylor | Baylor's president faces off against critics this week amid multiple controversies (July 18, 2003)
Design Interference | William Dembski fired from Baylor's Intelligent Design center (Nov. 28, 2000)
Unintelligent Designs | Baylor's dismissal of Polyani Center director Dembski was not a smart move (Oct. 23, 2000)
Books & Culture Corner: Defending Faith and Learning | Baylor University's Polanyi Center comes under fire from the university's faculty (April 24, 2000)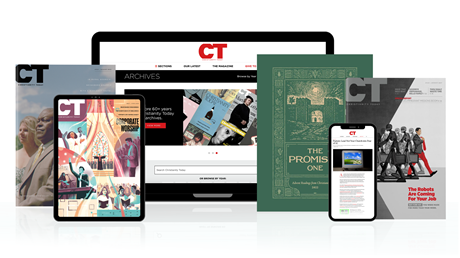 Annual & Monthly subscriptions available.
Print & Digital Issues of CT magazine
Complete access to every article on ChristianityToday.com
Unlimited access to 65+ years of CT's online archives
Member-only special issues
Subscribe
Read These Next
Trending

American Christians Should Stand with Israel under Attack

While we pray for peace, we need moral clarity about this war.

From the Magazine

I Studied Christianity with the Hope of Debunking It

A decade later, I became a Christian.

Editor's Pick

Don't Miss These African Christmas Hits

Jam out this season to highlife, Afrobeats, jazz, a cappella, R & B, rap, dance, and hip-hop artists from Nigeria, South Africa, and more.
Nothing Personal
Nothing Personal