Former missionary returns to the Philippines
Former New Tribes missionary Gracia Burnham, who was held hostage with her husband for more than a year by Islamic militants in the southern Philippines, is returning to the country to testify against some of her former kidnappers.
"She has expressed her willingness to help the government pin down those responsible," a Philippine Department of Justice official told The Inquirer. The paper says that among those on trial is Abu Sayyaf member Alhamzer Manatad Limbong, nicknamed "Bro" and "Kosovo," who is mentioned in Burnham's book, In the Presence of My Enemies. (She's currently working on a second book about dealing with tribulation.)
Burnham, whose husband died in a rescue attempt, described Limbong as a "classic warrior type; big, muscular, well-built, proud of his long, wavy hair." He was with the couple from their abduction at the Dos Palmas resort in late May 2001 to late September 2001.
Several leaders of the group that abducted the Burnhams are missing and presumed dead, but Jainal Antel Sali Jr., nicknamed Solaiman, is still at large. And the Associated Press reports that he broadcast a message for Burnham on Radio Mindanao Network Tuesday. "Welcome back," he said. "Nothing personal about what happened to her and her husband Martin. … Gracia, you only lost Martin, but for us, we lost our homeland … almost everything we have in this world." Other former hostages have testified against members of the Abu Sayyaf before, he added, but "we are still here."
One of the reasons that they're still there is because of the way the Philippine government deals with terrorists. The Burnham story has many parallels with President Gloria Macapagal Arroyo's decision to withdraw its troops from Iraq to meet the demands of terrorists holding truck driver Angelo de la Cruz.
"The terrorists had essentially ordered the Filipino troops out, and that was a violation of Filipino sovereignty that a small group of terrorists told the Philippine government what to do and the government did it. That's the concern," U.S. Charge d'Affaires Joseph Mussomeli said last week. "The Philippines is seen as taking orders from terrorists."
Secretary of Defense Donald Rumsfeld was similarly critical of Arroyo. "Weakness is provocative," he said. "Weakness entices people into doing things they otherwise wouldn't do unless they believed that it would advantage them."
"In effect, the kidnappers were rewarded for kidnapping," Secretary of State Colin Powell explained. "We were very disappointed in the actions of the Philippine government."
Arroyo was nonplussed. "It won't take more than three lines to summarize my case, and let me say them," she said Friday. "One, I take responsibility. Two, I make no apologies. Three, I stuck to my oath."
Monday, she added a few lines. "The Philippines has no policy that demands sacrifice of human lives," she said. "Sacrificing Angelo de la Cruz would have been a pointless provocation. It would have put the lives of 1.5 million Filipinos in the Middle East at risk by making them a part of the war."
Instead, said Australia's foreign minister, you've put the rest of the world at risk. "Unfortunately these actions have encouraged terrorists to continue these threats and now we are subjected to them, the Italians are, the Poles, the Bulgarians, by this particular group," Alexander Downer said. Indeed, within hours of de la Cruz's release, Iraqi insurgents took hostage three Indians, two Kenyans, and an Egyptian.
In her book, Burnham suggested that the Philippine army was arming, feeding, and colluding with the Abu Sayyaf group. She later said that she did not witness any collusion firsthand, but was relying on what her captors and other hostages told her. This week, Burnham will talk about what she did see firsthand. But we may not know what she says—her stay in the Philippines is apparently under the highest security.
Other kidnappings:
Gospel for Asia missionaries forcibly abducted | The Lord had blessed their evangelistic outreach in an area of Karnataka, India, but their ministry did not go unnoticed by anti-Christian elements in the community (Press release, Gospel for Asia)
Colombia troops hunt for kidnapped bishop | Colombian President Alvaro Uribe ordered his troops to launch a rescue operation if they locate a Roman Catholic bishop being held by Marxist rebels in jungle-covered mountains (Associated Press)
Yesterday: Colombian rebels kidnap Catholic bishop | The smaller of Colombia's two main leftist rebel groups kidnapped a Catholic bishop but planned to set him free bearing a political message for the government, officials said Monday (Associated Press)
Religion at the Democratic National Convention
Christianity Today has gone to the political conventions in past election years, but there's seldom major religion stories (or, for that matter, any major stories) afoot there. So this year we've stayed home. Other reporters, however, are scouring the FleetCenter for the smallest crumbs of religion. Keep your eye on Steve Waldman's convention blog over at Beliefnet, for example.
Other journalists are noting that Thursday's invocation will be delivered by John Ardis, director of the Paulist Center where Kerry worships when he's in Boston, and not by Sean O'Malley, the city's Roman Catholic archbishop. Jonathan Last has an article about the Paulist Center in the new issue of The Weekly Standard, picking up where Jody Bottum left off in April.
The other name of note for CT readers inside the FleetCenter is Roberta Hestenes, formerly president of Eastern College (now Eastern University) and senior pastor of Solana Beach Presbyterian Church, and current minister-at-large for World Vision. She gave last night's benediction. Tonight's benediction will be given by Imam Yahya Hendi, the Muslim chaplain at Georgetown University. The invocation yesterday was offered by Stephen Ayres of Boston's Old North Church, and today's will be delivered by Ernest "Gunny" Branch of Sermon on the Mount Baptist Church in Roxbury. James Forbes, senior minister at Manhattan's Riverside Church, actually has a speaking slot today. Bebe Winans performed the National Anthem yesterday.
Other than that, it looks like today is stem-cell research day.
More articles
Stem cell research:
Kerry makes plea for stem cell research | Democrat John Kerry said Monday that America needs a president who "believes in science," making a plea for stem cell research that the son of the late President Reagan was highlighting in a speech at the Democratic National Convention (Associated Press)
What would Reagan do? | A consistent ethic on life (Francis J. Beckwith, National Review Online)
When is cloning not "cloning"? | When John Kerry proposes a ban on it (Wesley J. Smith, The Weekly Standard)
Stem cell proponents enter campaign fray | Nearly three years after Bush announced his compromise position permitting federally funded research on a limited number of embryonic stem cell colonies, there is growing frustration among scientists and patients advocates that the restrictions have severely slowed potential medical breakthroughs and left the United States lagging behind other nations in research (The Washington Post)
Democrats & religion:
Democrats tap first director of religious outreach | Brenda Bartella Peterson is the former director of the fledgling Clergy Leadership Network, an effort to find a new platform for progressive clergy in politics (Religion News Service)
Kerry tells black voters he shares their hopes | The Roman Catholic senator from Massachusetts visited the nondenominational First Church of God in Columbus where Bishop Timothy Clarke told an overwhelmingly black congregation of more than 2,500 that he would not endorse Kerry or President Bush, but urged his parishioners to get out and vote (Reuters)
When bishops fear to lead | It's a no-brainer: The church's Code of Canon Law 915 states explicitly that Communion must be denied those who have "obstinate persistence in manifest grave sin." Kerry and a whole herd of so-called Catholic politicians fit the bill (Ray Kerrison, New York Post)
Can Dems win on values? | With President Bush convinced that his re-election depends on the ardent support of evangelical Christians, like himself, Democrats beginning their four-day convention in Boston are trying to figure out whether they have a problem with churchgoers (Pittsburgh Post-Gazette)
When the subject is life, what's a Catholic to do? | I am a Democrat because I believe the Democratic Party comes closest to the Catholic social teachings of the church (Nina Butorac, Seattle Post-Intelligencer)
Catholic pols, abortion & communion | Washington state's three most prominent Democratic women politicians are Catholic - and continue to support abortion rights despite the displeasure of their church and the remote possibility of being cut off from communion (Associated Press)
Pity party | Our delegate to the Kerry coronation spends a religious Sunday with Boston Democrats deep in prayer to their secular devils. (Shawn Macomber, The American Spectator)
Kerry's sister a 'secret weapon' of feminists | Sen. John Kerry's sister assured a rally of feminist Democrats here yesterday that her brother will name several pro-choice justices to the Supreme Court if elected president (The Washington Times)
Republicans & religion:
White evangelicals flocking to GOP | The party of John Kerry and John Edwards is improving its standing with minorities, but losing ground to President Bush and Vice President Dick Cheney among white evangelicals, a new survey found (The Washington Times)
Evangelicals providing support for Bush | Poll indicates thin backing from minorities remains static (Toledo Blade, Oh.)
Candidate candid about Christian point of view | Bemidji man credits court ruling (Pioneer Press, St. Paul, Minn.)
Analysts look at Ga. Christian right | The religious right took the Georgia Republican Party by storm in 1988 and has been wielding influence ever since. But after last week's primary elections, some are wondering if it is beginning to lose some of its political punch (Associated Press)
Churches & politics:
Voting push targets values | During the 2000 presidential election, more than 5 million Southern Baptists did not cast ballots, according to the denomination's own polling. One in three Southern Baptists and other evangelicals are not even registered to vote (Courier & Press, Evansville, Ind.)
Letter To IRS says pastor crossed line | Ronnie Floyd, pastor of the First Baptist Church of Springdale, is accused of crossing the line between church and state in a complaint to the IRS that challenges the church's tax-exempt status as a religious organization (Times Record, Ft. Smith, Ark.)
Party backs probe of church politics | The Washington County Democratic Committee issued a statement Thursday requesting the complaint against Ronnie Floyd, pastor of the First Baptist Church of Springdale, be "investigated thoroughly (Times Record, Ft. Smith, Ark.)
Politics pushes at the door of religion | Campaign tactics blur church-state line (The Hartford Courant, Conn.)
New complaint is filed against Falwell website | Campaign Legal Center has filed a complaint with election regulators accusing a lobbying organization controlled by the Rev. Jerry Falwell of violating campaign finance laws by using its Web site to urge the re-election of President Bush and to solicit money for a political action committee (The New York Times)
Churches link poverty, politics | Volunteers aim to register voters (Pioneer Press, St. Paul, Minn.)
'Values':
Presidential race hinges on values | Personal issues sway many voters (The News-Press, Ft. Meyers, Fla.)
Characters | "Integrity" is what we want in our leaders — even if the word doesn't mean anything anymore (Christopher Caldwell, The New York Times Magazine)
Religion & politics:
Book lists for the candidates | What Stephen Carter, Rich Mouw, John Witte, Jonathan Sarna, Richard John Neuhaus, Albert Raboteau, and Susannah Heschel would give to Bush and Kerry (The New York Times)
Ray Flynn moves from the left to left out | A fiery, left-leaning champion of urban issues during his decade in office, the former Boston mayor and US ambassador to the Vatican has emerged as a leading voice of conservative Catholic beliefs, speaking out forcefully against everything from abortion to gay marriage (The Boston Globe)
Checks, balances and true democracy | The American People's Progressive Party believes that traditional families and religion are largely responsible for the unjust (because unequal) distribution of wealth and patriarchal bourgeois morality (Don Erler, Ft. Worth Star Telegram, Tex.)
The dangerous intersection of politics, religion | Here are three useful navigation tools: Listen, have humility, take care of poor (James C. Howell, The Charlotte Observer, N.C.)
Is The New York Times a liberal newspaper? | If you think The Times plays it down the middle on gay rights, gun control, abortion and environmental regulation, you've been reading the paper with your eyes closed (Daniel Okrent, The New York Times)
When faith meets politics | What we desperately need today is a dialogue including these two different faith perspectives and how they further the public good (or how they do not) (Dan Bryant, The Register-Guard, Eugene, Ore.)
John Kerry & abortion:
Kerry talking a fine line on abortion | As the candidate strives to reconcile his personal views with his record, rights advocates worry he's distancing himself from their cause (Los Angeles Times)
Kerry's contortions on abortion | Why does he support leaving marriage laws up to the states, but not abortion laws? (Editorial, The Washington Times)
Groups lose bid to rally outside Kerry's house | A judge has denied a request by a coalition of anti-abortion groups wanting to demonstrate in front of Sen. John Kerry's Beacon Hill town house (Associated Press)
Also: Vigil is verboten | Secret Service rules out antiabortion demonstration outside Kerry's home. City had earlier approved it (The Boston Globe, third item)
Abortion:
Lone activist riles marchers | Anti-abortionist tests limits of anti-war protesters' tolerance (Rocky Mountain News)
Younger set represented at protests on abortion | Christian coalition welcomes youths (The Boston Globe)
I'd still choose abortion, says film-maker | The British woman whose film showing an abortion has divided feminists and politicians around the world says she would still choose to abort a foetus (The Australian)
The abortion question | Increasingly, women are choosing to abort for what they deem to be medical reasons, namely the likelihood that the child, if brought to term, will not be perfect (David Yount)
More life ethics:
Eugenics stir emotions in Germany | Discussion of any type of genetic engineering is particularly sensitive given the country's Nazi past (The Christian Science Monitor)
Brain-damaged woman's husband presses case | A brain-damaged woman kept alive for years over the objection of her husband has been "stripped of her most intimate personal rights," his lawyer said in papers filed Monday with the state Supreme Court (Associated Press)
Sudan:
Pope urges halt to Uganda, Sudan violence | Pope John Paul II denounced the use of child soldiers in Uganda and the plight of refugees in Sudan as he appealed Sunday to African leaders and the international community to work to end the continent's conflicts (Associated Press)
Darfur pressure mounts on Sudan | Sudan's leader says he is ready to work with the international community to resolve the Darfur conflict, that has left up to 50,000 dead (BBC, video)
Darfur's deep grievances defy all hopes for an easy solution | The world is waking to the human disaster in Sudan. But the crisis is far more complex than some claim - and cannot be resolved by a quick fix (Alex de Waal, The Observer, London)
Sudan official rejects claims of genocide | Sudan's foreign minister, insisting his government is doing all it can to end the conflict in the country's western Darfur region, rejected a U.S. Congressional declaration that the bloodletting amounts to genocide (Associated Press)
Congress presses for armed action to halt Sudan 'genocide' | The United States Congress declared yesterday that the killings in Sudan's Darfur region were genocide and urged a reluctant President George W Bush to intervene (The Telegraph, London)
Congress calls Sudan atrocities 'genocide' | The U.S. Congress late Thursday night passed resolutions declaring that atrocities that have been unfolding in western Sudan are genocide and urged the Bush administration to do the same (Associated Press)
U.S. Congress votes to declare genocide in Sudan (Reuters)
US raising stakes over Darfur crisis | The US is poised to ratchet up efforts to halt the ethnic cleansing in Sudan's western Darfur region (The Christian Science Monitor)
Sudan hits back over sanctions | Sudan has summoned senior UK and German diplomats to protest at "threats to national security" after the EU pushed for sanctions over the Darfur conflict (BBC, video)
Praying "in Jesus' name":
Fredericksburg councilman defiant on prayer | A minister, he vows to continue using Jesus' name before panel's meetings (Associated Press)
Ruling on prayers could end tradition | Some leaders vow to pray to Jesus (The Post and Courier, Charleston, S.C.)
Court decision could alter city council prayers across South | Government council leaders across the Southeast face giving up sectarian prayers some have used for ages after a 4th U.S. Circuit Court of Appeals decision last week said the town of Great Falls can't invoke Jesus Christ's name (Associated Press)
Council to stick with its prayers | Fredericksburg, Va., City Council member Hashmel C. Turner Jr. says he will say a Christian prayer at the start of a public meeting tonight, defying a recent federal court ruling that such a practice is unconstitutional (The Washington Times)
Church & state:
Religion in the public square | For much of American history, the nation's courts properly interpreted the constitutional principle of freedom of religion. But along came the liberal Warren Court, which banned prayer in schools in 1963, which established a new constitutional doctrine of freedom from religion (Joseph Perkins, Williamson County Review Appeal, Tenn.)
And on the seventh day, my boss let me rest | Just because that "mistaken" Virginia law was tossed doesn't mean your boss can make you work on the Sabbath (Mary Ellen Slayter, The Washington Post)
Warner 'deceived' on Rev. Moon event | Aide says senator's office would not have sanctioned gathering at Dirksen building (The Washington Post)
Ten Commandments:
Artifact of the culture wars en route from Alabama | The rock itself weighs about 2.5 tons, and that's not counting all the baggage it brings with it on a cross-country journey that organizers hope will end this autumn on the Mall (The Washington Post)
Ten Commandments controversy moves west | The city of Everett, Washington, is the new battleground in the debate over the Ten Commandments and where to draw the line in the separation of church and state (Fox News)
Religious freedom:
Christians fear persecution in new Iraq | Most Christians blame concern over a tumultuous security situation for keeping them away from church, but it's only a small part of a greater, and growing, predicament (Associated Press)
Religious liberty behind bars: How free should prisoners be? | Talk about unpopular lawsuits. This month three Oklahoma inmates, all convicted sex offenders, filed suit demanding to be fed kosher meals as required by their faith (Charles Haynes, First Amendment Center)
Cuba:
Castro slams Bush 'lies and slanders' on sex tours | "Let's hope, in Cuba's case, God does not instruct Mr. Bush to attack our country," Castro said. "He had better check on any divine belligerent order by consulting the Pope" (Reuters)
Castro denies sex tourism allegations | "He depends on religion as a defense mechanism, substituting thought" said Castro, paraphrasing from arguments made in Justin A. Frank's book, "Bush on the Couch: Inside the Mind of the President" (Associated Press)
Malaysia:
Malaysia makes its case on conversion | In multi-ethnic Malaysia, where Islam is the official religion but freedom of religion is guaranteed under the constitution, recent developments regarding apostasy for Muslims are posing challenges, not only for religious freedom in the country, but for democracy in general (Asia Times)
Christians pray and fast for nation | Christians nationwide are praying for Malaysia daily under the 40-day "Lighting Up Our Nation" fasting and prayer campaign organised by the National Evangelical Christian Fellowship (The Star, Malaysia)
Middle East:
Marsh Arabs get £6m to restore Eden | Japan is paying £6m to restore the marshlands of Mesopotamia, homeland of the Marsh Arabs, which the book of Genesis identifies as the probable site of the Garden of Eden (The Guardian, London)
Anglican leader to make September 11 speech at Egyptian mosque | Rowan Williams has accepted an invitation to speak at Al-Azhar University in Cairo, considered by many to be the Muslim world's most important centre of learning (AFP)
The triumph of the East | There's no plot: Islam really does want to conquer the world. That's because Muslims, unlike many Christians, actually believe they are right, and that their religion is the path to salvation for all (Anthony Browne, The Spectator, U.K.)
Israel plans to give Christian tourists 'pilgrimage certificates' | Christian pilgrims to Israel will soon be granted religious certificates by the Ministry of Tourism, as part of a new initiative to increase Christian tourism to the Holy Land (Haaretz, Tel Aviv)
Hundreds of Koreans to march on Israel:
Despite warnings, 600 Korean Christians march on the Holy Land | It has been revealed that 600 Christians, not the 100 as initially believed, left Korea to attend "Jerusalem 2004," a procession through the Israeli city of Jerusalem and parts of Palestine from August 7 to 12 (The Chosun Ilbo, South Korea)
Seoul, Israel differ on Korean pilgrims | Pushing aside warnings from the government about danger levels in the Middle East, thousands of South Korean Protestants from some 850 Christian affiliations nationwide are set to attend a peace rally in Israel early next month (The Korea Herald)
Israel welcomes 'peace march' | Israel welcomes the Korean people who recently left for Jerusalem to attend a peace rally there, Israeli Ambassador to Seoul Uzi Manor said in an interview (The Korea Times)
Earlier: Christians head for Middle East amid fears of terror | Over 100 South Korean Protestants have already left for the Middle East to attend religious rallies to be held early next month in Jerusalem despite the government's strong recommendation not to visit the dangerous region, officials said Monday (The Korea Times)
Earlier: 100 Christians leave Korea for Jerusalem procession | It has been learned that about 100 Protestant Christians have left the country to participate in "Jerusalem 2004," a procession through the Israeli city of Jerusalem and parts of Palestine (The Chosun Ilbo, South Korea)
Crime & lawsuits
Bronx man, 24, fatally shot in attempted carjacking | Tommy Lee Wray was driving home after a night with his church's youth group (The New York Times)
Ariz. man sues church using racketeer statute | A Tucson man with dashed hopes of becoming a priest filed a civil racketeering lawsuit against the Catholic Church in federal court last week (The Arizona Republic)
Driver plows down church cross display | A Hermantown church's display of crosses didn't sit well Wednesday with an unidentified driver (Duluth News Tribune, Minn.)
Suit alleging fiscal takeover at rich church is dismissed | Church assets lawsuit rejected (The Boston Globe)
Abuse:
Couple suits church and religious therapist | The pair say they sought counseling with a guest preacher -- but instead say he took advantage of the woman sexually, in her time of need (KGBT, Harlingen, Tex.)
Background checks aim to protect kids | More churches screen flocks (The Detroit News)
Bishop downplays Austria seminary porn | A bishop who oversees a Roman Catholic seminary where a vast cache of child pornography was discovered argued that the scandal had been overblown in comments published Monday (Associated Press)
Ruling ends abuse mediation efforts | Order halts closed-door talks between lawyers for the Orange Diocese and alleged victims (Los Angeles Times)
Also: Judge ends mediation in clergy abuse suits | A judge has broken off mediation talks in 60 lawsuits alleging sexual abuse by Roman Catholic clergy and has recommended that plaintiffs' lawyers be allowed to take sworn testimony from Bishop Tod D. Brown and other top church officials (Associated Press)
Archdiocese clears priest | Follow-up review exonerates Msgr. Patrick Reilly of St. Robert Bellarmine of sexual abuse allegations (Burbank Leader, Ca.)
Most seen backing Springfield settlement | $7m offered over alleged abuse (The Boston Globe)
Four will leave Catholic board | Four members of the board investigating sexual abuse by Catholic priests have agreed to step down from their posts, part of a staggered replacement process (Courier & Press, Evansville, Ind.)
Attorneys fear about church insurers | Attorneys for both alleged victims and Roman Catholic dioceses in Southern California say they're increasingly concerned that insurance companies could hold up settlements in nearly 700 lawsuits that accuse clergy of sexual molestation (Associated Press)
Man says 2 priests abused him as a boy | A man is suing the Roman Catholic Archdiocese of Indianapolis, alleging that two priests sexually abused him when he was a child (The Indianapolis Star)
Church life:
Missouri motioning | Conservative Lutherans lose elections and power in the LCMS (World)
From a crumbling present, a parish's past is reborn | The Old St. James Episcopal Church, plagued by termites and decay is to be restored to the way it looked around 1900 (The New York Times)
Colors of this church are changing with times | As shown in Santa Ana, the African Methodist Episcopal Church manages to reflect neighborhoods as ethnicity shifts (Los Angeles Times)
Sex-harassment suit reinstated against church | 9th Circuit rules female pastor can sue her church without violation church's right to self-govern (Associated Press)
Aspiring ministers click to save souls | Pastor Jack J. Stahl bombards Lucifer and his minions with horror-movie shouts, hollers and diabolical cackles (Contra Costa Times, Ca.)
Moved by the spirit | Local churches are turning to dance and mime to express what words can't. Depending on how it's performed, a liturgical dance can enrich the spoken word -- or it can 'mess up a church.' (The Times-Picayune, New Orleans)
Unity church to host convicted priest | Ex-pastor on leave after marijuana case will speak in Tallmadge services (Akron Beacon-Journal, Oh.)
Australian churches sign cooperation pact:
Churches sing from the same hymn sheet | Fifteen Australian churches have signed a historic "covenant of co-operation" under which they will recognise each other's baptism and ministries - and even share their clergy. Some will share church buildings, different congregations filling the same pews but in separate services (The Sydney Morning Herald)
Devil in the detail is likely to undermine churches' ecumenical journey | A new plan for religious unity in Australia might be just a public relations exercise (Chris McGillion, The Sydney Morning Herald)
Churches in historic pact | Fifteen Australian churches have signed a covenant of co-operation that leaders hail as one of the most significant events in Australian church history (The Age, Melbourne, Australia)
Catholicism:
More tea, Cardinal? | What happens when you've lost your religion, and the most senior figure in Britain's Roman Catholic Church invites you round for a chat? In a rare and candid conversation, Cardinal Cormac Murphy-O'Connor defends the faith to one of the unfaithful (The Independent, London)
Spanish sect leader says he is the real pope | Papal pretender "Gregorio XVII" is leader of a self-styled church in Spain who says God crowned him after Pope Paul VI's 1978 death, that Satan controls the Vatican and that the devil will crucify him at the start of an apocalyptic end of an era (Reuters)
New bishop not ready to support diocese split | In a reversal of his predecessor's position, newly installed Bishop Francis X. DiLorenzo has decided not to support a proposal to split the Richmond diocese and create a new Catholic diocese with Hampton Roads at its core (The Virginian-Pilot, Hampton Roads, Va.)
Breakaway Catholics barred from shrine rites | The Denver Roman Catholic Archdiocese again has rebuffed a breakaway traditionalist Catholic church that wanted to end a two-day, 50-mile pilgrimage with a Mass at a mountaintop shrine west of Denver (The Denver Post)
Closing Catholic churches:
Medford church closes its doors | More than 400 attend last Mass (The Boston Globe)
Closing the door on 65 years | Sacred Heart parishioners tested by shuttering of church (The Boston Globe)
Parish refuses to go gently | St. Pius X meets none of the archdiocese's criteria for closing (Bella English, The Boston Globe)
Jews & Presbyterians:
An interfaith friendship frayed | Presbyterians and Jews face off over votes at the Presbyterian General Assembly (Time)
Tension divides Jewish, Presbyterian leaders | Israel, conversion issues spur debate (The Courier-Journal, Louisville, Ky.)
Israel and Presbyterians | It defies common sense that the church did not know exactly what kind of message it was sending (and message-sending is what these votes are about) by targeting Israel this way (Editorial, The Jerusalem Post)
Education:
Church blocks shared campus plans | The Roman Catholic Church has withdrawn from plans to create seven shared campuses for Catholic and non-denominational primary schools (BBC)
Catholics accused of 'tribalism' over shared schools | Catholic Church withdraws support for plans to build mixed-faith joint-schools (The Scotsman)
Concern over Bible-based lessons | The views of a fundamentalist Christian foundation which runs a series of state schools on Biblical principles have come in for renewed criticism (BBC)
Religious tolerance video targets kids | Ruby Unger, a Mill Valley educational filmmaker who specializes in videos for school-age kids, made "Respecting Beliefs," a 25-minute production explaining the religious tenets of Muslims, Christians, Jews and others (Marin Independent Journal, Ca.)
Backpack mail, return to sender | Montgomery schools anger groups with idea to limit flier distribution (The Washington Post)
New pastor to minister to students | The Rev. Gayla Rapp is the United Methodist campus minister to Kansas University (Lawrence Journal-World, Kan.)
Battle for Baylor:
Baylor epilogue | In a demonstration of real integrity, university regents prove there is such a thing as a happy ending (Hunter Baker, The American Spectator)
Tremors from BU schism | Lately it has become clear that good, rational people in this community are acting irrationally because they are acting with emotion instead of reason (Carlos Sanchez, Waco Tribune-Herald, Tex.)
Baylor's president a key factor in its future | Critics forget that one of Sloan's primary goals is to make Baylor a top-tier university. Although this goal is ambitious, students take it seriously (Joe Barnard, Sko Embry and Thomas Warmath, Ft. Worth Star-Telegram, Tex.)
Sloan survives Baylor regents meeting | Friday's development capped another tumultuous week on campus with another regents meeting full of speculation (Waco Tribune-Herald, Tex.)
Embattled Baylor president retains his job | Critics say the fight isn't over (Ft. Worth Star-Telegram, Tex.)
Baylor to keep Sloan | Regents don't vote on president but do approve his 2012 plan (The Dallas Morning News)
Task force focusing on Baylor benefits | Amid a highly charged atmosphere marking rifts between Sloan and faculty members, a 26-member task force began researching issues ranging from tenure and holiday breaks to breast-feeding and flexible work arrangements (Waco Tribune-Herald, Tex.)
Missions & ministry:
Stephen Baldwin plans ministry | Actor Stephen Baldwin, a veteran star of more than 60 films including "Bio-Dome" and "The Usual Suspects," announced Friday he planned to start a religious ministry (Zap2It)
Fighting violence with faith | Tent revivals on Buffalo's East Side are part of a new evangelization effort aimed at curbing shootings that have left 32 dead so far this year (The Buffalo News, N.Y.)
Of thee he screams | The grand tradition of evangelical street preachers leaves no room for doubt, nuance or reflection (The Oregonian)
Missionary looks for connection to Muslim world | Reformed Church in America missionary Peter Ford says The Passion can be an entry point (Kalamazoo Gazette, Mi.)
Close church doors as haven, Sgro says | Fears trouble over refugee claimants (Canadian Press)
Christian support group helps wives of sexually addicted | Abundant Life Partners Group is a Christian-based organization promoting healing for women with husbands hooked on cybersex, licentious chat room romances or adultery (The Virginian-Pilot)
Big-event headache? Host cities have needed nary an Advil | Aside from some traffic congestion, Luis Palau festival itself probably will be virtually trouble-free, if Palau festivals in other cities are any indication (Minneapolis Star-Tribune)
All signs point to robust Palau turnout | The yard signs are out, the billboards are up, and 1 million "tickets'' are in circulation, even though the event is free (Pioneer Press, St. Paul, Minn.)
On a hot wing and a prayer | Rick Lamborn says he's called on a mission to study the Bible with singles at Hooters (The Atlanta Journal-Constitution)
Jews for Jesus effort heading to Colorado | Orange T-shirts, fliers and a telephone campaign directed at Coloradans with Jewish- sounding surnames: It's part of a two-week "Jews for Jesus" outreach starting Aug. 29 in Denver (Rocky Mountain News, Co.)
Scripture Candy delivers message | A Birmingham candy company is hoping to spread the word of God one piece of candy at a time (Associated Press)
Making a joyful silence | Signed scripture reading, invocation, hymns and prayers attract worshippers to churches for deaf (Toronto Star)
On a mission in Peru, again | Pastor Guy Basso and 12 members of his church build a village school (Statesman Journal, Salem, Ore.)
Business:
A youth movement in Christian goods | Games, books, comics, and magazines aimed at youngsters and teens is becoming a hot sector in this fast-growing market (Business Week)
'Holy' shirts for the hip | Religious messages are fashionable with celebrity set and teens (The Dallas Morning News)
Deal may raise plant from the ashes | A deal has been struck to sell a failed seafood plant to a corporation closely tied to an evangelical church for less than half of the state's investment (Alaska Journal)
Same-sex marriage:
Two battles over gay marriage, two different outcomes | As the gay marriage issue erupted nationally this spring, elected officials favoring same-sex marriage in Oregon and Washington adopted contrasting strategies in the pursuit of their goal -- so far with sharply different political consequences (The Boston Globe)
A rebel and his cause: Rising star Newsom earns praise for San Francisco stand | San Francisco's popular mayor will be life of hot-ticket party (The Boston Globe)
First clerk to wed gays keeps things straight | Why is City Clerk Margaret Drury smiling? (The Boston Globe)
Gay Democrats see strong leader | Homosexual Democrats think that, although Democratic presidential candidate Sen. John Kerry supports civil unions over same-sex "marriage," he will take their issues even further once he's in the White House (The Washington Times)
Proposed marriage ban splits Washington's gays | Under intense pressure to separate their gay consciousness from their broader political identity, gay and lesbian conservatives are facing stinging ridicule in the very neighborhoods, bars and restaurants that were once unquestioned safe zones (The New York Times)
Opinion:
Why compel the rest of us to approve gay marriage? | Gay America is having a wedding, and you're expected to throw rice. (Patrick McIlheran, Milwaukee Journal-Sentinel)
Husbands and wives | What gay marriage won't change (Tod Lindberg, The Weekly Standard)
Hate law pitfalls | There is great danger in changing the common law and the tradition of American law to increase penalties or to make unlawful the commission of an act because the criminal had some motive — especially a political motive — unrelated to the damage the criminal seeks to do by committing the act (Marion Edwyn Harrison, The Washington Times)
When the foundations crumble | Perhaps if those pushing for a constitutional amendment better modeled what they preach for others, they might find more favor among secular powers (Cal Thomas, The Washington Times)
Banning same-sex marriage:
Gay marriage as 'the new abortion' | Debate Becomes polarizing as both sides become better organized, spend millions (The Washington Post)
Earlier: The gay marriage debate | Why gay marriage is not 'the new abortion'—nor will it be the new civil rights movement anytime soon (Melinda Henneberger, Newsweek)
France annuls first gay wedding | France's first gay marriage, which was conducted last month by a local mayor, has been annulled by a court (BBC)
House vote doesn't only threaten gays | If Congress has the authority to tell the Supreme Court that certain issues are off-limits, it would give legislators a free hand to do whatever they wished, without worrying about whether it violated the Constitution (Jay Bookman, The Atlanta Journal-Constitution)
Council cites existing W.Va. law | After two consecutive meetings of intense debate between conservative Christians and members of Huntington's gay and lesbian community, City Council voted 7-4 Monday against a proposed ordinance prohibiting the recognition of same-sex marriages in the city (The Herald-Dispatch, Huntington, W.Va.)
Gay unions divide vote | Evangelicals put heat on politicos (Commercial Appeal, Memphis)
Homosexuality & religion:
ELCA congregation ordains gay pastor | Jay Wiesner, 30, will be installed at Bethany Lutheran Church in Minneapolis next month (Minneapolis Star-Tribune)
New members like church's inclusiveness | To some, Gene Robinson's consecration last year served as a powerful magnet (Associated Press)
Bishops face cash boycott for supporting gay priests | Evangelicals in the Church of England are planning to boycott and withhold funds from bishops who support gay priests (The Times, London)
Parishes urged to test bishops on gay beliefs | Church of England evangelicals intensified their battle over homosexuality yesterday by calling on hundreds of parishes to reject the spiritual authority of liberal bishops (The Telegraph, London)
Episcopal parish on chopping block | Growing church may close as funds from traditionalists drop (Rocky Mountain News, Denver)
Sex and marriage:
Heterosexuals to renew vows in N.Y. rally | In an attempt to strengthen traditional marriage, a group of pastors and ministry leaders in the New York City area are holding a ceremony today in which thousands of heterosexual couples are expected to renew their vows (The Washington Times)
God's definition of marriage | People sometimes mistake God's graciousness to mean He has no standards for right and wrong, and for promoting what is good for the human family (Tyrone Queen, The Washington Times)
Reconsidering the value of chastity | How can we possibly revive the virtue of chastity in our sex-soaked society? (Michelle Therese, The Washington Times)
Television:
Oh, God! Oh, God! | Australian TV has its own version of the Christian sex explosion with the panel show Good Sex, due to return to Ten on Wednesday (The Sydney Morning Herald)
'Amish' TV show may deliver reality of Christian bias | The basic laughter-generating premise for "Amish in the City" is false. These people who are supposed to be confounded by indoor plumbing and Victoria's Secret catalogs know much more about your culture than you do about theirs. (Scott Savage, Chicago Tribune)
'Amish in the City': Nobody drives buggies in L.A. | The point of this exercise in the end, say producers, is self-awareness, for both the city and the country mice (The Christian Science Monitor)
Amish out of water | A reality show creates the strangest bedfellows yet. Can UPN get a witness? (Newsweek)
Sports:
He keeps racers, spirit on track | Dale Beaver is a chaplain with Motor Racing Outreach, a national nonprofit, interdenominational Christian organization that serves race car drivers, their families, the media, and fans (The Boston Globe)
The Strawberrys find a home with 'Pastor Paula' | Former baseball All-Star started attending the church last year after he was released from prison (The Dallas Morning News)
Q&A with Paula White | Paula White says, "Out of our pain … we find our power, not just for ourselves but to help others." (The Dallas Morning News)
Former All-Star Kelly, now guided by the Gospel, shares his stories at the Whitecaps' Fantasy Camp (The Grand Rapids Press, Mi.
Music:
Belting out those heavenly praises | Local voices rise in annual GospelFest (The Boston Globe)
Gospel from A to holy hip-hop | As gospel music has grown, it has absorbed influences from other musical genres (The Boston Globe)
Fair pulls plug on band for playing too loudly | Director Lonnie Steele said vendors in booths near the fair's performance area complained about the noise from Audible Campaign's performance (The Indianapolis Star)
Christian pop star brings levity to show | Christian pop singer Mark Schultz is an engaging storyteller who could make a living on the comedy circuit with his droll tales of personal trials and triumphs and the life experiences of people he has met along they way (Minneapolis Star-Tribune)
Music festival campers find a piece of heaven | Though Spirit West Coast brings a big crowd to Monterey County each year, it's a tent-and-RV crowd, not a bed-and-breakfast group (Monterey Herald, Ca.)
Books:
'Harry Potter' inspires a Christian alternative | When "Shadowmancer" was first published in Britain last year, it was soon dubbed the Christian alternative to "Harry Potter" and surged to the top of the paperback best-seller list, outranking its secular rivals, the "Harry Potter" books, for 15 weeks in a row (The New York Times)
Earlier: A Christian Harry Potter? | Shadowmancer, Britain's hit fantasy novel, conjures darkness so the light will shine brighter (Christianity Today, June 17, 2004)
The temptation to judge | You expect a pastor to encourage people to repent. You don't expect him to encourage people to repent of religion. Yet Gregory A. Boyd, senior pastor of Woodland Hills Church in St. Paul, Minn., has done just that in his latest book (Kristen Campbell, Mobile Register, Ala.)
'Rivers of Gold': Conquerors and missionaries | Hugh Thomas interprets the 30 years in which a few men from Iberia took over much of the known and unknown world (The New York Times Book Review)
Art:
Pilgrims to medieval cathedral are virtually there | A UCLA theater immerses visitors in the sights and sounds of 13th century Santiago de Compostela, the Spanish site of St. James' tomb (Los Angeles Times)
Artist carves out old customs for today's Samoans | Learning Polynesian traditions helps congregation connect to its heritage (Los Angeles Times)
Bible:
On vacation with Jesus | Scriptural teachings and summer fun combine in the annual ritual of Vacation Bible School (Honolulu Star-Bulletin)
Back to the Bible | We do not take the Bible as seriously in this country (Simon Rocker, The Guardian, London)
Don't get the Bible? | Stop and study using Union's resources (Jackson Sun, Tenn.)
Death:
Patients are denied the last rites under data protection law | Thousands of terminally ill patients are being denied access to spiritual guidance from hospital chaplains because the Data Protection Act is being applied over-zealously (The Telegraph, London)
No longer such a private place | A trollopean wrangle is going on in the parish of All Saints, Brightlingsea, Essex. The churchyard has been closed to new burials (Christopher Howse, The Telegraph, London)
More articles:
How do you identify a Christian? | How will movie theaters enforce the rule that only Christians may view The Passion? (Wilson Samuel, The Star, Malaysia)
Message man sure works in some mysterious ways | Religious signs crop up on utility poles, annoying their owners and churches (Times Union, Albany, N.Y.)
Visitor gives view of Christianity in homeland | The people of Nagaland, a small state in the extreme northeast corner of India that lies near India's borders with Myanmar (formerly called Burma), China and Bangladesh, had once been home to 17 fierce tribes of headhunters (Winston County Journal, Miss.)
Apologizing a sorry way to make amends | Apologizing is very "in" these days (T.R. Fehrenbach, San Antonio Express-News)
Frederick pastor leaves his flock for chaplain duty in Iraq | The Rev. David Oravec is leaving his congregation to answer a call he knew might someday come: active military service as a chaplain in Iraq (Associated Press)
Journalists accused of human trafficking | Two journalists and a human rights worker have been arrested and charged with human trafficking in mountainous north-eastern Cambodia while en route to investigate the plight of ethnic Montagnard people fleeing alleged persecution in Vietnam, their employers said yesterday (The Guardian, London)
Remains of last czarina sister in Russia | In an opening move to heal the breech between the Russian Orthodox Church at home and abroad, the remains of the last czarina's sister were flown Sunday from Jerusalem to Russia where they will be displayed in a golden ark in Moscow and throughout the country (Associated Press)
Complacency on AIDS prevention | It is crucial that the pattern observed in the U.S. — of better H.I.V. treatment leading to a rise in new infections — not be repeated worldwide (Editorial, The New York Times)
LDS scholars revising doctrine in light of DNA research | Apologists' tactics: An Australian scientist says the DNA data are forcing BYU intellectuals to reinterpret the Book of Mormon (Associated Press)
Give them old-time religion (The Baltimore Sun)
Spiritual warfare descends on Etunda | A group of spiritual leaders have vowed to declare war on perceived witchcraft at the Etunda Primary School in the Omusati Region (New Era, Namibia)
Poll: God is real, but some believe in witches, ghosts | In this self-described "Buckle of the Bible Belt," it will come as no surprise to learn that 90 percent or more of Alabamians believe in the existence of God, heaven, hell, miracles, angels and the devil, according to the results of a new statewide survey. But what to make of the fact that one in four also believes in witches, and one in three thinks that ghosts are real? (Mobile Register, Ala.)
Related Elsewhere:
Suggest links and stories by sending e-mail to weblog@christianitytoday.com
Check out Books & Culture's weekly weblog, Content & Context.
See our past Weblog updates:
July 23 | 22 | 21 | 20 | 19
July 16 | 15 | 14 | 13 | 12
July 9 | 8 | 7 | 6
July 3 | 2 | 1 | June 30
June 25 | 24 | 23 | 22 | 21
June 18 | 17 | 16 | 15 | 14
and more, back to November 1999
Weblog
Launched in 1999, Christianity Today's Weblog was not just one of the first religion-oriented weblogs, but one of the first published by a media organization. (Hence its rather bland title.) Mostly compiled by then-online editor Ted Olsen, Weblog rounded up religion news and opinion pieces from publications around the world. As Christianity Today's website grew, it launched other blogs. Olsen took on management responsibilities, and the Weblog feature as such was mothballed. But CT's efforts to round up important news and opinion from around the web continues, especially on our Gleanings feature.
Ted Olsen is Christianity Today's executive editor. He wrote the magazine's Weblog—a collection of news and opinion articles from mainstream news sources around the world—from 1999 to 2006. In 2004, the magazine launched Weblog in Print, which looks for unexpected connections and trends in articles appearing in the mainstream press. The column was later renamed "Tidings" and ran until 2007.
Previous Weblog Columns: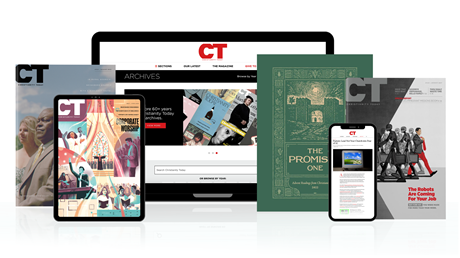 Annual & Monthly subscriptions available.
Print & Digital Issues of CT magazine
Complete access to every article on ChristianityToday.com
Unlimited access to 65+ years of CT's online archives
Member-only special issues
Subscribe
Read These Next
Trending

American Christians Should Stand with Israel under Attack

While we pray for peace, we need moral clarity about this war.

From the Magazine

The Unusual Epistle that Helps Me Counsel on Sexuality

Jude has strong words for immorality in the church. Yet he advocates for mercy for those who doubt.

Editor's Pick

Don't Miss These African Christmas Hits

Jam out this season to highlife, Afrobeats, jazz, a cappella, R & B, rap, dance, and hip-hop artists from Nigeria, South Africa, and more.
Gracia Burnham Returns to the Philippines Amid Another Hostage Controversy
Gracia Burnham Returns to the Philippines Amid ...