In the centuries before Constantine "Christianized" the Roman Empire, the church was wary of politicians. Lists of professions that would bar a person from making gifts to the church, becoming a priest, or even being baptized included pimps, makers of idols, wrestlers, flute and zither players—and magistrates who "wear the purple" or do not deal justly.
One of these documents declares: "Anyone who is raised to a prefect's authority or to the magistracy and who does not put on the justice of the gospel, let him be cut off from the flock and let the bishop not pray with him." Church leaders have been admonishing politicians ever since. A group of United Methodist bishops sought to dissuade President Bush from going to war in Iraq, but he refused to meet with them. And now presidential hopeful John Kerry has become the lightning rod for hierarchical rebuke as the most prominent of many Catholic politicians whose pro-choice commitments conflict with church teaching.
Recognizing that Kerry's ideologically consistent support for abortion rights conflicts with church teaching, the Roman Catholic Archbishop of St. Louis warned the politician not to present himself for Communion while campaigning in Missouri. Home in Massachusetts for Easter, Kerry did not receive Communion at a parish church, but at a center "in the Catholic tradition" known for its progressive politics.
Eventually, the Vatican's Cardinal Arinze told reporters that a politician who is "unambiguously pro-abortion" is "not fit [to receive Communion]. If he shouldn't receive it, then it shouldn't be given to him." Arinze would not comment directly on Kerry.
Kerry routinely invokes separation of church and state to explain his position. A typical statement seriously muddled the issue of religious freedom with the church's teaching on conscience: "I'm not a church spokesman. I'm a legislator running for president. My oath is to uphold the Constitution of the United States in my public life. My oath privately between me and God was defined in the Catholic church by Pius XXIII [he no doubt meant John XXIII] and Pope Paul VI in the Vatican II, which allows for freedom of conscience with respect to these choices, and that is exactly where I am. And it is separate. Our Constitution separates church and state."
Kerry was wrong. The Catholic teaching on freedom of conscience does not allow him to act contrary to the church's moral teaching. While the Catechism of the Catholic Church does emphasize the importance of not acting contrary to conscience, it stresses the individual's moral responsibility to inform the conscience "assisted by the gifts of the Holy Spirit, aided by the witness or advice of others, and guided by the authoritative teaching of the Church." Those who do not work to inform their consciences are without excuse.
Protestants share the ideal of a well-formed and anchored conscience. Luther's "My conscience is captive to the Word of God" is foundational for us. (Luther also tied his conscience to the church; he simply refused to throw his lot with "popes and councils" when they acted "alone," that is, apart from Scripture.) Kerry's notions of conscience stress individual liberty of thought, while Catholic and Protestant understandings anchor the Christian conscience to God's Word and God's people.
Default to Secularism
New York Governor Mario Cuomo's 1984 speech at Notre Dame famously articulated the idea that a Catholic politician might be privately opposed to abortion but publicly supportive of existing laws. Cuomo's argument was a secular one—if Catholic politicians are going to argue against abortion, they should do so on secular grounds.
Kerry's ideas, on the other hand, move beyond secular to secularist. As Joseph Bottum noted in The Weekly Standard, in the thought of politicians like Kerry and former California Governor Gray Davis, "John F. Kennedy's promise that he would accept no order from religious officials in the performance of his office has devolved into the idea that religious officials may not even instruct believers in the tenets of their faith."
Some bishops don't want to use Communion as a threat when dealing with prochoice Catholic politicians. But it is certainly appropriate. Communion is the moment in church life at which we most deeply realize our connectedness, both to Jesus and to all his followers.
Our age idolizes personal autonomy. Both sexuality and Communion, by their very nature, create and foster interdependence. Our culture fights sexual interdependence by promoting abortion-on-demand and the misuse of contraception to help people bypass normal family and reproductive life. Sexual liberalism fosters the philosophy of personal autonomy—and that is in direct conflict with the interdependence created by both biblical sexuality and participation in Communion.
The religious schizophrenia of some politicians reveals the unintended fruit of hypermodern individualism. In many churches, this same spirit causes members to forget who they are: members, in the antique sense of "body parts." Writing about how believers receive the body of Christ in the Communion bread, Augustine of Hippo said, "The faithful know and receive the Body of Christ if they labor to be the body of Christ; and they become the body of Christ if they study to live by the Spirit of Christ: for that which lives by the Spirit of Christ is the body of Christ."
If church discipline of a public figure takes the form of denying him Communion, it is only a recognition of a disconnect that already exists. In a culture that emulates celebrities, high-profile individualism, when it goes unopposed, suggests to the rank and file that anything goes. Church leaders owe it to both the body of Christ and the body politic to help form the consciences of their members—including, and especially, politicians.
Related Elsewhere:
More on the Catholic Church's communion issue includes:
Bishop Bans Pro-choice Voters From Communion | Votes may be considered sin if cast for politicians who support abortions. (May 14, 2004)
Catholic Life Group to Spend $500,000 Denouncing Kerry-friendly Bishops | Such pressure has made nearly every recent Sunday of John Kerry's campaign a spectacle (May 07, 2004)
Communion Watch Continues | Why John Kerry probably won't be denied any time soon. (April 12, 2004)
Have something to add about this? See something we missed? Share your feedback here.
Our digital archives are a work in progress. Let us know if corrections need to be made.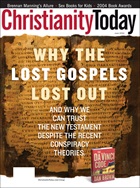 This article is from the June 2004 issue.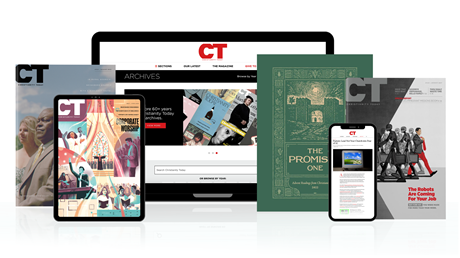 Annual & Monthly subscriptions available.
Print & Digital Issues of CT magazine
Complete access to every article on ChristianityToday.com
Unlimited access to 65+ years of CT's online archives
Member-only special issues
Subscribe
The Politics of Communion
The Politics of Communion