true
Over the weekend, gullible moviegoers willingly tossed about $30 million at a movie in which grown men hurl red rubber balls at each other. They preferred this instead of contributing to an artful new Steven Spielberg film, starring Tom Hanks—a film that required the construction of a complete airport terminal. That film earned only $18.7 million, a shocking disappointment for the studio.
But rather than start by surveying reviews of the most popular film of the week, let's start with the one that's halfway decent.
"Just call him Foreign Gump," writes Bob Smithouser (Plugged In) about Viktor Navorski in his review of Steven Spielberg's new film The Terminal.
And he's right. The central character of this whimsical, inventive comedy is played by Tom Hanks and bears a striking resemblance to Mr. Gump in the way he brings a simple, good-natured wisdom to those he encounters during his long, long stay in New York's JFK airport. Hanks plays Viktor Navorski, a man from the imaginary nation of Krakhozia who, upon his arrival in the Big Apple, learns that his country has fallen into violent political turmoil. The Department of Homeland Security officer at JFK (Stanley Tucci) informs Viktor that it is illegal for him to set foot on American soil, and worse, he can't go home until Krakhozia stabilizes.
So Viktor, who knows only a few words of English, is forced to live on limited resources (echoing another Hanks film—Cast Away), required to wrestle with an unfair and insensitive superior (echoing another Hanks film—Philadelphia), and driven to learn about a large and confusing world that is far from anything he's experienced before (echoing, yes, Hanks' classic comedy Big). Before it's over, Navorski will get a grasp of the language, find ways to earn some lunch money, transform an out-of-service flight gate into a home, fall for a beautiful flight attendant (Catherine Zeta-Jones), befriend a team of airport workers of all colors and sizes (Chi McBride, Diego Luna, and Wes Anderson's favorite supporting actor, Kumar Pallana), and learn to dodge the dispiriting obstacles thrown into his path.
In his review, Smithouser concludes that the "triumphant good-man-against-the-system element is the best part of this touching, poignant, often funny film. Intriguing people. Unusual circumstances. Inspirational moments. Not a bad place to spend a couple of hours. As always, Hanks is terrific."
But there are some problems in the film that bother many of the film's critics (including me). The fault lines of Spielberg's fractured style divide the film's multiple storylines into incongruous subplots. Some scenes are subtle and affecting, followed by others that spell out simple sermons in large capital letters so nobody misses the point. In Spielberg's multi-genre repertoire, this a cinematic jazz piece that boasts flourishes of masterful musicianship, but, unlike Spielberg's last film, Catch Me If You Can, it never coheres into a convincing and satisfying whole. Despite what may be Hanks's finest performance, The Terminal is like a sentimental, superficial, Hollywood movie that has strapped itself to a hard-hitting cultural commentary and entered a three-legged race—it proceeds at a stumbling, awkward pace and collapses before it reaches its goal.
My full review is at Christianity Today Movies.
David DiCerto (Catholic News Service) says its "weak script and lackluster performances keep viewers' attention in a holding pattern. Still, [the movie] is not without some uplifting moments. Harkening back to an old-fashioned Hollywood hopefulness, the movie is built around a Capraesque belief in the goodness and decency of humanity. For the most part, however, The Terminal is just that—terminal."
Steven D. Greydanus (Decent Films) says Hanks is "funnier than he's been in a long time." But he concludes, "The story wobbles between plotlines and characters that make emotional sense and ones that don't. And the climax … is pretty much unsalvageable. In Spielberg and Hanks's professional hands the whole package remains passably entertaining, but much of it doesn't bear thinking about afterwards—not because the premise is implausible, but because, granted the premise, characters do things that no one would, or should, do under those circumstances."
Megan Basham (CBN) writes, "The Terminal is for the most part everything one would expect—charming, funny, possessing of its own singular character and visual beauty. But what it is not is intellectually honest."
Annabelle Robertson (Crosswalk) raves about it. "Funny without being slapstick, heartwarming without being sentimental, inspiring without being preachy, it is the most uplifting film I've seen in a long time."
Michael Elliott (Movie Parables) says, "Hanks is very amusing. Stanley Tucci is perfectly cast. The scenes between Hanks and Tucci are well-timed and brilliantly executed." But he adds, "The romantic relationship between the characters doesn't work for me and is a subplot that distracts from the more interesting element of the film."
Michael Medved (Eye on Entertainment) says it's "full of rich humor and emotional rewards, but hurt by an ambiguous ending and plausibility problems."
Mainstream critics have plenty of criticism, but most end up clearing the movie for takeoff.
Critics dodge
Dodgeball

's dirty jokes

Director Rawson Marshall Thurber follows the pattern of classic underdog movies and borrows the tone of Ben Stiller's manic Zoolander in his new film Dodgeball: A True Underdog Story, this week's box office champ.

The story follows the regulars at a local workout gym called Average Joe's, which has to come up with $50,000 to keep their gym when it is threatened by a supergym called Globo Gym. These oppressed everymen (Vince Vaughn, Alan Tudyk, Stephen Root, and others) decide their only hope is to enter a dodgeball tournament in Las Vegas, where the reward is exactly the amount they need. Just in time, they run into a world-famous dodgeball coach (Rip Torn, spewing foul punchlines) who agrees to help them train. But when Globo Gym's strutting, chauvinistic, egomaniacal owner (Ben Stiller) gets wind of their plan, he and his musclebound cronies enter the tournament themselves.

Sound ludicrous? It is. In fact, it's an outrageous send-up of professional sports broadcasts, bad '70s movies and sports flick cliché s. As in Zoolander, Stiller's hilarious parody of the fashion industry, the film is crowded with surprising cameos and music-video-style montages that keep things moving at a rapid pace. Unfortunately, where comedy brilliance outweighed locker-room humor in that movie, Dodgeball fires off foul punchlines by the dozens. Viewers troubled by such sophomoric behavior will spend the movie dodging dumb jokes, rewarded by only a few high points. Moviegoers would fare better staying home and looking for a better option on video.

My review is at Looking Closer.

Russ Breimeier (Christianity Today Movies) says, "Dodgeball is a throwback to the simplistic and spirited underdog sports films of the last 25 years, like Caddyshack, Major League, The Bad News Bears, and Happy Gilmore—lovable losers playing for high stakes against the rich, powerful jerks. Though often crude and rude, this movie also owes much to the good old-fashioned slapstick of The Three Stooges … and the cultural satire of The Simpsons."

Michael Elliott (Movie Parables) says, "Yes, the humor is silly, sexual, and politically incorrect—sometimes even offensive—but because of a talented, earnest cast it often works despite its crudeness or mean-spiritedness. And though it is very funny, it is also effectively inspirational." He adds, "Parents should know that this PG-13 film is very sexual and physical in its humor. It is not a film for children."

But David DiCerto (Catholic News Service) is not so willing to give the film any compliments. He says it's "full of forced, crass humor. Its love-yourself-for-who-you-are message is weighed down by the film's preponderance of puerility including jokes about lesbianism, penile pumps, S&M leatherwear and, of course, running sight gags of people getting smashed in the face—or considerably lower—with spherical projectiles."

Adam R. Holz (Plugged In) calls it "a film that does nothing more than hurl obscene material. Just as the characters must dodge wrenches, cars and incoming red rubber balls, so moviegoers are forced to dodge two hours worth of angry verbal assaults, lowbrow humor and crude—more accurately, obscene—innuendo."

And yet, many mainstream critics are showing surprising enthusiasm for the film.
80 Days

probably won't last that long

Jackie Chan's fight scenes are once again winning cheers this week as director Frank Coraci's adaptation of Around the World in 80 Days comes to the big screen. But only a few of those critics are willing to give their approval to the movie as a whole.

Fans of the Jules Verne novel of the same name may be bewildered by the movie's lack of resemblance to it. British comedian Steve Coogan (Coffee and Cigarettes, 24 Hour Party People) plays a nutty inventor who teams up with a kung-fu-fighting sidekick to travel the world in a flying machine in order to win a wager. The film features numerous celebrity cameos, including the last big screen performance by Arnold Schwarzenegger before his metamorphosis into the governor of California.

But in spite of its all-star cast, as Steven D. Greydanus (Decent Films) notes in his review, there are some distracting holes in this version of the plot: "Without a doubt, the best thing about [the film] is the fight scenes … the best fight scenes in any Jackie Chan Hollywood buddy movie to date. They're actually so good, it's a shame there had to be that annoying filler about a race to circumnavigate the globe." He concludes, "The final act, in particular, is one of the most aggressively stupid things I've seen in a long time. Around the World is lamer as a movie than any of Jackie's previous U.S. films, even The Tuxedo."

Mary Lasse (Christianity Today Movies) says, "If you want to see a great film adaptation of Jules Verne's novel, Around the World in 80 Days, check out the 1956 version starring David Niven as Phileas Fogg. If you want to see an awful adaptation of Verne's classic novel, go to your local theater and watch this 2004 version. But don't say I didn't warn you. 80 Days proves that two hours of chaos and 'eye-popping special effects' do not entertain the masses."

Bob Waliszewski (Plugged In) writes, "It had the potential to be one of the year's foremost films for the whole family. But it didn't use it fully, or faithfully. It's funny, chockfull of action, clever and engaging for all ages. It's also sprinkled with enough problematic content to prompt me to wave a yellow flag in front of families considering making the journey."

Brett Willis (Christian Spotlight) criticizes it for "making fun of historical figures. Legally, you can say almost anything you want about a deceased person. But that doesn't mean it's appropriate." He concludes, however, that this movie is "probably one of the 'least bad' choices of the summer for a family outing."

A couple of critics gave the film higher marks. Annabelle Robertson (Crosswalk) says, "Unlike its predecessor, this film won't garner any awards, and adults aren't likely to be impressed. But, with a few exceptions, it is decent entertainment for the family."

Michael Elliott (Movie Parables) says it's "an enjoyable and fanciful family film. The film is well paced and certainly entertaining in a family friendly sort of way."

David DiCerto (Catholic News Service) calls it "an entertaining, continent-hopping spectacle that is both campy and clever—and, as an added attraction—quite fun."

Mainstream critics find it frivolous and full of hot air.

Next week: Michael Moore's Farhenheit 9/11 declares war on President Bush; Two Brothers are family friendly, and The Notebook tries to be the summer's hottest date movie.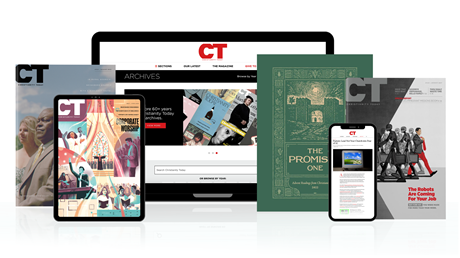 Subscribe to Christianity Today and get access to this article plus 65+ years of archives.
Home delivery of CT magazine
Complete access to articles on ChristianityToday.com
Over 120 years of magazine archives plus full access to all of CT's online archives
Subscribe Now
Read These Next
Trending

Died: Pat Robertson, Broadcast Pioneer Who Brought Christian TV to the Mainstream

With CBN, "The 700 Club," Regent, the Christian Coalition, and a run for president, he changed evangelicals' place in public life.

FrançaisIndonesianрусскийУкраїнська

From the Magazine

When Politics Saved 25 Million Lives

Twenty years ago, Republicans, Democrats, evangelicals, gay activists, and African leaders joined forces to combat AIDS. Will their legacy survive today's partisanship?

Editor's Pick

PCA's 50th Anniversary Comes During a Season of Grief

Presbyterians expect less fight and more fatigue as they gather following the Covenant shooting and the deaths of Harry Reeder and Tim Keller.
Underdog Dodgeball Defeats Spielberg's Terminal
Underdog Dodgeball Defeats Spielberg's Terminal