"It's open season" on minority faiths in Russia
Mr. Putin, tear down this law! For the first time, a religious group has been completely banned under Russia's restrictive 1997 religion law. Since that group is the Jehovah's Witnesses, many American evangelicals may shrug. But they shouldn't.
First, Jehovah's Witnesses have long been a bellwether for religious freedom, in this country and around the world. Without the Jehovah's Witness court victories here in the U.S., for example, religious organizations might have to seek licenses to solicit aid or even to worship. Evangelists might be forced to pay fees to hand out Bibles and tracts—and might be taxed even for giving them away. And school children would be forced to pledge allegiance to whatever the government wished.
"The Jehovah's Witnesses," Supreme Court Justice Harlan Stone once famously said, "ought to have an endowment in view of the aid which they give in solving the legal problems of civil liberties."
In this country, the Jehovah's Witnesses have been tremendously successful in expanding religious liberties. But in Russia, it's a different story. And as the state cracks down on the JWs, it looks like groups like the Baptists are next.
"Once you get a decision like this, it's open season," John Burns, the Canadian lawyer who represented the group at a Moscow appellate court, told The New York Times. He told the Associated Press, "Religious freedom has just turned back to where it was in Soviet times."
Forum 18, a Norway-based news agency monitoring religious freedom with a particular eye on the former Soviet Union, says Burns is right in saying the government won't stop with this group.
"It is notable that only unproven allegations and not proven court cases are cited in the claims made about the legality of Jehovah's Witness activity in Moscow," says Geraldine Fagan. "Many of the claims made about the Jehovah's Witnesses practices could also be made of other religious communities practices as well."
In fact, persecution of groups not recognized under the 1997 religion law—which only includes the Russian Orthodox Church, Islam, Judaism, and Buddhism—is already widespread. Here's a sample of recent headlines from Russia Religion News, where Stetson University's Paul Steeves translates the Russian media:
Orthodox charges against Catholics
Government worker threatens Baptist evangelism
Protestants complain about discrimination
Russian justice ministry reviving soviet reporting system
Protestants anxious about status in Russia
Catholics not guilty as Orthodox charge
Pagan sectarians appeal judicial liquidation
Steeves's site also includes a translation of the full text (part one | part two) of the Moscow appellate court's decision. The Jehovah's Witnesses say they'll appeal the case to the the European Court of Human Rights.
Namibia: The new Russia?
Back in the day, American Christians worried about Russian communism spreading to African countries. Now, perhaps, we should start worrying about some African countries' embracing Russian-style distinctions between official and "evil" religions.
Last week, Namibian President Sam Nujoma attacked what he called "misleading churches" in the country, and emphasized that the government only recognized Roman Catholic, Anglican, and African Methodist Episcopal, and two Lutheran churches.
That short list would exclude hundreds of thousands of other Christian believers in the country.
The Council of Churches in Namibia issued a statement that it "has received numerous complaints from our member churches who feel hurt because of not being recognized, while they are also of good standing in preaching the Christian gospel and are involved in nation building." The group then called for Nujoma to clarify his comments.
In 2001, The Namibian newspaper notes, Nujoma said he didn't care about his country's constitutional guarantees on freedom of worship "because [Christianity] is artificial; it's a foreign philosophy."
More articles
Southern Baptist Convention annual meeting:
Southern Baptists warn of stagnation | The Rev. Jimmy Draper, president of the SBC publishing house, reminded the 8,500 church representatives Wednesday of a decline in new member baptisms in each of the past four years. He said it reflects "a denomination that's lost its focus" (Associated Press)
Baptists reject resolution on schools | A resolution calling on members to abandon public schools was declined by a committee of the Southern Baptist Convention on Wednesday -- the same day church "messengers" voted to support a federal marriage amendment. (The Indianapolis Star)
Destructive values of government schools | There is a great deal of evidence that government schools are converting our children to alien creeds and infusing them with false and destructive values (Bruce Shortt, The Indianapolis Star)
The inherent goodness of public schools | Public schools deserve unqualified praise and gratitude from Southern Baptists for educating poor children, helping them escape from poverty and becoming productive members of society (Robert Parham, The Indianapolis Star)
Christians serve by going out into the world | Southern Baptists have, historically, been a mission-minded people. Our greatest moments have been those times when we have set aside our minor theological and political differences and pooled our resources and prayers in order to share the Gospel with all the world (Jim West, The Indianapolis Star)
Same-sex marriage:
U.S. Baptists call for ban on gay marriages | Southern Baptists called for a constitutional amendment banning gay marriage on Wednesday, a day after President Bush promised the largest U.S. Protestant denomination he would press his fight for one (Reuters)
Senate sets mid-July vote on marriage | Senate Republican leaders have scheduled the Senate vote on a constitutional amendment defining marriage as the union of a man and a woman for the week of July 12, just two weeks before Democrats convene in Boston for their presidential nominating convention (The Washington Times)
Signers seek to block homosexual 'marriage' | The first of six petition drives to block same-sex "marriage" with state constitutional amendments ends this week in Montana (The Washington Times)
About 2,500 gay couples sought licenses in 1st week | The Globe survey found 265 communities with at least one same-sex couple applying. There were a total of 2,468 applications from same-sex couples (The Boston Globe)
Two lawsuits to challenge 1913 law | GLAD calls law discriminatory (The Boston Globe)
Gay marriage opponents gear up for fall | Gay-marriage opponents are targeting the Legislature this fall, when all 200 seats are up for election. They want to see passage of a constitutional amendment to ban gay marriage (Associated Press)
Suit to challenge 1913 Mass. marriage law | A 1913 law that went virtually unnoticed for almost a century may take center stage in the battle over gay marriage in Massachusetts (Associated Press)
Suits to fight ban on some gay marriages | The first legal challenges since the start of same-sex marriages in Massachusetts are expected to be filed this week (The New York Times)
Baptist group backs gay-marriage ban | The Southern Baptist Convention, the largest and most conservative major Protestant organization, voted overwhelmingly on Wednesday in favor of a resolution that supports amending the federal Constitution to ban same-sex marriage (The New York Times)
Church defends marriage views | A religious-freedom group yesterday filed a federal lawsuit against the state of Montana for investigating a church accused by a homosexual-rights group of violating state law by promoting heterosexual marriage during one of its services (The Washington Times)
Foes of gay marriage wage untraditional fight | Supporters of a constitutional state ban gather signatures at churches, raising questions about religious political activity (The Oregonian)
Hate crimes:
Senate backs tougher hate-crimes law | The Senate, responding to crimes targeted against gays, voted overwhelmingly yesterday to strengthen the civil-rights-era law on hate crimes and extend its protections to include offenses based on sexual orientation, gender and disabilities (The Washington Post)
Senate okays law to protect gays, lesbians | The Senate voted 65-33 Tuesday to give gays and lesbians protection under the federal hate crime law, and officials said a debate was likely next month on a far more controversial measure to amend the Constitution with a ban on homosexual marriages (Associated Press)
Ms. Behavior has the do's, don'ts of gay marriage | Since Massachusetts became the first state to allow gay marriages, Meryl Cohn has joined the scores of folks grappling with how to address the congratulation card, what to call the spouse, and how to field the dreaded question, "So, you gonna get hitched?" (The Boston Globe)
With gay marriage, la belle France turns conservative | In France, gay marriage has brought out a conservative impulse that will surprise those who think of the country as a progressive counterweight to a reactionary America (Christopher Caldwell, The New York Times)
Catholic bishops meeting:
Bishops tackle faith, politics | Denver Archbishop Charles Chaput says he plans to submit suggestions for the draft on Catholic politicians (The Denver Post)
Faith, politics collide | Bishops tackle how Catholics can best approach public life (Rocky Mountain News, Denver)
Bishops pressured to back amendment | Same-sex marriage foes call for action (Rocky Mountain News, Denver)
SNAP seeks input in sex-abuse audits | Activists urge limits be removed from 2nd round of checks (Rocky Mountain News)
Catholic bishops, demonstrators say Kerry is wrong | At least four Catholic bishops, including Archbishop Raymond Burke of St. Louis, have said that the staunchly pro-choice Democratic candidate for president, a practicing Catholic, should not take Holy Communion in their dioceses (The Kansas City Star)
Communion denial looms large for U.S. bishops | The U.S. Catholic bishops had expected a relaxing retreat this week, but a widening controversy over pro-abortion-rights Catholic politicians' fitness to receive Communion has intruded on their plans (San Antonio Express-News, Tex.)
Abortion question draws protesters | Bishops meet inside as groups outside argue church stands (Rocky Mountain News, Denver)
Forum hears report on Catholics, politics | U.S. Roman Catholic bishops launched into the controversial convergence of politics and faith Tuesday as advocacy groups outside staked out positions on whether Holy Communion and secular elections mix (The Denver Post)
Bishops OK 2nd review of reforms | Abuse scandal still in spotlight (The Denver Post)
Politics, religion, and silence | New York, home of loud opinions, has been uncharacteristically quiet about the latest Catholic political dispute (The New York Times)
No Communion for Kerry, say antiabortion Catholics | Antiabortion advocates on Wednesday denounced what they called the "hypocrisy" of Democratic presidential hopeful John Kerry and other Catholic politicians who back abortion rights (Reuters)
Top theologian urges reconsideration of sex-abuse stance | The nation's preeminent Roman Catholic theologian, Cardinal Avery Dulles, called in a speech published yesterday for reconsideration of the "zero tolerance" policy toward sex abuse by priests that U.S. bishops adopted two years ago in Dallas. (The Washington Post)
Also: Cardinal: Bishops' abuse policy 'extreme' | An influential U.S. Roman Catholic theologian says the discipline policy American bishops adopted in response to the clergy sex abuse crisis ignores priests' due-process rights and should be changed (Associated Press)
Bishop Sheridan responds to his critics without backing down | Pro-abortion politicians are no worse than the pro-abortion voters who elect them to office (Catholic Citizens)
Bishop cautions politicians | Not at 'stage' to deny them rite, says Thomas J. Olmsted (The Arizona Republic)
Skylstad says Communion should not be withheld | "I strongly oppose using Eucharist as a weapon," vice president of the U.S. Conference of Catholic Bishops, wrote (Associated Press)
Politics, Communion clash | Vote with church or don't take sacrament, some bishops suggest (El Pason Times, Tex.)
Battling over Kerry's Catholic credentials | Catholics' 'family argument' spilling into national debate, risks politicizing church (Charles Haynes, First Amendment Center)
The church's scorecard sleight of hand | The bishops have put themselves in the ugly position of blocking loving people from the altar while offering no assurance that trusting children are not horribly stripped of their dignity (Derrick Z. Jackson, The Boston Globe)
Bishops at the ballot box | Church leaders cannot expect religious doctrine to govern secular behavior (Editorial, The Boston Globe)
Bishops right to continue reviews | Approval of the second-year audit should lay to rest anxieties that the church wants to change the subject rather than overcome the decades of abuse (Editorial, The Denver Post)
Catholicism:
Group to push diocese to withhold Communion | An anti-abortion group will hold a news conference Wednesday outside the offices of the Pittsburgh Catholic Diocese, urging the church to withhold Holy Communion from Catholic lawmakers who vote for abortion (Pittsburgh Tribune-Review)
Grand jury heard Law, two bishops | Transfer of priest under scrutiny (The Boston Globe)
Employees given holy residence mementos | Preparing for the June 30 sale of the archbishop's residence to Boston College, the Archdiocese of Boston yesterday allowed chancery employees to remove furniture and other remaining articles from the former home of Cardinal Bernard F. Law (The Boston Globe)
The church and celibacy | Voices raised to question, challenge centuries-old dictate for Catholic priests (Kentucky Post)
Short on priests, U.S. Catholics outsource prayers to Indian clergy | American, as well as Canadian and European churches, are sending Mass intentions, or requests for services like those to remember deceased relatives and thanksgiving prayers, to clergy in India (The New York Times)
At one Catholic college, crucifixes make a comeback | Crucifixes began to disappear from classrooms in many of the nation's more than 200 Catholic colleges for various reasons (The New York Times)
Talk of witches at Vatican Inquisition conference | Talk of trials, burned witches and forbidden books echoed in the Vatican on Tuesday as Pope John Paul asked forgiveness for the Inquisition, in which the Church tortured and killed people branded as heretics (Reuters)
The Church's weak hand | The hierarchy resorts to browbeating its members over gay marriage (Editorial, The Boston Phoenix)
Abuse:
Lawsuit alleges abuse by principal | A South Jersey man sued the Phila. Archdiocese, saying the ex-leader of a Catholic school in the Northeast corrupted him (The Philadelphia Inquirer)
Catholic ex-principal in Phila. accused | A man filed a lawsuit Wednesday claiming the former principal of the city's largest Roman Catholic high school plied him with cocaine and alcohol and sexually abused him over a three-year period (Associated Press)
Diocese of Tucson weighs bankruptcy | Filing would be unprecedented in United States (Arizona Daily Star)
Boston Archdiocese escapes bankruptcy | No American diocese had ever filed for bankruptcy (The Arizona Republic)
Tucson, Ariz., diocese weighs bankruptcy | Claiming plaintiffs in sex-abuse cases are demanding more money than they can offer, officials with the Roman Catholic Diocese of Tucson say they're considering a bankruptcy filing (Associated Press)
Still wary | Public continues to give Catholic Church low approval ratings over handling of abuse cases (San Diego Union-Tribune)
O.C. priest-abuse talks to resume | Diocese, attorneys work nearly 12 hours to forge a settlement for as many as 100 alleged victims (Los Angeles Times)
Deal in abuse cases possible | Orange County bishop says in a letter to parishioners he will push an offer today that could close the gap in settlements (Los Angeles Times)
Anglican Archbishop of Adelaide resigns | Archbishop Ian George was not personally accused of abuse, but was criticized for not dealing adequately with victims molested by church workers (Associated Press)
Banning Muslim clothing:
Omaha, Neb., sued over Muslim woman's garb | Lubna Hussein says she was barred from accompanying her children to a city swimming pool because she was fully clothed (Associated Press)
Muslim pupil loses legal battle to wear jilbab | A 15-year-old Muslim girl yesterday lost her high court battle for the right to wear strict Islamic dress to school (The Guardian, London)
Girl loses religious dress challenge | A 15-year-old British schoolgirl who went to court after being told she couldn't wear traditional Muslim dress in the classroom lost a legal bid Tuesday to overturn the ban (Associated Press)
Pupil loses her court battle to wear Islamic gown in class (The Telegraph, London)
British schoolgirl loses fight to wear Islamic dress | A 15-year-old Bangladeshi Muslim schoolgirl living in Britain lost a legal battle on Tuesday for the right to wear full Islamic dress in class (Reuters)
Freedom of dress | The grounds for its ban - the jilbab's potential for setting one Muslim girl against another - are not sufficient to penalise Shabina for her religious convictions (Editorial, The Telegraph, London)
Clothed minds | The decision by two arms of the state - the school and the court—to ban the jilbab denies a form of religious observance (Editorial, The Guardian, London)
Sad news:
4 visitors drown at Water Gardens | Girl falls in; 3 others die attempting to save her 'We've never had a tragedy like this' (Ft. Worth Star-Telegram, Tex.)
4 Chicago church members drown in Texas (Associated Press)
Related Elsewhere:
Suggest links and stories by sending e-mail to weblog@christianitytoday.com
Check out Books & Culture's weekly weblog, Content & Context.
See our past Weblog updates:
June 16 | 15 | 14
June 10 | 9 | 8 | 7
June 4 | 3 | 2 | 1
May 28 | 26 | 25 | 24
May 21 | 20 | 19 | 18 | 17
May 14b | 14a | 13 | 12 | 11 | 10
and more, back to November 1999
Weblog
Launched in 1999, Christianity Today's Weblog was not just one of the first religion-oriented weblogs, but one of the first published by a media organization. (Hence its rather bland title.) Mostly compiled by then-online editor Ted Olsen, Weblog rounded up religion news and opinion pieces from publications around the world. As Christianity Today's website grew, it launched other blogs. Olsen took on management responsibilities, and the Weblog feature as such was mothballed. But CT's efforts to round up important news and opinion from around the web continues, especially on our Gleanings feature.
Ted Olsen is Christianity Today's executive editor. He wrote the magazine's Weblog—a collection of news and opinion articles from mainstream news sources around the world—from 1999 to 2006. In 2004, the magazine launched Weblog in Print, which looks for unexpected connections and trends in articles appearing in the mainstream press. The column was later renamed "Tidings" and ran until 2007.
Previous Weblog Columns: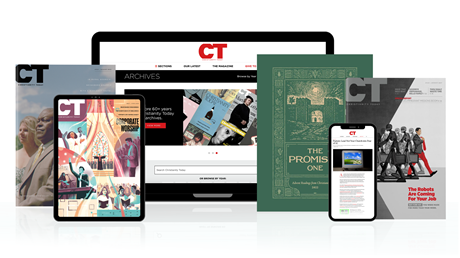 Subscribe to Christianity Today and get access to this article plus 65+ years of archives.
Home delivery of CT magazine
Complete access to articles on ChristianityToday.com
Over 120 years of magazine archives plus full access to all of CT's online archives
Subscribe Now
Why Moscow's Ban on Jehovah's Witnesses Is Bad News for All Christians
Why Moscow's Ban on Jehovah's Witnesses Is Bad ...