A full-grown locust averages 1.5 inches in length. And yet, in 1875, a single swarm of these tiny creatures filled 198,000 square miles—a mass encompassing "the combined areas of Connecticut, Delaware, Maine, Maryland, Massachusetts, New Hampshire, New Jersey, New York, Pennsylvania, Rhode Island, and Vermont." So much for immensity. And here's the mystery: That same locust, 30 years later, was gone. It disappeared. Subsequent research has concluded it is extinct. In only three decades, a population of locusts larger than 3.5 trillion had been wiped from the face of the earth. Where did they go?
A game of numbers only begins to explain the fascinating story told by Jeffrey Lockwood in his book, Locust: The Devastating Rise and Mysterious Disappearance of the Insect that Shaped the American Frontier. At first glance, the book appears intended for "sciency" folk—those interested in the natural world, environmental conditions, biomes, and the like. But the subtitle says more. Indeed, the book is at least as much about the shaping of the American frontier as it is about locust biology. Certainly Lockwood knows his science: A trained entomologist and professor of Natural Sciences at the University of Wyoming, he is careful to get the research right. Yet the genius of Lockwood's Locust is not the science; it is the ability to translate that science (a nearly religious entomology) to a world that sees insects as little more than pests.
In order to do so, Lockwood must first state the claim. Using an array of staggering numbers, he proves that—in contrast to the cicadas whose swarms are making news this summer—locusts were far more than merely annoying to the early settlers of the West. In many locales, locusts could mean starvation. Homesteaders were left destitute by the onslaught of an insect whose swarms blotted out the sun. More important, however, that destitution framed religious and political questions which persist today.
Take, for example, the locust trial of 1338. Although none have rivaled the swarms of the American West, every continent has struggled with the havoc locusts wreak. Europe was no exception. And in a time when all matters were religious matters, the church responded first: the locusts were exorcised; later, excommunicated; finally, they were taken to court.
At issue in the case was the locusts origin—not their creation, but their mission. Who had sent them: God or Satan? The answer would determine how the people should respond. If Satan had sent the locusts, the people should curse them, anathematize the insects away. Yet if God had sent them, then cursing his purpose would only rebound upon the people. Moreover, the issue could only be decided through religious self-examination. Was God punishing them, or was he testing them?
Today, the locust trial of 1338 is an oddity that Lockwood exploits for four pages of good humor. And yet, the same questions that put an insect on the stand in the 14th century continue to vex us in the 21st: How do we respond to disaster? Or rather, how do we shape disaster into meaning so that we can respond? Once, natural disasters were believed to have something to do with the divine; today, it would seem, few people—even few religious people—believe that. In many ways, Christians have conceded that the natural world—what had always been most closely linked to the heavens—is merely natural. When a hurricane strikes the coast, the religious do not begin to wonder whether they have sinned. In some ways, this is an improvement; but is it possible that something has been lost?
Perhaps what most weighed upon my mind as I read Lockwood's book was his diagnosis of religious responses to the locust plagues. On the American frontier, farmers who faced the oncoming cloud of ruin were forced to ask for aid. At first, they asked the church, and the church responded with prayers. But when it came time to ask for more than prayer, the church shut its doors. As Lockwood states, "Offering up prayers was one thing—giving up wages was quite another."
In the end, the destitute turned to the federal government for their subsistence, eventually raising a series of fundamental political questions that would set precedents for agricultural policy, natural disaster, and federal relief into the present time. Today, we wait for the government to pronounce a "natural disaster"—where "natural" means precisely that.
These are just some of the issues that Lockwood's book on locusts raised. Yet Locust is not primarily an argument that needs debating. Instead it is a book of awe. Lockwood makes the case for his entomological passion by simply pointing—as though it were show and tell—to the enormity of the locust impact, an impact few could begin to suspect.
As the book closes, however, Lockwood's crazy love seems to get the better of him; after explaining the locust's extinction, his solid writing disintegrates into flighty, quasi-religious reasoning. Lockwood compares sanctuaries and sacrifices of humans and animals—glossing over minor details like volition and consciousness—in order to lament the locust's loss. A puff of logic would blow him away. Still, he leaves an interesting question lingering: At what point does irrevocable alteration of the natural world (the extinction of the locust, for example) become an acceptable tradeoff for the welfare of the human race? Lockwood's locust love decides him on this point. But after so many awe-filled pages of destruction, I remain unconvinced. For a long while, it seems, an answer has been assumed, but perhaps the question deserves restating: Can extinction ever be good?
Consider that as you pick up Lockwood's Locust and immerse yourself in a fascinating and shocking swarm of biology, biography, politics, and religion.
Abram Van Engen will begin doctoral studies in English at Northwestern University in the fall.
Locust is available from Amazon.com and other book retailers.
Philologos Bible Prophecy Research has compiled all the biblical references to locusts.
Plaguedomes offers a disturbing take on snowglobes.
More information on locusts is available from the Orthoptera Species File Online, the Orthopterists' Society, and the Tree of Life Web Project.
Lockwood has a page at the University of Wyoming web site.
Books & Culture Corner appears every Monday. Earlier editions of Books & Culture Corner and Book of the Week include:
Telling Lies, Telling Stories | Lars Saabye Christensen's The Half Brother reveals imagination as escape. (June 15, 2004)
The Art of Political War | A veteran columnist urges his fellow liberals to take a lesson from those nasty conservatives. (June 07, 2004)
Thou Shalt Not Swap | The uses and abuses of copyright. (May 24, 2004)
Mystery and Message | Must they compete? (May 10, 2004)
Celebrating Faith in Writing | A dispatch from Calvin College's biennial event. (April 26, 2004)
Shabbos, Sheitels, and Yarmulkes | A novel set in the world of Orthodox Judaism. (April 19, 2004)
The Naked City | The story of the 1977 blackout in New York-the occasion of widespread looting and destruction-has some surprisingly timely lessons for America in 2004. (April 19, 2004)
A Curious Contingency | Confessions of a wordsmith. (April 05, 2004)
"Trust but Verify" | Ronald Reagan's faith. (March 29, 2004)
Article continues below
Baseball Preview 2004 | Plus a look back with some Negro League veterans. (March 29, 2004)
How Do You Live with a Torturer? | A novel of Haiti by the brilliant young writer, Edwidge Danticat. (March 08, 2004)
God Is in the Details | A scientist affirms his faith. (Feb. 23, 2004)
History Repeats Itself, Sort of | How the fate of Eugene McCarthy's insurgency against LBJ sheds light on the 2004 presidential campaign. (Feb. 16, 2004)
The Worst President Ever? | Former Nixon aide John Dean attempts to rehabilitate the reputation of Warren G. Harding. (Feb. 09, 2004)
Wholly, Wholly, Wholly | Calvinists and conga drums in Grand Rapids: a report from the seventeenth annual Calvin Symposium on Worship and the Arts. (Feb. 02, 2004)
The Doom of Choice | Fate, free will, and moral responsibility in Tolkien. (Feb. 02, 2004)
A Rose Among Thorns | A new novel by the author of Father Elijah illumines the spiritual consequences of our simplest decisions. (Jan. 26, 2004)
Baptized in Fire | A new book on Martin Luther King, Jr., emphasizes his spiritual transformation. (Jan. 19, 2004)
O'Connor v. the Antichrist (Jan. 12, 2004)
Moody, the Media, and the Birth of Modern Evangelism | A cautionary tale. (Jan. 05, 2004)
A Few Coming Attractions from 2004 | Plus: What to buy with those gift cards, and some of the books in my to-read stacks. (Dec. 29, 2003)
The Top Ten Books of 2003 | Plus: The Worst Book of the Year, more good reading, digital books, and a little Christmas music. (Dec. 22, 2003)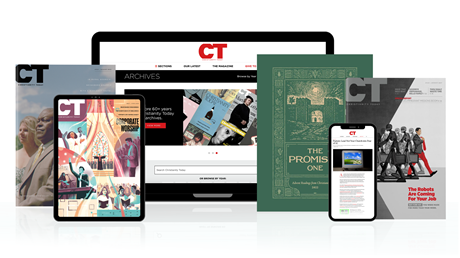 Annual & Monthly subscriptions available.
Print & Digital Issues of CT magazine
Complete access to every article on ChristianityToday.com
Unlimited access to 65+ years of CT's online archives
Member-only special issues
Subscribe
Insect Theodicy
Insect Theodicy