Executive editor of Sojourners: Catholic bishops "worse than irrelevant"

Sojourners has always been a kind of contrarian magazine in the evangelical world. While its theology is orthodox, its politics are as left as World magazine's are right. But generally the magazine has maintained its evangelical credentials not just through its emphasis on biblicism and evangelism, but also because its social justice values include protection of the unborn.
As such, it represents an important wing of the evangelical Protestantism—though in its social values it sometimes sounds a bit closer to a Roman Catholic magazine.
This week, Sojourners really starts to sound like a Catholic magazine—more of the Commonweal than the Crisis variety—as executive editor David Batstone attacks the U.S. Conference of Catholic Bishops as inconsistent, "narrow-minded," and "worse than irrelevant." In "An open letter to the Catholic bishops," Batstone writes, "You risk stumbling into hypocrisy."
Batstone isn't talking about the clergy-abuse scandal. He's talking about the Iraq war and abortion.
"I am perplexed why you have chosen the abortion issue as a litmus test for 'full communion with the faith of the church,'" Batstone writes.
Sorry to speak so boldly, but you have no basis for so selectively narrowing your rich moral tradition. … We recently have witnessed in the United States a decision and act by our political leaders to pre-emptively invade a sovereign nation-state. The social teaching of the Church explicitly prohibits and condemns such aggressive behavior. Pope John Paul II certainly understands this fact, as he made clear in an audience with President George W. Bush last month. …
I have not heard one U.S. Bishop even suggest that Holy Communion might be withheld for any politician who enacted, or voted for, the immoral pre-emptive invasion of Iraq. Yet the consequent loss of human lives—both Iraqi and American—and the devastation of Iraqi society have been nothing short of tragic. Furthermore, this act of spiritual arrogance—invoking God's guidance while invading—has deepened historical animosities that surely will lead to more senseless bloodshed in the Middle East and across the globe. …
Why is it that the bishops of the U.S. Catholic Church are unable to see this serious breach of morality? Over 250 of you are gathered in Colorado this week, and you only see fit to make public pronouncements about a sole moral issue.
Friends and brothers, I fear that your narrow-mindedness is turning the voice of the Church into something far worse than irrelevant. You risk stumbling into hypocrisy. I urge you to reclaim the full gospel of life, and announce it prophetically to those who would trample on the rights of the defenseless—those who have already been born as much as those yet unborn.
Batstone notes that he's "tenured professor of ethics and moral theology at a Catholic university" (that would be the Jesuit University of San Francisco, where an openly gay professor teaches marriage and family therapy). "It is precisely because I am so familiar with the tradition that I am perplexed," he says.
But Batstone's reference to authority here sounds a bit less like Avery Dulles than it does Howard Dean's brag, "If you know much about the Bible—which I do," right before he placed Job in the New Testament. That's because many theologians, journalists, bloggers, pundits, and others have been spending the last several months talking about why the Roman Catholic Church teaches that the abortion issue trumps other political concerns. Batstone doesn't even give a sentence to responding to these comments.
It's not like he has to read all of canon law to get the point. Just reading news coverage of what he's writing about—or the very bishops' statement he's criticizing—would have hit the highlights.
"Does the church see the right to life as trumping all its other concerns?" David Van Biema wrote in last week's Time cover package.
Technically speaking, yes. The most useful comparison may be with the church's anti-capital-punishment stance. The Pope has explicitly connected executions with abortion as part of the "culture of death." But church teaching on abortion is "definitive": Catholics must obey it as an act of faith. Teaching on capital punishment is merely "authentic," meaning believers may bring reason to bear on the issue. The church's catechism calls abortion an absolute evil but hedges on the death penalty, quoting the Pope as saying cases necessitating it "are very rare, if not practically nonexistent." And canon law includes a penalty of excommunication for abortion but none for aiding state-sanctioned executions. …
The church allows believers commonsense, or "prudential," latitude in fitting doctrine to political action. That is not license to contradict teaching, but an acknowledgment of the delicacy of its application in the real world. In practice, says the Rev. John Langan of Georgetown University, prudence could translate into supporting Pennsylvania's pro-choice Arlen Specter (as Santorum has) to maintain the Senate majority of the Republican Party, which skews antiabortion.
The specific circumstances surrounding the Iraq war mean prudence plays an even bigger role than it does in capital punishment cases. More on that in a moment, but let's first keep in mind that the debate over abortion and Communion isn't simply because it's an election year. It's largely because the Vatican issued a doctrinal note to the bishops in November 2002 suggesting they weren't taking the matter of rogue Catholic politicians seriously enough. That doctrinal note repeatedly mentions abortion, along with same-sex marriage, divorce, education, drug use, prostitution, religious freedom, and an economy that is at the service of the human person and of the common good. Then it says this:
Finally, the question of peace must be mentioned. Certain pacifistic and ideological visions tend at times to secularize the value of peace, while, in other cases, there is the problem of summary ethical judgments which forget the complexity of the issues involved. Peace is always "the work of justice and the effect of charity." It demands the absolute and radical rejection of violence and terrorism and requires a constant and vigilant commitment on the part of all political leaders.
Most politicians who supported the Iraq war believed they were doing the work of justice and charity. A politician who supports abortion, however, would have a hard time saying he was protecting the unborn. That line about "forget the complexity of the issues involved" is worth noting, because the church radically differs on its teachings of abortion and war. "The killing of an unborn child is always intrinsically evil and can never be justified," the American bishops said in their most recent statement. The Roman Catholic Church has always held that war can be justified. The debate was whether invading Iraq met the qualifications of a just war, and it's worth noting that folks in the Bush camp tended to reference traditionally Catholic doctrine on this issue while folks in the Sojourners camp tended to take a more pacifist view.
"We offer not definitive conclusions, but rather our serious concerns and questions in the hope of helping all of us to reach sound moral judgments," the bishops said about the Iraq war in November 2002.
People of good will may differ on how to apply just war norms in particular cases, especially when events are moving rapidly and the facts are not altogether clear. Based on the facts that are known to us, we continue to find it difficult to justify the resort to war against Iraq, lacking clear and adequate evidence of an imminent attack of a grave nature. With the Holy See and bishops from the Middle East and around the world, we fear that resort to war, under present circumstances and in light of current public information, would not meet the strict conditions in Catholic teaching for overriding the strong presumption against the use of military force. … There are no easy answers. Ultimately, our elected leaders are responsible for decisions about national security, but we hope that our moral concerns and questions will be considered seriously by our leaders and all citizens.
That's a long way from the language the bishops used on abortion. But Batstone says the Pope "made clear in an audience with President George W. Bush last month" (it was this month, but we'll let that slide) that "the social teaching of the Church explicitly prohibits and condemns" the invasion.
The Pope didn't say any such thing, but did call for a "speedy return of Iraq's sovereignty, in conditions of security for all its people." The Pope has always pushed for more United Nations action in Iraq, and has repeatedly called it "a grave matter." But that's a long way from "a grave sin," "a most serious and dangerous crime," and grounds for excommunication—language that the Roman Catholic Church uses for abortion.
Batstone claims to be an expert on Catholic moral teachings, and it's clear that he's long been concerned about the war. So why is he so upset with the bishops? Is he upset about their commitment to abortion? He says no: "I am not among those who would criticize you for taking a strong public moral position on behalf of the rights of the unborn. The Church has for a long time held fast to that conviction; it is consistent with, and an irrevocable thread to, the Church's 'gospel of life.' The word 'consistency' is significant here, for it is your lack of consistency in other grave matters that today undermines your moral authority."
But the bishops are being consistent. No matter how much Batstone wishes otherwise, Catholic teachings have never seen moral equivalence between abortion and the Iraq War. Just because the Pope criticizes something doesn't mean that it gets the same weight when it comes to church discipline.
Today, the Pope himself seems to have destroyed Batstone's case, criticizing "abuses" and "deviations" in the modern sports world. According to the AFP news agency, he lamented "exacerbated commercialism," the "aggressive spirit of competition" among top athletes and their "violence against people and things."
Under Batstone's logic, the bishops would be "worse than irrelevant" and "risk stumbling into hypocrisy" if they didn't immediately issue a statement banning NBA players from Communion. That's just not the way it works.
Enough Catholicism?
Okay, okay. Sojourners is pretty much an evangelical Protestant magazine—and Christianity Today certainly characterizes itself that way. Weblog has probably spent too much time today analyzing Roman Catholic teachings. So let's turn back to the evangelical world.
More articles
Religion & politics:
The battle for America's soul | On the campaign trail, Bush and Kerry have staked out two very different positions about God and government (Richard Wolffe, Newsweek)
Bishops in political crossfire over issue of Communion | Both ends of the political spectrum criticize declaration that it's up to individual bishops to decide whether to deny Communion (The Washington Post)
Williams urges slowing on slots | Backers want plan on November ballot (The Washington Post)
Religion 'very important' to most Americans | America's faith is alive and well, according to a new Gallup poll that also found that President Bush is favored by the faithful over Democratic candidate Sen. John Kerry (The Washington Times)
Thomas takes on leadership | Rep. Bill Thomas (R-Calif.) this month thwarted a coordinated effort by House GOP leaders, the Republican National Committee and an outspoken conservative lawmaker to change IRS rules so that religious leaders could speak more freely on political issues (The Hill, D.C.)
Ties tighten between religion and politics | Lawmakers form a 'faith-based' caucus, while churches clarify role in national affairs (The Christian Science Monitor)
Understanding American evangelicals | A Conversation with Mark Noll and Jay Tolson (Center Conversations, Ethics & Public Policy Center)
Roy Moore passed over for as Alabama Chief Justice:
Governor appoints Nabers chief justice | Gov. Bob Riley appointed state Finance Director Drayton Nabers Jr. as Alabama's chief justice Tuesday but said he seriously considered returning ousted Chief Justice Roy Moore to the post (The Birmingham News, Ala.)
Nabers state's new chief justice | With one hand on a Bible, his wife at his side and the governor standing before him, state Finance Director Drayton Nabers was sworn in Tuesday as the chief justice of Alabama (Montgomery Advertiser, Ala.)
Chief Justice Nabers | Gov. Bob Riley was absolutely correct to resist the pressure to appoint ousted Chief Justice Roy Moore to his former position on the Alabama Supreme Court (Editorial, The Birmingham News, Ala.)
Riley picks well for chief justice | Nabers' clearly is a man of strong religious convictions who at the same time is not dogmatic, and who will not try to turn the chief justice post into a launching pad for higher office or national notoriety (Editorial, Montgomery Advertiser, Ala.)
Wofford play on gay union irks Moore | Birmingham playwright Tom Wofford was undeterred Tuesday after Roy Moore reacted negatively to his new play about same-sex marriage, "Judge Roy Moore Comes to Dinner" (The Birmingham News, Ala.)
Same-sex marriage:
GOP eyes taking marriage from courts | House Republicans yesterday emphasized their eagerness to reassert congressional authority over the judicial branch, holding a hearing on stripping federal courts of their jurisdiction to hear cases pertaining to same-sex "marriage" (The Washington Times)
Evangelist endorses FMA during Mall tent revival | Kistler delivers Bibles to Congress, serves as Senate chaplain (Washington Blade, gay newspaper)
Same-sex marriage in Britain & New Zealand:
Gay rights plan suffers in Lords | Ministers' plans to give gay couples similar rights to married couples have suffered a defeat in the Lords (BBC)
'Gay marriage' Bill left in disarray | Ministers in the Lords refused to take part in any further debate on the Civil Partnership Bill after peers voted to extend it to other couples, including carers and sisters who lived together (The Telegraph, London)
MPs get hate mail on 'gay marriage' bill | Parliament's justice committee can expect a torrent of highly-charged public submissions when it opens hearings on the Civil Union Bill (NZPA, New Zealand)
Religion & homosexuality:
No common ground at bishop's meeting with Rochester church | All but three members of an Episcopal church in Rochester are looking for a new place to worship after being unable to reach an agreement with the bishop whose authority they challenged (Associated Press)
Peace be with you. And also with you. Unless you're gay. | Last year, after the Episcopal Church installed its first openly homosexual bishop, a group of dissenters, led in part by conservative Texas clergymen, vowed to put up a fight. And did they ever. Will their new alliance destroy the 215-year-old denomination? (Texas Monthly)
Church teacher banned after gay marriage | A woman who married her lesbian partner in Massachusetts was banned from teaching in the Church of Christ, Scientist, after she refused to "repent" for her actions (Associated Press)
Bishop cleared of sexual misconduct charges:
Inquiry clears Hubbard | Ex-prosecutor's examination of bishop's private life finds no proof he broke vow of celibacy (Times Union, Albany, N.Y.)
Report clears Albany bishop in sexual misconduct inquiry | Outside investigators issued a report on Thursday clearing the Roman Catholic Bishop of Albany, Howard Hubbard, of sexual misconduct accusations (The New York Times)
Investigator finds no proof against bishop | An investigation found nothing to support accusations of sexual misconduct against Albany Bishop Howard Hubbard, a former federal prosecutor hired by the diocese said Thursday (Associated Press)
Church probe clears New York bishop in sex case | An investigation found that there was no credible evidence to support allegations that Bishop Howard Hubbard of Albany, New York, was involved in any homosexual relationships, a former prosecutor said on Thursday (Reuters)
Catholics find faith in leader reaffirmed | Some voice criticism of Hubbard's accusers, media coverage (Times Union, Albany, N.Y.)
No evidence | Mary Jo White's investigation finds nothing to uphold allegations against Bishop Hubbard (Editorial, Times Union, Albany, N.Y.)
Crime & fraud:
San Jose man who burned Jesus statue repentant | He will pay St. Bruno's Church $3,748 for damages (San Mateo County Times, Ca.)
Catholic priest arrested in Australia | Police arrested a Catholic priest Friday morning when he arrived in Melbourne after being deported from Samoa for failing to disclose his conviction in a child molestation case (Associated Press)
Judge gives Lech two days to locate investors' millions | Many investors are members and leaders of evangelical churches (The London Free Press, Ontario, Canada)
Life ethics:
Woman 'cannot use IVF embryos' | Partner withdrew his consent (BBC, video)
Scientists face wait to clone embryo | A decision on whether to allow the cloning of a human embryo in Britain has been postponed until scientists provide further details of their plans (The Independent, London)
DeGette launches bill to end curbs on stem-cell research | Rep. Diana DeGette introduced bipartisan legislation Wednesday to roll back the restrictions on stem- cell research imposed by President Bush (The Denver Post)
Fetal pain and our disconnect | Maybe it seems obvious that fetuses can feel pain long before they emerge into the world. But some people wish you wouldn't think about that fact (Steve Chapman, Chicago Tribune)
Eric Rudolph trial:
Rudolph's trial moved from August to May 2005 | A federal judge Thursday rescheduled Eric Robert Rudolph's trial from August to next year, allowing more time for preparation (The Birmingham News, Ala.)
Trial delayed for accused abortion clinic bomber | Accused serial bomber Eric Rudolph will go on trial for the deadly 1998 bombing of an Alabama abortion clinic in 2005, not this summer as originally scheduled, a federal judge ruled on Thursday (Reuters)
Music & film:
Rapper DMX arrested at Kennedy airport | He and another man tried to steal a car, authorities said (Associated Press)
Earlier: DMX retiring from hip-hop, plans to read his Bible | Will continue acting career (MTV.com, Mar. 10, 2003)
Jars of Clay | Play that new-time gospel music (Richmond Times-Dispatch, Va.)
Sailing over Hollywood's 'edge' | A billionaire bets there's a market for family films (The Wall Street Journal)
Sports:
Howard has plenty of faith on and off court | "It's not about just basketball. It's about changing people's lives on the court and off the court," says Dwight Howard (USA Today)
'You can be a Christian and be hard-nosed' | When he talks about his faith, and the spiritual journey that brought him to Chicago, Cubs manager Dusty Baker describes a kind of existential tug-of-war between the Good Dusty and the Bad Dusty (Chicago Sun-Times)
Education:
Troubled Barber-Scotia loses its accreditation | Change could devastate the already financially strapped Presbyterian school (Charlotte Observer)
Parochial schools' existence threatened by tax credit loss | A ruling last week by the U.S. Supreme Court to reinstate a legal challenge to Arizona's education tax credits has local parochial school administrators worried, saying without tax credits some schools could lose 25 percent to 30 percent of their students (Tucson Citizen, Arizona)
Demand is growing: Parents put faith in religious schools | More parents are anteing up around $5,000 a year to private faith-based schools in an effort to give their children an education that meshes with their religious values (Tucson Citizen, Arizona)
T.D. Jakes's Mega Fest:
Thousands of the faithful converge in Atlanta to share spirit of Mega Fest | At Mega Fest 2004, everything is super-sized: the crowds, the spirit, the traffic jams, the emotions, the volume of the singing. Everything except the dancing midgets at the UniverSoul Circus (The Atlanta Journal-Constitution)
Therapy and theology | Atlanta's Mega Fest shows many sides of T.D. Jakes' ministry (The Atlanta Journal-Constitution)
For Jakes, style rivals substance | T.D. Jakes' widespread appeal is proof positive that religion in the 21st century has evolved to reflect popular culture (Editorial, The Atlanta Journal-Constitution)
Jakes' message helps broken people heal | The notion of broken people coming together and being made whole is the hallmark of Jakes' message (Diane Weathers, The Atlanta Journal-Constitution)
Church life:
Vicar in unholy collection plate row | An unholy row has broken out after wedding guests were told that loose change wasn't good enough for the collection plate (Harrogate Advertiser, Yorkshire, England)
Crumbling churches, towering costs | Across eastern Germany, the decay of time is eating away at hundreds of houses of worship (Frankfurter Allgemeine Zeitung, Germany)
Religious freedom:
China denies claim of bishops detained | China on Thursday denied Vatican claims it had detained three bishops from the communist country's underground Roman Catholic church (Associated Press)
India's BJP backs Vajpayee, turns to the right | India's Hindu nationalists rallied behind their defeated former prime minister on Thursday, but have made a fresh commitment to their core Hindu ideology as they try to recover from a crushing election defeat (Reuters)
More articles:
'No sex' message doesn't ring true | When a 30-strong troupe of Silver Ring Thing virgins arrived in Britain this week on an evangelical tour, they hit a few snags (Annabel Crabb, The Age, Melbourne, Australia)
Moderates say theology lacking in 'Left Behind' | Members say series' events not biblical (The Birmingham News, Ala.)
When an apology just isn't enough | Tom Frame has asked for God's forgiveness. There are others he should speak to (Tim Ferguson, The Age, Melbourne, Australia)
Cleric justifies ban on miracle broadcast | It's unbiblical for men of God to be advertising miracles, says Brother Timothy Ibe, general overseer of Resurrection Power Ministry International (This Day, Nigeria)
Religion news in brief | Pope criticizes EU Constitution, Pakistani Muslim, Christian leaders discuss religious tensions, exhibit includes silver communion tokens, and Michigan religious groups reach out to singles (Associated Press)
Wheaton College student dies in car crash while working in Israel | James Pyles, 21, was the youngest child of Franklin Pyles, president of the Christian and Missionary Alliance in Canada (Daily Herald, Chicago suburbs)
Related Elsewhere:
Suggest links and stories by sending e-mail to weblog@christianitytoday.com
Check out Books & Culture's weekly weblog, Content & Context.
See our past Weblog updates:
June 24 | 23 | 22 | 21
June 18 | 17 | 16 | 15 | 14
June 10 | 9 | 8 | 7
June 4 | 3 | 2 | 1
May 28 | 26 | 25 | 24
May 21 | 20 | 19 | 18 | 17
and more, back to November 1999
Weblog
Launched in 1999, Christianity Today's Weblog was not just one of the first religion-oriented weblogs, but one of the first published by a media organization. (Hence its rather bland title.) Mostly compiled by then-online editor Ted Olsen, Weblog rounded up religion news and opinion pieces from publications around the world. As Christianity Today's website grew, it launched other blogs. Olsen took on management responsibilities, and the Weblog feature as such was mothballed. But CT's efforts to round up important news and opinion from around the web continues, especially on our Gleanings feature.
Ted Olsen is Christianity Today's executive editor. He wrote the magazine's Weblog—a collection of news and opinion articles from mainstream news sources around the world—from 1999 to 2006. In 2004, the magazine launched Weblog in Print, which looks for unexpected connections and trends in articles appearing in the mainstream press. The column was later renamed "Tidings" and ran until 2007.
Previous Weblog Columns: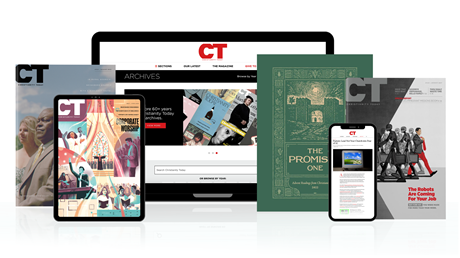 Subscribe to Christianity Today and get access to this article plus 65+ years of archives.
Home delivery of CT magazine
Complete access to articles on ChristianityToday.com
Over 120 years of magazine archives plus full access to all of CT's online archives
Subscribe Now
Bishops Should Excommunicate Supporters of Iraq War, Says Sojourners
Bishops Should Excommunicate Supporters of Iraq ...