Among the many "December dilemmas" (those situations where public celebrations of Christmas may unconstitutionally endorse religion) last year, was a story in Palm Beach, Florida, in which two women were repeatedly denied the right to donate a nativity scene for a public Christmas display. Because Christmas displays often have religious connotations, many communities have stopped displaying nativity scenes on public property. However, Palm Beach, denied Maureen Donnell and Fern DeNarvaez the right to display a nativity scene while the city kept a Menorah as part of its holiday display. After Palm Beach rebuffed the women's repeated requests to include a crèche, they naturally sued.
As Terry Mattingly put it the case puts the "DUH" in Florida. As the issue heated up over the next few months, "The result was an election in which the anti-Nativity scene forces soundly defeated the pro-Nativity scene rebel alliance." Despite the election win, the city still had nativity problems. Palm Beach had already lost a church/state fight in which it refused to display—get this—a Menorah, said Mattingly, who teaches journalism at Palm Beach Atlantic University.
At the time, Mattingly criticized coverage of the issue in the Palm Beach Post. Now, he'd have to criticize the Post's lack of coverage. A Google search shows that the newspaper has yet to mention Donnell and DeNarvaez won their case and received an apology from the city.
According to the firm that represented the women, "The Town of Palm Beach, Florida this week paid $50,000 in attorney fees to the Thomas More Law Center pursuant to a previously entered federal court Consent Judgment. The Town also acknowledged and publicly apologized for its failure to respond to multiple offers by two of its residents, Maureen Donnell and Fern Tailer deNarvaez, to donate Christian Nativity scenes for display alongside two Town-sponsored Jewish Menorahs during the Christmas holiday season." The town also paid the women a dollar each.
The Thomas More Law Center is also suing Los Angeles on behalf of a county employee who feels the county is anti-Christian because it removed a cross from the county seal.
According to the firm, Palm Beach understood that displaying a nativity alongside a Menorah is constitutional, though at the time it claimed it would be unconstitutional to display it. According to the Associated Press, the town said its Christmas tree and Menorah were secular symbols. "The Consent Judgment signed by a federal district court judge in late May acknowledged the importance of recognizing religious holidays and provided that 'Should the Town erect or allow the display of religious symbols on public property … all religious symbols will be given equal treatment.'"
The court also ordered Palm Beach to provide written procedures for reviewing requests for religious displays. It seems the Postdid cover that. Though the story makes no mention that the city lost the suit filed against it, or that the city admitted that the lawsuit may not have been necessary had they listened to Donnell and deNarvaez, it does say the new procedures are in response to a lawsuit following the city's refusal to display a nativity scene next to a Menorah.
Palm Beach will no longer put up any religious displays, but it will allow citizens to put up their own displays in a park. "The town council voted 4-1 Tuesday [June 8] to allot the day after Thanksgiving through Jan. 10 for private groups to set up religious displays in the town park instead of allowing them year-round." Groups will be able to keep displays up for 15 days.
The lone dissenter to the decision wanted to allow religious displays year-round. Either way, the town can be supportive of religion in general, but no one religion in particular. The Lemon test is that "government conduct (1) must have a secular purpose, (2) must have a principal or primary effect that does not advance or inhibit religion, and (3) cannot foster an excessive government entanglement with religion," according to the First Amendment Center.
Towns can allow religious displays, but governments may not put them up. They can only provide space, and if towns do provide space, they cannot censor what citizens put there. If Menorahs are allowed, so are crèches and crescents. Government has the ability to be friendly to religion while keeping church and state separate.
Mattingly has more on the issue in "How NOT to cover a religion news story" at GetReligion.
More articles:
Church life:
Churches becoming community centers | Standing on the second-floor lounge of the Gathering Place, you'd swear you were in an upscale health club. (Indianapolis Star)
At U.N., a Missourian who wears faith boldly | John C. Danforth, Episcopal minister, former United States senator and, after his swearing-in on Thursday, American ambassador to the United Nations, recently recalled yet another post — his service as President Bush's special envoy to Sudan. (The New York Times)
A contagious spirit of joy and perseverance | Calvert singer rises to folklife festival (Washington Post)
Houses to go up on church site | Alexandria council votes down appeal (Washington Post)
Prayer is main course at Gretna dinner | The 11th annual Gretna Prayer Dinner was held with the theme "Pressing On in Faith" on June 22 at St. Cletus' Jerome Hall. (The Times-Picayune, LA)
Successful Harvest: New Heights church draws 1,800 for 1st service |About 1,800 people attended the 3-1/2-year-old church's first service in its 35,000-square-foot building on Sunday, according to executive pastor Brian Hopkins. Construction of the $4 million building, located west of Skyview High on Wicks Lane, started a little more than a year ago. (Billings Gazette, Montana)
Mother church grows, too | Just as Harvest Church has completed work on a new building, Faith Evangelical Church, which planted the Heights church nearly four years ago, is about to embark on a building project. (Billings Gazette, Montana)
Vicar bans coins at wedding | A vicar in Australia has earned the ire of a bride who says the reverend's insistence that patrons use only paper money ruined her wedding. (UPI)
Presbyterian church assembly:
Church assembly to elect officer | Four candidates vying for U.S. Presbyterians' top ecclesiastical post (Richmond Times-Dispatch)
Presbyterian panel OKs gays' ordination | Gays and lesbians moved a step closer to ordination in the Presbyterian church after a legislative committee approved a measure that would partly lift the church's ban on gay ministers. (Associated Press)
Christian-Jewish relations to be studied | Assembly declines to suspend funding of new 'Messianic' churches (Press release, PCUSA News)
Episcopal gay bishop/dean fallout:
Episcopal gay decision splits church | Last November, the Episcopal Church U.S.A. approved the consecration of Gene Robinson as Bishop of New Hampshire, the first openly homosexual bishop in the Church. That decision has now had repercussions in Nashville. St. Bartholomew's Episcopal Church on Belmont Park Terrace is splitting, some members leaving to found a new non-Episcopalian church. (The City Paper, Nashville)
Money row over gay Dean could ruin Church | Evangelicals, the wealthiest wing of the Church of England, are preparing fiscal action against "unbiblical" bishops that could leave the Church in financial ruin. (Telegraph, UK)
Homosexuality:
'Pride on parade' — I was horrified by column | For hundreds of years, homosexual conduct has been considered so morally reprehensible that it has been punishable as a crime. In our country this moral sense came from our Judeo-Christian background. But moral condemnation of the homosexual lifestyle is by no means limited to Jews and Christians -- nearly every major religion in history has condemned homosexual behavior. (Anthony Nardella Jr., Orlando Sentinel)
Ban on same-sex unions appears likely on Ore. ballot | Opponents of same-sex unions announced Wednesday that they have obtained more than enough signatures to put the issue before voters of this battleground state in November, a development that could help make gay marriage a factor in the presidential race. (USA Today)
Religion & politics:
Churchgoers get direction from Bush campaign | The Bush-Cheney reelection campaign has sent a detailed plan of action to religious volunteers across the country asking them to turn over church directories to the campaign, distribute issue guides in their churches and persuade their pastors to hold voter registration drives. (Washington Post)
America's founding fathers and the roadmap | I dare say the Founding Fathers would be shocked and aghast at what their descendants are permitting to be done to G-d's chosen people. (Arutz Sheva, Israel)
Grass-roots group tackles religion, politics thoughtfully | This past Sunday afternoon, at Julia's Cafe in downtown Dodgeville, 80 people engaged in a thoughtful and lively debate on the role of religion in American politics today and how to counter the Christian right's growing influence. (Judy Ettenhofer, The Capital Times, Wisc.)
Brannon candidacy for County Commission draws ire | Working with a partner, Brannon was accused of concocting fliers, attributed to an organization named the "Concerned Christians of Cherokee County," that questioned the abilities of a candidate for the state House. Brannon and the partner were charged with not meeting campaign literature identification requirements, restricting campaign activities, obstructing an officer and helping to distribute fliers too close to polling sites. (Atlanta Journal-Constitution)
Church & state:
Our country's foundation is built on faith in God | In three days we celebrate our Independence Day and rejoice in the freedoms and liberties so gained for us by our beloved Founding Fathers. It is good for us to remember them, and especially their words of advice to us, for our very foundation is built upon faith in God almighty. (Skip Heiney, The Oregonian)
Ruling returns God to courtroom | The state Supreme Court ordered a judge Tuesday to restore references to God in the words used when he enters the courtroom and when witnesses swear to tell the truth. (Associated Press)
Court backs religious fliers in Maryland public schools | An evangelical group's plan to distribute fliers to students in two Montgomery County, Md., elementary schools does not amount to an unconstitutional endorsement of religion, a divided federal appeals court ruled Wednesday. (Associated Press)
Assemblyman, differs with Christians' claims, honored Father of the Year | A Representative of the National Transitional Legislative Assembly, Julius S. Parker says he differs with those who claimed that Liberia was founded on Christian Principles. "The argument that Liberia was founded on Christian Principles originated from missionaries who settled here, and it is their attempt to indoctrinate the aborigines who had their own religion before the arrival of Christianity," he said. (The News Monrovia, Liberia)
Religious leaders defend Moon coronation:
Religious leaders defend Moon's capitol hill coronation as 'King of Peace' | At a press conference on Wednesday, Jewish, Muslim and Christian representatives from the organization that sponsored Moon's coronation unapologetically defended the ceremony, its location, and Moon's Messiah declaration. (CNSNews.com)
Also: In Perspective: Why Are Pastors Flying to Moon? | Recent black clergy firings are only the latest chapter in Unification Church's efforts to court Christian leaders. (Christianity Today)
Religious freedom:
Malaysian religious conundrums | The conditions under which an individual may legitimately defect from Islam as set forth by Zahid Abbas negates fundamental freedoms of the human person. Not to mention that they are also self-contradictory since it would be anomalous for a person to apostatise from a religion which he acknowledges to be perfect. (Malaysia Kini, Malaysia)
Australian foreign minister meets with Indonesian religious leaders | Mr Downer met with eight of Indonesia's top religious leaders and scholars and says that many were surprised to hear, for example, that the Australian government funds Muslim schools. "I think there's a perception that Australia is a bastion of Christianity," he said. (Radio Australia, Australia)
Supreme court affirms religious freedom | Two key Canadian faith-based organizations are applauding a Supreme Court of Canada decision involving religious freedom. The court ruled that religious convictions and customs should be accommodated, in a case concerning the nine-day Jewish celebration of Succot. (Canadian Christianity)
Harsh persecution of Christians rife in Asia, says Catholic report | Countries in Asia are the worst violators of religious freedom, with Saudi Arabia, North Korea and Laos topping the list, according to the "2004 Report on Religious Freedom" published in Rome by the Italian section of Aid to the Church in Need (ACN). (Ecumenical News International)
Interfaith:
In Utah, two faiths and one prayer | The men, all Muslims, kneeled in unison at evening prayers in the Khadeeja mosque, their incantations laced with anxiety over the fate of one of their spiritual brothers, a marine held captive on the other side of the world. (The New York Times)
Muslim is envoy for her religion | Too many Americans have bought into the Hollywood stereotype of the Muslim terrorist who kills in the name of God and has a harem of wives, says Maysa. News clips from the war in Iraq haven't helped matters much, "because you don't see a fair representation in the media," she says. (Cathy Free, Deseret Morning News)
3 faiths' clerics hope talks foster peace | Peace will come to the Middle East only when ordinary people from the region's three major religious faiths learn not only to tolerate but also to respect each other. (Winnetka Talk, Ill.)
Christians in Iraq:
Iraqi pastor describes a 'naked and vulnerable' society | The Rev. Younan Shiba takes his wife and two daughters to church with him most days because he's afraid to leave them alone. "There's not been a day I could leave my family for a full day and go about my work," said Shiba, who is pastor of two Presbyterian churches in Baghdad: Assyrian Evangelical Presbyterian Church in the center of the city and a newly started church in the southeastern suburbs. (Richmond Times-Dispatch)
Iraqi Presbyterian says church growing slowly in his country | The head of one of Iraq's few Presbyterian churches said Wednesday the fall of Saddam Hussein's regime has brought greater religious freedom to his country, but instability has largely prevented his denomination from growing. (Associated Press)
Madonna's spirituality:
Spiritual accessorizing in an era of religious conflict | The artist formerly known as Madonna is nothing if not a good entertainer. And certainly we've become acclimated to the pseudo-religious dalliances of stars seeking "spirituality" without the responsibilities that come with most traditional faiths. But the ex-material girl's fascination with mystical Judaism is a particularly curious spectacle as Hollywood works through its latest anti-war bender. (Collin Levey, Seattle Times)
Madonna gets into a spiritual groove | So on the one hand, she wears a Jewish star, says she attends synagogue, performs with a version of the prayer accessory known as tefillin and with Hebrew letters flashing across a screen, and has made it known that she won't stage concerts on the Jewish Sabbath. But on the other hand, Madonna isn't Jewish. (New York Times)
Ultrasounds & abortion:
Scans uncover secrets of the womb | A new type of ultrasound scan has produced vivid pictures of a 12 week-old foetus "walking" in the womb (BBC)
We're making our first moves very early indeed | Images of a foetus carrying out sophisticated arm and leg movements during the early stages of pregnancy have been captured by a new type of ultrasound scan (The Times, London)
Scanner pioneer urges curb on abortion | Aborting foetuses more than 14 weeks old should be banned unless there are compelling medical reasons, one of the country's leading pregnancy experts has said (The Guardian, London)
Embryo gene test brings designer babies closer | A single test that simultaneously screens embryos for dozens of genetic disorders could soon be available, greatly advancing the prospect of designer babies (The Times, London)
Womb with a view | Sonographic snapshots of Baby as a fetus make cool keepsakes, but are they safe? (Time)
Walking in the womb at 12 weeks | It may be just 12 weeks old, but a baby has been captured "walking" in the womb in a startling series of photographs (The Times, London)
Bishops explain letter to Blair:
Bishops' letter on Iraq was 'meant to help' | The Church of England insisted yesterday that a blunt letter endorsed by all its bishops to the prime minister, criticising the government's Middle East policy and its treatment of Iraqi prisoners as "deeply damaging", was meant as a positive contribution. (The Guardian, London)
Bishops lack grace | It is, to say the least, unusual for the Archbishops of Canterbury and York to deliver an epistle to the Prime Minister - one, moreover, that amounts to a damning indictment of his "moral authority" in time of war. Unusual, but not necessarily improper. (Telegraph, UK)
Ave Maria took too much student-aid:
Education department punishes Ave Maria College for student-aid discrepancies | Ave Maria College, a Roman Catholic institution in Ypsilanti, Mich., has received a letter from the U.S. Education Department that may result in its having to repay the federal government up to $300,000 for improper administration of student-aid programs, a college official said. (The Chronicle of Higher Education, sub. req.)
Ave Maria College must repay financial aid money | The U.S. Department of Education has told Ave Maria College to return up to $300,000 in federal loans because it was improperly running its financial aid program, government and college officials said Wednesday. (Associated Press)
Ave Maria College receives censure | Education Dept. orders it to repay financial aid (The Ann Arbor News, Mich.)
Related Elsewhere:
Suggest links and stories by sending e-mail to weblog@christianitytoday.com
Check out Books & Culture's weekly weblog, Content & Context.
See our past Weblog updates:
June 30
June 25 | 24 | 23 | 22 | 21
June 18 | 17 | 16 | 15 | 14
June 10 | 9 | 8 | 7
June 4 | 3 | 2 | 1
May 28 | 26 | 25 | 24
and more, back to November 1999
Weblog
Launched in 1999, Christianity Today's Weblog was not just one of the first religion-oriented weblogs, but one of the first published by a media organization. (Hence its rather bland title.) Mostly compiled by then-online editor Ted Olsen, Weblog rounded up religion news and opinion pieces from publications around the world. As Christianity Today's website grew, it launched other blogs. Olsen took on management responsibilities, and the Weblog feature as such was mothballed. But CT's efforts to round up important news and opinion from around the web continues, especially on our Gleanings feature.
Ted Olsen is Christianity Today's executive editor. He wrote the magazine's Weblog—a collection of news and opinion articles from mainstream news sources around the world—from 1999 to 2006. In 2004, the magazine launched Weblog in Print, which looks for unexpected connections and trends in articles appearing in the mainstream press. The column was later renamed "Tidings" and ran until 2007.
Previous Weblog Columns: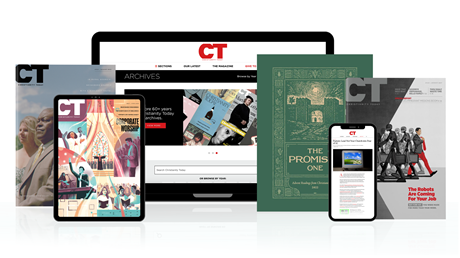 Annual & Monthly subscriptions available.
Print & Digital Issues of CT magazine
Complete access to every article on ChristianityToday.com
Unlimited access to 65+ years of CT's online archives
Member-only special issues
Subscribe
Christmas in July—Palm Beach Apologizes for Refusing Nativity Scene
Christmas in July—Palm Beach Apologizes for ...