Watching words
Christopher Howse, religion columnist for The Telegraph of London, this week examines developments in revising the language of the Roman Catholic Mass. By more closely approximating the older Latin Mass, he says, "The revision will sever any approximation to the language of the Communion service of the Church of England," he notes. But more than that, there's "no more thee and thou, nor even beseech." It's not as crazy as the Christian Aid booklet of prayers that rewrites the Lord's Prayer with "Give us this day a fairer wage," but woe unto him—make that put the smack down on the poser—who messes with liturgy. "Nothing gets people more worked up than the language used in church," Howse says.
Unless, at times, it's language used in the media. Last week's ruling by a federal judge in San Francisco against the national partial-birth abortion ban has elicited a fair amount of comment from the pundit class. But not as much as the media coverage of the ruling. Weblog first noticed exasperation from The Wall Street Journal's Best of the Web Today:
Partial-Truth Journalism
In an article on a court ruling striking down the Partial Birth Abortion Act of 2003, the Associated Press gets tripped up by the terminology: "Doctors call it intact dilation and extraction but abortion foes refer to it as 'partial-birth abortion.' " How come we get scare quotes around the plain-English term but not around the clinical one? And what do doctors who oppose abortion call it?
Boston Globe columnist Jeff Jacoby notes that the Associated Press isn't alone, giving a rundown of media contortionism (italics are his):
Newsday

: "Doctors call it intact dilation and extraction but abortion foes refer to it as `partial-birth abortion.' "
National Public Radio: "Partial-birth abortion is a term used by opponents for what doctors call intact dilation and extraction."
Washington Post

: "The ban on the procedure that critics call `partial-birth abortion' was already on hold temporarily as three courts heard legal challenges to it."
NBC: A federal judge declared the so-called `partial-birth abortion' act unconstitutional on Tuesday.
San Francisco Chronicle

: "The ruling deals with what opponents call `partial-birth abortion.' "
If journalists say they're just trying to accurately demonstrate that prolifers came up with the term, and that proabortion activists don't like to use it, Jacoby actually approves—but says they should be consistent. "Choice and the right to choose, the most common euphemisms for abortion, aren't medical terms either. … But when was the last time a news report mentioned, say, a candidate's stand 'on what abortion activists call "choice" but doctors refer to as suction curretage or dilation and evacuation?" The same is true, he says, with terms like "campaign finance reform," "the gun lobby," and "hate crimes."
The only reason journalists bend over backwards in this case, he says, "is that most of them are abortion supporters."
All the word games come with a price, notes syndicated columnist Thomas Sowell. "All this reporting about semantics is not telling the public just what is being discussed in the first place," he writes. "Neither the defenders nor the critics are talking about semantics. They are talking about what is actually done — and that is what a major part of the mainstream media refuses to tell us. … Whether you are for or against this, you ought to know what it is. But there are newspapers, TV programs and whole networks you could watch for years without ever finding out."
And there's the question: If the purpose of journalism is to inform your readers (or viewers), then what term best describes what the bill—which is called The Partial Birth Abortion Ban Act of 2003 no matter how you slice it—forbids? If it's the medical term, can we expect to see reports that "John Smith is recovering after what sufferers call a 'heart attack' but doctors call an acute myocardial infarction"?
Those scheming conservatives
And then there's the times when the language used in church and the language used in media create the perfect linguistic storm. You almost have to laugh at how recent developments in the Anglican Communion are being reported right now. For example, the Associated Press ran a story over the weekend basically saying the liberals are winning their case in the Episcopal Church USA. "A year after the election of the first openly gay Episcopal bishop, the church remains intact — splintered but not split," Rachel Zoll's story begins. "Most Episcopalians have stuck with their church and a dissident network of conservatives is growing more slowly than its founders hoped."
What's utterly missing from the story is the context. When Gene Robinson became bishop, the leaders of the Anglican Communion worldwide issued a statement urging conservative Episcopalians "not to act precipitately" (basically, not to take action) before a major commission reports back this October. Since the orthodox Anglicans' case is largely based on authority—that liberals in the church are acting precipitately without heed to the authority of Scripture, tradition, or church leadership—they've overwhelmingly heeded this request by the global leadership. That's not to say they're happy about it. Some conservative Episcopalians are poised ready at the gate to bolt the moment the Eames Commission issues its report, and a few have blitzed ahead with a "false start." But to ignore this request is to miss a huge part of the story.
Likewise, coverage of the Canadian Anglican meeting last week is unbelievably biased. The Canadian church "acted precipitately" by "affirming" the "integrity and sanctity" of same-sex relationships. (Sorry about all the quotation marks, but we are talking about language issues here.) Can anyone really deny that this vote signals a break with tradition and doctrine? The sexual left is hailing the vote as a major success. But when the conservatives pointed out the significance of the vote, they got headlines like "Evangelicals shatter 'unity' in gay debate." Apparently, in they eyes of The Guardian, the vote was actually "an attempt to maintain the fragile unity of the worldwide communion."
Right. In the same way that the American South attempted to maintain the fragile unity of the United States in 1861.
More on Anglicanism:
Parish protests over gay cleric | A parish in Bedfordshire is withholding thousands of pounds from diocese funds in protest at the appointment of a gay cleric as Dean of St Albans (BBC)
For gay Episcopal couple, path to a more perfect union | In an afternoon ceremony Saturday at St. George's Episcopal Church in Prince George's County, the Episcopal bishop of Washington, the Right Rev. John Bryson Chane, will publicly bless their relationship, establishing a new level of formal acceptance in the diocese for long-term gay relationships (The Washington Post)
Breakaway clerics seek recognition | Conservative Episcopalians want primates to view network as a separate church in response to gay-union controversy (Los Angeles Times)
Also: For the record | Clarifying "Breakaway clerics seek recognition" (Los Angeles Times)
Archbishops want church expelled | Worldwide Anglicanism is back on the brink of schism after conservative Archbishops demanded the expulsion of the Canadian Church over its affirmation of the "sanctity" of gay relationships (The Telegraph, London)
Bishops call for Canada's expulsion in gay crisis | Conservative archbishops representing more than half of worldwide Anglicanism demanded the expulsion of the Canadian Church yesterday for describing homosexual relationships as holy (The Telegraph, London)
Canadian Anglicans dismay conservatives | The decision of the Anglican Church of Canada to affirm what it calls the "integrity and sanctity" of same-sex relationships has dismayed conservatives in the Anglican communion (BBC)
More articles
Bush visits pope:
Bush takes a tongue-lashing from the Pope over Iraq | The Pope yesterday subjected George Bush to a very public, relentlessly critical assessment of the US administration's performance in Iraq, attacking "deplorable" abuses of prisoners and calling for an international solution to the country's crisis (The Guardian, London)
Bush is given Papal lecture on Iraq | The Pope sharply rebuked President George W Bush yesterday over his policy in Iraq as tens of thousands of people took to the streets of Rome to demonstrate against the presidential visit (The Telegraph, London)
Bush meets Pope, who voices his displeasure over Iraq | With President Bush at his side, Pope John Paul II on Friday reiterated his unhappiness over the invasion of Iraq and urged the president to speed the restoration of sovereignty to the Iraqi people (The New York Times)
Pope scolds Bush on abuse of prisoners | Pope John Paul II yesterday upbraided President Bush, condemning the abuse of Iraqi prisoners by U.S.-led troops and calling on the president to seek "the active participation of the international community" to ensure Iraq quickly regains its sovereignty (The Washington Times)
Religion & politics:
A bill eases vote curb on churches | Republicans in the House of Representatives have quietly introduced a measure to make it easier for churches to support political candidates (The New York Times)
Christian men's event strikes political chord | Conservative statements at Promise Keepers rally mix with differing opinions outside (Times Union, Albany, N.Y.)
Taxes, gays, abortion targeted by state GOP | Texas Republican delegates on Friday adopted an ultraconservative party platform that attacks a wide range of targets -- from taxes and homosexuality to abortion and the United Nations -- and gives a mixed review to Gov. Rick Perry's priorities (Houston Chronicle)
From pulpit to polling booth | Brian Tamaki's Destiny Church brought God into our living rooms through televised sermons. Now they want your vote (Sunday Star-Times, New Zealand)
Communion issue creates split among U.S. bishops | Six months after Archbishop Raymond L. Burke announced that he would deny communion to Roman Catholic politicians who support abortion rights, only a handful of bishops have said they agree and many more have made it clear that they think he went too far (The New York Times)
Moved by the Spirit to govern | In Brazil and other traditionally Catholic Latin American nations, politics has become a fertile ground for evangelical Protestants (Los Angeles Times)
Canadian election heats up over abortion, gays | Canadian Prime Minister Paul Martin, struggling to seize the initiative in a lackluster election campaign, warned on Friday that his Conservative opponents could curb gay rights and clamp down on access to abortion if they win the June 28 vote (Reuters)
Update: Canada opposition leader denies he's an extremist (Reuters)
John Danforth nominated for U.N. ambassador:
Bush names ex-senator ambassador to the U.N. | John C. Danforth, who recently served as a special envoy for peace talks in Sudan, is an ordained Episcopal minister (The New York Times)
Danforth nominated for U.N. ambassador | Former senator has been envoy to Sudan (The Washington Post)
Bush nominates former Sen. Danforth to replace Negroponte at U.N. | White House seeks to mend relations with the world body. Swift confirmation is likely (Los Angeles Times)
Ronald Reagan:
From worshipers, mixed reflections on Reagan | Many people of faith throughout the Washington region held the former president and his family in their prayers (The Washington Post)
'God's plan' guided Reagan's life | Though he was criticized during his presidency for not attending church services regularly, Mr. Reagan's unfailing faith in God — and what he knew in his soul was God's plan for him — never wavered, and gave him strength to the end, according to biographers (The Washington Times)
Cross in LA county seal to be removed:
Crosses on seals stir controversy | The ACLU has prompted two governmental bodies to drop the symbols (The Press-Enterprise, Riverside, Ca.)
Secularism gone awry in battle over LA's seal | While I am disturbed by recent attempts to turn "secularism" -- the principle that religious beliefs should not be imposed on public policy -- into a dirty word, this is precisely the kind of thing that gives secularism a bad name (Cathy Young, The Boston Globe)
Tiny symbol, huge fuss | Until last week, who besides the ACLU's lawyers and a handful of bureaucrats even knew that Los Angeles County's seal incorporates an itsy-bitsy cross, along with a Spanish galleon, a tuna, the Hollywood Bowl, oil derricks, a Roman goddess of fruit and more? (Editorial, Los Angeles Times)
A symbol of our history -- not a seal of approval for a religion | The 1st Amendment allows us to appreciate faith's role in our history as we avoid improper favoritism among different traditions (Douglas W. Kmiec, Los Angeles Times)
Cross in park ruled unconstitutional:
Appeals court backs ruling that desert cross is unconstitutional | Earlier panel had said symbol in the Mojave Preserve violated the 1st Amendment (Los Angeles Times)
Cross in Mojave park said unconstitutional | A federal appeals court has ruled that an 8-foot cross in the Mojave National Preserve that was originally intended as a war memorial is an unconstitutional endorsement of religion (Associated Press)
Appellate court upholds decision on cross | The ruling by the 9th Circuit Court of Appeals follows that of a Riverside federal judge (The Press-Enterprise, Riverside, Ca.)
Religious freedom:
Mobs attack four churches near Jakarta | Mobs armed with sticks attacked four churches in this overwhelmingly Muslim country, injuring a minister and damaging pews and windows, police said Monday (Associated Press)
Indian govt. will fight religious hatred | A.P.J. Abdul Kalam called the rise of religious divisions "a matter of serious concern" and said it had poisoned Indian society, "leading to the outbreak of riots, the most gruesome face of which was witnessed recently in Gujarat" (Associated Press)
Hindu nationalists regroup after loss | Movement that inspired Indian party denies its political power has ebbed (The Washington Post)
State lawyer to aid Sikh suing police in bias case | A Sikh who was dismissed by the Police Department after he refused demands that he shave his beard and not wear his turban on the job will be aided in his lawsuit against the department by the New York State attorney general's office (The New York Times)
Nigeria riots continue:
Nigerian police fire teargas on Islamists in Kano | Nigerian police fired teargas to disperse stone-throwing Islamic militants in the northern city of Kano who defied a ban on a planned procession by a Muslim group on Saturday (Reuters)
Earlier: Nigerian police ban Muslim march in northern city | Police said Christians in Kano feared the procession planned for Saturday by the Quadriyya Sufi sect to celebrate their founder's birthday could be hijacked by militants seeking to ignite a new wave of violence in Nigeria's second largest city (Reuters)
Also: Nigerian state bans Muslim march (BBC)
Sudan:
In Sudan, staring genocide in the face | Why did Toma and thousands like her leave their homes and walk for days through the desert, risking their own lives and those of their children? (Jerry Fowler, The Washington Post)
Darfur's desperation | Well-meaning demands have proved pathetically ineffective in stopping Sudan's government-backed ethnic cleansing. Stronger measures, up to and including military intervention, are needed (Editorial, Los Angeles Times)
Catholicism:
Pope ends visit to Switzerland calling his pilgrimages a 'duty' | Pope John Paul II concluded his 103rd foreign pilgrimage with a relative ease that suggested the probability of more travel ahead (The New York Times)
Stronger-looking Pope celebrates Mass | A stronger-looking Pope John Paul II, appearing to thrive on the enthusiasm of young Swiss Roman Catholics, joined 70,000 people Sunday in celebrating his first open-air Mass abroad in nine months (Associated Press)
Exiled to Rome | Cardinal Law's new posting may not be golden parachute his critics think it is (Melinda Hennberger, Newsweek)
An African as next pope unlikely—Ekpu | Chances that a Pope of African descent would succeed the imcumbent, His Holiness, Pope John Paul II, are very remote, says Catholic Archbishop of Benin, Most Rev.(Dr) Patrick Ebosele Ekpu (This Day, Nigeria)
The Spirit in letters | George Weigel writes epistles to a young Catholic (The Weekly Standard)
Catholic school says 'no' to NAACP:
Catholic U. won't recognize NAACP chapter | The president of the NAACP is criticizing a decision by Catholic University of America not to recognize a chapter of the civil rights group on campus (Associated Press)
NAACP plans to fight exclusion at Catholic U. | The head of the NAACP said yesterday that it was "blatant discrimination" for Catholic University to refuse to let some of its students form an NAACP chapter on campus and that the civil rights organization will go to court, if necessary, to get school officials to reverse their stance (The Washington Post)
Catholic school closing:
City joins church's battle | Plan would toughen zoning of parish site (The Boston Globe)
Earlier: Church to query AG on using school fund | The Archdiocese of Boston yesterday pledged to hold off delay spending more than about $100,000 in the bank account of a soon-to-be closed Catholic school until it consults with the attorney generals office about the legality of claiming the money (The Boston Globe)
Offer buys extra year for parish school | Our Lady of the Presentation School in Brighton, one of three schools and dozens of parishes the Archdiocese of Boston ordered closed last month, yesterday received a reprieve of a year after Secretary of State William Galvin personally pledged a $100,000 line of credit should the school slide into debt in the coming year (The Boston Globe)
Gay marriage:
Coalition asks US court to halt gay marriages | Conservatives, lawmakers join in filing appeal (The Boston Globe)
Also: Court's authority over marriage law challenged | Lawyers in Massachusetts are preparing for a federal court hearing today on whether the state high court had the power to change the state's marriage law by itself (The Washington Times)
Also: Groups seek end of Mass. gay marriages | A coalition of conservative groups and lawmakers asked a federal appeals court Monday to stop gay marriage in Massachusetts, arguing that the state's highest court usurped the Legislature's authority when it let same-sex couples wed (Associated Press)
Recall effort fails in gay marriage issue | A recall petition drive has failed against two county commissioners who approved gay marriage licenses in March (Associated Press)
N.Y. judge bars mayor from marrying gays | A mayor who performed rapid-fire marriages for 25 gay couples was barred Monday from marrying same-sex couples, after a New York judge ruled that it was up to the Legislature or the courts to decide the issue (Associated Press)
Mich. mayor officiates mass gay wedding | Nearly a dozen gay and lesbian couples pledged their love and commitment Saturday in a symbolic marriage ceremony officiated by the mayor of this Detroit suburb (Associated Press)
Also: Gay couples say 'I do' in Ferndale | Mayor co-officiates at commitment ceremony for 11 couples; protesters are few at event (The Detroit News)
International gay marriage:
French mayor, defying law, performs gay marriage | France witnessed its first gay wedding on Saturday, despite warnings from the central government that the ceremony was illegal (The New York Times)
France may annul gay marriage | The state prosecutor on Monday began an effort to annul the marriage of a gay couple, two days after they exchanged vows in the first such union in France (Associated Press)
Also: Gay couple face state fightback | Two French men married at the weekend in the country's first gay wedding are facing a state legal bid to bring them to court and annul the marriage (BBC)
Germany to allow same-sex marriages | Germany's justice minister has vowed to introduce legislation to permit same-sex marriages before the end of the summer, overriding the objections of the country's powerful conservative lobby (The Guardian, London)
Stem cells:
58 senators seek looser stem-cell rules | The senators' letter to Bush was sent Friday, before Reagan died after a long struggle with Alzheimer's (Associated Press)
Stem-cell funding on California ballot | California voters will decide in November whether to give $3 billion in state funds to support embryonic stem-cell research in a ballot initiative designed to sidestep President Bush's stem-cell policy (The Washington Times)
58 senators seek easing of rules for stem cells | Bush urged to alter research policy (The Washington Post)
Senators urge backing for stem cell research | Signed by 58 of the 100 senators, letter told Mr Bush his policy provided "difficult challenges" to those seeking a cure for Alzheimer's. (The Guardian, London)
Hatch urges Bush to back stem cell research | As the nation embarked on a week of tributes to former President Reagan, Utah Sen. Orrin Hatch urged the Bush administration to allow more federally funded medical research using frozen stem cells, which advocates say may yield a cure for Alzheimer's, the disease from which Reagan suffered in his final years (The Salt Lake Tribune)
Abortion:
Clinic director accused of abortion sham | A purported anti-abortion activist was accused in a lawsuit Monday of running a sham abortion clinic that dupes women into waiting too long to have abortions (Associated Press)
Where voting has become a life and death issue | Feelings over legalising abortion and restricting hunting run high in Maltese electorate (The Guardian, London)
Satanic ritual blamed for murders:
Italian murders 'the work of satanists' | A young Italian woman was allegedly murdered because satanists had become obsessed with the idea that she was the re-embodiment of the Virgin Mary (The Guardian, London)
Satanic ritual blamed for death of Italian teens (Reuters)
Related Elsewhere:
Suggest links and stories by sending e-mail to weblog@christianitytoday.com
Check out Books & Culture's weekly weblog, Content & Context.
See our past Weblog updates:
June 7
June 4 | 3 | 2 | 1
May 28 | 26 | 25 | 24
May 21 | 20 | 19 | 18 | 17
May 14b | 14a | 13 | 12 | 11 | 10
May 7 | 6 | 5 | 4 | 3
and more, back to November 1999
Weblog
Launched in 1999, Christianity Today's Weblog was not just one of the first religion-oriented weblogs, but one of the first published by a media organization. (Hence its rather bland title.) Mostly compiled by then-online editor Ted Olsen, Weblog rounded up religion news and opinion pieces from publications around the world. As Christianity Today's website grew, it launched other blogs. Olsen took on management responsibilities, and the Weblog feature as such was mothballed. But CT's efforts to round up important news and opinion from around the web continues, especially on our Gleanings feature.
Ted Olsen is Christianity Today's executive editor. He wrote the magazine's Weblog—a collection of news and opinion articles from mainstream news sources around the world—from 1999 to 2006. In 2004, the magazine launched Weblog in Print, which looks for unexpected connections and trends in articles appearing in the mainstream press. The column was later renamed "Tidings" and ran until 2007.
Previous Weblog Columns: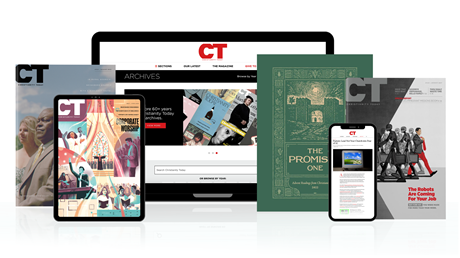 Annual & Monthly subscriptions available.
Print & Digital Issues of CT magazine
Complete access to every article on ChristianityToday.com
Unlimited access to 65+ years of CT's online archives
Member-only special issues
Subscribe
Language Wars on Liturgy, Abortion, Anglicanism, and Elsewhere
Language Wars on Liturgy, Abortion, Anglicanism, and Elsewhere