true
There probably aren't many devout Christians in the Rock and Roll Hall of Fame, but Roger McGuinn, formerly of The Byrds, is one of them. The Byrds—best known for their hit songs "Turn, Turn, Turn" and "Mr. Tambourine Man"—have long since flown the coop, but McGuinn, 61, is still making beautiful music. His latest CD, Limited Edition, is an excellent collection of traditional songs, including several written with his wife, Camilla. McGuinn's passions these days include preserving the heritage of great folk music via his project, Folk Den, and traveling everywhere with Camilla in their well-stocked van (mobile Internet, GPS, LCD screen, DVD, satellite radio), playing shows and shopping for antiques. Since McGuinn is such a computer geek and Internet aficionado, we thought it'd be most appropriate to interview him via e-mail—and to share some of our correspondence with you.
Does Limited Edition have a particular theme, or is it just a collection of good folk music?
Roger McGuinnIt's an eclectic collection of traditional songs, electrified blues and songs written with my wife Camilla, rich in Rickenbacker "jingle jangle." The unifying factor is the Rickenbacker electric 12-string guitar sound.
What's the story behind the song "Made in China"?
McGuinnCamilla was reading about the terrible situation in China where female babies were being systematically starved to death as a result of China's one-child policy. The thing that really got her was that our newspapers buried the story on the inside page. China was also a mecca of bootlegging records. We thought if we were to write and record a song to bring attention to the starving babies, there would be little chance of our CD being bootlegged there, and it could possibly bring the situation to greater public awareness.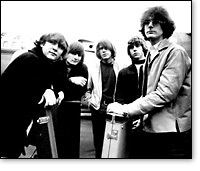 I hear there's a cool story behind "If I Needed Someone."
McGuinnGeorge Harrison wrote that song after hearing the Byrds' recording of "Bells of Rhymney." He gave a copy of his new recording to Derek Taylor, the Beatles' former press officer, who flew to Los Angeles and brought it to my house. He said George wanted me to know that he had written the song based on the rising and falling notes of my electric Rickenbacker 12-string guitar introduction. It was a great honor to have in some small way influenced our heroes the Beatles. [The Beatles' version is on Rubber Soul.]
Tell me about how you became a Christian.
McGuinnHere's an excerpt from my autobiography, a work in progress:
In 1977, I found a young man sitting in my front yard one day. He said Jesus wanted him to give me some songs he'd written. I thought he was crazy, and I didn't want to have anything to do with him or his songs. I went into the house and locked all the doors. Finally the man went away. But something strange had started happening to me.
Another Christian appeared at a show in Oklahoma City. This fellow was grinning at me from the bottom of a flight of stairs. Normally, I would have ignored him, but I was high on cocaine, and I found his grin rather irritating. I asked him what he was grinning about and he said, "The Lord just told me that you're going to come to him." I thought he was crazy. Soon after that, I ran into a friend and we ended up talking about religion. I told her I believed Jesus was just one of the prophets, and that all spiritual roads spiraled to the same peak at the top of the mountain. She told me that Jesus was the only way to get to God. I'd never heard anyone whom I respected tell me that before. Her words left a strong impression on me.
Elvis Presley had just died, and that really shook me up. He was a victim of prescription drugs. I had been taking prescription drugs for years—speed and Quaaludes, both of which apparently Elvis had depended upon heavily. I was doing illegal drugs as well, and Elvis was only seven years older than I was when he died. I thought, "Man, I've only got seven years left," and I panicked. The functioning lobes of my brain began demanding that I investigate what was going on spiritually in the world. Some self-preservation instincts were kicking in. Suddenly a horrible new feeling began to plague me. It felt as though an elephant was standing on my chest and my arms were as heavy as lead.
Right after I began to experience this sensation, I met a jazz piano player named Billy. He was a Christian, and when I told him about the "heavy" feeling, he thought it was spiritual oppression. He prayed with me, asking God to take the feeling away, but nothing happened. The crushing feeling came and went. One day I prayed, "Oh, Lord, how can I keep from feeling like this?" An answer came to my spirit: "Well, you could accept Jesus." I said silently, "All right, I accept Jesus." The "heavy" feeling left me and I could feel the Holy Spirit moving in me physically. It felt good to have Jesus in my heart. That was over twenty years ago.
How is God moving in your life today?
McGuinnThe Lord has richly blessed me with a wonderful wife and a fulfilling life. Our daily devotions consist of reading a chapter from the Old Testament, one from the New, a psalm, and a chapter of Proverbs. Then we recite some favorite Bible verses and pray for family, friends and nations. It takes from 45 minutes to an hour each morning, but it's a wonderful way to start the day.
As for my music, I don't perform gospel music. I prayed about it, and received that I was to stay where I was when I was called. So I put a positive spin on all my songs and hopefully, with the Lord's help, will continue to light up the darkness in a different way.
How would you describe your faith, if any, while with the Byrds?
McGuinnI was searching for God during my years in the Byrds. My interpretation of Dylan's "Mr. Tambourine Man" was a prayer asking God to use me in any way he wanted. I believe that when you search for God, he will find you.
So, why didn't he find you? Or more accurately, why didn't you find him for so long?
McGuinnI experimented with various drugs, LSD, marijuana, and cocaine. I gave up taking illicit drugs when I came to the Lord. Camilla and I agreed that you can't feel the Holy Spirit when you're high on drugs.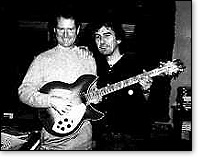 Once a Byrd, always a Byrd? Is a reunion a possibility?
McGuinnI'm happy to leave the Byrds as a great memory. My Christian faith prevents me from being a business partner with one of the surviving members of the Byrds: "Be ye not unequally yoked together with unbelievers: for what fellowship hath righteousness with unrighteousness? And what communion hath light with darkness?" (2 Cor. 6:14).
Tell me a little about your family.
McGuinnCamilla and I married in 1978. We just celebrated our 26th anniversary. We had both been in previous marriages. Camilla had no children. I had two sons, Patrick and Henry. Patrick plays guitar and sings. He has recorded several albums, but as a graduate of NYU film school, he prefers making films. Henry plays guitar and sings and has made two CDs.
And Camilla is a big part of your songwriting?
McGuinnCamilla and I began writing together right after we were married. She came up with lyrics and melodies to the songs on every album I've made since then. We set aside time to write songs. Sometimes we go to the beach or some other relaxing location to get away from the pressures of everyday life. We bounce ideas back and forth and come up with many songs, then pick the ones we like the best to record. We always ask God to help us with our songwriting, and everything else for that matter.
Tell me about Folk Den and why you do that.
McGuinnIn 1995, I was listening to a Woody Guthrie tribute album and realized I hadn't heard much traditional music lately. There were no folk clubs, and even public radio wasn't playing much traditional music. I decided to do something about the situation. My website had been up for a few years and I had uploaded some music for free download, so it was easy for me to record and upload folk songs that way. I called it Folk Den after a room in the Troubadour folk club in Hollywood where the Byrds had gotten together. I upload a traditional song each month along with the lyrics, the chords and a brief description of the song's origin. After more than eight years of doing this, there are over 100 songs available for free download from Folk Den. It is sponsored by the University of North Carolina as a public service, and is truly a labor of love.
My intention with Folk Den is to spread the traditional songs, to make them available to the world and keep them alive. They are our heritage and were in danger of being lost in the noise of the commercial music business. The songs in Folk Den are protected by the Creative Commons License, which allows downloading and sharing but no commercial use. You can burn CDs of them and give them to your friends, but may not sell them.
What do you see yourself doing for the next few years?
McGuinnI would love to be able to play concerts for people until I go home to be with the Lord.
Learn more about Roger McGuinn's life and latest happenings at his official website. You can listen to sound clips from Limited Edition and buy it there, as well as amazon.com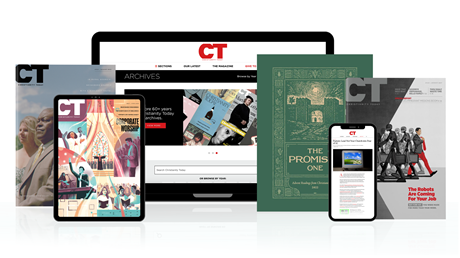 Subscribe to Christianity Today and get access to this article plus 65+ years of archives.
Home delivery of CT magazine
Complete access to articles on ChristianityToday.com
Over 120 years of magazine archives plus full access to all of CT's online archives
Subscribe Now
No Ordinary Folk
No Ordinary Folk