Marriage amendment changed
With changes to a proposed amendment to the constitution banning same-sex marriage, it's now more clear that state legislatures can recognize civil unions if it passes.
"This new language makes the intent of the legislation even clearer: to protect marriage in this country as the union between a man and a woman, and to reinforce the authority of state legislatures to determine benefits issues related to civil unions or domestic partnerships," Sen. Wayne Allard (R-Colo.) told reporters.
Here's the new text (with additions in red): "Marriage in the United States shall consist only of the union of a man and a woman. Neither this Constitution, nor the constitution of any State, nor state or federal law, shall be construed to require that marital status marriage or the legal incidents thereof be conferred upon unmarried couples or groups any union other than the union of a man and a woman."
White House spokesman Trent Duffy said that the revision "actually brings it closer to the president's principles." But politically conservative religious and profamily groups who are members of the Arlington Group are likely to balk at the changes. As Weblog writes, there's no word from member groups like the American Family Association and Focus on the Family. Leading the charge against the change, at least for now, seems to be Concerned Women for America.
Robert Knight, director of the CWA's Culture and Family Institute, complains in a press release that the amendment "still allows for the erosion of marriage by allowing states to create civil unions. Whether you call other relationships 'Quasi Marital Schemes' or 'Civil Unions,' when they're recognized in law no differently from marriage, all you've protected is the name." Though the Arlington Group has been pushing for an amendment that would explicitly ban same-sex civil unions, Knight says even the first sentence of the revised amendment "is better standing alone. We could support that language because it would 'do no harm.'"
Knight makes a similar argument in his comments to the The New York Times as CWA chief counsel Jan LaRue makes the same case to The Washington Times.
Meanwhile, the Family Research Council seems to support the new language in an online article criticizing a rival amendment from Sen. Orrin Hatch (R-Ut.). "FRC, along with 95 percent of pro-family organizations, not to mention the White House, are in support of the Allard/Musgrave amendment, which defines marriage as being between one man and one woman," FRC president Tony Perkins wrote in his Washington Update. However, the update is dated yesterday, and may not be an implicit comment supporting the new language. Perkins may comment on it directly today.
Time profiles purposeful preacher
Time magazine's current issue contains a profile of Rick Warren, author of The Purpose-Driven Life and pastor of Saddleback Church in Lake Forest, California. (CT profiled Warren in our December issue.) While it's written by Sonja Steptoe and not Time's religion writer, David Van Biema, it's well worth the read and demonstrates good reporting.
It's a sign of Warren's broad appeal in the Christian community that Time really had to stretch to find any detractors. The main critic is Dennis Costella, pastor of the Fundamental Bible Church in Los Osos, Calif. "The Purpose-Driven ministry is a marketing strategy," he complains. "We believe the Bible tells us to present the word of God without packaging it for a contemporary cultural context." Suffice it to say that Time doesn't regularly quote small-town, self-described fundamentalist preachers as experts.
The other critic, Spiritual Marketplace author Wade Clark Roof, is refuted by Warren—and Steptoe. " We're told that [his philosophy] not only does something for you in the sense of giving your life meaning but it also makes you happy materially, religiously," Roof complains (erroneously). "What Rick is marketing is a kind of American religious ideology that conflates growth with salvation."
A few paragraphs later, Steptoe writes, "All Saddleback members must abide by strict covenants to tithe regularly, do mission work locally or abroad and live by Christian doctrines. 'You can't just be a consumer here,' Warren says. 'You have to participate and contribute.'"
Christian Coalition reportedly not paying its bills
Not to conflate growth with salvation, but it's no secret that the Christian Coalition of America has seen bigger and better days. Still, things may be even worse for the organization than thought, as it now appears it isn't paying its bills. A Virginia Beach law firm says the Christian Coalition owes it $75,000 in unpaid legal costs, and spokesman Drew McKissick seems to agree that the money hasn't been paid.
"Our accountants have been working with the firm to work this out, and hopefully it will be worked out soon," McKissick told The Virginian-Pilot, saying (in the Pilot's words) that the garnishment order may be more of a glitch than an indication of severe financial distress.
Maybe, but McKissick blames the organizations financial woes on its low membership, which he blames on Bush's election. The Pilot paraphrases him saying that "people became complacent, and it seemed that since a conservative Christian was president, there were no battles left to fight."
If a conservative Christian political organization believes that its constituency can't be mobilized right now, it has bigger problems than how much is in its coffers.
More articles
More on the federal marriage amendment:
Gay marriage (news):
Gay marriage (analysis):
Gay marriage (opinion):
More on homosexuality and religion:
Anglicanism:
Church life:
Catholicism:
Missions & ministry:
Iraq:
Church-state partnerships:
Politics and law:
International politics:
Crime:
Sabbath in Northern Ireland:
Pledge of Allegiance case:
Michael Newdow:
The Passion of The Christ:
Other controversial religion film makers on The Passion:
Jesus film:
Theater:
Music:
Books:
Youth:
Other articles of interest:
Related Elsewhere:
Suggest links and stories by sending e-mail to weblog@christianitytoday.com
Check out Books & Culture's weblog, Content & Context.
See our past Weblog updates:
March 22
March 19 | 18 | 17 | 16 | 15
March 12 | 11 | 10 | 9 | 8
March 5 | 4 | 3 | 2 | 1
February 27 | 26 | 25b | 25a | 24 | 23
February 20 | 19 | 18 | 17 | 16
and more, back to November 1999
Weblog
Launched in 1999, Christianity Today's Weblog was not just one of the first religion-oriented weblogs, but one of the first published by a media organization. (Hence its rather bland title.) Mostly compiled by then-online editor Ted Olsen, Weblog rounded up religion news and opinion pieces from publications around the world. As Christianity Today's website grew, it launched other blogs. Olsen took on management responsibilities, and the Weblog feature as such was mothballed. But CT's efforts to round up important news and opinion from around the web continues, especially on our Gleanings feature.
Ted Olsen is Christianity Today's executive editor. He wrote the magazine's Weblog—a collection of news and opinion articles from mainstream news sources around the world—from 1999 to 2006. In 2004, the magazine launched Weblog in Print, which looks for unexpected connections and trends in articles appearing in the mainstream press. The column was later renamed "Tidings" and ran until 2007.
Previous Weblog Columns: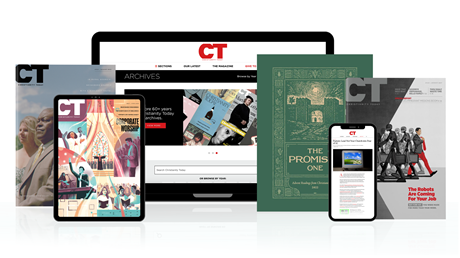 Subscribe to Christianity Today and get access to this article plus 65+ years of archives.
Home delivery of CT magazine
Complete access to articles on ChristianityToday.com
Over 120 years of magazine archives plus full access to all of CT's online archives
Subscribe Now
Federal Marriage Amendment Reworded to Allow Civil Unions
Federal Marriage Amendment Reworded to Allow Civil Unions