A network of trenches, barbed-wire fences, walls, and military checkpoints is closing off the holy city of Bethlehem. The siege is becoming harsher every day.
"It is choking the Christian community," says the Rev. Alex Awad, dean of students at Bethlehem Bible College. "There is utter depression here."
On many days, the Church of the Nativity—once crowded with tourists and worshippers—is strangely quiet, as only a handful of people visit. The city was refurbished with tens of millions of dollars in renovations in the hopeful years leading up to the millennium, but now windows and streets are grimy, shops are shuttered, and hotels stand empty.
The unemployment rate in Bethlehem is 65 percent, and Awad has heard that as many as 500 Christian families left the town in the last six months.
The Rev. Mitri Raheb, senior pastor at Christmas Lutheran Church, says Bethlehem's isolation has been growing for over three years. "As a pastor, I'm talking to many families where the husband and the wife are fighting, because the man is unemployed," he says. "Children are fighting, neighbors are fighting, brothers are fighting, sisters. You have this overload."
Divided by Fear
The Israeli plan is to build 30 miles of fences and walls around Bethlehem, and to post red signs that warn, in three languages: "MORTAL DANGER—MILITARY ZONE. Any person who passes or damages the fence ENDANGERS HIS LIFE."
"There will be just to the east [of Bethlehem] a small opening. They are working day and night, 22 hours a day," Raheb says. About ten miles of the barrier are already complete, and military outposts and Jewish settlements control other normal entry points.
The entire community is suffering from unprecedented Israeli security restrictions that have become a permanent part of daily life, but the outside world is in danger of losing access to something precious, too, Awad says. Even what was once a ten-minute drive from Jerusalem can now be a fruitless ordeal for pilgrims, clergy, and others who must also wait in line at checkpoints, where entry is sometimes refused. "It's like coming to register for college in a jail," Awad says of prospective students.
A spokeswoman for the Israel Defense Forces says the fence system is being built solely "to prevent the passing of terrorists to Jerusalem." She lists suicide attacks in which bombers had come from the Bethlehem area: April 12, 2002, six Israelis killed; May 2, 2002, ten Israelis killed; November 29, 2002, eleven Israelis killed; January 29, 2003, eleven Israelis killed; and February 22, 2004, eight Israelis killed.
The final route of the fence is being continually updated, the Army source says, and there is no firm estimate for when construction in the Bethlehem region is scheduled for completion. Some Israeli officials say all debates about the fence must start with the issue of unrelenting terrorist attacks.
Israel says over 900 people have died from suicide attacks since September of 2000. Israeli officials cite a sharp drop in deadly suicide attacks in areas where the fence has been completed, and public opinion in Israel has strongly supported the barrier. Construction of the fence began in the spring of 2002.
"If not for Palestinian terrorism, we would not need the fence in the first place," Uzi Landau, a Knesset member and former minister of internal security, said last December.
Addressing the hardships the fence causes Palestinians, an Israeli Foreign Ministry statement notes that for victims of suicide bombings, "Death is permanent. It is irreversible. The inconvenience caused to Palestinians ... is temporary and reversible, once terrorism stops and peace is achieved."
Israelis for Human Rights
But some Israelis agree that the way Palestinians are being treated in the West Bank and Gaza is a major issue. David J. Forman, founder of Rabbis for Human Rights, wrote in a Jerusalem Post commentary that "Jewish national identity was forged on the anvil of the Egyptian experience of slavery. Did we return to our ancestral homeland only to become like the ancient Egyptians?"
Forman noted that a growing movement (now over 1,000) of Israeli soldiers and reservists have refused to serve in the occupied territories, protesting that the way Palestinians are being treated there is immoral.
"Whoever thought that we could indefinitely rule over 2.5 million people and maintain not just our security, but our sense of decency, simply misread our dramatic historical march over the centuries from exile to restoration," Forman said.
The Bush administration has cast doubt on the fence strategy from the start.
"I don't know that you're going to solve the problem with a fence unless you solve the underlying problems of the Palestinians feeling that they are disenfranchised, that the occupation continues," Secretary of State Colin Powell said in 2002.
Thousands of protesters from both sides of the issue demonstrated outside the International Court of Justice in the Netherlands in February during three days of hearings on the legality of the structure under international law.
But rulings of the international court are nonbinding, and even if future construction slows or stops, Palestinians wonder what will happen to the approximately 110 miles of fence that already exist around the country.
A Life Before Death
Speaking in January, two weeks before a Palestinian policeman from Bethlehem detonated a suicide bomb on a Jerusalem bus, Lutheran pastor Raheb said the Israeli strategy is actually sowing the seeds for more violence, and challenging even his faith.
Raheb, a gentle man who preaches peace, gestures with his hands and tells one story of how the fence invaded his world.
"My father-in-law had a heart attack [in January], and we called an ambulance to take him to the hospital in Jerusalem, because we don't have really any good hospitals here," Raheb says. "And they stopped him for one and a half hours at the checkpoint. They didn't let the ambulance go through. Then after one and a half hours they said, 'We cannot let you through,' and we had to ask for another ambulance to come from Jerusalem. He was then transferred from the one ambulance to the other. And this is somebody with a severe heart attack.
"My father-in-law has a permit to go to Jerusalem! Yet they didn't let him in, because, they said, 'Your permit is as a businessman, and now you are a sick person.' Can you imagine?"
"For me personally, what I experience every day pushes me to revenge," Raheb says. "The logical way would be to revenge. It's basically my faith which is [pushing] me to reason."
Few outsiders understand that Israeli security restrictions affect virtually the entire population—including students, women, and children, Raheb says.
"Part of our ministry here is to show children and young people that there is a life before death. For most of the people here, they don't have problems with believing in life after death. To believe in life before death—a life which is worth living—this is the difficulty," Raheb adds. "I mean, look how [people] are treated. They have so many people from their family in prison, they cannot travel, they can't enjoy very basic life. So many of them think, So why should we live this way? It's better to die."
Palestinian human rights groups say that more than 2,000 Palestinians have died as a result of the current conflict, which began in September 2002.
But some are finding creative ways to keep hope alive.
"We are working on a program that will allow us to make use of the Internet and distance learning programs," says Awad.
About 95 percent of the work is done on the distance learning website, says Awad, who hopes the program will be "up and running in the near future."
Raheb says that in addition to Bible study and sermons, Christmas Church offers programs in art, music, and yoga "to help provide a space of normalcy in an abnormal situation."
Churches and schools may have come up with creative solutions, but members of the business community say the options seem very limited for a city that has long been economically dependent on tourism and travel to jobs in nearby Jerusalem.
Local officials estimate that in 1999 and 2000 as many as 5,000 tourists a day were coming to Bethlehem. These days the daily average is only a few dozen.
"Fewer and fewer people in Bethlehem can find a decent job," Awad says, adding that no matter how strong a believer's faith is, "if they cannot put bread on the table, they're going to have to go somewhere else."
Bethlehem's 72-room Star Hotel was "always overbooked" from 1999 to the start of the renewed violence in September 2000, says owner Michael Kreitem. "It all stopped suddenly, and went back to zero [occupancy]. That is not sometimes, but many times. We've gone from 26 full-time down to 6 part-time employees."
While pilgrims and other tourists are shunning religious sites throughout Palestine and Israel because of security concerns, the situation in Bethlehem has discouraged even some people who still organize travel to other parts of the region.
"In the past we were giving people some hope that they might see Bethlehem. We don't do that any longer," says David Nyce, president of Pilgrim Tours of Morgantown, Pennsylvania, which has been organizing Christian tours since 1987.
Raheb thinks an underlying spiritual point connects the debate about concrete walls and chain-link fences.
"There are so many people who live in this world with a wall in their mind. I mean, this wall that we see is not a wall that came suddenly. It's a wall in the minds of many Israelis. This concrete wall is just an expression of this wall in society," says Raheb, whose Christmas message addressed the issue. "Our country and the world don't need more walls—but bridges. So our calling as Christians is to build bridges."
The Apostle Paul came to see Christ as the bridge between God and humanity, Raheb says. "This is why we have to build bridges with each other. [Paul] wrote that through Christ, the wall of animosity was destroyed."
If there were open access to and from Bethlehem, Raheb would like to see Israeli groups visit for art and music exchanges, to see Palestinians who are committed to peace—and to give Palestinians a chance to meet everyday Israelis.
Raheb notes that although groups on both sides "would like to create islands" of people, " it's very important to give both Muslims and Christians a face."
But as construction continues on fences and walls around Bethlehem and other Palestinian areas, Raheb says, "with every day a solution is becoming just like a dream."
"There is a living church here—very faithful to the church of God," Awad says. "But the church is slowly dying in the land where Christianity started."
Kevin Begos has covered humanitarian issues in Afghanistan, Iraq, Sudan, and Uganda as a reporter for the Winston-Salem Journal, where his writing has won several national journalism awards.
Related Elsewhere:
More Christianity Today articles on Bethlehem include:
Weblog: Bethlehem Prepares for Dour Christmas (Dec. 19, 2003)
Editor's Bookshelf: Thugs in Jesus' Hometown | A Season in Bethlehem shows how the city lost its historic harmony. (Nov. 17, 2003)
Editor's Bookshelf: The Erosion Continues | Joshua Hammer talks about the implications of Christians' Holy Land exodus. (Nov. 17, 2003)
Row Seethes in Bethlehem Over Keys to the Birthplace of Jesus | Greek Orthodox monks changed locks, refuse to share keys with Catholics and Armenians. (Aug. 14, 2003)
Weblog: A Very Unmerry Christmas in Bethlehem (Jan. 06, 2003)
Dobson, Awad Debate Palestinian's Invitation | The full text of what the presidents of Focus on the Family and Bethlehem Bible College said about Hanan Ashrawi. (Sept. 20, 2002)
Crackdown Hits Churches | Mideast Christians torn over tough Israeli tactics at churches. (May 01, 2002)
Palestine's Christians Persist Despite Pressures | With escalating violence in Israel, ministries face a "sad and scary" situation. (Sept. 19, 01)
Christmas Plans for Bethlehem Scrapped | Escalating violence cancels millennial celebration in town of Christ's birth. (Dec. 1, 2000)
Pope tells Palestinians to Seek Hope in the Place Where Jesus was Born | Kiss of ground symbolic as John Paul II calls for Palestinian homeland (March 20, 2000)
More on the Holy Land is available from our Israel and Palestine page.
Have something to add about this? See something we missed? Share your feedback here.
Our digital archives are a work in progress. Let us know if corrections need to be made.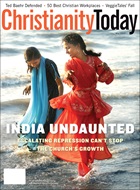 This article is from the May 2004 issue.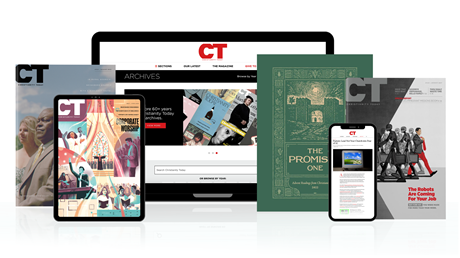 Subscribe to Christianity Today and get access to this article plus 65+ years of archives.
Home delivery of CT magazine
Complete access to articles on ChristianityToday.com
Over 120 years of magazine archives plus full access to all of CT's online archives
Subscribe Now
O Jailed Town of Bethlehem
O Jailed Town of Bethlehem