For a tribute edition, I am updating the book Fearfully and Wonderfully Made, which I coauthored with the late Dr. Paul Brand in 1980. During that process, I reviewed a passage spelling out the huge gap between developed countries and the developing world. I had recently seen an anonymous e-mail message floating around the Internet indicating that little has changed since 1980. It reported that 80 percent of the world's people still live in substandard housing, 70 percent are unable to read, and 50 percent suffer from malnutrition.
My curiosity piqued, I spent several days tracking down statistics from authoritative sources, only to find that the e-mail is downright wrong. In fact, the world has made major strides in the last few decades.
In the last decade, abortions declined by almost half.
According to best estimates, 25 percent—not 80—of the world's population live in substandard housing. Thirty years ago the global literacy rate was 53 percent; now only 20 percent of adults cannot read. The percentage of people suffering from malnutrition has dropped by more than half, to 20 percent. Three of four people used to have no access to clean water; now three of four people have it.
Perhaps the most significant change has occurred in population growth. In 1968 Paul R. Ehrlich predicted in The Population Bomb that huge famines would occur in the 1970s and 1980s, with hundreds of millions of people starving to death. They simply did not happen.
Population experts once forecast that world population would hit a high of 20 billion, causing an intolerable strain on Earth's resources. That prediction was lowered to 15 billion, then 11 billion, then 9 billion. Some experts predict that the number will peak around 2050, and maybe even decline.
The birth rate has fallen so dramatically that in Western Europe, Russia, and Japan, experts are now warning of the dire consequences of an aging population unreplenished by younger generations. Worldwide, the average woman used to bear six children; now she bears three. As developing countries improve economically, the birth rate drops.
Thirty years ago, one in eight children died in their first year of life; now half that proportion dies. (Just over a century ago, four in five children died of disease before they reached the age of five.) AIDS currently presents a major health challenge, especially in Africa, and yet we dare not minimize health triumphs: smallpox, a disease that in the 19th century killed 500 million people, has been eradicated. The feared disease of polio has nearly disappeared, and leprosy has seen huge declines, in part thanks to dedicated Christian workers like Dr. Brand.
A huge economic gap remains between the developed world and developing countries. Half the world's citizens still get by on less than two dollars a day. Even so, the World Bank estimates that the percentage of those living in absolute poverty has been cut almost in half, and per capita income has risen 60 percent. Ten million entrepreneurs have improved their lives through microenterprise loans.
According to the U.N., overall conditions in the developing world improved more in the second half of the 20th century than in the previous 500 years. Repressive regimes dominate the news. Meanwhile, according to Freedom House, in recent years 71 more nations have become free or partly free.
Politicians and preachers decry the decline of sexual morality in the United States. But the Centers for Disease Control and Prevention reports that the teenage birthrate has declined by 30 percent in the last decade, while our abortion rate declined by almost half. Many surveys show that on sexual issues teenagers are more conservative than their parents.
Such good news rarely captures the attention of the media, which continue to portray the world as teetering on the brink of cataclysm. Nor does it get much play from relief and development agencies, which have learned that donors respond best to crisis appeals.
As a journalist who often travels internationally, I am well aware of the major problems that face our planet: global warming, income disparity, terrorism and wars, SARS, AIDS and other diseases. At the same time, I find it genuinely heartwarming to learn of the progress that has occurred during my lifetime.
A century ago, theological liberals rightly complained that conservative Christians cared for souls but not bodies. Liberals led the way in social reform. Now, evangelical organizations such as World Vision, World Concern, and Opportunity International are among the most prominent and effective dispensers of "common grace" to a needy world.
After several days of research, I paused to give thanks for this remarkable progress. I have learned not to believe everything I read on the Internet, and not to believe everything I hear from doomsayers.
Related Elsewhere:
Previous Yancey columns for Christianity Today include:
Cry, The Beloved Continent | Don't let AIDS steal African children's future. (March 04, 2004)
Article continues below
The Colonizers | The best preachers have challenged earth to become more like heaven. (Jan. 16, 2004)
The Leprosy Doctor | Paul Brand showed how to serve others sacrificially and emerge with joy. (Oct. 23, 2003)
Going It Alone | We should take heed when much of the world says it distrusts us. (July 2, 2003)
God of the Maggies | In broken sinners, Jesus saw not their past but their future. (April 25, 2003)
Perestroika of the Spirit | In Russia, the vocabulary of faith needs interpreters. (March 5, 2003)
Jesus' Sword | Longing for peace in tumultuous times. (Jan. 7, 2002)
Guilt Good and Bad | The early warning signs. (Nov. 11, 2002)
God's Funeral | What will keep faith from nearly disappearing in America? (Sept. 3, 2002)
Sheepish | Feeling autonomous and proud? Then ponder the lives of sheep. (July 2, 2002)
Servant in Chief | Jimmy Carter's journey from the White House to building houses.(May 28, 2002)
Why Do They Hate Us? | How to turn the Baywatch syndrome into the Jesus syndrome. (March 27, 2002)
Honest Church Marketing | We enhance our 'image' by offering the world a realistic picture of faith. (October 24, 2001)
Compassion Confusion | We should serve the needy even when it has bad political consequences. (August 28, 2001)
Fixing Our Weakest Link | Evangelicals should be more "needful of the minds of others." (July 13, 2001)
Yancey's Where is God When it Hurts, Special Edition, Soul Survivor: How My Faith Survived the Church, and his latest book, Rumors of Another World, are available on Christianbook.com.
Have something to add about this? See something we missed? Share your feedback here.
Philip Yancey
Philip Yancey is editor at large of Christianity Today and cochair of the editorial board for Books and Culture. Yancey's most recent book is What Good Is God?: In Search of a Faith That Matters. His other books include Prayer (2006), Rumors of Another World (2003), Reaching for the Invisible God (2000), The Bible Jesus Read (1999), What's So Amazing About Grace? (1998), The Jesus I Never Knew (1995), Where is God When It Hurts (1990), and many others. His Christianity Today column ran from 1985 to 2009.
Previous Philip Yancey Columns:
Our digital archives are a work in progress. Let us know if corrections need to be made.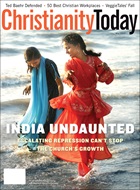 This article is from the May 2004 issue.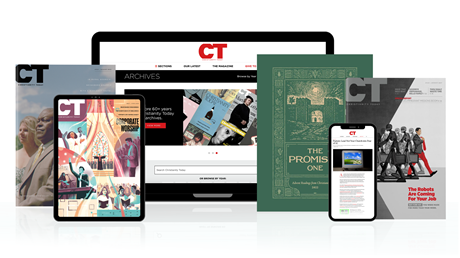 Annual & Monthly subscriptions available.
Print & Digital Issues of CT magazine
Complete access to every article on ChristianityToday.com
Unlimited access to 65+ years of CT's online archives
Member-only special issues
Subscribe
Doubting the Doomsayers
Doubting the Doomsayers