The Louisiana State Penitentiary, known as Angola, is the largest prison in the United States. Louisiana's most-hardened inmates end up at Angola. Most will die there. Angola is home to the state's death row and the most restrictive cell blocks. It's also where every man serving a life sentence in the state waits out his days. In Louisiana, life means life. No parole. No reduction of sentence. Nothing short of a pardon—or death—will release a lifer.
Until the 1970s inmates served as guards, and killing an escaping prisoner could earn one a ticket home. Prisoner-on-prisoner violence was common. Men slept with layers of newspapers and magazines under their shirts as rudimentary protection against nocturnal assaults with shivs, prison-made knives. An inmate's lawsuit in the mid-1970s forced reforms that ended much of the brutality.
Welcoming God into the prison has made even deeper changes for the 5,100 men locked up there. The faith-based programs that Warden Burl Cain has encouraged have led to genuine repentance—and to prisoners graduating from seminary and going as missionaries to other prisons. That is unique in a country of 1,850 prisons.
Running Off The Demons
The beauty of the prison's 18,000 acres belies more than a century of misery soaked into the fertile soil.
"This land has had more human suffering than any land in America from its beginning as a slave-breeding plantation," Cain says. After the Civil War, he notes, forms of slavery continued until 1901, when the state took over the prison. Angola spent a century building its reputation as the most dangerous prison in the country.
Ron Humphrey, a senior writer for Chuck Colson's Prison Fellowship, says inmate-on-inmate murders sometimes numbered a dozen or more per year before Cain arrived. When Cain took over as warden in 1995, his then-wife balked. "She said, 'There are demons over this place. I don't want to be here,'" Cain recalls. "I said, 'I'm going to run them off, with God's help.' "
Even before Cain's arrival, church services, evangelistic efforts by outsiders, and other Christian programs were routine in Angola. But prison officials considered outsiders security risks and sources of drugs and other contraband. They were skeptical of prisoners' motives. The criminals were adept at manipulating the system, each other, and outsiders.
"That was the mindset in the Louisiana Department of Corrections when I became a warden in 1981," says Cain, a stocky, white-haired Southern Baptist from the densely Protestant woods of north Louisiana. "They told me that one inmate can't have any power over another. Therefore he can't preach or even lead a Bible study."
That mindset is still found in many other prison systems fighting gang problems and violence, he says. "We just quit thinking that negative stuff that these wardens had been thinking all these years."
Not long after he took over at Angola, Cain brought in Experiencing God, a Southern Baptist Convention program based on Henry T. Blackaby and Claude V. King's book of the same name. Emphasizing obedience based on a relationship with God, Experiencing God is designed to help Christians cope with difficult situations. Cain had gone through the program at his church; he asked facilitators there to come to Angola.
"The first thing you know, 1,600 inmates had gone through Experiencing God," he said. "It helped the prisoners accept they're in prison and that it's God's will that maybe they don't get out—and that while you're here you do your best for him."
Convicted Missionaries
One day in 1997, a few years after the federal government cut off grant money that funded college educations for inmates, Cain was complaining about the lack of higher education to Baptist ministers visiting Angola. Corrections officials see college courses as a good inmate-management tool, a privilege for only the best-behaved prisoners.
The ministers talked to the New Orleans Baptist Theological Seminary about opening a program at Angola. "It just fell right into our lap," Cain says.
The prison-based school needed a library to earn accreditation, and that also seemed to fall out of the sky. "We got in touch with Oprah Winfrey's company and, sure enough, they bit like a big fish," says Cain, who has a penchant for cowboy boots and draft horses. "She did something on her show, and the books started rolling in."
The prison was primed, according to Cain, for a four-year college producing trained ministers. "We had had all these religious groups come, and everybody was drinking the milk," Cain says. "They were ready for the meat. The meat was the seminary."
The first seminary class graduated in 2002. "They walked down the aisle in their rented caps and gowns, and their families cried," Cain says. "One mother came to me and said, 'I can't understand my emotions. My son came to prison and found Jesus, and he's graduated from seminary. He had to do this terrible crime to get to here.' I told her maybe the victim didn't die in vain."
One of those seminary graduates was preaching in the Main Prison chapel filled with inmates one drizzly Sunday in October.
"All men need to pray," Harold Savoy, wearing his cleanest pressed set of inmate denim, urged his congregation from the pulpit. "Pray for deliverance. Pray for doors to be opened here at Angola. Pray that we be delivered, not just from prison but from sin and death."
Alone or in pairs, they prayed, they cried. Many fell to their knees, buried their heads beneath clasped hands, and prayed. Their prayers murmured through the concrete block chapel with narrow stained-glass windows perched high on the walls, just under the roof, designed for beauty and security.
About 10 years ago, Savoy began looking at the direction of his life—to be spent entirely in Angola. When he rededicated his life to God, he had no idea he would graduate from seminary in 2002.
In the Main Prison chapel on a quiet weekday morning, as inmate workers sorted books with a bright sun lighting up the stained glass, Cain talked of sending seminary graduates out to spread the gospel.
"We had 80 graduates from the seminary, and what are we going to do with them?" he had asked himself. He had then said to himself, "Man, we need missionaries."
First they sent some seminary grads from the Main Prison to outlying block dorms. Recently Angola inmates have gone as missionaries to prisons across the state. (Prisoners can request transfers, which must be approved by the corrections department.) Leaving Angola was a big step for those inmates.
"They're leaving what's comfortable," Cain says. "This place has become their family. It's their culture, their society."
Chaplains at other camps and prisons were at first skeptical. But they came to see that these trained inmates could help them minister. Chaplains work from 9 to 5, but the inmate missionaries minister to their flocks all day, every day, Cain says. Missionaries will serve two years before returning to Angola.
John Sheehan was one of the first inmate-missionaries Angola sent to another prison. He had been at Angola 14 years. "There are people there who I couldn't ever see my life without, brothers who help you through trying times," says Sheehan, 49 and serving a life term. "Having to leave that comfort zone was difficult."
After Cain asked him to go, Sheehan said he prayed for guidance. In September 2002 he transferred to the Washington Correction Institute (WCI), a medium-security prison halfway across the state.
Like any missionary, Sheehan met with some culture shock. Having left a prison full of older men serving longer sentences, at wci he found a younger, more fluid population. "Guys go home every day," he says. In his first month, Sheehan saw more inmates released than he had seen in his entire stay in Angola.
He also saw new needs to fill. "I have the great opportunity to give these men something to survive with on the outside."
The missionaries usually go out alone, but Sheehan works with another inmate-minister from Angola—"That's a big help." He also receives support from his sending community. Angola—with money donated by staff, prisoners, and citizens from the local community—sends the prisoner missionaries $50 a month to buy "zu-zus" (cookies and other snacks) and other items.
Sheehan appreciates this as he cannot earn spare cash making and selling leather goods as he did in Angola. Friends and supporters in Angola and other prisons write him letters. Chaplains pass messages between missionaries. And a recent return to Angola for a reunion of sorts gave him a "big shot of adrenaline," Sheehan says.
The end of his two-year stint looms, but Sheehan is not sure about returning to Angola—which is, after all, a harder place to live. "That's up to God."
Gary Pearce, one of the chaplains at Dixon Correctional Institute, a prison with 1,400 inmates near Baton Rouge, speaks well of the Angola missionaries. "It's one of the best things that's happened to this prison," says Pearce. "These men provide 24/7 ministry, even when we're here. The guys respect them."
Educating the Soul
The steeple on Angola's Camp D chapel reaches above the rest of the unit—taller than the guard towers. On a Sunday morning in the fall, with an overcast sky spitting a warm rain, about a dozen men, most lifers, gathered in the chapel for a Church of Christ service.
An inmate offered prayers from the pulpit, beginning with a prisoner facing a parole board hearing.
"He has a date coming up," he prayed. "The key is in your hands. Let them hear from you on what to do. Remember security [guards]. Touch them and let them know you are with them."
After a service in which he helped serve Communion, Leander Galliot, 24 years into a life sentence, talked about how Angola did not welcome Christians when he first came. "If you let anyone know you were a Christian, you got beat up and pushed aside," he says. "Angola was the world's bloodiest prison then, but then we had more and more people in here talking about Jesus."
Security and prison administrators "didn't want to hear it," Galliot adds, but that has been changing. "Now, it's all open. When you're out on the walk and you shout Jesus, a lot of people shout back."
Bob Downing, a longtime volunteer in inmate ministries, has also seen the atmosphere change in Angola as more Christian programs came into the prison. Downing is an appeals court judge who, while serving as a district court judge in Baton Rouge, sentenced many men to Angola.
"You can just see the joy on the inmates' faces," he says. "Rapes have gone down, and murders have all but disappeared."
Nothing helps reduce the number of ex-convicts who return to prison, he says, like participating in religious programs while inside. Earning a high school equivalency degree in prison reduces the chance of returning by 4 percent. Having a job waiting on the outside is worth another 14 percent, he says, but participating in a religious program half the time they're locked up is good for a 36 percent reduction.
"The national repeat offender rate is 67 percent—Louisiana's is down to 50," Downing says. "We must be doing something right."
Chuck Colson's Prison Fellowship has a solid presence at Angola, as does Kairos Prison Ministry, an international Christian outreach established in Florida in 1976. Also present is Weekend of Champions, a ministry that uses star athletes and other celebrities to reach inmates.
Going for the Gold, a Christ-centered program that teaches life skills, is starved for outside volunteers, he says. Many other programs have the same problem. "Just at the time when Louisiana prisons are open for business, we don't have enough volunteers," Downing says. "People are comfortable sitting in pews. You've got to get out of the pews to find the lost sheep but, to the average person, the thought of actually going into a prison is appalling."
The Ones that Get Away
In a prison culture where inmates will often do anything to ingratiate themselves with the warden, Cain is certain of the authenticity of the transformed lives at Angola.
"I could tell they were serious when an inmate came to me and asked how he could tell his victim's family he was sorry, how he could ask them to forgive him," he says. "I really felt he got it."
Cain knows that kind of change will not reach every inmate. "It's like fish. I can't catch them all." In December 1999, a group of Camp D inmates, in an apparent escape attempt, killed a corrections officer who would not give up his keys. One inmate died in the attempt to rescue the other captive guard. Two more inmates were killed earlier this year, and prisoners still try to escape.
But violence is down because of God, Cain says. "He put an umbrella over us, and it really calmed us down—nothing else should get the credit," he says. "We always had the education programs. The only thing we did different was we brought God to Angola. We didn't really bring him. He just let us bring him.
"I wish other prison wardens could realize what we learned—that the only rehabilitation is moral rehabilitation."
Chris Frink is a newspaper reporter in Baton Rouge, Louisiana, who has written extensively about the state prison system.
Related Elsewhere:
A sidebar to this main article features Angola's Warden Burl Cain.
More Christianity Today articles on prison ministry include:
New Life in a Culture of Death | Hope for Colombia dwells inside its most lethal killing field—Bellavista Prison. (Feb. 02, 2004)
'I Was Looking for Peace and Found it in Christ' | A converted felon in Colombia reflects on life in the guerrilla ranks. (Feb. 02, 2004)
Suing Success | Prison Fellowship says its Inner Change program is clearly constitutional. (March 18, 2003)
The Legacy of Prisoner 23226 | Twenty-six years after leaving prison, Charles Colson has become one of America's most significant social reformers. (July 29, 2001)
Prison Ministry in Mozambique | Missionary says women suffer grave injustices. (Aug. 4, 2000)
Setting Captives Free | It takes more than getting a woman inmate out of jail to turn her life around (Jan. 10, 2000)
Have something to add about this? See something we missed? Share your feedback here.
Our digital archives are a work in progress. Let us know if corrections need to be made.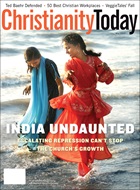 This article is from the May 2004 issue.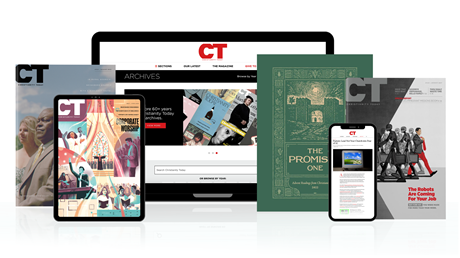 Subscribe to Christianity Today and get access to this article plus 65+ years of archives.
Home delivery of CT magazine
Complete access to articles on ChristianityToday.com
Over 120 years of magazine archives plus full access to all of CT's online archives
Subscribe Now
Breaking Into Prison
Breaking Into Prison