The New York Times examines Evangelical-Catholic rapprochement
Christianity Today figures heavily in a Saturday "Week in Review" article by New York Times religion reporter Laurie Goodstein. A quick summary of the piece: Instead of worrying about a presidential candidate who's Roman Catholic, evangelicals are now concerned about a candidate who's not Catholic enough. That's because evangelical and conservative Catholic leaders over the last decade have been "laying the groundwork for a religious realignment," especially to fight "culture war issues" and hyperindividualism.
In summary, Goodstein is generally right. There has been a significant rapprochement between evangelical Protestants and conservative Catholics over the last decade or so. And she's right in hitting some of the main events signaling this new relationship: the prolife movement, Evangelicals and Catholics Together, and Mel Gibson's The Passion of the Christ.
Still, there's some important things that should be added to this story, and a few items that need correction.
Let's hit a few of the less significant issues first. Goodstein uses the Left Behind book series as an example of lingering evangelical suspicion of the Roman Catholic Church, and to a large degree she's right. But the books are also an example of how even the conservative and dispensationalist wings of evangelicalism aren't as opposed to Rome as they used to be. The Pope, after all, is one of those who get raptured in the first book.
More troubling on this hallway, however, is Goodstein's misquoting of our recent Christianity Today editorial on the controversy over pro-abortion politicians and Communion. "In an about-face," she writes, "Christianity Today says in a June editorial that it is 'certainly appropriate' for bishops to expect a Catholic president to submit to Vatican authority."
No, that's not what we said. Here's the relevant text:
Some bishops don't want to use Communion as a threat when dealing with prochoice Catholic politicians. But it is certainly appropriate. Communion is the moment in church life at which we most deeply realize our connectedness, both to Jesus and to all his followers.
"Certainly appropriate," then, was in reference to using Communion as a tool of discipline, not whether politicians should vote in line with church teachings.
Goodstein is more correct in quoting Christianity Today's earlier editorial concern over the last major Catholic to run for president. "Opposition to political Romanism is not unreasoning, because a Catholic in the presidency would be torn between two loyalties as no Protestant has ever been," Christianity Today said in a February 1, 1960, editorial. "A candidate may announce, and even sincerely believe, that he is immune to Vatican pressure; but can we be sure that he will not succumb in the confessional booth to threats of purgatory and promises of merit from the organization which he believes to hold the keys of heaven?"
That editorial, by the way, stirred its own little controversy when Ed Sullivan called it "hateful bigotry" in the New York Daily News. (And, both before and after this, Christianity Today spent far more space justifying criticism of official Vatican dogma than it did actually criticizing it.)
And it's worth noting that the magazine's first take on Kennedy's candidacy was positive: "In light of his personal commitment to the principle of separation of Church and State and his profession of loyalty to the American way, it would be heartening if he would with high courage initiate a movement in his church looking toward the repudiation of those sections of its canon law which compel his American compatriots to look with uneasiness upon Roman Catholic candidates for political office," said an October 26, 1959, editorial.
It wasn't really the new president, but the new pope, who ended up fulfilling many of the wishes of that Christianity Today editorial. In 1958, John XXIII took the papal throne, and, two years after Kennedy's election, opened Vatican II.
What's amazing is that Vatican II isn't even mentioned in Goodstein's piece, even though it did more than anything else to a) nuance and correct Roman Catholic doctrine on church-state relations (in Dignitatis Humanae) and b) begin rapprochement between Protestants and Catholics (in Unitatis Redintegratio) by embracing us as fellow believers and fellow Christians.
Major points in Dignitatis Humanae include the importance of individual conscience and striving for justice. And on these points more than any other have evangelicals and Catholics united. Yes, that unity has apparently sped up over the last decade, but it has done so as Catholic and Protestant stances on justice (particularly in regards to abortion, euthanasia, homosexual behavior, and other life issues) have become increasingly at odds with mainstream Western culture, and as it has become increasingly important to distinguish personal conscience from personal autonomy.
However, as close as Protestants and conservative Catholics are getting, we are still tragically divided. In a recent discussion with Christianity Today editors, CT executive editor Timothy George noted that the inability of Protestants and Catholics to share Communion should be something that grieves us deeply. In the debate over the Roman Catholic understanding of the Lord's Table, discussion has focused on proabortion politicians and gay activists. But few are talking about the differences with Protestant and Orthodox understandings of Communion, the difference between Open and Closed Communion, and if those nourished by the Body and Blood of Christ can join together at the same Table.
More articles
Catholics and Communion:
Lay group attempts to block Eucharist | Gay-rights backers' action is disrupted (Pioneer Press, St. Paul, Minnesota)
Bishops temper Communion stance (Religion News Service)
Protesters denied Eucharist | 10 supporting gay rights get only blessing in Holy Name (Chicago Tribune)
Gay-rights activists denied Communion | Parishioners who wore rainbow-colored sashes to Mass in support of gays and lesbians were denied communion in Chicago, while laymen in Minnesota tried to prevent gay Roman Catholics from getting the sacrament (Associated Press)
Catholic gay activists denied Communion in Chicago (Reuters)
A divisive issue for Catholics: Bishops, politicians and Communion | Bishops' words have stirred strong passions among Catholics far and wide, prompting discussions that raise questions about the meaning of being both an American and a Roman Catholic (The New York Times)
In New Jersey, an archbishop conservative and controversial | John J. Myers is one of a handful of outspoken bishops whose conservatism has become controversial, even in a church that has for a generation been moving toward a stricter adherence to doctrine under the prodding and direction of Pope John Paul II (The New York Times)
Kerry and company aren't alone | Historically, not every Catholic is welcome to receive Communion (The Dallas Morning News)
Peace group faces loss of Catholic funds | An El Paso County peace and justice group will likely lose financial support from the Colorado Springs Roman Catholic Diocese because the group will not honor Bishop Michael Sheridan's request to explicitly state opposition to abortion rights (The Denver Post)
Politics, faith, and Catholic Communion | Even the threat of denying communion goes against the meaning of the ritual. (James Martin, All Things Considered, NPR)
Partial-birth abortion ban banned:
Abortion ban ruled unconstitutional | A federal judge in California ruled yesterday that the partial-birth-abortion ban, signed into law by President Bush last year, is unconstitutional and can't be enforced against Planned Parenthood doctors (The Washington Times)
US judge blocks late abortion law | A federal judge in the US city of San Francisco has declared unconstitutional the first major limit on abortions in the US since legalization in 1973 (BBC)
Ban on type of abortion reversed | 'Partial birth' law faces challenges (The Washington Post)
Judge rules abortion ban unconstitutional | Ruling that it places an undue burden on a woman's right to choose, a federal judge declared the Partial-Birth Abortion Act unconstitutional in a case that applies to clinics and doctors that perform about half of abortions nationwide (Associated Press)
U.S. judge in San Francisco strikes down federal law banning form of abortion (The New York Times)
Judge: Bush abortion ban unconstitutional | A federal judge Tuesday declared the Partial-Birth Abortion Ban Act unconstitutional, saying the measure infringes on a woman's right to choose (Associated Press)
Abortion:
Before Roe v. Wade, did 10,000 women a year die from illegal abortions? | Uh, no. Not even close. (The Straight Dope, The Chicago Reader)
Find of fetus remains sparks debate over abortion in Kenya | The discovery of the remains of 15 aborted fetuses by a river in Nairobi has led to the arrest of a gynecologist and triggered an intense debate over abortion, which is illegal in Kenya, as it is in most African countries (The Guardian, London)
Life ethics:
Can a pharmacist refuse to dispense birth control? | Wisconsin case and two similar ones in Texas have prompted fears among pro-choice groups that antiabortion forces are taking their fight to the pharmacy counter (Time)
Deportation blocked; fetus 'American' | A U.S. District judge in Missouri has blocked temporarily the deportation of a pregnant Mexican woman who is married to a U.S. citizen, calling the fetus an "American" and citing a federal law created to protect unborn children after the high-profile death of Laci Peterson (The Washington Times)
Legal wranglings may nudge Schiavo case | Gov. Bush resists an appeals court attempt to speed the case to the Florida Supreme Court (St. Petersburg Times, Fla.)
At last - the 'good dying' guide | There are good food guides, good pub guides and good hotel guides, and now there is a book for those who want to die. A publisher has launched the first Good Euthanasia Guide, listing details of countries that allow "self-deliverance", and organisations which can help to accomplish it (The Guardian, London)
Stem cells:
Senators call to ease stem cell restrictions | A majority of the US Senate has signed a letter asking President Bush to lift the government's funding restrictions on embryonic stem cells, increasing the pressure to change a policy critics say is holding back potentially lifesaving medical research (The Boston Globe)
German doctors say they create new stem-cell method | Researchers at the Frauenhofer Institute and the University of Luebeck succeeded in extracting cells from human and rat glandular tissue that have similar properties to embryonic stem cells (Reuters)
Loophole allows human-animal cell experiments | A loophole in Britain's embryo research laws is allowing scientists to create human-animal hybrid cells without the need for a license (The Times, London, sub. req'd.)
Assisted suicide:
Dutch doctors see reasons for euthanasia waning | Dutch doctors no longer see a medical need for euthanasia due to improvements in palliative care and medical advances in pain relief, a survey shows (Reuters)
Court makes right-to-die case ruling | The legal battle over the fate of a brain-damaged woman at the center of a right-to-die case should be decided by the Florida Supreme Court, an appeals court ruled Tuesday (Associated Press)
Path to a peaceful death | The Ashcroft court defeat comes at a dramatic moment for those of us in the movement (Betty Rollin, The Washington Post)
In Oregon, choosing death over suffering | Since Oregon began allowing adults with terminal diseases who are likely to die within six months to obtain lethal doses of drugs, surprises have been many (The New York Times)
Canadian Anglican Church votes for liberal leader:
Canada's Anglicans pick liberal leader | Anglican Church of Canada delegates chose the most liberal of four candidates as their new national leader, and turned to a disputed proposal that would give dioceses the go-ahead to perform church blessing ceremonies for same-sex couples (Associated Press)
Church faces split on gay blessings | The Canadian Anglican church was close to endorsing same-sex blessings last night, in defiance of pressure from other parts of the 77 million-strong worldwide church communion (The Guardian, London)
New liberal primate as gay vote approaches | The Anglican Church in Canada has elected a liberal who backs gay blessings as its new primate on the eve of a crucial vote on the issue (The Telegraph, London)
Canadian Anglicans to vote on gay marriage:
Canada Anglicans to vote on gay marriages | A proposed bill would "affirm the authority and jurisdiction" of any bishop and diocese to "authorize the blessing of committed same sex unions" (Associated Press)
Debate shows Anglicans split on gay unions | Leaders of the Anglican Church of Canada spent hours Tuesday discussing whether to bless same-sex unions, a divisive issue that could cause the Canadian wing to break from its parent church (The Globe and Mail, Toronto)
Canada's Anglicans debate blessing of gay unions | Fears of split grow as African leader says church is 'going berserk' (The Guardian, London)
Religion & homosexuality:
Episcopal bishop to bless gay priest's union in Md. | Bishop John Bryson Chane, head of the Episcopal Diocese of Washington, plans to formally bless the longtime relationship of a gay Episcopal priest and his partner next month at a ceremony in Maryland (The Washington Post)
Lesbian pastor reproved | Episcopal bishop decries commitment ceremony (The Denver Post)
Cleric blessed same-sex union | Bishop of L.A. Episcopal Diocese is criticized by church conservatives. He says he was honoring a faithful relationship (Los Angeles Times)
Local churches wrestle with homosexuality issue | When the Rev. Sue Babb applied to be a page at her denomination's national conference earlier this month, she had no idea she would be in the center of nationwide media attention (The Jackson Citizen Patriot, Mi.)
Area Protestant pastors voice support for gays | Some oppose official policy on marriage (Mercury News, San Jose, Ca.)
Berkeley religious center flies rainbow flag | Pacific School of Religion sticks to longtime tradition of support for gays (Contra Costa Times, alt site)
Custody battles:
Women's fight on custody renewed | Two women who lived together as lesbians when they adopted a Chinese girl nine years ago took their highly publicized battle for parenting rights to the Colorado Court of Appeals on Tuesday (The Denver Post)
Mother, mother, and child | Lesbian couple's split gives birth to a bitter feud over custody (Rocky Mountain News, Co.)
Court hears sides in gay adoption case | Woman fights to keep visitation rights (Rocky Mountain News)
War over boy raised by gays | An ugly tug of war is raging over the fate of a 6-year-old boy being raised by a gay couple who won custody of the child in a landmark decision in 2000 (New York Post)
Homosexuality:
Big-city gay issue hits Bend | The City Council considers an antidiscrimination law as people move in from more liberal areas (The Oregonian)
Gray and gay? These communities want you | Largely unnoticed amid the uproar and invective over same-sex marriage, gay developers, activists and entrepreneurs are building an archipelago of gay retirement communities across the Sun Belt (The Washington Post)
Same-sex wedding greetings not yet in the cards | Notes of congratulations are often difficult to find (The Boston Globe)
'Not better, not worse, just different' | The son of a trailblazing lesbian couple talks of growing up, fitting in, and, finally, speaking out (The Boston Globe)
Gay marriage:
Courts set to hear arguments on same-sex 'marriage' | Homosexual "marriage" battles continue this month with a Missouri court hearing today on the timing of a public vote on marriage, and a federal court hearing next week about whether Massachusetts judges had the right to legalize same-sex "marriages" (The Washington Times)
Traditional marriage seen as antidote to welfare | It will take a "culture change" to revive traditional marriage in America, but the nation seems poised to pursue it, a professor told a federal welfare conference last week (The Washington Times)
Playing politics with gay marriage | John Howard's proposal to outlaw gay marriage is wedge politics pure and simple (Editorial, The Age, Melbourne, Australia)
Mo. high court hears about gay marriage | Missouri's Supreme Court heard arguments Tuesday in a fight over the scheduling of a statewide vote on a constitutional amendment to ban gay marriage (Associated Press)
"Gay" not libelous:
Suit filed by ex-Madonna beau rejected | Gay-marriage law used by judge in dismissal (The Boston Globe)
Judge: Calling someone gay not libelous | Stating that someone is homosexual does not amount to libel or slander, particularly in light of new court decisions granting gays more rights, a federal judge has ruled (Associated Press)
Someone isn't glad to be gay | Homosexuals won a huge victory in federal court Friday, even if it escaped the notice of most of them (Brockton Enterprise, Mass.)
Marriage:
Goin' to take a hyphenated journey | Frederica Ma Green, Green R. Mathewes? (Frederica Mathewes-Green, National Review Online)
Vatican document on migrants raises issue of interfaith marriage | The 80-page document sends a clear message about marriage to Roman Catholics around the world: They should marry other Catholics. Or at least other Christians (St. Louis Post-Dispatch, Mo.)
Just marry Camilla now, Charles | Former Archbishop George Carey defends his criticism of Islam, reinforces his opposition to homosexuality and urges Prince Charles to marry Camilla Parker Bowles (The Times, London, sub. req'd.)
Also: Ex-Archbishop: Charles should get married | "He is heir to the throne and he loves [Camilla Parker Bowles]," former Archbishop of Canterbury George Carey told The Times newspaper in an interview published Wednesday. "The natural thing is that they should get married" (Associated Press)
Also: Former archbishop urges Charles to marry Camilla | Britain's Prince Charles should marry his lover Camilla Parker Bowles, according to the former Archbishop of Canterbury, who described his previous wife, the late Princess Diana as cunning and fallible (Reuters)
Church life:
21st century challenges | Questions about future of traditional black churches spur focus and funds (Decatur Daily, Ga.)
Cities, church reach accord | A complicated plan to move a Los Alamitos church and allow Cypress its first superstore is back on track following a compromise worked out by all parties involved, officials said Friday (Los Angeles Times)
Coral Springs church first to serve S. Indian Catholics in South Florida | Our Lady of Health Catholic Church is the first Syro Malabar diocese to serve South Indian Catholics in South Florida (South Florida Sun-Sentinel)
New religious movement finds a home in Seattle | Mosaic, the creation of author and former atheist Erwin McManus, doesn't call itself a church (KING, Seattle)
Diamond bracelet given to church | A rector could not believe his church's luck when he found a diamond-studded bracelet in its collection box (BBC)
Passenger van problems:
Regulators question the stability of big vans | Federal regulators released a report that raised new questions about the stability of 15-passenger vans and how they are used (The New York Times)
Gov't warns about beltless van passengers | People riding in 15-passenger vans are less likely to wear seat belts, putting themselves at greater risk if the van crashes, federal regulators said Tuesday (Associated Press)
Research points to risks in big vans | The government yesterday warned consumers about the rollover risks posed by 15-passenger vans such as those used by church groups or airport shuttles, citing new research that shows fully loaded vans are five times more likely to flip than vans containing only a driver (The Washington Post)
Pastors:
Bishop sets his agenda for second ELCA term | Synod delegates agree to close Christ Lutheran (The Toledo Blade, Oh.)
More couples share preaching duties as co-pastors | Husband-wife clergy teams who work at the same place often make an emotionally taxing profession work. More cases are predicted (Los Angeles Times)
Headhunter finds pastors for pulpits | Founder of Texas firm said churches, too, can benefit from professional recruiting expertise (Religion News Service)
Bishop rejects priests ordained by women | An Australian bishop has said he will reordain any Anglican priests who were ordained by a woman bishop before they can work in his diocese (The Age, Melbourne, Australia)
Church growth:
Ugandans start church in America | A group of Ugandans in Boston, USA have established a church, the Global Evangelical Church (New Vision, Kampala, Uganda)
Expansion debate continues to grow | A proposed expansion at St. Andrew's Church in Newport Beach (Daily Pilot, Newport Beach, Ca.)
St. Andrew's expansion not well explained | Our neighborhood is already struggling with significant traffic, parking, density and noise problems resulting from the church (Mike Talbot, Daily Pilot, Newport Beach, Ca.)
Rapidly growing church eager to count its blessings | Check out Northside Christian Church, a friend told Teri Gutermuth. Why? It's a smaller Southeast (Dale Moss, The Courier-Journal, Louisville, Ky.)
Pentecost:
The spirit of the age | What Christians will be praying for this Pentecostal weekend, in asking God for a fresh outpouring of the Holy Spirit, will not simply be a further dose of quiet spiritual refreshment, nor yet a new wave of dramatic supernatural phenomena, but the discernment and courage to speak the truth about Jesus - and thereby about the world (Tom Wright, The Guardian, London)
Every nation, kindred, tongue, and people | The techniques have changed since the days of Acts, but Pentecost -- the spreading of the gospel in native languages -- continues to this day (Paul K. Harral, Ft. Worth Star-Telegram, Tex.)
Trinity's most mysterious member takes spotlight at Pentecost | The Holy Spirit does lots of heavy lifting in the Bible by providing supernatural strength, direction and courage to scriptural heroes (The Dallas Morning News)
Missions & ministry:
Promise Keepers plan an Uprising | Evangelical Christian group coming to Pepsi Arena; protest, counter protest planned (Albany Times Union, N.Y.)
Divine ties that bind | Charging ahead, a young organizer encounters his past (The Boston Globe)
Religious messages in bottles just wave-borne spam | A man in Charlottetown who bottled his evangelical impulses and set them adrift on the ocean has had a new epiphany: some people just call it littering (CBC)
Retired to serve | Ministry candidate plans three-month career, then mission project (The Kalamazoo Gazette, Mi.)
Charities lend aid to island's flood victims | Several Central Florida mission groups have turned their attention to areas of Haiti and the Dominican Republic that have been devastated by floods (Ocala Star-Banner, Fla.)
Will African Christians raze Mecca? | The new Christians of the South will surprise us for ill as well as good (Spengler, Asia Times)
Church plan for ministry is holistic | A performing arts school and senior housing are part of Mt. Carmel's efforts to enrich the community (St. Petersburg Times, Fla.)
Revival features 10-year-old preacher | Torey Fountain gets a boost from stand (Ledger-Enquirer, Columbus, Oh.)
Christian groups target poverty | Faith-based organizations placed poverty front and center as an election-year issue for voters and politicians at a conference that attracted a diverse group of Christian leaders from around the country (Religion News Service)
Ministries take care in running child centers | Reverend: Group held to higher standards (The News-Sentinel, Ft. Wayne, Ind.)
Botetourt couple's evangelical mission is to stretch themselves by downsizing | By the end of June, they plan to move out of their 3,000-square-foot house in Botetourt County, which they've sold, and into a recreational vehicle with 84 square feet of living space (The Roanoke Times, Va.)
Work abroad sparked teen's desire to serve | Hannah Lee, 18, has seen firsthand the faces of poverty and suffering, and she hasn't turned away (Missoulian, Mont.)
Evangelism:
He tries to convert Muslims | Rev. Luis Centeno's open approach, though, lets them proselytize, too (The Philadelphia Inquirer)
Evangelist says Christianity will grow | James Kennedy rallied supporters of The Salvation Army in Grand Rapids on Friday to work for a renewed civilization (The Grand Rapids Press)
Paula White, evangelist on the move | Paula White, who co-founded Without Walls International Church with her charismatic preacher husband, Randy, comforts celebrities in turmoil (The Tampa Tribune)
Youth:
Church to give live talk show for teens at Eastland Mall | Free programs starting this month designed to provide guidance (The Charlotte Observer, N.C.)
Teens band together, reach out to others for Jesus Day | About 500 youths in 40 to 50 groups fanned out across Richmond's Church Hill and Fulton Hill neighborhoods to tackle small neighborhood-improvement jobs as part of the fifth annual worldwide Jesus Day (Richmond Times-Dispatch, Va.)
The casual emptiness of teenage sex | If you believe in the importance of love to achieving a happy, meaningful life, you can't help but hope that today's teenagers will come to understand that to rob sex of romance, to divorce it from of emotion, is to deny themselves exactly what makes it special (Scot Lehigh, The Boston Globe)
Education:
Southern Baptist seminaries told to stay away from Texas Baptist meeting | The Baptist General Convention of Texas has told six Southern Baptist seminaries they won't be welcome to set up exhibits at the annual meeting of the state convention in November (KWTX, Waco, Tex.)
God and man at Baylor | Can there still be such a thing as a great Christian university? (Hunter Baker, The American Spectator)
Nothing wrong with discussing evolution in school | Elementary teachers shouldn't be afraid to teach that life has changed over time (Lisa Peters, Pioneer Press, St. Paul, Minn.)
Candidates say schools have right to question evolution | Local school boards have the right to set curriculum in their own districts, even if that means teaching theories other than evolution in science classes, the two Republican candidates for state superintendent of schools say (Bozeman Daily Chronicle, Mont.)
Baptist attack on schools would be missions retreat | Most public schools reflect local values because they are staffed by local people — many of them Christians! (James L. Evans, The Decatur Daily, Ga.)
Making sure big flock has shepherds | Christian online university offers classes for pastors and pastors-to-be (The Philadelphia Inquirer)
Parents, students make case on schools | Parents and pupils at two Catholic schools took to the streets and the courtroom yesterday to fight the Archdiocese of Boston's attempts to close schools and to keep control of money raised for school programs (The Boston Globe)
Funds belong with children | One has to wonder if the Boston Archdiocese is planning to put itself out of the education business (Eileen McNamara, The Boston Globe)
Faith-based initiative:
Bush joins meeting of faith-based groups | Attendees cheer President's speech, point to signs of government's friendlier attitude (The Washington Post)
Preaching to the choir, Bush encourages religious gathering | Bush gave a pep talk to religious groups seeking money that his administration has made available to them for programs for drug addicts, alcoholics, children of prisoners and others (The New York Times)
Bush pushes faith-based aid initiative | President Bush, trying to revive a stalled initiative, said Tuesday the doctrine of separation of church and state should not prevent religious groups from competing for government money to help the needy (Associated Press)
Faith-based chief cites 'culture war' | The head of the White House's faith-based initiatives program said Tuesday that a "culture war" was dividing the Bush administration and its critics who challenge the constitutionality of mixing church and state (Los Angeles Times)
Church & state:
High-profile cross for sale in Simi | The park district hopes to avoid a lawsuit over the landmark, which sits on publicly owned land (Los Angeles Times)
Strayhorn under fire for religion litmus test | Tax-status denials draw controversy (Houston Chronicle)
New-time religion | There are those who believe in a sturdy wall between church and state and those who believe that the wall should be remodelled into a white picket fence dotted with open gates, some of them wide enough to drive a tractor-trailer full of federal cash through (Hendrik Hertzberg, The New Yorker)
America is not a theocracy | When it comes to religious intolerance, it's not a long walk from the mosque in the desert to the chapel in the piney woods (Editorial, The News Leader, Springfield, Mo.)
Davidson building can keep motto, U.S. judge says | 'In God We Trust' is national motto, does not endorse religion, he rules (The Winston-Salem Journal, N.C.)
God and the soul edited out of the PC marriage lines | Register offices are banning some of Britain's best loved poems from being read out at weddings because they contain "religious" words (The Times, London, sub. req'd.)
Why Scotland's religious divide is simply make-believe | Recent studies and Census results suggest that Scots live in a tolerant, non-sectarian nation (Steve Bruce, The Sunday Herald, Scotland)
First, a few words about God | Europe has the opportunity to offer an alternative to American and French constitutional separationism, showing that democracy is no longer afraid of religion (Joseph Weiler, Taipei Times, Taiwan)
Cross to be removed from Los Angeles County seal:
Facing suit, county to remove seal's cross | Los Angeles County supervisors on Tuesday ended an emotional debate over the symbolism of the tiny gold cross on the county seal by deciding to remove it rather than defend it against a threatened ACLU lawsuit (Los Angeles Times)
Supervisors to negotiate cross protest | Antonovich flays majority on refusal to fight ACLU (Los Angeles Daily News)
Cross in seal worth a fight? | County supervisors to vote (Los Angeles Daily News)
Cross logo's backers renew efforts | They will raise funds at Redlands Market Night and put the cause on T-shirts and the Web (The Press-Enterprise, Riverside, Ca.)
Fight over county seal is ill-timed | Does the county's cross truly offend many, many taxpayers who don't happen to think Jesus Christ was divine, the messiah or ever walked the earth? Do they think about the seal at all? (Joseph Honig, Los Angeles Daily News)
Religion & politics:
Spanish Socialists' proposals opposed by church | Spain's new Socialist government is clashing with the Roman Catholic Church over the administration's plans to allow gay marriages, speed up divorce and make abortion easier to obtain in this traditionally Catholic country (The New York Times)
Minister's remark fires up a flock of lawmakers | Pastor Ralph Drollinger's April 26 memo to the Legislature and staff hung the "sinful" label not only on legislative mothers but on all working mothers (Patt Morrison, Los Angeles Times)
Does the GOP have a lock on God? | 'Religious vote' could surprise us (Richard Parker, The Boston Globe)
Let us pray that God speaks to Bush | Nothing in Australia parallels the energies of Christian fundamentalism in US politics or the televangelical language Bush employs in his jihads (Phillip Adams, The Australian)
Politics change; faith is constant | We need to be careful whenever we're tempted to confuse the two, or to condemn those who happen to see things differently (Paul Prather, Lexington Herald-Leader, Ky.)
Q&A: 'It is their God-given responsibility to vote' | Copying the approach of MTV's "Rock the Vote," an Alabama physician has created the nonprofit, nonpartisan "Redeem the Vote." (The Dallas Morning News)
Bush, Pope look to put aside differences | When President Bush visits the Vatican on Friday the two sides will be anxious to put aside their differences over the war in Iraq and discuss how they can cooperate in rebuilding a sovereign country, officials preparing for the meeting said Tuesday (Associated Press)
Roy Moore:
Tom Parker wins GOP nomination in Alabama | One Roy Moore supporter won nomination, while three others fell short (Associated Press)
Earlier: The big name in Alabama's primary isn't on the ballot | A group of candidates in the June 1 Republican primaries in Alabama is scrambling to show devotion to Roy Moore, who became a hero to many Christian conservatives last year when he refused to remove a monument to the Ten Commandments from the rotunda of the state courthouse (The New York Times)
Also: Roy Moore's name figures into races | Conservatives cash in on monument issue (Birmingham Post-Herald, Ala., fifth item)
Religious freedom:
Park officials nix baptisms in river | Officials at the Falmouth Waterfront Park just outside Fredericksburg, Va., tried to break up the religious ceremony, claiming it might be offensive to swimmers frolicking nearby or other people using the park (Associated Press)
Also: Baptism ban in park to be defied | A Fredericksburg. Va., minister says he will challenge restrictions on religious activity at a nearby public park by performing a baptism Sunday in the park's section of the Rappahannock River (The Washington Times)
Pastor arrested for trying to convert Hindus | Pastor Subash Samal and Dhaneswar Kandi were arrested in Kilipal village in the coastal district of Jagastsinghpur (IANS, India)
Religion and repression | Yuri Samodurov, director of the Andrei Sakharov Museum and Public Center in Moscow, is a canary in the mine shaft of Russian history (Walter Reich, The Washington Post)
Peace in a turbulent world | Can religion ever be a force for peace in the world? Religious leaders respond (Los Angeles Times)
Pakistan cop attacks, kills blasphemy suspect:
Pakistan blasphemy suspect dies, beaten by cop | A Pakistani Christian accused of blasphemy for scattering garbage near a mosque has died of wounds suffered after a policeman attacked him with a hammer, police said on Saturday (Reuters)
Complainants say Samuel did not blaspheme | Condemn his murder, say govt should consult scholars to prevent abuse of blasphemy laws (Daily Times, Pakistan)
Religious intolerance sparks custodial death in Pakistan | The custodial death of a Christian accused of blasphemy in Pakistan has highlighted the harassment of religious minorities who often face attacks from fanatics and apathy from the authorities (IANS, India)
Blasphemy law abuse | The killing of the blasphemy-accused Samuel Massih in a Lahore hospital by a police guard posted there points yet again to the wide scope for abuse inherent in the blasphemy law (Editorial, Dawn, Pakistan)
In related news: Muslim and Christian families go to court today in Hudood case | Panchayat demanded 2 Christian girls in exchange for Muslim girl who eloped with Christian boy: CLAAS (Daily Times, Pakistan)
Australian religious freedom:
The moral decay of Australia | Differing views on religion should not be resolved through civil law suits (Peter Costello, The Age, Melbourne, Australia)
Muslims criticize Costello speech | Islamic Council of Victoria president Yasser Soliman yesterday described Mr Costello's remarks on Victoria's first religious hatred case as "a gross misrepresentation" (The Age, Melbourne, Australia)
Why Costello is wrong on vilification laws | Those who would vilify others on religious grounds must be deterred by punitive laws (Gary Bouma, The Age, Melbourne, Australia)
Vilification laws encourage quality debate | Litigation is unlikely to be used to resolve issues of religious difference between various groups (Waleed Aly, The Age, Melbourne, Australia)
Why the message in Christianity is Australia's heritage | Church leaders must reassert our core values to arrest the moral decay around us (Peter Costello, The Sydney Morning Herald)
Sudan:
The Darfur catastrophe | It is too late to change the historical record on Rwanda. But it is not too late to set a better precedent for the future (Susan E. Rice and Gayle E. Smith, The Washington Post)
US holds key to peace in Sudan | The key question now is whether the six protocols will lead to stability, or become, like the Oslo Accords, a byword for failed diplomacy (John Eibner and Joe Madison, The Boston Globe)
Sudan returnees face humanitarian, culture crisis | An estimated 800,000 southern Sudanese displaced during 21 years of war will return to villages lacking water, roads or housing, many bringing with them Arabic-speaking children, a U.N. expert said Tuesday (Reuters)
Rwanda redux? | World, U.S. should protect western Sudanese (Editorial, Daily Camera, Boulder, Co.)
Nigeria riots:
CAN raises alarm over planned attack on Kaduna, Zaria | Again, Sultan sues for peace (The Daily Times, Nigeria)
CAN alerts on fresh violence in Kano | Makarfi accuses northern leaders of overheating polity (This Day, Nigeria)
State of emergency in Plateau, painful but inevitable—Mantu | Deputy Senate President, Alhaji Ibrahim Nasiru Mantu, last week broke his silence on the state of emergency declared in his home state, Plateau State on account of intractable ethno-religious crisis in Yelwa (Daily Times, Nigeria)
Northern royal fathers blame ethno-religious crises on security lapses | The Northern chapter of the Christian Association of Nigeria (CAN) boycotted the meeting (Vanguard, Nigeria)
Curing religious fundamentalism | Fighting a spiritual war of ideas with bows and arrows or the more modern weaponry such as guns, chemicals, mines and incendiary bombs are doomed to failure (Harry Nwana, Vanguard, Nigeria)
Nigerians question unity after religious bloodshed | The conflicts in Plateau and Kano both pit Muslims against Christians, and they also pit locals against outsiders, creating a tribal ghetto mentality that would wreak havoc if translated to other big cities across the country of 130 million people (Reuters)
Three dead after clash in northern Nigeria | At least three people were killed and 200 arrested in northern Nigeria on Friday as Muslim mobs attacked a market and burned down churches, a spokesman for Kebbi state government said on Monday (Reuters)
We won't attend Maccido's peace meeting, says CAN | Christian leaders in the North have distanced themselves from an emergency meeting summoned by the Sultan of Sokoto, Alhaji Muhmmadu Maccido, to broker peace in the region, saying the Moslem leader had no such powers to call a meeting of Christian leaders and traditional rulers (The Daily Times, Nigeria)
Nigeria assembly gives president emergency powers | Nigerian lawmakers have approved sweeping security measures including powers of detention in the violence-torn state of Plateau, two weeks after President Olusegun Obasanjo declared a state of emergency there, a senate spokesman said on Wednesday (Reuters)
Abu Ghraib:
It was the porn that made them do it | Some of our self-appointed moral leaders are defending the morally indefensible by annexing Abu Ghraib as another front in America's election-year culture war (Frank Rich, The New York Times)
Grappling with the morals on display in Abu Ghraib | Religious leaders see broad lessons for American society in the abuse of Iraqi prisoners (The Washington Post)
Prison:
Prison rebellion ends in Brazil | The inmates gave up after police allowed the Rev. Marcos Pereira da Silva, an evangelical pastor that has helped resolve other prison rebellions, to take part in talks (Associated Press)
Purpose in prison | A new inmate self-help program changes lives behind bars (The Sacramento Bee, Ca.)
Loss of funds may end prison program | Project SOAR has helped hundreds of inmates re-enter society, but the current participants might be the last (Daily Press, Hampton Roads, Va.)
War & terrorism:
War, religion and national interests | War is a matter of national, not religious, interests (James O. Goldsborough, San Diego Union-Tribune)
Saudis hunt Al Qaeda gunmen after Khobar massacre | Arab residents said the gunmen asked them if they were Muslim or Christian before targeting the Christians (Reuters)
Quakers quietly grieve for war deaths | The religious group, based in Christianity but often inclusive of other teachings and philosophies, has little formal structure or hierarchy (The Mercury News, San Jose, Ca.)
Christian lied about faith to survive Saudi siege | A Christian Arab who was held captive by al Qaeda militants in Saudi Arabia said on Monday he lied to them about his faith and praised their battle against the West, to save his life (Reuters)
Spiritual factor bar Lord's Resistance Army end | World Vision, an international Christian relief and development organisation, has said the spiritual dimension has contributed to the 18-year-old Lord's Resistance Army rebel conflict in northern Uganda (New Vision, Kampala, Uganda)
Judaism:
Jewish artifacts remain in limbo in Iraq | A damaged Torah, a centuries-old Bible and other rare documents important to Iraq's few remaining Jews were rescued from a flooded cellar in Baghdad, only to remain in limbo in Washington (Associated Press)
There's something in the water, and it may not be strictly kosher | New York City seems a fine place for an observant Jew to keep kosher. But is the water safe for observant Jews? (New York Times)
Religion in the Middle East:
Turkey's ancient Christians seek to resettle villages | Syriac archbishop: 'It is our pleasure to have our people back from different parts of the world' (AFP)
Court urges Israel to accept conversions | Israel's Supreme Court ruled Monday, after five years of deliberation, that converts could be eligible for citizenship (Associated Press)
Cleric groups back Palestinian state | A diverse group of Christian, Muslim and Jewish clerics pledged their support Tuesday to President Bush's call for a Palestinian state and proposed sending a high-level U.S. envoy to the Mideast to step up the pace of U.S. diplomacy there (Associated Press)
Religious fury over MP in Lebanon | The extraordinary foray into local politics in Lebanon by NSW Labor's wandering factional heavyweight, Eddie Obeid, has prompted the intervention of Christian leaders to temper inflamed religious tensions with the minority Muslim community (The Australian)
U.S. religious leaders want Bush envoy for Mideast | .S. Muslim, Jewish and Christian leaders lobbied the Bush administration on Tuesday to immediately send a presidential envoy to jump-start the road map peace process between Israelis and Palestinians (Reuters)
Abuse:
Australian Church 'sorry' for abuse | One of Australia's most senior Anglican churchmen has apologized for the way his diocese handled sexual abuse complaints over the past 50 years (BBC)
Archbishop 'told molester to flee' | A scathing report into child sex abuse has accused the Anglican Archbishop of Adelaide and the headmaster of a prestigious private school of directing a chaplain, sacked for molesting a boarder, to flee the country to avoid prosecution (The Australian)
KC man accuses priests of abuse | Harassment, drug use alleged (The Kansas City Star)
Scientology death lawsuit settled:
Scientologists settle death suit | Terms of the unexpected settlement are confidential in the wrongful death suit brought by the estate of Lisa McPherson (St. Petersburg Times, Fla.)
Scientologists settle 1995 death lawsuit | Family accused staff members of allowing a member of the church to become severely dehydrated and die (Associated Press)
Suit against Church of Scientology settled (Reuters)
Deaths:
Bronx church mourns 3 dead after crash of van in Canada | Three members of the Gospel Assembly Church in the Bronx were killed when their van crashed as it approached a bridge near Niagara Falls (The New York Times)
Cup may have caused crash | A metal coffee cup that may have become lodged under the brake pedal could have caused the accident that left three members of a Bronx church dead and injured nine others, police said (Newsday)
Service set for 'sanctuary' creator | Memorial for Salvatore Verdirome will be Saturday at St. Patrick's (Norwich Bulletin, Ma.)
John C. Fletcher, biomedical ethicist and former Episcopal priest, dies at 72 | Death ruled a suicide (The Washington Post)
Healing:
Alternative remedies gaining popularity | Majority in U.S. try some form—especially prayer (The Washington Post)
Healer to go north after threats of arrest | A Brazilian healer who claims he has the power to heal any disease has cancelled a trip to Larnaca and will instead visit the north, after being warned by both the Health Ministry and the police that he could be arrested if he practiced medicine on the island without a license (Cyprus Mail)
Prayer:
Exposed: conman's role in prayer-power IVF 'miracle' | One of the authors of a university report on infertility has admitted a multi-million-dollar fraud (The Observer, London)
Lord's Prayer gets a new look | A new prayer compilation that rewrites some of the best known prayers and psalms in the Bible to address issues such as fair trade and developing world debt is to be published by the Church of England (The Guardian, London)
Also: 'Give us this day a fairer wage, oh Lord' | Some of the best-known prayers and psalms in the Bible have been radically rewritten in a compilation to be published by the Church of England (The Telegraph, London)
Also: Our Father, who art in heaven, give us fair trade | Some of the Church of England's best-known prayers and psalms have been rewritten to address the growing problems of fair trade and debt in the developing world (The Independent, London)
Bible:
Handwriting the St. John's Bible | Last week, a delegation from Minnesota presented the Pope with the first hand-written bible in more than 500 years (WCCO, Minneapolis, video)
St. Paul, reconsidered | Two scholars defend his New Testament writings on women and slavery (Associated Press)
A steadfast foundation of faith, no matter what accusations fly | Differing biblical interpretations have been used as weapons, but the key to Christianity remains intact (John Woodhouse, The Sydney Morning Herald)
Books:
'Father Joe': The saint and the satirist | In this extraordinary spiritual memoir, Tony Hendra, an alum of National Lampoon, learns to accept God's love with the help of a monk (The New York Times Book Review)
Big volume wraps up the Reformation | The amount of work that has been done on the Western church and the Reformation in the last half-century is simply incredible, which makes Diarmaid MacCulloch's one-volume summation very welcome indeed (The Mercury News, San Jose, Ca.)
Darwin vs. divine design | Toronto author tackles unending conflict between science and religion, creationism and evolution (Toronto Star)
Opus heyday | The success of Dan Brown's The Da Vinci Code excites interest in a secretive Catholic lay group—and further notes on the culture of conspiracism (The Village Voice)
Music:
Bono implores EU to keep 'deal with God' | Rock star Bono lectured European Union governments Tuesday to spend more on forgiving debts and combating the spread of AIDS in Africa, causes that the U2 frontman has championed for the past decade (Associated Press)
Church seeing return of Fantasia fans | The "American Idol" events may have done more than unite fans of Barrino. They may also have led some who are seeking a church to consider visiting Providence Place on Sundays, when it is transforms into First Wesleyan (News & Record, Greensboro, N.C.)
Saved my soul to rock 'n' roll at Del Mar | Thousands flock to Christian music fest (San Diego Union-Tribune)
Mr. Misery | Pedro the Lion deserves praise for its gorgeously depressive lyrics -- too bad the band's Christian overtones grab all the attention (East Bay Express, San Francisco)
Rapper takes Jesus to the party | Hip-hop fans looking for a little bit of Bible have a new ally: rapper-producer Kanye West (The Miami Herald)
In step with Jesus | Dance gives many young Christians an outlet for expressing their faith (Mercury News, San Jose, Ca.)
Business:
Traders go spiritual over poor sales | Confronted by what they termed poor or non-sales occasioned by evil spirits, traders, under the auspices of Alaba Market Christian Association Fellowship, at the Alaba Suru Market, on the busy Lagos Badagry Express-way, recently organized a prayer session to bind the spirits (This Day, Nigeria)
Jesus is your … what? | Celebrities are wearing them, teens are buying them. But are their "homeboy" T-shirts expressing faith or mocking it? (St. Petersburg Times, Fla.)
Television & film:
Dundee group hits out at illusionist's show | A Dundee Christian group is protesting about the content of illusionist Derren Brown's latest show on Channel 4 (Evening Telegraph, Scotland)
Williams: TV soaps are good for priests | The Archbishop of Canterbury has called on priests to watch soap operas as a way of helping them connect with parishioners in the real world (The Observer, London)
Praising Helen | Finally, a likeable pastor on film (Megan Basham, National Review Online)
Saved!:
Religious debate mounts over movie | Six weeks ago Saved producer Sandy Stern switched to an unlisted phone number (Montreal Gazette)
Can a movie 'Save' America? | By refusing to embrace the unquestioning devotion and silence of religious fundamentalism, Saved! encourages dialogue regarding the contradictions of religious fundamentalism and what it means to be human (Laura Nathan, AlterNet)
Religious groups saving up for a fight | New movie Saved! raises hackles of Christian critics (CanWest News Service)
The Passion:
Gibson's `Passion' film stirs talk as run draws to close | After opening Feb. 25 and having a long run at theaters, "The Passion of the Christ" went into the final stretch of its Birmingham run over the weekend, playing only three shows daily at Wildwood Stadium 14 (The Birmingham News, Ala.)
Pope to beatify Mel Gibson's 'Passion' muse | The 19th century German nun whose blood-soaked visions of Jesus's death inspired Mel Gibson's film "The Passion of The Christ" will soon be put on the path to sainthood, Catholic Church officials have said (Reuters)
Sainthood for nun behind film's 'anti-Semitic' scenes (The Scotsman)
Catholic, Jewish leaders urge educators not to use Gibson movie | Catholic-Jewish Consultation Committee said teachers also should use educational material, such as the U.S. bishops' guidelines on how to depict Christ's final hours, to explain the "complex historical context of the Passion narratives that no single film could fully convey." (Associated Press)
The moral politics of suffering | The Passion Of The Christ through the eyes of a Christian (Vincent M. Concessao, The Indian Express)
Catholicism:
Bishop says calls for change are nothing new | The president of the Swiss Bishops' Conference, Amédée Grab, has vivid memories of the Pope's first visit to Switzerland 20 years ago (Neue Zürcher Zeitung, Switzerland)
Let's face it: Confession is good for the soul | We all sin, and we need to confront our sin, not sweep it under the rug (Mike MacDonald, The Charlotte Observer, N.C.)
Pope despairs of America's 'soulless' vision | Pontiff warns George, Midwest bishops not to let flock stray amid lure of materialism (Chicago Tribune)
New Jersey native named to lead diocese, saying altar isn't a 'place of confrontation' | The Vatican has selected a biblical scholar who grew up in Newark and became a seminary professor and skilled speaker as the new bishop of the Roman Catholic Diocese of Paterson (The New York Times)
Priest accused in fondling is defrocked by Vatican | Robert V. Meffan, who as a priest said he sexually touched girls studying to be nuns to teach them to love Christ "as a human being" and who was later called mentally unbalanced by one church official, has been stripped of his priestly status by the Vatican, a spokesman for the Catholic Archdiocese of Boston said yesterday (The Boston Globe)
Closings cloud area services | Sermons note despair over church edict by archbishop (The Boston Globe)
History:
History, mystery in an image | August Accetta, founder and director of the Shroud Center of Southern California, believes the Shroud of Turin is for real (Los Angeles Times)
Holy land tour group wants to get on with work | Educational Opportunities is a not-for-profit company that was founded in 1974 to educate ministers and lay people about the Bible by taking them on tours of the Holy Land and other historic Christian sites (The Ledger, Lakeland, Fla.)
Exhibit shows Russian religious images | Washington's Hillwood Museum and Gardens is showing 43 icons in an exhibit titled "Tradition in Transition," which opened Tuesday (Associated Press)
Language:
Not to be overly sacred, but could we cut back on the profane? | We're surrounded by, and as a result inured to, blustery obscenity (Barbara White Stack, Pittsburgh Post-Gazette)
Say what you mean | While much of slang is a fluid, ever-changing set of passwords, "peace" has for decades been a wish and a blessing (Lynell George, Los Angeles Times)
People:
Mark Noll appointed new chair in American history and ethics at Library of Congress (Press release)
Interview with Anglican Bishop N.T. Wright of Durham, England (National Catholic Reporter)
Inspirational cleric leaving downtown congregation | The Rev. Anthony Robinson has served Plymouth Congregational for 14 years (The Seattle Times)
Brand Bethany | With her 15 minutes ticking down, friends and family of the shark-attack survivor pitch in to extend her shelf life (Los Angeles Times)
Seminarian keeps faith as her life falls apart | Cheryl Garrison was finishing the last month of divinity school at Wake Forest, for which she had given up a lucrative career, when she noticed the hard lump in her breast (News & Record, Greensboro, N.C.)
Beloved pastor Enright retires | He decided to lock the doors to his church that Sunday -- the only time the Rev. William Enright made that radical choice in his 24 years of leading Indiana's largest Presbyterian church (The Indianapolis Star)
Also: Minister led S.C. battle-flag fight | Supported by Jews, Muslims, Christians and others, the Rev. Lewis Galloway led a crusade that will always define the new senior pastor of Second Presbyterian Church (The Indianapolis Star)
More articles:
When reason sleeps, mumbo-jumbo frolics | Often, it seems as though the Enlightenment never happened (Francis Wheen, Los Angeles Times)
Seeing overeating as a sin, and God as the diet coach | With a program called "the Last Exodus,'' Gwen Shamblin is taking her message to children (The New York Times)
A Sunday morning in church.com | The Internet church's administrators gave its officers a `smite' button to use against guests using vulgar language, sparking complaints that this violent act was an affront to Christian values (Haaretz, Tel Aviv)
In Braves' clubhouse, faith a unifying force for some players | The Braves have one of the more devout clubhouses in the majors (The Atlanta Journal-Constitution)
Shikapwasha seeks Chiluba's forgiveness | During the close of a prayer mobilization initiative organized by World Vision Zambia on Thursday evening, Lt Gen Shikapwasha said he has been grieved by former president Frederick Chiluba's reaction to his call for pastors who received money from him to confess (The Post of Zambia)
Related Elsewhere:
Suggest links and stories by sending e-mail to weblog@christianitytoday.com
Check out Books & Culture's weekly weblog, Content & Context.
See our past Weblog updates:
June 1
May 28 | 26 | 25 | 24
May 21 | 20 | 19 | 18 | 17
May 14b | 14a | 13 | 12 | 11 | 10
May 7 | 6 | 5 | 4 | 3
April 30 | 29 | 28 | 27 | 26
and more, back to November 1999
Weblog
Launched in 1999, Christianity Today's Weblog was not just one of the first religion-oriented weblogs, but one of the first published by a media organization. (Hence its rather bland title.) Mostly compiled by then-online editor Ted Olsen, Weblog rounded up religion news and opinion pieces from publications around the world. As Christianity Today's website grew, it launched other blogs. Olsen took on management responsibilities, and the Weblog feature as such was mothballed. But CT's efforts to round up important news and opinion from around the web continues, especially on our Gleanings feature.
Ted Olsen is Christianity Today's executive editor. He wrote the magazine's Weblog—a collection of news and opinion articles from mainstream news sources around the world—from 1999 to 2006. In 2004, the magazine launched Weblog in Print, which looks for unexpected connections and trends in articles appearing in the mainstream press. The column was later renamed "Tidings" and ran until 2007.
Previous Weblog Columns: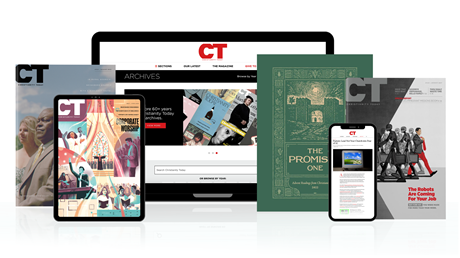 Annual & Monthly subscriptions available.
Print & Digital Issues of CT magazine
Complete access to every article on ChristianityToday.com
Unlimited access to 65+ years of CT's online archives
Member-only special issues
Subscribe
Evangelicals and Catholics Really Together?
Evangelicals and Catholics Really Together?