Canadian Anglicans defer on gay marriages, but say gay sex is sacred
The most-reported news coming out of the General Synod of Canada's Anglican Church is that a vote on gay marriages was postponed until 2007, asking a theological commission to review the matter and report back in two years.
But yesterday's news out of the synod means that the theological commission is absolutely pointless. By a show of hands, the church voted to "affirm the integrity and sanctity of committed adult same-sex relationships."
An e-mailed statement on the blog of Kendall Harmon, Canon Theologian for the Episcopal Diocese of South Carolina, notes two problems:
First, the amendment does not define what a "committed" adult same-sex relationship is, nor does it define the number of partners involved; second, it declares these relationships not only to have integrity but also to possess sanctity; that is, to have the same character (holiness) as Christian marriage. This is a theological declaration that would seem to pre-empt any theological consultation on the nature of same-sex blessings.
Adds Harmon, "Yes, quite so. Where is the logic in not blessing these relationships if they are deemed to have 'sanctity'?"
Nine bishops in Canada's Anglican Church agree, saying yesterday's vote "appears to have pre-empted" the theological commission's work. They also complained that the vote directly countermands requests from the worldwide leaders of the Anglican Communion not to take action on homosexual relationships until a global commission—founded in the wake of the American gay bishop's appointment—issues its report later this year.
Expect many of those global Anglican leaders to be upset with this turn of events in Canada. Weblog is unable to monitor all of the news and commentary on this point, especially since there are so many blogs and publications dispensing information and analysis. If you're interested, be sure to check out Classical Anglican Net News, an orthodox blog based in Canada.
A great line from CANN, in response from a gay Anglican activist's remark that the affirmation vote means "that toothpaste won't be able to go back in the tube" when it comes to the church's stance on same-sex relationships.
"Well," says CANN, "spilled toothpaste gets washed down the sink, and a new tube gets bought. New wine in old wine-skins, eh?"
More on Canada's Anglican Church meeting:
Canadian church affirms same-sex unions | The Anglican Church of Canada affirmed the "integrity and sanctity" of same-sex relationships Thursday, a move that stops short of authorizing blessing ceremonies for gay couples but still may provoke rancor in the global Anglican Communion (Associated Press)
Anglicans clash again over same-sex couples | Last-minute manoeuvring during a divisive debate within the Anglican Church of Canada on how to treat same-sex couples has left the church at odds with itself (The Globe and Mail, Toronto)
Anglican Church of Canada affirms committed adult same-sex relationships (Canadian Press)
Anglican vote 'affirms' gay relationships | After hearing the pleas of homosexual Christians, the Anglican Church of Canada's governing body yesterday passed a controversial motion "affirming the integrity and sanctity of committed adult same-sex relationships" (The Montreal Gazette)
Canadian Anglicans back 'sanctity' of gay relationships (PA, U.K.)
Canadian Anglicans put off gay blessings | Synod avoids internal split and worldwide evangelical revulsion (The Guardian, London)
More articles
Bush visits Pope:
Full text: Address of Pope John Paul II to the Honorable George w. Bush, President of the United States of America (Vatican)
Bush, Pope to meet today at the Vatican | Their meeting will highlight one of the most significant stories of the 2004 presidential campaign: the battle between Bush and Sen. John F. Kerry for the Catholic vote in America (The Washington Post)
Pope critical of war during Bush's Vatican visit | President to Meet With Italian Prime Minister Berlusconi During Rome Visit (The Washington Post)
Pope appeals for return of Iraq's sovereignty (Reuters)
Corridors of power | Considering that the pope and Bush hold divergent views on virtually every issue except abortion and gay marriage the question is, why did the White House consider the papal audience worth the schedule change? (Roland Flamini, UPI)
Earlier: Bush expected to get icy greeting in Rome | Bush is expected to get a frosty reception in Rome from anti-war demonstrators and from Pope John Paul II, who has long opposed the invasion of Iraq (Morning Edition, NPR)
Religion & politics:
Bush's Catholic courtship strategy | "If we lose any of the Catholic vote we'll lose the election," says a Bush campaign adviser (Deborah Caldwell, Beliefnet)
Bush, Kerry, and a battle for Catholics | As Bush meets with pope, the once-Democratic bloc is fluid, despite Kerry's Catholicism (The Christian Science Monitor)
Kerry's Catholicism: Checked at the door | John Kerry has made his choice on these matters. He is not one of us. I wish he would stop pretending that he is. (James P. Gannon, USA Today)
Bishops to talk politics | Communion issue will be discussed in Denver (The Denver Post)
Sheridan clarifies remarks | The Colorado Springs bishop who set off a national debate with a pastoral letter that mixed religion and politics says he was misinterpreted (The Colorado Springs Gazette)
Belief and the ballot box | Religion affects politics in subtler ways than you may think (The Economist)
Christians urged not to vote BNP | Christians should not vote for the British National Party in the upcoming European and local elections, the Bishop of Manchester has said (BBC)
Also: Don't vote for racists | The Bishop of Manchester today urged people not to vote for "racist and fascist" parties like the BNP (Manchester Online, England)
GOP wants churchgoers:
Politics at Pa. churches now routine | The Bush campaign's e-mails seeking volunteers from state congregations drew criticism, but such efforts are not new (The Philadelphia Inquirer)
Bush targets churches, faithful | Bush campaign asks religious supporters nationwide to build grassroots support, prompting protests (Newsday)
Bush backers create storm in church plea | In Pennsylvania and across the country, the Bush campaign is trying to recruit volunteers motivated by religious issues to organize their congregations for the president's re-election (Pittsburgh Post-Gazette)
Church & state:
Church and state | Poll: Most Americans think church should steer clear of politics (ABCNews.com)
Historical society to buy cross site in face of ACLU suit threat | Rancho Simi Parks directors have agreed to sell a portion of Mount McCoy containing a historic Latin cross -- dodging potential legal action over a religious icon on public land (Los Angeles Daily News)
Tennessee tag launches legal, financial woes | Some charitable organizations in Tennessee are urging state lawmakers change the way they approve specialty license plates. The charities are worried they will collectively lose millions of dollars if the American Civil Liberties Union wins its federal lawsuit against one of the tags (Fox News)
Federal court tosses challenge to Utah city's commandments display | Judge says he can't second-guess or overrule 1973 10th Circuit decision that similar Salt Lake City monument was primarily secular, not religious (Associated Press)
Demo over 'satanic' tax numbers | Hundreds of Ukrainian Christians protested on Thursday against a proposed new tax law they believe to be satanic, according to an Interfax news agency report (SAPA, South Africa)
Bukenya raps anti-Muslim broadcasts | The Vice-President, Prof. Gilbert Bukenya, has vowed to penalize Christian-founded FM radio stations allegedly demonizing the Muslim faith.
(New Vision, Kampala)
River baptism in Virginia:
Pastor plans baptism at river on heels of dispute | A pastor plans to baptize a church member at a waterfront park here Sunday, two weeks after park officials told another pastor his baptismal ceremony in the Rappahannock River violated park policy (Richmond Times-Dispatch, Va.)
Baptisms immersed in dispute | ACLU to seek order allowing church to hold rite in Virginia river (Associated Press)
Cross in L.A. county seal to be removed:
Big outcry over tiny cross | Board's compromise on county seal sparks outrage (Los Angeles Daily News)
Mahony asks that cross stay in seal | The cardinal links the symbol, which the county plans to shed, to area's historic missions (Los Angeles Times)
Schools:
Trustee rally: No bullhorn required | Though smaller than billed, the show of support for Westminster's board majority is 'really good,' a targeted trustee says (Los Angeles Times)
Graduation in church irks Lake Zurich teens | When 470 Lake Zurich High School seniors gather later this month in church, it won't be to pray for a good summer job or to do well in college. They'll be there to graduate, a decision that has prompted protest and complaints. At least one student will boycott the event (Chicago Tribune)
California pastor's comment on women legislators:
Should Capitol pastor lose his position? | Religious leaders respond (Los Angeles Times)
Aanestad: Bible teacher's comment unfair | A Bible teacher who provoked a demonstration in the Capitol this week was out of line, according to state Sen. Sam Aanestad, R-Grass Valley. Last week, the Los Angeles Times reported Ralph Drollinger's remark that female legislators who leave their children at home while they live in the Capitol four days a week are "sinners." (Chico Enterprise-Record, Calif.)
Opinion:
Tripping over the line between church and state | Warning to aspiring politicians: Bad things can happen at the crossroads of religion and politics (Editorial, The National Post, Canada)
Religious litmus test in Texas: unjust, unconstitutional | In deciding tax-exempt status for religious groups, government cannot apply theological criteria (Charles Haynes, First Amendment Center)
Why I've changed my mind on vilification laws | This legislation is undermining those religious freedoms it is intended to protect (Amir Butler, The Age, Melbourne, Australia)
Assisted suicide:
The Oregon tall tale | The creepy underside of legal assisted suicide (Wesley J. Smith, The Weekly Standard)
Don't allow religious conservatives to monopolize assisted-suicide debate | When religious conservatives use secular laws to enforce their beliefs, they threaten the principles on which America was founded: life, liberty, and the pursuit of happiness (Thomas A. Bowden, The Philadelphia Inquirer)
Stem cells:
Stem cell initiative certified for ballot | The $3-billion measure puts California in the forefront of an ongoing national debate (Los Angeles Times)
Stem sell | The stem cell issue is back. And that's bad news for Bush (Michael Crowley, The New Republic)
Hard cell | The New Republic gets the stem-cell story wrong (Ramesh Ponnuru, National Review Online)
A bad investment | Human cloning for therapeutic purposes isn't likely to pan out (Wesley J. Smith, National Review Online)
Abortion and contraception:
Abortion foes let their zeal trump strategy | Abortion foes gave Hamilton all the ammunition she needed to strike down the partial-birth abortion ban (William Saletan, Los Angeles Times)
Furor rages over abortion | Catholic Bishop Ndingi Mwana a' Nzeki yesterday reiterated the Church's stand that abortion should never be legalized. (The East African Standard, Nairobi)
Also: Archbishop up in arms over abortion | Churches moved to mobilize Christians against supporters of abortion as police continued holding the doctor and nurses adversely mentioned in the city's 15 babies incident. (The Nation, Nairobi)
Bitter pill | Catholics and contraception (Julian Sanchez, Reason)
Gay marriage:
Poll: Most oppose same-sex unions | The American public continues to oppose the idea of same-sex marriage and supports a constitutional amendment to outlaw it. Still, a majority does not think the issue of same-sex marriage should be part of this year's election campaign and fewer now say the issue would affect their vote than did two months ago. (CBS)
Ministers rally against lawmakers who voted down amendment proposal | Nearly 100 Johnson County ministers rallied Thursday in support of an effort to get rid of Kansas lawmakers who voted against a proposed state constitutional amendment that would ban gay marriage (Associated Press)
Whose dream? | Why the black church opposes gay marriage (The Village Voice)
Religious leaders assail amendment on gay marriage | Officials of several religious organizations sent an open letter to Congress opposing the proposed constitutional amendment banning same-sex marriage (The New York Times)
Clerk in N.M. gay marriages loses election | The county clerk who issued marriage licenses to dozens of gay couples in February overwhelmingly lost her bid for a county commission seat (Associated Press)
Missouri to vote on gay marriage in Aug. | In a victory for the Democrats, Missourians will vote in August — not in November — on a proposed constitutional amendment to ban gay marriage (Associated Press)
State split on gay marriage, backs abortion | California voters continue to strongly support abortion rights, yet are split over same-sex marriages, according to the Field Poll (San Diego Union-Tribune, Ca.)
French MP to conduct gay union | A maverick Green politician vowed yesterday to go ahead with plans to conduct France's first gay marriage ceremony this weekend despite a warning from government ministers that he would be breaking the law (The Guardian, London)
Gay marriage in Oregon:
Five weeks to beat back gay marriage | Oregonians can't say they weren't warned: Same-sex marriage or something similar is headed their way unless the voters themselves take prompt action (David Reinhard, The Oregonian)
Marriage is way bigger than social conservatives | The truth is, even Americans who are tolerant and sympathetic toward homosexuals aren't willing to abandon the proven benefits of marriage between a man and woman, especially for children (Anne Paulk, The Oregonian)
'Former lesbian' has made a career off anti-gay rants | What The Oregonian did not include in Anne Paulk's bio is that she and her husband, both "reformed gays," are very active in the Christian anti-gay group called Exodus International (Andrea Bowen, The Oregonian)
Homosexuality & religion:
Cardinal unyielding on sashes | Just back from a weeklong trip to the Vatican, Cardinal Francis George on Monday stood by his decision to deny communion to gay advocates who wore rainbow-colored sashes to Sunday services at Holy Name Cathedral, despite the fact dioceses in other cities let sash-wearing members take communion. (Chicago Sun-Times)
Another parish stops funds in gay cleric protest | A second Church of England parish has vowed to withhold thousands of pounds from diocese funds in a growing protest over the appointment of gay cleric Jeffrey John, it emerged today (PA, U.K.)
California bishop defends blessing same-sex union | An Episcopal bishop, who angered conservatives by blessing the same-sex union of a gay priest and his partner, stood by his action on Thursday but said he had not planned to make a stand on gay rights (Reuters)
Episcopalians rip plan for diocese | About two dozen Episcopalians, most of them representing two of the largest parishes in the Diocese of Virginia, served notice Wednesday that a proposal to force congregations to finance the cash-strapped diocese could result in a massive walkout (The Washington Times)
Fight homos –Odoki | Chief Justice Benjamin Odoki has urged Christians to fight vices such as homosexuality, pornography and political intolerance (New Vision, Kampala, Uganda)
Church life:
Pendulum didn't swing back | Twenty-five years later, passions remain strong on both sides when Baptists discuss the conservative takeover (Associated Press)
Religion news in brief | the Roman Catholic diocese of orange downsizes, U.S. Episcopalians protest treatment of episcopal church in Sudan, and other stories (Associated Press)
Preaching is a family matter for couple | The Revs. John and Martha Swanson are both Congregational pastors, he leading Union Congregational Church in Wollaston and she Christ Church in Middleborough. (The Boston Globe)
From behind pulpit to beside the couch | Psychotherapy is added to a pastor's roles, a mix of analysis and faith (Los Angeles Times)
Quakers celebrate 275 years | 50 active members of the Purchase Quakers are marking their 275th anniversary this weekend with festivities at their Purchase meeting house (The Journal News, White Plains, N.Y.)
Pivotal vote for a church | Debate on affiliation with UCC centers on such issues as same-sex marriage, meaning of Scripture (The Hartford Courant, Conn.)
Bishop's refusal to sign statement bars him from conference | Leaders of a conservative Episcopal gathering require those attending to agree that belief in Jesus is the only way to reach heaven (Los Angeles Times)
Missions & ministry:
Praying … for … you. | Good vibrations: Prayer ministries let those carrying pagers know that God is being petitioned on their behalf (The Atlanta Journal-Constitution)
Priest helps change the world | Our Spirit | The Rev. Rodney Reinhart, 55, is leaving Michigan and taking his spiritual creativity with him to a pair of small Episcopal churches on Chicago's south side (Detroit Free Press)
Hyped to the heavens | With an increasing influence of the Evangelical and fundamentalist movements has come greater use of mass communications and an ability to tap into new media (The Australian)
Religion in the News: Billy Graham's London Crusade, 50 Years Later | There is evidence that, for a while anyway, Graham's crusade increased churchgoing in Britain and boosted the numbers seeking ordination. But despite a spike in the 1950s, church attendance in Britain slipped back into the downward trend that began in the mid-19th century (Associated Press)
Fraud & abuse:
Ex-treasurer accused of taking funds | Missing $600,000, Episcopal Diocese of Texas orders audit (Houston Chronicle)
2 men sue, alleging abuse by seminarian | Two Harris County residents filed a civil lawsuit claiming that a Catholic seminary student molested them in the mid-1990s when he was training at St. Francis De Sales Catholic Church to be a priest (Houston Chronicle)
Religious violence:
Van-dalism: No welcome mat for Jews for Jesus | Controversial group comes to Cedarhurst, leaves with slashed tires on two vehicles (Nassau Herald, N.Y.)
Alleged police excesses condemned | Police commandos and the IRB based at Bishnupur allegedly went on a rampage looting cash and valuables, brutally assaulting civilians and offending religious sentiments by wrecking religious symbols at a church (Imphal Free Press, India)
Allegation of another planned religious crisis | How to end the violence (Editorial, Daily Times, Nigeria)
Kano: Muslim group assures CAN, non-indigenes | The Quadriyya sufi sect whose plan to celebrate the birthday of their founder on Saturday had created panic among Christians and non-indigenes of another outbreak of violence in Kano yesterday said the ceremony would hold without any attack on any individual (This Day, Nigeria)
Khartoum's retaliation lays waste to Darfur | Coming from a Muslim region that supplies the majority of rank and file soldiers in the Sudanese army, there is little doubt that the Darfur rebellion has rattled Khartoum as the last 21 years of civil war in the south of the country never did (Financial Times)
Books:
Shadowmancer hits New York Times best seller list #1 slot | First-time author G.P. Taylor achieves #1 status in the US and the UK with his debut title (Press release)
British fantasy author not wild about Harry | Taylor says 'Shadowmancer' isn't a 'Christian' book (The Atlanta Journal-Constitution)
Book industry puts faith in sales appeal of religious titles | One of the nation's largest book-industry trade shows, the Book Expo America, will be spotlighting religion for the first time when it convenes next week in Chicago. (Toledo Blade)
Film:
Christians divided over 'Saved!' | Some don't see humor, think film mocks them (Chicago Tribune)
Always look on the Python side of 'Life' | When it made its debut, "Life of Brian" was deemed blasphemous by many. Twenty-five years later it's apparent that those Brit twits the Pythons weren't mocking Christianity and Judaism but rather the human tendency to twist spirituality to justify our own intolerance (The Kansas City Star)
Music:
Christian Contemporary Music | Whether it's pop or rap, grunge or metal, rock or hip-hop, Christian music today can be found in every genre bringing entertainment to the faithful -- and faith to entertainment (Talk of the Nation, NPR)
Thousands enjoy Christian music festival | Thousands of adherents of both Christianity and music (in that order) descended on Del Mar last weekend for the first-ever Spirit West Coast festival in Southern California (Fontana Herald, Ca.)
Television:
The National Broadcasting Commission's gospel without miracles | If the Federal Government in collaboration with the Pentecostal Fellowship of Nigeria set up a monitoring machinery to investigate and probe the activities of some specific suspected miracle workers, the gullible ones will be better protected in all areas (Editorial, Daily Champion, Nigeria)
Hundreds protest at TV 'seance' | A live TV "seance" by illusionist Derren Brown has become one of the most complained about shows in history (BBC)
700 complain over TV seance spoof | A spoof seance conducted by the Channel 4 illusionist Derren Brown has attracted one of the highest numbers of complaints ever registered for a television programme, the station said yesterday (The Telegraph, London)
Why I've changed my mind on vilification laws | This legislation is undermining those religious freedoms it is intended to protect (Amir Butler, The Age, Melbourne, Australia)
Spirituality:
Bush daughter is Spanish pilgrim | US President George W Bush's daughter Jenna is due to complete the last leg of a Christian pilgrimage in Spain (BBC)
End of the world as we know it? | It might sound like a joke, but for millions of fundamentalist Christians the idea that one day they will be instantaneously sucked off the face of the earth and disappear forever is one they hold dear (Radio Netherlands)
Language:
Forget 'Hic, Haec, Hoc.' Try 'O Tempora! O Lingua!' | Rev. Reginald Foster is a master classicist who has devoted his life to saving Latin from extinction. Not just quill-on-parchment Latin. The conversational Latin language of Cicero, wellspring of Western civilization and, at one time, mother tongue of the Roman Catholic Church. (New York Times)
Reaching out one language at a time | To access more of the community, St. Matthew's Church adds Armenian to English and Korean services (News-Press, Glendale, Ca.)
More articles:
LDS Church warns members not to believe everything they hear | The LDS First Presidency issued one of its rare public statements this week, discouraging members from circulating notes taken at a church regional or stake conference without the consent of the speaker. (Salt Lake Tribune)
Churchmen upset over nude cyclists | A planned nudist bicycle tour in the Netherland's so called bible-belt has upset local churchmen who are holding their own youth charity bike ride the same day (Reuters)
Sacred Harp hymn-singing is the rage again | Once widespread across the South, Sacred Harp singing — also known as shape-note or fasola singing — has been sustained by almost fanatic amateur singers like the Texans who trek to towns and cities throughout the eastern half of the state for one-day "singings" and two-day "conventions" (Houston Chronicle)
Charles and Camilla should wait and let boredom take its course | The joy of attacking people from a religious standpoint is that you get all the vicious thrill of venting your hatred of humanity, with none of the guilt (Tom Utley, The Telegraph, London)
Related Elsewhere:
Suggest links and stories by sending e-mail to weblog@christianitytoday.com
Check out Books & Culture's weekly weblog, Content & Context.
See our past Weblog updates:
June 3 | 2 | 1
May 28 | 26 | 25 | 24
May 21 | 20 | 19 | 18 | 17
May 14b | 14a | 13 | 12 | 11 | 10
May 7 | 6 | 5 | 4 | 3
April 30 | 29 | 28 | 27 | 26
and more, back to November 1999
Weblog
Launched in 1999, Christianity Today's Weblog was not just one of the first religion-oriented weblogs, but one of the first published by a media organization. (Hence its rather bland title.) Mostly compiled by then-online editor Ted Olsen, Weblog rounded up religion news and opinion pieces from publications around the world. As Christianity Today's website grew, it launched other blogs. Olsen took on management responsibilities, and the Weblog feature as such was mothballed. But CT's efforts to round up important news and opinion from around the web continues, especially on our Gleanings feature.
Ted Olsen is Christianity Today's executive editor. He wrote the magazine's Weblog—a collection of news and opinion articles from mainstream news sources around the world—from 1999 to 2006. In 2004, the magazine launched Weblog in Print, which looks for unexpected connections and trends in articles appearing in the mainstream press. The column was later renamed "Tidings" and ran until 2007.
Previous Weblog Columns: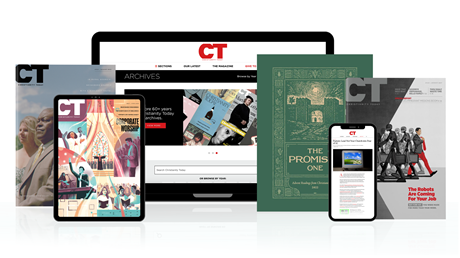 Annual & Monthly subscriptions available.
Print & Digital Issues of CT magazine
Complete access to every article on ChristianityToday.com
Unlimited access to 65+ years of CT's online archives
Member-only special issues
Subscribe
Canadian Anglicans 'Affirm Integrity and Sanctity' of Homosexual Relationships
Canadian Anglicans 'Affirm Integrity and Sanctity' ...