Mid-way through watching The Daily Show's election night special, Weblog's usual author, Ted Olsen, went to bed for a good night's sleep. Fortunately, Christianity Today assistant editor Collin Hansen kept watching the returns come in, so he gets to write today's preliminary election roundup. More analysis will follow, and we'll be posting the day's non-election-related religion news later today.
The presidential race is no longer in doubt, and Election Day's headline is written: In a time of economic uncertainty and international instability, "moral values" is the most important issue in the minds of American voters.
Nationwide, exit polls show that 22 percent of voters cited "moral values" as the one issue that mattered most when considering how to vote for President. In what will surely come as a shock to mainstream media, more voters cited moral values than either the economy/jobs (20 percent), terrorism (19 percent), or Iraq (17 percent). Across the nation, and particularly in key battleground states, Bush's stance on moral values stanched his staggering losses among voters who cared primarily about Iraq and the economy/jobs. Among those who cited moral values as their top priority, Bush defeated Kerry 79-18. The numbers were dramatic in Ohio, the state that ensured Bush's victory. Self-described white evangelical/born-again voters composed 25 percent of the Ohio electorate and supported Bush by a 76-24 margin. Jobs were the key concern for Ohio voters (24 percent), but moral issues was right behind (23 percent). Much like the rest of the country, these morally minded voters supported Bush 85-14.
Much has been made in this campaign of Bush political adviser Karl Rove's contention that up to 4 million evangelicals stayed home from the polls in 2000. While Weblog cannot yet be certain about evangelical turnout, note that in 2000, 14 percent of voters identified themselves with the Religious Right and sided overwhelmingly with Bush. But yesterday, 22 percent of voters were white and described themselves as "evangelical/born-again" (favoring Bush over Kerry 77-22), and another 8 percent were white and called themselves "Protestant conservatives" (favoring Bush over Kerry 95-4). It might appear that white evangelical/conservative Protestants upped their share of the electorate from 14 percent in 2000 to 30 percent in 2004. But surely this difference can be largely attributed to the polling questions asked, particularly the use of a pejorative term like "Religious Right." Hard data on evangelical turnout is hard to come by as yet, but with Bush's surprisingly large popular-vote victory, Rove is likely to have located his 4 million evangelicals plus many more.
The evangelical turnout also contributed to a cascade of victories down the ballot for same-sex marriage bans and Republicans running for Congress. Of the 11 states voting on marriage definitions, 10 voted resoundingly to ban same-sex marriage and/or civil unions. The margin of victory wasn't quite so large in Oregon, yet the measure prevailed. In the South, Republicans opposed to abortion and same-sex marriage gained Democratic Senate seats in North Carolina, South Carolina, Georgia, Louisiana, and Florida. Another socially conservative Republican, John Thune, edged out Minority Leader Tom Daschle in South Dakota. And by a margin of 65-35, Florida voters approved a parental-notification requirement for minors seeking an abortion.
Weblog has been glued to the TV and internet for hours now, soaking in commentary and spin. Expect much more to come in the approaching weeks, especially as other media consider the remarkable turnout of evangelicals for Bush. The most intriguing insight I've seen, though, came in a Fox News interview between two California Congressmen, one Democrat and one Republican. As expected, the Democrat downplayed Republican gains, imploring Bush and the GOP-controlled Congress to govern from the center on social issues. The Republican's response? The people have spoken: The center of America opposes same-sex marriage and strongly favors executives and legislators working to limit abortion.
Related Elsewhere:
Suggest links and stories by sending e-mail to weblog@christianitytoday.com
Check out Books & Culture's weekly weblog, Content & Context.
See our past Weblog updates:
November 2 | 1
October 29 | 28 | 27 | 26 | 25
October 22 | 21b | 21a | 18b | 18a
October 15 | 13 | 12 | 11
October 8 | 7 | 6 | 5 | 4
October 1 | September 30 | 29 | 28 | 27
September 24 | 23 | 22 | 21 | 20
Weblog
Launched in 1999, Christianity Today's Weblog was not just one of the first religion-oriented weblogs, but one of the first published by a media organization. (Hence its rather bland title.) Mostly compiled by then-online editor Ted Olsen, Weblog rounded up religion news and opinion pieces from publications around the world. As Christianity Today's website grew, it launched other blogs. Olsen took on management responsibilities, and the Weblog feature as such was mothballed. But CT's efforts to round up important news and opinion from around the web continues, especially on our Gleanings feature.
Ted Olsen is Christianity Today's executive editor. He wrote the magazine's Weblog—a collection of news and opinion articles from mainstream news sources around the world—from 1999 to 2006. In 2004, the magazine launched Weblog in Print, which looks for unexpected connections and trends in articles appearing in the mainstream press. The column was later renamed "Tidings" and ran until 2007.
Previous Weblog Columns: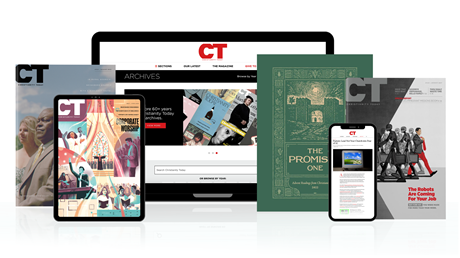 Subscribe to Christianity Today and get access to this article plus 65+ years of archives.
Home delivery of CT magazine
Complete access to articles on ChristianityToday.com
Over 120 years of magazine archives plus full access to all of CT's online archives
Subscribe Now
'Moral Values' Carry Bush to Victory
'Moral Values' Carry Bush to Victory