After a generation of involvement on the political scene, religious conservatives say they may finally have come into their own.
With the re-election of President Bush and a galvanized grass-roots movement, evangelical Christian leaders are confidently predicting the advance of their social agenda.
"I think before there was a perception problem," said Paul Weyrich, who co-founded the now-defunct Moral Majority in 1979 and now chairs the Washington-based Free Congress Foundation. "The view was that we really didn't have the troops to make a difference."
But Bush was returned to office Tuesday on the wings of evangelicals. Three out of four white voters who described themselves as evangelicals or born-again Christians voted for Bush, according to an exit poll of more than 13,000 voters conducted for the Associated Press and the television networks. That represented about one-fifth of all voters.
"Before our strength was a question mark," said Weyrich. "Now it's an exclamation point."
Religious conservatives have a wish list of items they hope Bush and a Republican-dominated Congress will address, including legislative bans on same-sex marriage, continuing efforts to limit abortion and appointment of judges who do not meet their definition of "activist."
Overcoming past stages of political apathy, evangelicals are now energized, their leaders say — not just at the voting booth, but for future action to let the political powers know they have certain expectations.
"I think that the voters spoke with a clear voice yesterday on … the issue of marriage, which speaks more broadly to the issue of judicial activism," said Tony Perkins, president of the Washington-based Family Research Council, in a Wednesday interview.
"I think if they do not hear that voice on the Hill, they're deaf."
Corwin Smidt, director of the Henry Institute for the Study of Christianity and Politics at Calvin College in Grand Rapids, Michigan, said evangelicals already have the ear of Republicans but now Democrats may begin to pay more attention to them.
"There's going to be some listening done," said Smidt, a political science professor. "Evangelicals probably have greater access now to decision makers."
Richard Land, president of the Southern Baptist Convention's Ethics and Religious Liberty Commission, said the influence demonstrated by "people of faith" at the polls goes beyond white evangelicals to black evangelicals, Roman Catholics and observant Jews.
"There is a cultural struggle going on for the moral high ground in this culture, and we conservative, traditional-values people of faith — in all of our denominational manifestations — made a significant, strategic advance in this election," said Land.
While many pundits predicted high voter turnout would benefit Democrats, evangelicals showed they, too, could mobilize. For his part, Land traveled along with an "iVoteValues.com" tractor-trailer as part of his ministry's nationwide voter education campaign.
He said he hopes Bush will now give some issues of religious conservatives — namely passage of the proposed Marriage Protection Amendment — the same level of attention in his second term that the president gave prescription drug benefits in his first.
Evangelicals may even expand to issues beyond questions of life and marriage, said Richard Cizik, vice president of governmental affairs for the National Association of Evangelicals. He cited climate change as a growing concern.
"It's an important way in which the Republican Party could reach out across the political divide and say, 'We care about the environment,'" Cizik said.
Jerry Falwell, chancellor of Liberty University in Lynchburg, Virginia, and co-founder of the Moral Majority, wouldn't predict demands for political payback from the Bush administration. He did say complacency is not an option.
"I know after eight years of Ronald Reagan that many seemed to become apathetic and fell asleep; I don't think that's happening now," he told Religion News Service. "I just do not think for a moment anybody … from our camp [is] going to rush the president and say, `We did this. Now you do that.' It just doesn't work that way."
Carrie Gordon Earll, a spokeswoman for Focus on the Family, based in Colorado Springs, said the gay marriage issue renewed energy that had dissipated in the evangelical movement. Evangelicals are now determined to work for passage of the marriage amendment and election of "a true conservative" as the next justice to the U.S. Supreme Court, she said.
"This is a spike in the chart of evangelical passion and involvement," she said.
Michael Cromartie, director of the Evangelicals in Civic Life project at the Washington-based Ethics and Public Policy Center, said evangelicals may not win every political battle ahead, but there is no question they will loom large in the Republican Party for years to come.
"They're not taking over the party," he said, "but they are major players in the party. They're major players at the table of Republican discourse."
Itir Yakar and Wangui Njuguna contributed to this report.
Related Elsewhere:
Other Christianity Today articles on Election 2004 include:
Weblog: 'Moral Values' Carry Bush to Victory | Moral issues bigger priority for voters than economy, terrorism, or war in Iraq. Nearly a quarter of voters identify themselves as "evangelical/born-again." (Nov. 03, 2004)
Weblog Bonus: 'Bush Gets Mandate for Theocracy' | Early online punditry: Religious conservatives are in control of the country (Nov. 03, 2004)
Religious Leaders Frustrated that Poverty Goes Unnoticed in Election | "The least of these" are the least discussed this campaign season. (Nov. 01, 2004)
The Values-Driven Voter | The values bandwagon is being pulled apart. Which way is more scriptural?—A Christianity Today editorial (August 27, 2004)
A Question of Faith | Top Democrats have much work ahead to convince voters of their religious sincerity.—A Christianity Today editorial (March 03, 2004)
The Politics of Communion | Church leaders who admonish politicians on moral issues are doing their jobs. —A Christianity Today editorial (May 26, 2004)
Bush Calls for 'Culture Change' | In interview, President says new era of responsibility should replace 'feel-good.' (May 28, 2004)
Weblog: John Kerry—Bush and I Have the 'Same Position' on Gay Marriage | Kerry characterized the difference between him and the President as a matter of energizing religious voters. (Oct. 08, 2004)
Wooing the Faithful | President Bush needs evangelicals more than ever, but it's unclear how badly they want him for another four years. (Sept. 28, 2004)
John Kerry's Open Mind | The candidate has roots in liberal Catholicism, establishment Protestantism, and secular idealism. (Sept. 27, 2004)
Not Far from the Brahmin Tree | Kerry's morals have been shaped by an old Protestant establishment. (Sept. 27, 2004)
Weblog: RNC Tells Voters that Liberals Will Ban Bible | West Virginia voters have received a mailing, apparently from the Republican National Committee, warning that liberals will ban the Bible if they're elected in November. (Sept. 20, 2004)
Weblog: The Most Religious Kerry Speech Ever | Now the Democratic candidate can't stop talking about faith. (Sept. 15, 2004)
Weblog: 'A Calling From Beyond the Stars' | Bush's acceptance speech (Sept. 03, 2004)
Weblog: 'God Is Not Indifferent to America' | Zell Miller's speech was the convention's most direct in saying that Americans should vote for Bush because of his religion. (Sept. 02, 2004)
Article continues below
Weblog: Is the Republican Convention More Secular Than the Democratic One Was? | Too much religion speak at the convention? Too little? (Sept. 01, 2004)
Weblog: Silencing Democrats' Religious Speakers | Democrats' senior adviser for religious outreach quits amid "under God" controversy (Aug. 05, 2004)
Weblog: Kerry Touts His Sleeveless Faith | Plus: Mugabe's demand for church support, Economist predicts a new golden age of giving, new claims about the Dead Sea Scrolls, and other stories from online sources around the world. (July 30, 2004)
Weblog: Boston or Bust | Plus: Vonette Bright, a homeschool lawsuit, and a dearth of other religion stories from online sources around the world. (July 29, 2004)
Weblog: Worshiping an 'Awesome God' at the Democratic National Convention | Plus: Amish in the City premieres tonight, challenging Sri Lanka's anti-conversion bill, Christians accused of bad motives in Sudan activism, and other stories from online sources around the world. (July 28, 2004)
Religion at the Democratic National Convention | Plus: Who's talking religion at the Democratic National Convention, council vows to keep praying in Jesus' name, and other stories from online sources around the world. (second item) (July 27, 2004)
Weblog: Why Kerry Is Sincere When He Says He Believes Life Begins at Conception | Plus: AmeriCorps loses suit on Catholic school placements, U.K. considers new religious hate law, Portland's Catholic archdiocese declares bankruptcy, and other stories from online sources around the world. (July 07, 2004)
Weblog: What John Edwards Believes | John Kerry's Methodist running mate oversees his church's urban ministries, but can he win evangelicals' votes? (July 06, 2004)
Weblog: Bush Wants Church Support, Opponents Cry Foul | Plus: Taliban kills Christian in Afghanistan, court rejects judge's ruling in lesbian custody case, and more articles from online sources around the world. (July 02, 2004)
Weblog: Kerry Told to Speak Up, Shut Up About Religion | Plus: British government debates spanking, Pope laments EU Constitution, and other sources from online sources around the world. (June 22, 2004)
Weblog: Bush Campaign Seeks 'Friendly Congregations' | Plus: Canadian Anglicans put off vote on gay marriages, George Beverly Shea leaves hospital after heart attack, Eisenhower's 'crusade' omitted, and other stories from online sources around the world. (June 03, 2004)
Bishop Bans Pro-choice Voters From Communion | Votes may be considered sin if cast for politicians who support abortions. (May 14, 2004)
Article continues below
Weblog: Catholic Life Group to Spend $500,000 Denouncing Kerry-friendly Bishops | Plus: Southern Baptists propose public school boycott, more on the possible Methodist church spilt, death toll rises in Nigeria, faith in China, and more articles from online sources around the world. (May 07, 2004)
Weblog: Kerry's Religion Is Today's Big Politics Story | Plus: Partial-birth abortion ban goes to court three times today, remembering Rwanda's genocide, Moscow bans Jehovah's Witnesses, and other stories from online sources around the world. (March 29, 2004)
'Swing Evangelicals' | Democrats seek to show that they also have faith-based values. (Jan. 09, 2004)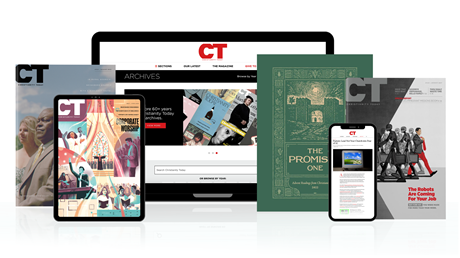 Annual & Monthly subscriptions available.
Print & Digital Issues of CT magazine
Complete access to every article on ChristianityToday.com
Unlimited access to 65+ years of CT's online archives
Member-only special issues
Subscribe
Evangelicals' Political Power: From Question Mark to Exclamation Mark
Evangelicals' Political Power: From Question Mark ...