true
Larry should be pretty happy with the new U2 album. After recording Pop in 1997—a thoughtful, tongue-in-cheek disco-techno experiment followed by a now infamously extravagant tour—Larry Mullen Jr., U2's drummer, quipped that the next time they make an album it should have some real pop songs on it. That next time was All That You Can't Leave Behind (2000), a much more accessible album for the masses and a huge commercial success. In their follow-up, How To Dismantle An Atomic Bomb, with enough up-beat songs and a few crooning ballads to bend the world's ear, U2 reminds us they are still a contender for the title "best band in the world."
How To Dismantle An Atomic Bomb sounds both old and new and seems to intentionally rely on something tried and true. This is pure U2. Warm, quick-pumping hearts, creative minds at play, shrewd timing, and a loud Christian conscience. The world tour, starting next March, will surely fill stadiums.
This album's forty-minutes includes songs that, in classic U2 fashion, will bring you to your feet. Others will make you melt with lead guitarist The Edge's high-flying riffs. It's almost too much to take, and excess, as U2 fans know, is also a part of their history. Many fans will find themselves stuck with this frustration: there's not much new on this album, but they can't stop playing it. No matter that most songs sound made-for-the-big-screen, ready to drop into any autumnal Miramax film. We love that about U2, though we're reluctant to say so.
You will like Bomb either because you used to like U2 (that is, the 1980s U2), or you have always liked U2 (especially because they didn't stay "the 80s U2") or because you just heard about a band called U2 via an Apple iPod commercial during the World Series or last weekend's SNL performance.
For the title of "best band in the world," U2 has only been shadowboxing for many years. The 11 songs on this, their 11th album, secures their position with plenty of Top 40 tunes. Bomb is not as pioneering an album as was The Unforgettable Fire (1984), and it just can't match their best work to date on Achtung Baby! (1991). But because they've grabbed a little from each of these two great albums, as well as from Boy (1981), The Joshua Tree (1987) and All That You Can't Leave Behind, this one will be an instant classic. That's no small feat, and it's no small praise to say so in this age of over-hyped musical artists. Produced by Steve Lillywhite, with touches from Daniel Lanois, Brian Eno, Chris Thomas, and others from the band's past, the U2 sound is there, better and louder than ever before.
Larry's finally got his pop album. As the band-mate who tends to be the toughest to please (and the toughest looking), if Larry's happy we should all be happy.
If you are thinking pop music is a category no respectable band should want to compete in, think again. Think like U2. "At our very best, at anyone's very best, the great rock bands could always make a pop 45," Bono recently told the New York Times. Here he's thinking of the Beatles, the Rolling Stones, and the Who. And then think about effective means for spreading a message. Pop music reaches the world faster than any other genre. If you've got something to say to the world, why not craft a great pop song that will be both for the moment and for all time?
U2's message hasn't changed over the 28 years they've been together. It's elementary: Love. It has been an answer and an admonition running through their every album, their every tour. "Do you know how to dismantle an atomic bomb?" Bono reportedly asked Michael W. Smith earlier this year. "With love," Bono said. "With love." They leave the listener at a place where the streets have no name.
Bono and The Edge describe the album's running order as taking the listener from a place of fear, confusion, and dizzying temptations to a place where hope, peace, and love reign supreme. The first track, "Vertigo," is a bombs-away, fast-paced confessional from someone who sounds like they got more than they bargained for. The remaining songs wind their way through personal fears of death, loss, and distance from others, to global fears of wars and apathy toward the weak, the sick, and the forgotten.
As a concept, love is a little hard to grasp. Give it a body, a mind, a voice, or an action and we can know it more easily. U2 has done that, by drawing upon some very personal experiences for song material. On a surprising number of songs, that stirring U2 chemistry is at work. Bono's voice swells into, and through, the chorus while The Edge picks his way around Bono's full-bodied passion with the simplest notes.
Bono sings in "Sometimes You Can't Make it On Your Own" of his father's death in 2001 and his subsequent struggle to come to terms with missing a man he couldn't get close to. Brendan "Bob" Hewson's death, Bono has said, placed an atomic bomb in his life he wasn't ready to deal with. "Miracle Drug" pays tribute to a paraplegic school mate of the band's who, with the care of his mother and the help of a drug, was able to peck poems out on a keyboard with a stick attached to his forehead. "I want to trip inside your head/Spend the day there/To hear the things you haven't said/And see what you might see" the song begins. Credit must be given to Bono for giving poignancy to what might be the most preposterous simile in music: "Freedom has a scent like the top of a newborn baby's head."
It doesn't take long for this song, as with most of them, to yield their metaphors to more direct lines on love and its power to keep a man and a woman together ("A Man and A Woman"), make armies lay down their arms ("Love And Peace or Else"), and heal the world's wounds ("Crumbs From Your Table"). "All Because of You" praises love's power to sustain a person and make them whole again. The Edge lets himself go a little wild on this one, as he does on "Vertigo" and "City of Blinding Lights," their tribute to both New York and a loved one.
"Original of The Species" is written for Bono's goddaughter—The Edge's eldest daughter—imploring her to "Please stay a child somewhere in your heart" but to also "Come on now, show your soul/You've been keeping your love under control." And the last song of the album is "Yahweh", an eloquent, beautiful tribute to you know who.
Too bad a song called "Mercy" with lines such as "Love's got to be with the weak/Only then love gets a chance to speak" and "Love is the end of history/The enemy of misery" was cut at the last minute from the album. At over six minutes, it breaks the rule for a pop tune. But it is available through other means and its lyrics are included in a hard-back book that accompanies a deluxe edition of the album.
Another song also not on the album, but available on the deluxe edition, is "Fast Cars." As a sort of cousin to "Vertigo", it's a song hinting at the unfulfilling pleasures we can so easily have when what we need is something tougher to come by but permanently more satisfying. It features a surprising Spanish-style guitar and rhythm section and is the song with the lyric about dismantling an atomic bomb.
In How to Dismantle an Atomic Bomb, U2 delivers a one-two punch with taut tunes on an eternal truth. Love never fails.
Scott Calhoun is an assistant professor of English at Cedarville University and a news writer for @U2.com.
Related Elsewhere:
Our sister channel, Christian Music Today, has a commentary on How to Dismantle an Atomic Bomb's spiritual dimensions
Article continues below
Calhoun wrote "The Legend of Bono Vox" for the current issue of our sister publication, Books & Culture.
More about U2, including downloads and the U2 iPoD, is available from their website.
Kenneth Tanner's "An eloquent and ravishing explosion", a review of How to Dismantle an Atomic Bomb, is available from the webstite Thunderstruck.org.
Calhoun's articles for @U2 are on the band's spirituality.
Spinning Songs into Sermons | New book shows that fans can preach, too. (April 07, 2004)
U2's Rock 'n' Roll Soul | 'In the MTV world but not of it' (Aug. 17, 2004)
Steve Stockman's Walk On: The Spiritual Journey of U2 is available at Christianbook.com. Christianity Todayinterviewed the author.
Other Christianity Today articles on Bono and U2 include:
The Dick Staub Interview: Exegeting U2 | Get Up Off Your Knees preaches U2 from Boy to All that You Can't Leave Behind. (April 20, 2004)
Bono's American Prayer | The world's biggest rock star tours the heartland, talking more openly about his faith as he recruits Christians in the fight against AIDS in Africa. (Feb. 21, 2003)
'Pop Music with Brains' | From the beginning, U2 has engaged spiritual questions. (Feb. 21, 2003)
Bono's Thin Ecclesiology | Any person can stand outside the church and critique its obedience to the gospel. (Feb. 21, 2003)
Bono Tells Christians: Don't Neglect Africa | He urges evangelicals to take a lead in fighting AIDS and poverty. (April 19, 2002)
Inside CT: Bono's Burning Question | Evangelicals and the U2 front man try to figure each other out. (April 19, 2002)
Honest Prayer, Beautiful Grace | The messianic and passionate U2 sounds like itself again. (Feb. 8, 2001)
Browse All Music Reviews By: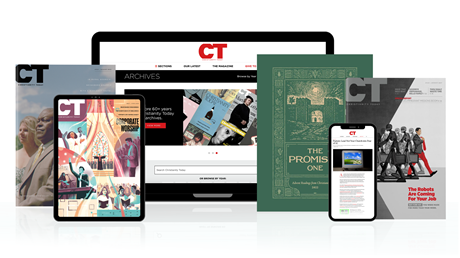 Annual & Monthly subscriptions available.
Print & Digital Issues of CT magazine
Complete access to every article on ChristianityToday.com
Unlimited access to 65+ years of CT's online archives
Member-only special issues
Subscribe
Pop Love for a War-Torn World
Pop Love for a War-Torn World