Supreme Court considers case of conversion and death penalty
All eyes are on the Supreme Court this week, at least indirectly, and it's not even June. There's Rehnquist's cancer, internet rumors that Bush is considering Thomas as chief justice, debate on the influence Sen. Arlen Specter might have over nominations, speculation on whether Alberto Gonzalez is now out of the running … and even an actual court case—the federal government's request that the Supreme Court take up the case of Oregon's assisted suicide law.
But yesterday, the justices considered another interesting case that has something to do with religion: Brown v. Payton. Weblog summarized this case back in May: It has to do with a California prosecutor's telling a jury not to consider murderer William Payton's conversion to Christianity when it sentenced him.
The legal aspects of the case are rather interesting. Everyone pretty much agrees that the prosecutor made an error — California law at that time instructed juries in capital cases to consider "any other circumstance which extenuates the gravity of the crime even though it is not a legal excuse for the crime." That would apparently include Payton's repentance. The question is over whether the prosecutor's mistake was big enough to give Payton a new hearing. The 9th Circuit U.S. Court of Appeals ruled last October that it was, and California appealed to the Supreme Court. The Associated Press reports, "The justices were divided over whether the errors made a difference in sentencing," with Justice David Souter saying it did. "The prosecutor stands there and twice said, 'You can't legally consider this evidence,' and the judge never corrects it," Souter noted. "Why isn't this a reasonable likelihood of error?"
Those interested in the legal aspects should check out Goldstein & Howe's SCOTUSblog, which has published several bits of analysis and summary. Those interested in the bloody details of the crime and an argument for why Payton should be executed can read the press release of the Criminal Justice Legal Foundation, which filed an amicus curiae brief.
Weblog, however, is more interested in the religious aspects of the case. Should repentance and conversion make a difference in sentencing, capital case or not?
Back in 1998, Pat Robertson, Jerry Falwell, and others petitioned George W. Bush (then governor of Texas) to halt the execution of Karla Faye Tucker. (Those "others" include Pope John Paul II, who has more respect among evangelical Protestants than either Robertson or Falwell). Tucker had hacked two people to death with a pickax, but converted to Christianity in prison.
"She is not the same person who committed those heinous ax murders," Robertson said then. "She is totally transformed, and I think to execute her is more of an act of vengeance than it is appropriate justice."
But Weblog has searched in vain for any comments from the broadcaster or from evangelical leaders on behalf of Payton.
Weblog should note that CT hasn't said much either, though during the Tucker controversy we ran an editorial calling for the abolition of the death penalty. We had hoped that the discussion sparked by Tucker's execution (and later, by exposés in Illinois and elsewhere about dramatic problems in the system) would lead evangelicals to reconsider their support for capital punishment.
Instead, the opposite may have happened since 1998. Most notably, Prison Fellowship Ministries founder Charles Colson abandoned his earlier opposition to capital punishment, calling it "an essential element of justice." (Colson's essay detailing his change of heart has recently been circulating as if it's new. It's actually from 2002.)
In the wake of 9/11, could it be that evangelical support of the death penalty is growing? If so, how do evangelicals' beliefs on justice fit with their hopes that all come to repentance? One key argument from Christian opponents of the death penalty, especially from Roman Catholics, has been that it cuts short the opportunities of the executed responding to the gospel. Supporters have sometimes responded that being faced with imminent death provides a good impetus for repentance.
But if a murderer does turn to God, should they receive mercy from the jury, or should it in fact be a factor in moving ahead with their execution? There's an old Wizard of ID cartoon where the king asks a priest, "Do you believe in the death penalty?" and the priest responds, "If you believe right, it's not a penalty."
Flippant? Maybe, but here's the irony: It turns out that the 1982 jury in the Payton case did discuss his conversion and came to the same conclusion. Juror Lorraine Rhoads told The Orange County Register in 2001, "We felt that if he has found God, then he is ready to go to heaven."
Oops! Never mind yesterday's Gonzalez commentary
Yesterday, Weblog speculated that religious conservative groups would be upset by the White House replacing Attorney General John Ashcroft with Alberto Gonzales. Weblog's guess was based on earlier opposition—rather strong opposition at that—to gossip that Gonzales might be chosen as a Supreme Court justice.
Actually, religious conservative groups are pleased as punch.
"We know the great personal regard President Bush has for Mr. Gonzalez, and we wish him well in his challenging new assignment," Focus on the Family Action's Tom Minnery says in a press release. He says he expects Gonzalez to "defend the Partial Birth Abortion Ban Act … [and] aggressively prosecute obscenity cases … with excellence."
"We are confident as the nation's top lawyer, Mr. Gonzales will offer a strong defense of these measures which protect marriage and the unborn," Family Research Council President Tony Perkins said.
"Alberto Gonzales is an outstanding attorney," said American Center for Law and Justice chief counsel Jay Sekulow. "Gonzales is the perfect person for this demanding job."
The Washington Post and The New Republic say these guys are so happy because the AG position will probably keep Gonzalez off the Supreme Court
Gonzalez doesn't have "strong pro-life beliefs," Minnery told the Post, so "putting someone like that in such an independent role as a federal judge is a problem for us. But as attorney general, the social issues are not as prominent as the law enforcement issues."
Actually, that's more or less what Weblog said yesterday, so give us a little credit. But we were way off on the Specter battle being over. Focus, FRC, Concerned Women for America, World's Marvin Olasky, the American Family Association, and other groups are still going strong on this one, as are less religious conservative groups like National Review. Not all religious conservatives are anti-Specter (See the Stones Cry Out blog for too much information), especially as Senate leaders seem likely to keep him as chairman of the judiciary committee. But for those who see this as the first big prolife battle after November 2, it's "in for a penny, in for a pound."
More articles
Religion & politics:
Whose 'moral values'?
Democrats & religion:
Evangelicals & politics:
Falwell's new political organization:
Oregon's assisted suicide law:
Abortion:
War & terrorism:
Sudan:
Abuse & crime:
Spokane diocese to file for bankruptcy:
Closing Catholic parishes:
Church life:
Interfaith:
Education:
Sex & marriage:
Television and film:
Marriage:
More articles of interest:
Related Elsewhere:
Suggest links and stories by sending e-mail to weblog@christianitytoday.com
Check out Books & Culture's weekly weblog, Content & Context.
See our past Weblog updates:
November 10
November 5 | 3b | 3a | 2 | 1
October 29 | 28 | 27 | 26 | 25
October 22 | 21b | 21a | 18b | 18a
October 15 | 13 | 12 | 11
October 8 | 7 | 6 | 5 | 4
October 1 | September 30 | 29 | 28 | 27
Weblog
Launched in 1999, Christianity Today's Weblog was not just one of the first religion-oriented weblogs, but one of the first published by a media organization. (Hence its rather bland title.) Mostly compiled by then-online editor Ted Olsen, Weblog rounded up religion news and opinion pieces from publications around the world. As Christianity Today's website grew, it launched other blogs. Olsen took on management responsibilities, and the Weblog feature as such was mothballed. But CT's efforts to round up important news and opinion from around the web continues, especially on our Gleanings feature.
Ted Olsen is Christianity Today's executive editor. He wrote the magazine's Weblog—a collection of news and opinion articles from mainstream news sources around the world—from 1999 to 2006. In 2004, the magazine launched Weblog in Print, which looks for unexpected connections and trends in articles appearing in the mainstream press. The column was later renamed "Tidings" and ran until 2007.
Previous Weblog Columns: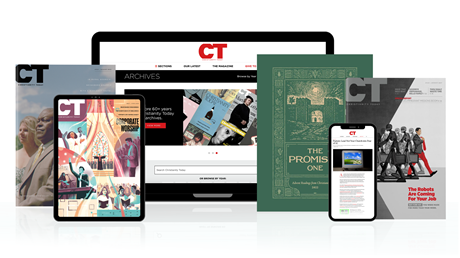 Subscribe to Christianity Today and get access to this article plus 65+ years of archives.
Home delivery of CT magazine
Complete access to articles on ChristianityToday.com
Over 120 years of magazine archives plus full access to all of CT's online archives
Subscribe Now
Do the Wages of Sin Apply After Conversion?
Do the Wages of Sin Apply After Conversion?