In may, Richard Cizik, governmental affairs vice president for the National Association of Evangelicals, talked to The Wall Street Journal about human-induced climate change (often referred to as "global warming"). Cizik pointed to polls of the NAE membership that revealed "even George Bush supporters believe you have to offer something more … than simply voluntary measures" to address the problem.
Cizik identified himself as "one of those Bush Republicans," but added, "I disagree with the President on this one."
Soon Cizik and Bush may be able to agree. In August, the administration finally acknowledged that the climate change since 1970 cannot be accounted for in purely natural terms, and that "smokestacks and tailpipes are the likely cause." According to The New York Times, that judgment was delivered "in a report to Congress accompanied by a letter signed by the secretaries of energy and commerce and the President's science adviser."
The administration has previously brushed off such reports or even suppressed them. Now it is time for whoever leads the United States to address its contribution to the problem. Attitudes are changing across the board. In August, Business Week carried the cover line, "Global Warming: Why Business Is Taking It So Seriously." The article shows that major energy companies realize that it is to their advantage to make voluntary changes that preempt government actions and save them money.
Not everyone is persuaded about the link between human activity and climate change. But the scientific data have grown increasingly solid as the Intergovernmental Panel on Climate Change's reports moved from 1994 to 1997 to 2004. The real danger is to wait until the data are undeniable. While ExxonMobil, the world's largest publicly traded oil company, has been dragging its feet, the second largest has been a pioneer of change. BP chief executive John Browne has called on governments and industry to undertake a drastic shift to boost the use of technologies that could help slow down the buildup of greenhouse gases. "It would be too great a risk to stand by, do nothing, and to wait so long that when the impact on the climate really does begin to be felt, you have to take action which is so disruptive as to cause serious damage to the world's economy," Browne told the Council on Foreign Relations in June.
Who or What Is to Blame?
Global climate change is not on every citizen's list of hot issues. The small shifts in temperature documented by scientists are hard to feel in your own backyard. And when you read that the average global temperature will change by somewhere between 2.5 and 10.4 degrees from 1990 to 2100, it sounds trivial.
It isn't. While the numbers sound small, the effects are likely to be great. Because climate systems are complicated, the changes will ripple out to result in more frequent heat waves, drought, torrential rains and floods, increased tropical diseases in now-temperate regions, and increased peak wind and precipitation in tropical cyclones.
While warming will no doubt benefit some frigid regions, these sorts of disasters will disproportionately impact the poor. American Christians give generously to relief and development organizations when people are devastated by droughts or floods or hurricanes. Clearly, we care about the victims of such "natural disasters." To borrow from Bob Pierce, founder of World Vision and Samaritan's Purse, our hearts are broken by the things that break the heart of God. This month, representatives of Christian relief and development organizations are meeting for a briefing on climate change and an opportunity to discuss how they can face these challenges.
But what if our actions are contributing to these "natural disasters" even as we contribute our dollars to relieve their victims? What if the likelihood of extreme weather is increased by the amount of fossil fuels we burn to light and heat our homes and to run our cars? Right now, we don't have many individual choices for change. But collectively, we do.
Reachable Goals
When it comes to climate change, collective activity is a touchy subject. Many have objected to the Kyoto Protocol to reduce greenhouse gases. And truly, as a writer in the Harvard International Review said this summer, "International coordination is likely to slow and divert truly effective action."
The Harvard International Review writer stressed the importance of national plans that can be tailored to individual economies. The United Kingdom has stepped out in front and set ambitious, but reachable, goals. The European Union is working on its own plan. As individual nations see the importance of taking action, the problems can be addressed without serious economic repercussions and without creating nightmarish international bureaucracies.
In the United States, Senators John McCain and Joseph Lieberman have introduced legislation that would set targets and create a trading system that would allow companies to reduce emissions in a way that is responsive to the market economy. This bill is an excellent starting point for whatever plan the Congress and the administration will eventually develop. Individually, Americans should weigh the advantages of low-emissions technologies such as hybrid vehicles. Business will more quickly respond to consumers than to government regulation. And consumer demand has the power to lower prices.
But time is important. With each passing year, we lose the ability to slow and minimize the effects of global warming. This is our Father's world, and it is filled with our brothers and sisters. Christians should make it clear to governments and businesses that we are willing to adapt our lifestyles and support steps toward changes that protect our environment.
Related Elsewhere:
The Evangelical Environmental Network has more information about its activities on its website.
Other Christian Environmentalism associations include the Interfaith Council for Environmental Stewardship, Evangelicals for Social Action, and Green Cross.
BusinessWeek's "Global Warming: Why Business Is Taking It So Seriously" is available from the magazine's website, with registration.
The Intergovernmental Panel on Climate Change has more information on global warming.
BP executive John Brown's speech to the Council on Foreign Relations about global warming is available from the World Business Council for Sustainable Development.
More Christianity Today articles on global warming include:
Tending the Garden | Evangelicals and the environment. (July 07, 2004)
Religious Leaders Rebuke Bush Administration Over Kyoto Protocol | Officials from the National Council of Churches, Presbyterian Church (USA), United Methodist Church, Disciples of Christ, and African Methodist Episcopal Church say U.S. must limit greenhouse gas emissions. (April 6, 2001)
U.S. Churches Join Global Warming Debate | Environmental stewardship is an act of compassion toward the poor, say mainline Protestants and evangelicals, who are joining with other faith groups to reduce the effects of global warming. (October 5, 1998)
More on Christians and creation can be found on our Science & Health page and Books & Culture's Science Pages.
Have something to add about this? See something we missed? Share your feedback here.
Our digital archives are a work in progress. Let us know if corrections need to be made.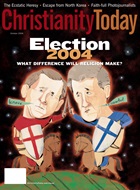 This article is from the October 2004 issue.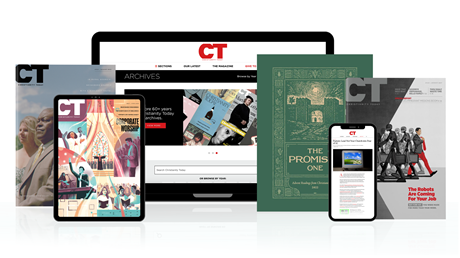 Subscribe to Christianity Today and get access to this article plus 65+ years of archives.
Home delivery of CT magazine
Complete access to articles on ChristianityToday.com
Over 120 years of magazine archives plus full access to all of CT's online archives
Subscribe Now
Heat Stroke
Heat Stroke