Episcopal Church's Office of Women's Ministries removes pagan ritual from website
Episcopal Church's Office of Women's Ministries removes pagan ritual from website
"We have been astounded and grateful for the number of people who have taken an interest in The Office of Women's Ministries of the Episcopal Church through Christianity Today's recent weblog," begins a press release from that office today. "We profoundly regret that Christianity Today did not contact us before making claims such as, 'leaders of the Episcopal Church USA are promoting pagan rites to pagan deities.'"
Let's get one thing out of the way. Here's what we've repeatedly said, and this message is linked at the end of every Weblog posting: "Weblog is a compilation of articles, and therefore doesn't involve any original reporting, nor does it necessarily strive to separate hard news from opinion."
And Weblog stands by its "claim." Leaders is appropriate, since this appeared on the Episcopal Church USA (ECUSA) website, not some random priest's personal site or a message board somewhere. Promoting is accurate, since the Episcopal News Service sent out a dispatch Monday highlighting "worship resources that are currently available to be downloaded and used by all." This news release was on all three home pages of the ECUSA site. As for "pagan rites to pagan deities," see the Weblog.
It's all been a big misunderstanding, says the Women's Ministries release:
The material questioned in Olsen's article, "A Women's Eucharist: A Celebration of the Divine Feminine" was sent to us in good faith in response to our recent call for resources. We regret we did not realize that the material was copyright protected. Proper notifications were not included by mistake and so the page has been withdrawn from our website. …
The resources listed on our website are not approved liturgies of the Episcopal Church. These liturgies are intended to spark dialogue, study, conversation and ponderings around women and our liturgical tradition. There is quite a difference in presenting resources for people's interest and enlightenment and promoting resources as official claims of the Episcopal Church. Only General Convention has this authority.
So the problem with "A Women's Eucharist" is not that it directly sides with idols condemned in the Old Testament and idol worshipers, nor that it's a "Eucharist" with no mention whatsoever about the death or body of Christ, nor that it very deliberately takes the focus of worship off of God and on to woman. No, the problem is that it wasn't properly sourced.
And here's a question about the copyright protection. The very end of the "Women's Eucharist" page had the name and address of Glyn Lorraine Ruppe Melnyk, rector of St. Francis in the Fields Episcopal Church in Malvern, Pennsylvania. As we noted yesterday, she was also the woman who wrote it. One might have expected the notation at the end to indicate that she submitted it to the site as well. Surely if she did submit it, there wouldn't be such copyright problems. So perhaps we'll just trust the Office of Women's Ministries and believe that she was not the one who submitted it.
But the office's credibility is seriously undermined by its claim that it didn't promote the liturgy for actual use. Here's the line from the earlier press release:
The Office of Women's Ministries is working towards creating a resource to be used by women, men, parishes, dioceses, small groups, within the context of a Sunday morning service, or any other appropriate setting where the honoring of a woman's life passages and experiences beckons a liturgical response. … Although traditional liturgy acknowledges little of these aspects of women's lives, many women have taken up the task of creating and writing such liturgies for themselves or others. The Women's Liturgy Project has begun collecting worship resources written by women for women in order to create a resource that is accessible to all. There is already a working section on the Women's Ministries website that contains worship resources that are currently available to be downloaded and used by all. (emphasis added)
This was followed by a link to the page with the "Women's Eucharist" listed as the second of nine resources. The "Women's Worship Resources" (not "Dialogue Resources") page of the Office of Women's Ministries has toned down its description of the rites, but still urges readers to "use them for … gathering communities of worship."
David Roseberry, rector of Christ Church in Plano, Texas, one of the country's largest Episcopal churches, said he got much the same story when he phoned Office of Women's Ministries director Margaret Rose yesterday. In an e-mail to theologian Kendall Harmon, he recounts:
Her statement was this: "It is my personal theology that the clarity of who we are as Episcopalians is often enhanced by our engagement with things that are Other … and this is clearly Other."
I told her that the liturgy was non-Christian, non-biblical and did not represent her hopes for spreading the love of Jesus. … I told her that anything that promotes the earth as Mother is Pagan and non-Christian and non-biblical. She honestly seemed surprised by the statement … as surprised as she appears to be over the flurry of interest in the web page.
She also mentioned that the Windsor Report was out and that it encouraged this kind of dialogue and conversation, recognizing that we live in a pluralistic society. I asked her if she was authorized to open up a dialogue with a Pagan religion as a function of the ecumenical office of the Episcopal Church. She said that there were many staff people (herself among them) that represent the Episcopal Church in all kinds of dialogues with the National Council of Churches.
I asked her if her office would disavow the liturgy and disassociate themselves from it. She felt that the liturgy itself was a helpful tool in helping us to understand people of other faiths. She might, she said, put up a Muslim liturgy to engender the kind of debate and discussion that we are having about the Druid liturgy … .
That "other faiths" comment is important, because a key question—if not the key question—is how the Episcopal Church leadership (Rose included) views this liturgy and the church's relationship to it. Is it of a different faith? By promoting it, has the Episcopal Church itself become a non-Christian faith? Rose doesn't seem clear about whether this liturgy is ecumenical (of the church) or of "another faith." Perhaps she's confused because the ceremony directly references the Old Testament. But is offering sacrifices to ancient Canaanite idols antithetical to Christianity or not?
Scripture seems awfully clear on this point. "What pagans sacrifice they offer to demons and not to God," Paul told the church at Corinth. "I do not want you to be participants with demons. You cannot drink the cup of the Lord and the cup of demons. You cannot partake of the table of the Lord and the table of demons. Shall we provoke the Lord to jealousy? Are we stronger than he?"
The Office of Women's Ministries' response? "Well, it depends on the copyright."
Lord have mercy. Christ have mercy. (Prayers and discussion here and here.)
By the way …
By the way …
Bill Melnyk, the Episcopal priest who goes by the name OakWyse when he's a "Druid" or "Wiccan" priest, is apparently concerned that news about his activities has leaked out. A frantic message appeared on the Druidry.org message board today (registration is now required, but the message may no longer be there). No proof that Melnyk is actually the author, but here it is:
My Dear Friends—
Raven [apparently Glyn Lorraine Ruppe Melnyk, the Episcopal rector and author of the "Women's Eucharist"] and I have come under vicious attack from Anglican fundamentalists re our connection to druidry. Hour by hour the attacks are spreading on fundamentalist BLOGs across the country.
For our protection, we must end all internet connection as soon as possible.
I ask Kernos to leave this one notice up for a day or two, but then to do a universal delete of all references to Druis. Please delete my membership. I cannot stress how serious this is. If you respond, please do not use my name in your response.
I will not be posting again.
You can see a summary of the issue at www.christianitytoday.com
Kernos - the polls will take care of themselves—please note the winners when they are over.
Peace to all. Pray for us.
Druis
Pray for them, indeed.
Anglican's African leaders respond to Windsor Report
Anglican's African leaders respond to Windsor Report
Thank God for the African Anglican bishops. (Really. Right now. Thank him.) Peter Akinola, chairman of the Council of Anglican Provinces of Africa, has been saying that the Episcopal Church USA is "embroiled in a new religion which we cannot associate ourselves with." He has chosen a cup and a table.
Today, Akinola and the leaders of the other African Anglican provinces issued a statement of "preliminary reflections" on the Windsor Report—the controversial set of contemplations and recommendations on maintaining Anglican unity in the face of diametrically opposing theologies.
The primates are conciliatory toward the report, saying that it "offers a way forward that has the potential of being marked with God's grace." (Discussion of the statement is going strong here.)
But the primates are not keen on the whole thing, rejecting its criticism of African leaders who lead American parishes:
The Windsor Report acknowledges the great pain that has been inflicted upon faithful communities that have resisted doctrinal innovations within Episcopal Church USA and the Anglican Church of Canada. However, we reject the moral equivalence drawn between those who have initiated the crisis and those of us in the Global South who have responded to cries for help from beleaguered friends. To call on us to "express regret" and reassert our commitment to the Communion is offensive in light of our earlier statements. If the Episcopal Church USA had not willfully "torn the fabric of our communion at its deepest level" our actions would not have been necessary.
Much has been made of the report's call to "express regret for the consequences" of ordaining a gay bishop and creating a rite for same-sex unions. But the African primates find the important r-word in the report, too:
We call on the Episcopal Church USA and the Anglican Church of Canada to take seriously the need for "repentance, forgiveness and reconciliation enjoined on us by Christ" (Windsor Report [134]) and move beyond informal expressions of regret for the effect of their actions to a genuine change of heart and mind. Failure to do so would indicate that they have chosen to "walk alone" and follow another religion.
Expect to hear more of this in the months ahead as all of the Anglican primates prepare to meet in February in Northern Ireland. We're no longer talking about whether the Episcopal Church is truly Anglican. We're talking about whether it is Christian. It is time to choose a cup.
A final note
The brazen defiance of God that has come to light in the past few days should bring all Christians to their knees. One simply cannot be shocked that ordained priests can sacrifice to deities specifically condemned in Scripture without wondering what idols literal and figurative we're worshiping in our own lives. This is a time for repentance and to plead for deliverance from evil. The last thing is it time for is spiritual pride.
The first is this sentence:
We are no more promoting pagan rites and deities than you are promoting links to websites like Beliefnet.com (see

Christianity Today

article entitled "meetingGod@Beliefnet.com" by Lauren F. Winner on November 16, 2001) which makes references to Earth-based religions.
Our response is that our website doesn't host anything supporting idolatry. We've covered paganism, neopaganism, and Wicca many times—including one article by Winner. And when Beliefnet runs a good article, we link to it. But being able to click on a CT link, then a link in another site, then another link, and get something pro-pagan is different from posting a liturgy on one's website, then issuing a press release promoting it "to be downloaded and used by all."
Furthermore, we've never seen anything at Beliefnet urging people to offer raisin-cakes to the Queen of Heaven. We're not talking about some "earth-based religion" here. We're talking about specific pagan offerings and deities referred to in the Old Testament. That the Office of Women's Ministries still can't see this is amazing.
The other difference between the letter and the press release is a new penultimate paragraph. It says:
The leaders of the Episcopal Church are not calling for people to, "Defy God. Worship pagan deities," as Mr. Olsen so boldly and wrongly accuses. We would like to remind Mr. Olsen of James 4:11-12, "Friends, you must never speak ill of one another. He who speaks ill of a brother or passes judgment on him speaks ill of the law and judges the law. But if you judge the law, you are not keeping it but sitting in judgment upon it. There is only one lawgiver and judge: he who is able to save life or destroy it. So who are you to judge your neighbor?"
There's much Weblog would like to say, but perhaps it's best to reply to Scripture with Scripture.
Your boasting is not good. Do you not know that a little leaven leavens the whole lump? Cleanse out the old leaven that you may be a new lump, as you really are unleavened. For Christ, our Passover lamb, has been sacrificed. Let us therefore celebrate the festival, not with the old leaven, the leaven of malice and evil, but with the unleavened bread of sincerity and truth.
I wrote to you in my letter not to associate with sexually immoral people—not at all meaning the sexually immoral of this world, or the greedy and swindlers, or idolaters, since then you would need to go out of the world. But now I am writing to you not to associate with anyone who bears the name of brother if he is guilty of sexual immorality or greed, or is an idolater, reviler, drunkard, or swindler--not even to eat with such a one. For what have I to do with judging outsiders? Is it not those inside the church whom you are to judge? God judges those outside. "Purge the evil person from among you."
Related Elsewhere:
Suggest links and stories by sending e-mail to weblog@christianitytoday.com
Check out Books & Culture's weekly weblog, Content & Context.
See our past Weblog updates:
October 27 | 26 | 25
October 22 | 21b | 21a | 18b | 18a
October 15 | 13 | 12 | 11
October 8 | 7 | 6 | 5 | 4
October 1 | September 30 | 29 | 28 | 27
September 24 | 23 | 22 | 21 | 20
September 17 | 16 | 15 | 13
September 10 | 9 | 8 | 7
Weblog
Launched in 1999, Christianity Today's Weblog was not just one of the first religion-oriented weblogs, but one of the first published by a media organization. (Hence its rather bland title.) Mostly compiled by then-online editor Ted Olsen, Weblog rounded up religion news and opinion pieces from publications around the world. As Christianity Today's website grew, it launched other blogs. Olsen took on management responsibilities, and the Weblog feature as such was mothballed. But CT's efforts to round up important news and opinion from around the web continues, especially on our Gleanings feature.
Ted Olsen is Christianity Today's executive editor. He wrote the magazine's Weblog—a collection of news and opinion articles from mainstream news sources around the world—from 1999 to 2006. In 2004, the magazine launched Weblog in Print, which looks for unexpected connections and trends in articles appearing in the mainstream press. The column was later renamed "Tidings" and ran until 2007.
Previous Weblog Columns: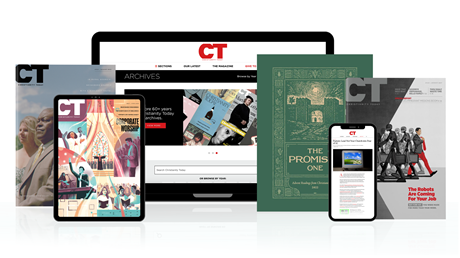 Annual & Monthly subscriptions available.
Print & Digital Issues of CT magazine
Complete access to every article on ChristianityToday.com
Unlimited access to 65+ years of CT's online archives
Member-only special issues
Subscribe
Episcopal Women's Ministries Responds to CT as Africans Respond to Windsor Report
Episcopal Women's Ministries Responds to CT as ...