Christians are fighting attempts by Buddhist nationalists to stem the growth of Christianity. A political party for Buddhist monks, Jathika Hela Urumaya (JHU), introduced the "Prohibition of Forcible Conversions of Religions Bill" in Parliament on July 21. The bill bans religious conversions obtained by force or fraud. Christians oppose unethical conversions but worry opponents would use the bill to target their work. Sources say the court is expected to release its ruling on Aug. 12.
"A lot of prayer is going on," a senior church leader told CT. "The proposed law is very strong. Christians will have a very difficult time."
Christians constitute about 8 percent of Sri Lanka's 19.9 million people. The constitution recognizes Buddhism—which claims 70 percent of the people—as the island's main religion.
The Ministry of Buddhist Affairs is expected to introduce an even stronger bill, the "Act of Safeguarding Religious Freedom." The draft says, "No person shall convert or attempt to convert or aid or abet acts of conversion of another to a different religion."
Both bills provide for heavy fines and imprisonment for violators. The National Christian Evangelical Alliance of Sri Lanka (NCEASL) is challenging the first bill in the national supreme court.
Christians long have feared the introduction of anti-conversion laws. They see the entry in April of Buddhist monks into Parliament as a sign of growing intolerance of religious minorities. Evangelical Christianity is growing by more than 11 percent a year, according to Operation World. Catholic groups are growing about 1 percent annually.
In response to the growth, Christians have reported more than 50 violent attacks in the last six months. Radicals forced 146 Christian places of worship to close between December 2003 and March 2004.
Uduwe Dhammaloka Thera, general secretary of the JHU, defended the bill. "They [Christians] are converting Buddhists; we have proof of that. Even many Catholics are with us and support the law."
The Catholic Bishops' Conference of Sri Lanka, however, says it is against unethical conversions, opposes legislation to prohibit or restrict conversions, and supports "freedom of conscience for all."
Christians foresee challenging times but say they expect a stronger church to emerge. Godfrey Yogarajah of the NCEASL said, "We will be committed to our mandate while showing sensitivity to the culture. We will be very much faithful to the call of the gospel."
Article continues below
Related Elsewhere:
Other news stories on the conversion bill include:
SC postpones determination of Bill for Monday—Daily News, Sri Lanka (Aug. 7, 2004)
Fears of religious suppression unfounded - Buddhist organizations | Fears that the proposed anti-conversion legislation will pave the way for the suppression of minority are completely unfounded, a group of Buddhist organisations said recently.—Daily News, Sri Lanka (Aug 6, 2004)
Prohibition of Forcible Conversion of Religion Bill | SC to determine constitutionality of Bill today—Daily News, Sri Lanka (Aug 5, 2004)
SC to determine constitutionality of Anti-Conversion Bill on August 6 | The Supreme Court will determine the constitutionality of the Bill titled "Prohibition of Forcible Conversion of Religion," on August 6.—Daily News, Sri Lanka (Aug 2, 2004)
Thirteen petitions against Anti-conversion Bill challengers | Thirteen petitions including the six by Hela Urumaya monk-MPs were filed by yesterday in the Supreme Court seeking to intervene the petitions challenging the Prohibition of Forcible Conversion of Religion an Anti-conversion Bill.—Daily News, Sri Lanka (Jul 30, 2004)
NCC calls for creation of inter-religious mechanism to facilitate religious harmony | The National Christian Council has once again called for the creation of an inter-religious mechanism to deal with issues of contention and to facilitate religious harmony and goodwill in the country.—Daily News, Sri Lanka (Jul 28, 2004)
Twenty-one petitions challenging prohibition of forcible conversions bill, filed | A total of 21 petitions challenging the constitutionality of the Prohibition of Forcible Conversion of Religion an Anti-Conversion Bill filed before the Supreme Court yesterday which was the last day for challenging the Bill.—Daily News, Sri Lanka (Jul 27, 2004)
Special Catholic media programs on Anti-Conversion Bill | A special Catholic half hour program will be broadcast on the English service of the SLBC on July 25 at 8 p.m. on the proposed Anti-Concession Bill.—Daily News, Sri Lanka (Jul 22, 2004)
Diocese concerned over Anti Conversion Bill | The Presbyterium of the Diocese of Chilaw, presided over by Bishop of Chilaw, Rt.Rev Frank Marcus Fernando, expresses its serious concern over the Bill entitled "Prohibition of Forcible Religious Conversion Bill" presented by the Jathika Hela Urumaya (JHU) as a private members' bill, and a draft Act presented to the Cabinet by Minister, Rathnasiri Wickramanayake in June 2004 entitled 'Act for Protection of Religious Freedom' as a Government Bill.—Daily News, Sri Lanka (Jul 14, 2004)
Article continues below
'Anti conversion legislation equivalent to PTA' | Secretary General of the Liberal Party Kamal Nissanka in a press release states that the anti conversion legislation is an equivalent to the Prevention of Terrorism Act and urges the parliamentarians not to support the bill.—Daily News, Sri Lanka (Jul 13, 2004)
Mahanayake tells Ranil: Govt. and opposition must unite | The Most Ven. Tibbotuwawe Sri Siddhartha Sumangala Mahanayake Thera of the Malwatte Chapter told Opposition Leader Ranil Wickremesinghe yesterday that the government and the Opposition should set aside all political differences and arrive at a common understanding to resolve the national question that had bedeviled the country for over two decades.—Daily News, Sri Lanka (Jul 8, 2004)
More Christianity Today articles on religious tensions in Sri Lanka include:
Anti-Conversion Conspiracy | Buddhist nationalists in Sri Lanka step up violence against churches. (April 26, 2004)
Renewed Attacks on Christians | Christians continue to suffer in Sri Lanka. (Nov. 19, 2003)
The Joy of Suffering in Sri Lanka | How Christians thrive in the land where ethnic and religious strife is always just around the corner. (Sept. 29, 2003)
A Man of Peace | While other monks march against peace, this fierce-looking cleric seeks accord. (Sept. 29, 2003)
Being the Leaven | Why only a handful of Sri Lankan Christians wage peace via the difficult political process. (Sept. 29, 2003)
Indigenous and Evangelistic | Isolated from the infusion of foreign missionaries by Sri Lankan laws, the island's church knows that to survive, it must focus on evangelism. (Sept. 29, 2003)
Violence Erupts in Sri Lanka as Churches Look to New PM to Bring Peace | The island nation reels from an ethnic conflict which has claimed more than 64,000 lives since 1983 (Dec. 19, 2001)
The Hard-Won Lessons of Terror and Persecution | Overseas Christians reflect on painful experiences (Sept. 26, 2001)
Christians and Buddhists Build Bridges for Peace in Sri Lanka | Religious officials secret meeting with Tamil Tigers draws criticism (Mar. 7, 2001)
Sri Lanka to Investigate Attack on Evangelical Church | Buddhist fervor for tradition and anger at Christian evangelism boils over in church assault (Feb. 28, 2001)
Christians Mediate for Peace | Sri Lanka churches try to reconcile Sinhalese Buddhists and Hindu Tamils. (Apr. 10, 2001)
Sri Lanka's Churches Pray for Peace as War Rages Around Jaffna | Country's Protestants to unify in prayer June 16. (June 5, 2000)
Article continues below
In Sri Lanka's No Man's Land, Churches Provide Some Hope for Refugees | Christians mobilize to help nearly a million left homeless by Tamil conflict (Apr. 18, 2000)
Sri Lanka's People Are Not Divided, Just the Politicians, says Archbishop | Churches call for peaceful end to Tamil fighting (Feb. 28, 2000)
Dispatch From Sri Lanka: Bombs Away | How Western military actions affect the work of the church (June 14, 1999)
Sri Lanka: A Light in Buddha's Shadow | "With no end in sight to the war, we persevere in seeking to be faithful to God." (Nov. 16, 1998)
Dalai Lama, Evangelical Leader Talk | The discussion focused on the persecution of Christians in Sri Lanka by Buddhists (Aug. 10, 1998)
Assemblies of God Church Attacked | There has been a 230 percent increase in anti-Christian incidents on the island nation south of India in the past year (Feb. 9, 1998)
Have something to add about this? See something we missed? Share your feedback here.
Our digital archives are a work in progress. Let us know if corrections need to be made.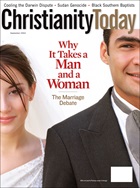 This article is from the September 2004 issue.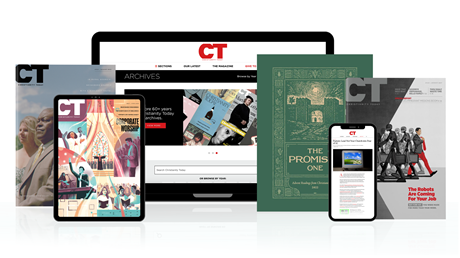 Subscribe to Christianity Today and get access to this article plus 65+ years of archives.
Home delivery of CT magazine
Complete access to articles on ChristianityToday.com
Over 120 years of magazine archives plus full access to all of CT's online archives
Subscribe Now
Cracking Down on Conversions
Cracking Down on Conversions