true
You've probably seen several movies about parents trying to save their kidnapped, dying, or otherwise endangered children. In Joseph Ruben's film The Forgotten, poor Telly Paretta faces a dilemma of a different order. Her son is already dead—killed in a plane crash. But now, as she grieves, she's suddenly put in the position of having to prove that her son ever existed in the first place.
Telly, played by frequent Oscar-nominee Julianne Moore (Far From Heaven, The Hours, Vanya on 42nd Street), is understandably dismayed when her psychiatrist (Gary Sinise) tells her that her memories of her son are merely delusions. When she rushes to gather photographs and other evidence, she discovers that it has all vanished. The father of another mysteriously disappeared crash victim (Dominic West) joins her desperate search for proof of their kids and their sanity.
As is their wont, religious film critics are relatively concerned about moviegoer sanity, and so they're sending out some cautions about The Forgotten. Apparently, children aren't the only thing hard to find in the film—plausibility and a satisfying solution are missing as well.
"This isn't a terribly suspenseful or compelling movie," writes Russ Breimeier (Christianity Today Movies), "and that's sure to surprise anyone planning to see it. There are at least some very well-staged visual surprises (not scares). Too bad most of them were shown in commercials and the trailer. For the most part, we've seen this movie done better in other films and TV programs." As an alternative, he recommends mystery/thriller fans rent 1998's Dark City.
"There are at least three moments that may make you jump out of your seat," says Harry Forbes (Catholic News Service), "and director Ruben maintains a taut mood, even as you see loopholes in a plot that doesn't entirely avoid a feeling of contrivance."
Bob Smithouser (Plugged In) lists off the pros and cons: "Riveting concept. Creepy atmosphere. Other adjectives worth tossing into the mix are 'mediocre,' 'illogical' and 'occasionally silly.' It also uses too much profanity, which is its most egregious sin."
Michael Elliott (Movie Parables) gives the film higher praise, saying that the filmmakers "have made nine-tenths of a riveting movie. There are more than a couple of 'gotcha' scenes and the mystery surrounding the film's events draws us into the story and keeps us interested in knowing more … right up to the point where the mystery is revealed … a disappointing letdown after such a strong setup."
David Bruce (Hollywood Jesus) zeroes in on the significance of the story's theme: "There is nothing more important in life than relationship. A person who is driven to establish appropriate and meaningful relationships with those that they love can be a force of unimaginable drive. Basically, in this film, Telly has to walk over all the power of the enemy to re-establish her most important relationship."
But on the same page, Kevin Miller says The Forgotten "ultimately [fails] due to half-baked story development and endings that are so conventional you just wish the screenwriters had thought to give M. Night Shyamalan a call."
Bret Willis (Christian Spotlight) says, "Some commentators are calling it derivative fluff. I'm withholding judgment." He goes on to say, "If you like SciFi, and can handle edgy PG-13 material, suspense, heartbreak and some far-out twists, you'll probably like it. For non-SciFi people, it will probably seem like a waste of a talented cast."
Hollywood Worldviews author Brian Godawa (Godawa.com) blogs, "It's all very creepy with some very surprising moments. Kept me on the edge of my seat. But regretfully, the film is a set up without a pay off. It has the potential to be a very profound inquiry into the nature of memories and human value, but it falls flat for me."
Amongst mainstream critics, you'll find more disapproval than approval, and a whole lot of wordplay in reference to how quickly the film will be "forgotten."
When average joe Shaun (Simon Pegg) and his buddy Ed (Nick Frost) set out to rescue Shaun's girlfriend Liz (Kate Ashfield) and his mother (Penelope Wilton) from the zombies invading North London, they end up trying to survive a wild and bloody weekend … quite a change from their usual TV-watching, beer-drinking routine.
The U.K. blockbuster Shaun of the Dead, directed by Edgar Wright, is being called a "rom zom com," short for "romantic zombie comedy." And mainstream critics are celebrating it as one of the funniest flicks of the year. Perhaps even more surprising, religious press critics, who normally dismiss zombie movies as crass and disposable, are finding a few flattering words for Shaun as well.
"Part gorefest, part laughfest, part apocalyptic love story, the buddy-horror hybrid … is one of the most subversively funny films to come down the pike in awhile," says David DiCerto (Catholic News Service). "It is also, without question, one of the most gratuitously violent. Shaun … also offers some biting social satire about modern society, suggesting that the rat race and our catatonic fixation with TV and video games has set us on the path to zombiefication more surely—if not as swiftly—than any extraterrestrial epidemic."
Jonathan Rodriguez (Christian Spotlight) warns parents about the gore, and concludes, "As a horror movie buff and one who can appreciate British humor, I thought that Shaun … was a very funny film. It shows us that while the dead are obviously zombies, some of us among the living who lead dull, monotonous lives may very well be also."
Christopher Lyon (Plugged In) calls it "a funny, disgusting movie that hides its sensitive beating heart under gallons of zombie makeup. Though not as meanspirited as the Dawn of the Dead remake, it's equally gross, violent and foul-mouthed. Shaun is still meant mostly to provoke laughter, make people jump in their seats and gross everybody out with zombie gore. But those messages in the margins aren't bad ones for the movie's target audience—hordes of restless, video game-addicted, entertainment-engorged 18- to 35-year-old men who regularly consume violent content."
Michael Elliott (Movie Parables) says, "For me, the preponderance of zombie gore that filled the screen overshadowed the humor that was to have been spawned from it. And it was tough for me to appreciate any of the romantic elements of the film for all the blood that was being spilled."
Frederica Mathewes-Green (formerly a contributor to Christianity Today and Our Sunday Visitor, now with The National Review) calls it a "simply clever" film that is "kind of dress rehearsal, like making a fire-escape plan, to test out what we'd do if something unusual happened—in this case, something that appears to be truly supernatural. We're reassured that, after a bit of excitement, we'd go right back to being comfortable consumers, watching the telly and going to the pub in the evening. That's pretty much what Jesus predicted: 'If they do not hear Moses and the prophets, neither will they be convinced if some one should rise from the dead' (Luke 16:31)."
Mainstream critics are eating it up.
First Daughter

, umpteenth formula chick flick?
I've lost count. How many teen-princess-meets-her-Prince-Charming movies have we seen this year so far?
This week's variation involves a "first daughter" instead of a literal princess. Katie Holmes, who turned in a memorable performance in last year's delightful Pieces of April, stars as Samantha, the daughter of a U.S. President (Michael Keaton) in the formulaic comedy First Daughter, directed by Forrest Whitaker (who played the soft-hearted villain in Panic Room).
You can probably guess a good deal of the storyline. Samantha's feeling a bit confined by the pressures of being the commander-in-chief's daughter. She wants to see what it's like to be a normal college student, free from the trappings of fame, politics, and secret service agents. So she sets out on adventures with her roommate and finds herself falling in love with her dormitory's resident advisor (Marc Blucas). Is there any hope for her to have a normal courtship?
Mary Lasse (Christianity Today Movies) says, "From the failed attempt at romantic comedy … to the failed attempt at drama, this movie's definitely not worth the two hours it takes to make sense of its genre-jumping and intelligence-insulting plotline. Perhaps the only redeeming factor in this film is that both the President and the First Lady are devoted to their daughter."
Sherri McMurray (Christian Spotlight) says, "It is a fairytale romance with comical situations, although not morally redeeming because of the portrayal of college life. It is unfortunate that what started out as a cute fairy tale does not end up happily ever after."
But Marcus Yoars (Plugged In) is impressed. "Sam's journey toward self-discovery isn't without moral detours. And the story that surrounds her is predictable and sometimes simplistic to a fault—especially its quick and neatly wrapped resolution. But it's remarkable how much innocence Sam preserves while clawing for independence. Her romance with James is refreshing and light—not sexual in any way. And her underlying respect for her parents is a surprising treat in an era of revenge-oriented, find-yourself-at-all-costs teen romps."
Annabelle Robertson (Crosswalk) is astonished by the film's affirmation of honorable priorities. "First Daughter does something with the romantic genre that I'm not sure I've ever seen: it tells us that family and honor are way more important than our feelings. Yep—you heard me right; I'm in shock myself. In the end, the collective good—which is the very thing Samantha's parents need and want for her—is espoused as not only the right thing, but also that which will bring Samantha and James the most happiness. For once in a Hollywood film, we see people listening to those parents and doing what is right—not whatever they want then trying to make it right. Is there some kind of award we can hand out for this?"
David DiCerto (Catholic News Service) is unmoved. "Holmes is appealing enough, but … this lightweight fantasy contains some behavior inappropriate for—and unwelcome in—a PG-rated movie, including a lewd rendition of 'Hail to the Chief' by a quartet of fraternity pledges, a joke about birth control and a scene where a miniskirted Samantha dances drunkenly atop a bar."
Mainstream critics don't seem to notice much to make it worth a recommendation.
Frank Darabont's film The Shawshank Redemption, based on a Stephen King short story, was not exactly a box office smash when it was released, but its popularity has grown steadily since its arrival as a video release. It has, in fact, reached and maintained the #2 position at the Internet Movie Database's Top 100, a list voted on by visitors to the site, for a good while.
This week, as the film returns to some theatre screens to mark its tenth anniversary and the arrival of a special edition DVD, Ron Reed (Christianity Today Movies) takes another look at the its themes and significance. "I love the film's easy pace and the welcoming, let-me-tell-you-a-story voice of its narrator—a star-making performance by Morgan Freeman. I love the agonizing tension between how bad the place is and how good the things that happen there can be. It's dark as hell inside Shawshank prison, but I love watching … Andy Dufresne kick at it—quietly, relentlessly, for decades—until it bleeds daylight."
He concludes by assessing the strengths of Stephen King's work: "Many of King's stories can indeed leave us sad and scared. Maybe that's why he works the divine into so many of his tales—like Shawshank—which are filled with hope in the face of horror. King shows a sense that evil is real and must be resisted—and that it is mostly overcome not through magic or violence, but in the heart. The real battle against evil and despair is fought in the hard everyday decisions of ordinary, faithful people who choose not to give in—much like the men in Shawshank."
More on
Sky Captain, Silver City, Mean Creek

, and

Star Wars

DVDs

Last week, Peter T. Chattaway did a fine job filling in for me during my vacation. Thanks a million, Peter!

Chattaway's coverage included reviews of several new releases, and some of those films were reviewed again this week by other Christian media outlets:

Sky Captain and the World of Tomorrow:Andrew Coffin (World) writes, "The strikingly unique Sky Captain … is likely to suffer from muddled audience expectations. Go to the film expecting nothing more than an incredibly elaborate, delightfully retro cartoon, and Sky Captain will offer some real pleasures. Demand more, and you will almost certainly be disappointed."

Silver City: David DiCerto (Catholic News Service) writes, "Though well acted, the film, written and directed by John Sayles, tries to keep too many plates spinning—including subplots involving corporate corruption, government collusion with big business, environmentalism and illegal immigration—resulting in a somewhat jumbled narrative which never really decides what kind of a movie it wants to be: a sharp political satire or a neo-noir murder mystery a la Chinatown."

Mean Creek: My interview with Jacob Aaron Estes, the director of one of this year's most memorable and powerful films, is now available in the latest of issue of Paste Magazine. The article explores the way that the young characters respond to their lack of good role models and the absence of any relationship with God. Estes talks about why this R-rated film might be worthwhile for parents to see with their teenagers.

Star Wars Trilogy DVDs: Steven D. Greydanus (Decent Films) celebrates the arrival of the original Star Wars trilogy (well, at least some of what you're seeing is "original) on DVD, examining the way George Lucas's saga serves as "the quintessential American mythology."

Matt Wiggins (Relevant) writes, "Whatever problems one might have with the alterations are heavily outweighed by the quality of the DVDs and the extra features. Outside of theaters, the films have never looked or sounded better. The extra features are a huge asset to the set and significantly increase its value. In the final assessment, The Star Wars Trilogy DVDs are definitely worth purchasing and will entertain and enlighten fans both old and new."

Next week:I ♥ Huckabees, Ladder 49, Shark Tale, and more.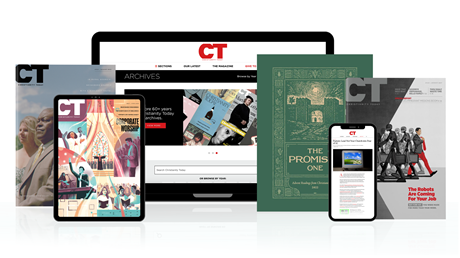 Subscribe to Christianity Today and get access to this article plus 65+ years of archives.
Home delivery of CT magazine
Complete access to articles on ChristianityToday.com
Over 120 years of magazine archives plus full access to all of CT's online archives
Subscribe Now
A Mother Tries to Prove that Her Son Exists
A Mother Tries to Prove that Her Son Exists