Weblog returns
From Thursday to Sunday, full-time religion reporters from newspapers and other mainstream media outlets gathered in Washington D.C. for their annual conference. You might have thought, then, that perhaps religion news articles would have slackened a bit over the weekend. Wrong! If anything, the last few days have been busier than ever with religion news. Not huge religion news, necessarily, but just a lot of it.
Kerry cranks up the God talk
That didn't take long. The Kerry camp officially brought on Clinton White House press secretary Mike McCurry—who has been taken Amy Sullivan's seat as the most prominent voice on Democrats and religion—and now the Democratic candidate can't stop talking about faith.
Thursday's speech to the National Baptist Convention was one of the most religious speeches Kerry has ever given. He spoke of "Amazing Grace" (saying it was his father's favorite hymn) and John Newton's decision to "give his life to God." He said that the importance of Brown v. Board of Education was that it was when the nation "finally acknowledged God's truth that we are each made in His image and likeness—that separate but equal is not just unequal—but immoral." And, as many papers pointed out, he said that Bush is one of the bad guys in Jesus' parable of the Good Samaritan. "For four years, George W. Bush may have talked about compassion, but he's walked right by. He's seen people in need, but he's crossed over to the other side of the street." There were loads of other biblical citations as well: "The Bible tells us that we must sometimes see through a glass darkly. But on every issue, from Iraq to health care, from jobs to education to America's role in the world, the choice is clear." Here's one of the most Scripture-laden parts of his speech (or, for that matter, in any speech given by any candidate in this election):
Your dedication and your service live out the teaching of the Scripture: "It is not enough, my brother, to say you have faith, when there are no deeds … Faith without works is dead." As you know, my friends, we are taught to walk by faith not by sight.
And when we look around us—when we look around neighborhoods and towns and cities all across this country, we see faith to be lived out, and so many deeds to be done.
As it's said, faith is the substance of things hoped for, evidence of things not seen. [Hebrews 11:1] And we all know, you can't separate faith from substance.
We see jobs to be created. We see families to house. We see violence to stop. We see children to teach—and children to care for. We see too many people without health care and too many people of color suffering and dying from diseases like AIDS and cancer and diabetes.
We look at what is happening in America today and forget to ask: Where are the deeds? Where is the substance in our faith?
But Kerry has used religious language in speaking to black denominations before. What's really notable this week is his use of Scripture in the Democrats' weekly radio address, which aired September 11:
"In the days that followed, we saw an outpouring of love as people across America and around the world asked themselves, 'What can I do to help?' How can I, as the Scripture says, help repair the breach? Isaiah 58:12. … I know that for those who lost loved ones that day, the past three years have been almost unbearable. Their courage and faith have been tested in a way they never imagined. But day after day, they have held on. And day after day, they and we have found hope and comfort and strength by the quiet grace of God. We are one America in our prayers for those who were taken from us on September 11th and for their families."
By contrast, the only religious remark from Bush in his radio address was this: "And with the help of God's grace, and with support from one another, the families of terror victims have shown a strength that survives all hurt."
Other Communion wars
The battle over the bread is bigger than Kerry's "wafer watch," says The Washington Post's Bill Broadway. And the celiac girl's quest for a wheat-free host is just a blip. The biggest Communion controversy today is an ecumenical one — or rather, an anti-ecumenical one. "For those with a goal of unity, success could be far in the future, with Communion practices becoming more diverse as congregations search for new ways to accommodate the lifestyles and sensibilities of their members," Broadway wrote in Saturday's paper.
Monsignor James P. Moroney, executive director of office of liturgy for the U.S. Conference of Catholic Bishops, "said reuniting disparate branches of Christianity would be impossible without a common doctrine of Communion," Broadway paraphrases. "He said he understands that the growing practice among Protestants to invite all professing Christians to the Communion table is an effort to break down theological barriers. But a common liturgy of Communion must be the result of dialogue and understanding, not a tool for unification, he said."
For orthodox Catholics, then, the biggest story regarding Kerry and Communion may not have anything to do with his stance on abortion—it may be his decision to take Communion in Protestant churches.
Among important Eucharistic trends noted by the Post: Mainline churches are moving from celebrating Communion monthly to weekly. Megachurches, meanwhile, are doing away with Sunday morning Communion completely ("It's a matter of practicality," says an Assembles of God spokeswoman, but one thinks it may also have to do with "seeker sensitive" Sunday services.)
But here's one battle the Post didn't note: Croatia has just passed a zero-tolerance law for drinking and driving, reducing the 0.05% limit for blood-alcohol content to absolute zero. Parishioners to take a sip of Communion wine probably won't be affected, but their priests certainly will. "During holy mass we need to drink wine as a symbol of the blood of Christ," one told the Jutarnji List newspaper, according to the BBC. "Some priests have many services a day and these are often in different parishes, so they need to use a car to get around. If they can't drive themselves, someone else has to do it." So 2,000 of Croatia's priests are proposing a $12 million annual budget for chauffeurs.
One of Haiti's most prominent Christians murdered
Jean Moleste Lovinsky Bertomieux (Jean Molès Lovensky Berthomieux), an evangelical Protestant minister and host of Haiti's most popular radio program, was murdered on his way to work Monday. The driver for "Pastor Moles" was arrested but not charged, and the gunmen escaped.
More articles
Patriarch of Alexandria | Religion & politics | World politics | Sudan | Northern Ireland | Iraq | India | China | Religious freedom | Zimbabwe | Witchcraft in Africa | Crime | Abuse | Paul Crouch | Sexual ethics | Marriage & divorce | Homosexuality | Anglican Communion | Catholicism | Church buildings | Mormonism | Other religions | Church life | Missions & ministry | Education | Church & state | War & religion | September 11 | Life ethics | Abortion | People | History | Books | Music | Film | Television | "The Question of God" | Spirituality | More articles
Patriarch of Alexandria dies in helicopter crash:
Patriarch dies in Greece helicopter crash | The Patriarch of Alexandria, the spiritual leader of all Orthodox Christians in Africa, died Saturday when a helicopter taking him and fellow churchmen to a monastic enclave in northern Greece crashed into the sea, government and church officials said (Associated Press)


Religion & politics:
Holy Democrats! | The Catholic presidential questionnaire is dead — thank God. (Austin Ruse, National Review Online)


Religion and politics in America | The first bumper sticker I saw when I arrived in the United States said "Got Jesus?" So did the second one. And the third (BBC)


Religious right:
Legal groups offer churches aid | Two conservative legal groups are offering free advice to church leaders this election season to combat what they say is an effort to squelch churches from speaking out on moral issues and political candidates (

The Washington Times

)


A looming threat in the religious right | In the next four years, a radically altered Supreme Court is inevitable and an emboldened fundamentalist right wing will herald the coming of a theocracy (J.P. Devine ,

Kennebec Journal

, Maine, alt. site)


Activist's battle cry: 'God is not a Republican' | A Denver audience of 700 applauded social activist Jim Wallis Sunday when he criticized Christianity's so-called "religious right" saying, "Our faith has been stolen, and it's time to take it back" (

Rocky Mountain News

, Denver)


Republicans & religion:
Religion & local politics:
Churches & politics:
Keep business of voting out of churches | Citizenship that doesn't involve some sacrifice and some inconvenience from time to time is pretty cheap and shallow citizenship (Bob Baril,

MetroWest Daily News

, Framingham, Mass.)


Conservative city pastors look to sway vote for Bush | Latino Pentecostals, millions nationwide could swing election (

The Morning Call

, Allentown, Pa.)


Religion & world politics:
Sudan:
Protestant charged with Belfast murder:
Iraqi Christians:
Indian Christians:
Vatican criticizes Chinese persecution:
Religious freedom:
Zimbabwe:
Witchcraft in Africa:
Juju takes root in East Africa | The idea of witchcraft influencing soccer match outcomes is becoming rampant, at least in the East African region (

New Vision

, Kampala, Uganda)


Tanzania team admits using witchdoctors | A former secretary-general of Tanzania's Football Federation has claimed that money earmarked for the country's failed World Cup campaign was used to hire witchdoctors (

This Day

, Nigeria)


Healers licensed in South Africa | A bill to regulate South Africa's 200,000 traditional healers has been adopted by parliament (BBC)


Murder:
Crime:
Priest stole $1 million from church:
Abuse:
New abuse claims:
Paul Crouch to stay as TBN chief:
Sexual ethics:
Something you can't do in California … | Having sex with corpses is now officially illegal in California after Gov. Arnold Schwarzenegger signed a bill barring necrophilia, a spokeswoman said on Friday (Reuters)


Pennsylvania child porn-blocking law tossed | No one challenged the state's right to stop the distribution of child porn, but lawyers for the Center for Democracy & Technology and the American Civil Liberties Union had argued that the technology used to filter out those Web sites was clumsy and produced unintended consequences (Associated Press)


A trained eye looks unkindly on illicit lust | How can this man - this "everyman" - be compelled to save his eyes for the bona fide thighs of his missus? (John Elder,

The Age

, Melbourne, Australia)


Marriage & divorce:
Same-sex marriage & divorce:
Marriage amendments:
Ivan threatens 'marriage' vote | The nation's second vote on a state marriage amendment, scheduled for Saturday in Louisiana, could be postponed in parts of the state if Hurricane Ivan comes too close, a state agency spokesman said yesterday (

The Washington Times

)


Debate over marriage initiative veers toward hate speech | With the proposed amendment to define traditional marriage on the Nov. 2 ballot, the perennial petty intrigue of stolen political signs has become something apparently more sinister: harassment and vandalism bordering on hate crimes, according to amendment foes (

The Salt Lake Tribune

)


Referendums hitting gay marriage | Conservatives hope issue will entice voters who will then go with Bush (

Winston-Salem Journal

, N.C.)


Religion & homosexuality:
Anglican Communion commission on gay clergy:
California ECUSA breakup:
Anglican Communion:
'Secret' archbishop short list released | The supposedly secret short list of candidates for the position of Adelaide's Anglican archbishop has been revealed (Australian Broadcasting Corp.)


Anti-war archbishop appointed | A staunch supporter of women's ordination and an opponent of Australia's involvement in Iraq will be the new archbishop of Perth - an appointment that has heightened speculation about the next leader of the Anglican Church in Australia (

The Sydney Morning Herald

)


Also: Perth Anglicans get a new Archbishop (

The West Australian

)


Archbishop of Canterbury Rowan Williams:
Catholicism:
Traditional faith | A new church being built in Walton will turn back the clock for worshippers who object to Vatican II. Diocesan officials distance themselves from it. (

The Kentucky Post

)


Closing Catholic churches:
Church buildings:
Mormon church:
Other religions:
Church bells:
Church clock chimes 'a noise nuisance' | A vicar told that his church bells are keeping his parishioners awake said today he may be forced to silence them or face prosecution (

The Western Mail

, Wales)


Parishioners appeal over bells | The tolling of the bells at a south Wales church is not appealing to some parishioners who have made formal complaints about the noise (BBC)


Church life:
Denominations:
Ministering to pastors:
Battling burnout | The stress of leading a congregation has many pastors seeking help from ministries set up for their well-being (

The Wichita Eagle

, Kan.)


Ministering to ministers | Retired pastor helps peers battle personal problems (

MetroWest Daily News

, Framingham, Mass.)


Missions & ministry:
'See You at the Pole' | National Day of Student Prayer set for Wednesday (

Chillicothe Gazette

, Oh.)


Youngster inspires faithful | Jocelyn Ennis is at center of this year's See You at the Pole promotions (

MetroWest Daily News

, Framingham, Mass.)


Education:
Colleges & universities:
LA county seal:
Religion is a bloody disgrace | The Abrahamic family of faiths is now frighteningly dysfunctional (Tony Bayfield,

The Guardian

, London)


The clash of fundamentalists | The post-September 11 era has unleashed fundamentalists of all stripes who are not only blossoming, but are colliding with each other frequently, sometimes even ferociously, in the process keeping us on the edge (Ehsan Ahrari,

Asia Times

)


When religion is not | It is getting hard to see what fundamentalism has to do with religion (Rick Salutin,

The Globe and Mail

, Toronto, alt. site)


Putting faith on the line | Americans don't hear much in the way of sympathy for the Palestinian people, and they certainly don't expect to hear it from a Southern conservative Christian and a former Hezbollah hostage (Dan Carpenter,

The Indianapolis Star

)


Church-state wall or maze? | Finnish theologian caught in jumble of religious rules (Diane Winston,

Dallas Morning News

)


Terri Schiavo, R.I.P.? | The Florida supreme court has odd notions about caring for the disabled (Walter M. Weber, National Review Online)


Odd coalition unites on human trafficking | There was an unusual sight last week in the gilded elegance of the State Department's main reception room: anti-abortion activists standing shoulder-to-shoulder with abortion rights campaigners in shared commitment (Associated Press)


Bid to reopen Roe case fails | But one judge on panel blasts landmark 1973 abortion ruling (

Houston Chronicle

)


U.S. appeals court tosses Roe v. Wade suit | But a three-judge panel of the 5th U.S. Circuit Court of Appeals (news - web sites) in New Orleans dismissed Norma McCorvey's suit against the Dallas County district attorney, calling it moot because Texas has not had a state abortion law for more than 30 years (Associated Press)


Abortion:
Priest dies in house blaze (

South Florida Sun-Sentinel

)


Rev. Rogers's neighborhood | It's hard to imagine where Bellevue Baptist Church would be without Rev. Adrian Rogers (

The Commercial Appeal

, Memphis, Tenn.)


Gibbs wants to restore old glory | In the background is Gibbs's devout Christianity. Although those who have played under him say he never chooses players strictly based on their faith, he clearly is comfortable with players who practice their religion (

The Washington Post

)


'Dropout' upsets some in gospel industry | Kanye West's "The College Dropout" includes one explicitly Christian rap, "Jesus Walks." But other tracks have lyrics that might offend a congregation (Associated Press)


Madonna allows Quakers onto estate:
PBS on Sigmund Freud and C.S. Lewis:
PBS tackles ultimate TV challenge with 'The Question of God' | It could be the ultimate challenge for a TV show: Debating the topic of God's existence (Associated Press)


The question of God | The popularity of Armand M. Nicholi's course comparing the beliefs of Sigmund Freud with the those of C.S. Lewis has lead to a four-hour documentary on PBS, which airs tomorrow and Sept. 22 (

The Washington Times

)


Related Elsewhere:
Suggest links and stories by sending e-mail to weblog@christianitytoday.com
Check out Books & Culture's weekly weblog, Content & Context.
See our past Weblog updates:
September 13
September 10 | 9 | 8 | 7
September 3 | 2 | 1 | August 31 | 30
August 27 | 26 | 24 | 23
August 20 | 19 | 18 | 17 | 16
August 13 | 12 | 11 | 10 | 9
and more, back to November 1999
Weblog
Launched in 1999, Christianity Today's Weblog was not just one of the first religion-oriented weblogs, but one of the first published by a media organization. (Hence its rather bland title.) Mostly compiled by then-online editor Ted Olsen, Weblog rounded up religion news and opinion pieces from publications around the world. As Christianity Today's website grew, it launched other blogs. Olsen took on management responsibilities, and the Weblog feature as such was mothballed. But CT's efforts to round up important news and opinion from around the web continues, especially on our Gleanings feature.
Ted Olsen is Christianity Today's executive editor. He wrote the magazine's Weblog—a collection of news and opinion articles from mainstream news sources around the world—from 1999 to 2006. In 2004, the magazine launched Weblog in Print, which looks for unexpected connections and trends in articles appearing in the mainstream press. The column was later renamed "Tidings" and ran until 2007.
Previous Weblog Columns: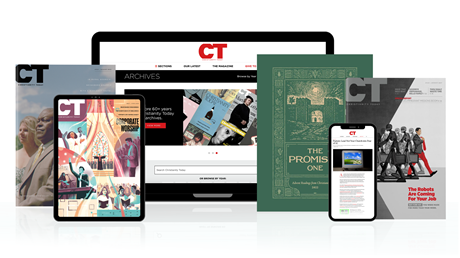 Subscribe to Christianity Today and get access to this article plus 65+ years of archives.
Home delivery of CT magazine
Complete access to articles on ChristianityToday.com
Over 120 years of magazine archives plus full access to all of CT's online archives
Subscribe Now
The Most Religious Kerry Speech Ever
The Most Religious Kerry Speech Ever