Florida Supreme Court says legislature, governor had no right to save Terri Schiavo's life
The Florida Supreme Court today ruled unanimously that the state legislature should not have given Gov. Jeb Bush the power to feed mentally disabled 40-year-old Terri Schiavo against the wishes of husband, who wanted to starve her to death. "Terri's law" violates the separation of powers, the court said.
"It is without question an invasion of the authority of the judicial branch for the Legislature to pass a law that allows the executive branch to interfere with the final judicial determination in a case," Chief Justice Barbara Pariente wrote. "This absolute unfettered discretion to decide whether to issue and then when to lift a stay makes the governor's decision virtually unreviewable."
Pariente said the law must triumph over emotion: "We recognize the tragic circumstances underlying this case make it difficult to put emotions aside and focus solely on the legal issue presented," she wrote. " However, we are a nation of laws and we must govern our decisions by the rule of law and not by our own emotions."
It's unclear what comes next. Gov. Bush may appeal the decision in the federal court system. Schiavo's feeding tube may be removed, and her starvation may begin. Watch TerrisFight.org for more details. We'll round up reaction tomorrow.
TBN says it needs massive reserves for expansion and terrorism insurance
A 1,500-word press release issued yesterday by the Trinity Broadcasting Network's public relations firm calls recent Los Angeles Times articles about the organization "full of inaccuracies, condescension and mischaracterizations."
The press release denies many accusations in the Times series (which now stands at five articles), including assertions that TBN leaders Paul and Jan Crouch live separate lives in separate homes, that Paul Crouch engaged in homosexual activity with an employee, that the network's donors are mainly "lower income, rural Americans," and that the company's jet is used for the Crouches' personal trips. But the bulk of the release focuses on the organization's massive financial reserves.
The Times' William Lobdell characterized the Crouches' finances as "a life of luxury … that most of the ministry's supporters can only dream about." Lobdell said that TBN's assets of $583 million "have prompted questions about why the network continues to plead for contributions."
TBN's press release responds, "Because the nature and demands of TBN's growth create large capital and long-term contract cost demands, extensive cash reserves must be maintained. … TBN also explained to the newspaper that one of the hard-learned lessons for churches and charities nationwide following 9/11 is to create an endowment to ensure sufficient funds to cover whatever catastrophes may arise." (A Timesinfographic, however, shows that TBN's massive surplus didn't start with 9/11.)
"None of this balance or explanation found its way into the article," TBN legal advisor John Casoria said in the press release. "One cannot help but wonder why."
Actually, the Times did report, "Through TBN officials, [the Crouches said] said the ministry keeps raising money so it can avoid going into debt as it pays for TV stations, satellite time, and other ways to spread the Gospel."
Both the Times and TBN quote The Chronicle of Philanthropy in reference to the Crouches' salaries. Lobdell wrote the Crouches have "the highest salaries paid by any of the 12 major religious nonprofits whose finances are tracked by the Chronicle of Philanthropy." TBN responded, "According to the Chronicle of Philanthropy, TBN's executive salary is in the mid-range of compensation among the larger nonprofit corporations in the country. TBN is among the 100 largest nonprofit organizations in America."
They're comparing apples and oranges, so Weblog went to the Chronicle's website to see what it had to say about TBN. Search results for "Trinity Broadcasting" returned six results:
One was simply a 1998 list of the 400 largest charities. Another list said that TBN, along with 17 other religious groups provided salary information to the Chronicle even though it did not have to file IRS Form 990. Another noted that TBN saw a 108.3 percent increase in funds raised via the Internet from 2000 to 2001. But two were "Watchdog Watch" articles noting that TBN had failed to report its finances to the Better Business Bureau, and the sixth article detailed a huge jump in Paul Crouch's salary, from $159,500 in 1997 to $262,915 in 1998.
There are some interesting details in the TBN press release. For one, it says the Los Angeles Times has been working on the article detailing the network's finances for more than three years. TBN says this is a sign of a "determined attack," but one wonders if it shows that the paper really did its homework rather than rush to judgment. TBN also says that the Times contacted every TBN employee via e-mail.
Then there's this interesting sentence: "What the paper neglected to include is that the finance/business reporter for the LA Times, E. Scott Reckard, after an exhaustive review of TBN's financial material and annual tax returns, commented that TBN ran a tight ship."
It's unclear what TBN's source for this statement is, but one hopes we'll soon hear from Reckard, who has reported other religion-and-finance stories.
One of the most troubling accusations in the press release, however, is TBN's assertion that the Times is motivated by anti-religious bias. "The press at times refuses to understand, respect or appreciate religious issues, particularly Christian inspirational television," the release says. "The newspaper publisher has its own agenda. Its reporting has been selective and subjective. TBN and Dr. Crouch's reason for being over the last 30-plus years has been completely public, and for the most part recorded. It is to the entirety of that work, and the fulfillment of the call to preach the gospel of Jesus Christ, to which Trinity Broadcasting Network and its founders remain loyal."
In fact, the Times was anything but anti-religious in its coverage. The critics quoted in the series so far have either been former staff, former donors, or Christian watchdog organizations like Wall Watchers and the Trinity Foundation. And questions of stewardship are anything but un-Christian: the New Testament repeatedly warns Christians to be on guard against church leaders who seek riches or who get wealthy at others' expense.
The Times has not yet responded to the TBN press release, but its content and length all but assure that the newspaper's series will continue. Barry Bowen of ChristianHeadlines.com says the next step in the story may be tax-related: He notes that the IRS last month announced that it is cracking down on excessive compensation for leaders of tax-exempt organizations.
More articles
Church & state:
ACLU loses bid to bar newspaper from publishing man's name | U.S. District Judge Richard Kopf said there was no proof that putting the restraint on the Omaha World-Herald was appropriate (Associated Press)
Strip this bill | Whether the pledge violates the First Amendment's separation of church from state is a legal question. Congress has no business obstructing the courts from answering it (Editorial, The Washington Post)
The Pledge Protection Act | The lunacy of letting only state courts interpret the First Amendment (Marci Hamilton, FindLaw.com)
Does US law mute voices of churches? | More than 130 members of the US House of Representatives want to amend the law that prohibits partisan activity - such as political rallies, fundraisers, distribution of political literature, and direct endorsements from the pulpit - by pastors and houses of worship (The Christian Science Monitor)
The world has bigger problems than L.A.'s wisely eliminated cross | The wise decision of the Los Angeles County Board of Supervisors to change the seal and avoid costly litigation that the county would certainly lose is proof that, on this issue, the Supervisors acted with common sense, intelligence and an understanding of the law (Gerald Plessner, Pasadena Star News, Ca.)
Some Christians complain, but the government leaves Halloween alone | Roanoke recently decided that even though Halloween falls on a Sunday this year, it will celebrate Halloween on Halloween, rather than on Saturday, Oct. 30 (Brian Gottstein, The Roanoke Times, Va.)
Ward prayer group told not to meet | A controversy over an LDS prayer group in Orem is brewing. A college ward who would meet at an apartment complex has been told you can't pray here (KSL, Salt Lake City, Ut.)
Religion & politics:
Clerics: Entrant deaths must halt | The United States' immigration policy is broken and needs to be overhauled to prevent the deaths of illegal entrants crossing Arizona's deserts, Tucson religious leaders told a Homeland Security official Monday (Arizona Daily Star)
Church draws world's eyes with activism | Pastor Jerry Johnston said he was not surprised by the international attention from the press (The Johnson County Sun, Mo.)
Keyes: Jobs not as important as morals | "You're fooling yourself if you think you're going to get economic things right and poverty right and all of this right if we don't address the moral issues," Keyes said during a speech at Lincoln Christian College. "We know that's a lie" (Associated Press)
Religious leaders in hostage plea | Muslim and Christian religious leaders in the hometown of a British hostage facing death in Iraq have appealed for his captors to free him (CNN)
Who's in charge here? churches ask Kibaki | Catholic and Protestant bishops yesterday described the political situation in Kenya as "worrying" and asked President Mwai Kibaki to take control of his Government (The Nation, Kenya)
Bush & religion:
Bush's fundamentalism: the president as prophet | Bush's fusion of a religious outlook with administration policy is a striking shift in modern presidential rhetoric (David Domke and Kevin Coe, The Seattle Times)
Bush's misuse of religion is inexcusable | Since the attacks of Sept. 11 the president and his administration have converged a religious fundamentalist worldview with a political agenda — a distinctly partisan one, wrapped in the mantle of national interest but crafted by and for only those who share their outlook (David Domke, St. Paul Pioneer Press, Wash.)
Bush and the rise and rise of the right | Australia and the rest of the world should get used to the ascendency of the US right (Gregory Hywood, The Age, Melbourne, Australia)
Mugabe slams 'political God Bush' | Zimbabwe's President Robert Mugabe has accused US leader George W Bush of behaving as though he is God, with UK Prime Minister Tony Blair his prophet (BBC)
Public religion:
Report: Religion in U.S. on the decline | Institute for Jewish and Community Research found that 16 percent of respondents declined to identify with a particular faith, up from less than 10 percent in the early '90s (UPI)
Beyond belief | When will secularism be allowed in the public square? (Cathy Young, Reason)
Religion & politics in Australia:
Parties put to the Christian test | Would you like to know which parties support work for the dole, oppose euthanasia and support prayers to open Parliament? Christian lobbyists have prepared a card comparing the parties on 26 moral issues. (The Age, Melbourne, Australia)
Jensen warns of spiritual vacuum | The head of the Sydney Anglican Church has called on the nation's political leaders to shape election policies for a second generation of Australians lost to God (The Sydney Morning Herald)
More violence in Nigeria:
Militants attack Nigerian police stations | Islamic militants fighting to create a Taliban-style state in northern Nigeria launched their first attacks since January, assaulting two police stations in the northeast and killing six people, police said Wednesday (Associated Press)
Nigeria police hunt 'Taleban' | Police and military in Nigeria's north-eastern Borno State are hunting armed Islamic militants who killed seven people early on Monday (BBC)
Sudan:
Nigeria leader: Troops ready to help Sudan | The African Union can quickly mobilize up to 5,000 troops to help end the looting and killing in western Sudan, but it needs hundreds of millions of dollars to deploy the force and so far it's received just $20 million, says Nigerian President Olusegun Obasanjo (Associated Press)
Speak easy | U.S. politicians are congratulating themselves for using the word "genocide" to describe Darfur. But saying "genocide" and doing nothing may be worse than saying nothing at all (Marisa Katz, The New Republic)
Religious freedom:
Saudi Arabia's religious hatred | Saudi oil fuels the world, but the enemy we are fighting is fueled by the feverish religious bigotry that is Saudi Arabia's other leading export (Jeff Jacoby, The Boston Globe)
Fighting anti-Semitism with faith | Europe's Christian heritage is its deepest source of tolerance (Joseph Loconte, National Review Online)
Anglican Communion:
St. James secession nets lord's judgment | Retired Archbishop of Canterbury urges Episcopal bishop not to take issues of church ownership to court (Daily Pilot, Newport Beach, Ca.)
Damage control in the Episcopal Church | At what point does diversity become incoherence? After all, what is usually called heresy is not simply a "divergent opinion" that can readily be tolerated. (David C. Steinmetz, The Orlando Sentinel)
Discard old preaching—Orombi | Anglican Archbishop Luke Orombi has advised priests to read widely, listen to media reports and surf the internet to be able to relate their preaching to modern developments (The Monitor, Uganda)
Gay bishop sparks battle in L.A. | Instead of saving souls, these days worshippers and staff are worried about saving St. James Church from a lawsuit by the Episcopal Diocese of Los Angeles (Fox News)
Michelangelo fresco restoration:
Michelangelo frescoes to be restored | Michelangelo's two last great frescoes are to be restored, the Vatican announced yesterday (The Telegraph, London)
Vatican wants £2m to restore Michelangelo's last frescos | The frescos - the Crucifixion of St Peter and the Conversion of St Paul - are faded after being exposed to dust and soot over centuries of candlelit prayer in the Pauline chapel, close to the better-known Sistine chapel (The Guardian, London)
Michelangelo's hidden frescoes go on show | The Vatican is to restore and display Michelangelo's neglected last frescoes, hidden from public view for 450 years in a private papal chapel next to the Sistine Chapel (The Times, London)
Pagans & psychics:
Couple tie the knot - literally - in underground temple | Pagan wedding is the first such ceremony to be authorised since the repeal of the Witchcraft Act in 1951 (The Guardian, London)
Is there anybody out there? No, actually | Scientists have proved that mediums base their tales on nothing more than guesses (The Times, London)
Tests proves that accurate mediums are hard to reach | Scientists tested the powers of mediums who claim to receive messages from beyond the grave in controlled experimental conditions (The Guardian, London)
Why we want to believe psychics | Speaking with a long-departed loved one may be the result of fear or suggestion rather than genuine spirit contact, research suggests (BBC)
Frauds who dealt in cheesecloth and charm | Mediums have had many famous clients and supporters, including politicians, war leaders and medical men as well as poets and authors (The Times, London)
Medium well | Why fortune-tellers know (almost) everything about you (Editorial, The Times)
Christian retail:
Christian bookstores fighting to preserve their niche | Market share steadily shifting in favor of secular retailers (Knoxville News Sentinel, Tenn.)
Singing a Christian tune | Knoxville quietly making mark on music scene (Knoxville News Sentinel, Tenn.)
Christian businesses hope their faith draws customers | Biblical names offer way to share word but may turn off nonbelievers (Knoxville News Sentinel, Tenn.)
Childhood play turns into career in broadcasting, music, motivational speaking | Hallerin Hilton Hill has a television show, two radio shows and, soon, a second book (Knoxville News Sentinel, Tenn.)
Books:
When the jailhouse rocked | Reviews of three new Johnny Cash books (The Washington Post)
Facts and values at odds | An interview with Nancy Pearcey, author of Total Truth: Liberating Christianity from Its Cultural Captivity (The Washington Times)
Dinner with greats | Imagine sitting with Sigmund Freud and C. S. Lewis (Steve Beard, National Review Online)
Catholic Church:
Stuart priest investigated for alleged misuse of parish money | Before donations were tallied each week at St. Joseph Catholic Church, $500 in cash was diverted into a "gray box" controlled by the church's former pastor, a state investigation found (The Stuart News, Fla.)
Let's make a deal: Catholic conscience and compromise | Two September anniversaries give us plenty to think about, this year and every year (Archbishop Charles Chaput, Denver Catholic Register)
God's will must override the dictates of feminism | Ultimately, what is at stake is God's ability to communicate with us and the goodness of his will (Claire Smith, The Sydney Morning Herald)
Abuse:
Church filing worries abuse victims | In spite of the apologies, sexual-abuse victims say the Catholic Diocese of Tucson still sees them as adversaries bent on ruining the church (The Arizona Republic)
Infuriated priest denies sex claims, blasts settlement | An angry Catholic priest accused of sexually abusing four youths decades ago crashed their lawyer's news conference on Wednesday -- and came this close to fisticuffs with the brother of an alleged victim (The Miami Herald)
Priest crashes family's press conference (WPLG, video)
Clergy abuse mediation effort launched | Program set up by ex-judge to focus on services for victims (Times Union, Albany, N.Y.)
Abortion:
Doctors may be tried over late abortion | Police investigating the case of a woman whose baby was diagnosed with a cleft lip and palate and aborted beyond the 24-week limit for legal terminations have sent evidence to the Crown Prosecution Service (The Telegraph, London)
The womb as photo studio | Ultrasound images from the womb are increasingly being made not for medical purposes but by companies offering expectant parents a sort of prebirth viewing (The New York Times)
More articles of interest:
It takes a worried man | The political becomes the personal for Christian alt-country guitar hero Buddy Miller (Village Voice)
The sanctity, the piety, the kids | Why do children seem to save some of their most outrageous behavior for the most conservative places? Like, say, church (Anne Louise, The News-Press, Glendale, Ca.)
Italian woman killed by falling crucifix | Maddalena Camillo, 72, was walking in the main square in the village of Sant'Onofrio when the 7-foot-tall metal crucifix toppled from a monument being restored for a religious celebration, police said (Associated Press)
Related Elsewhere:
Suggest links and stories by sending e-mail to weblog@christianitytoday.com
Check out Books & Culture's weekly weblog, Content & Context.
See our past Weblog updates:
September 22 | 21 | 20
September 17 | 16 | 15 | 13
September 10 | 9 | 8 | 7
September 3 | 2 | 1 | August 31 | 30
August 27 | 26 | 24 | 23
August 20 | 19 | 18 | 17 | 16
and more, back to November 1999
Weblog
Launched in 1999, Christianity Today's Weblog was not just one of the first religion-oriented weblogs, but one of the first published by a media organization. (Hence its rather bland title.) Mostly compiled by then-online editor Ted Olsen, Weblog rounded up religion news and opinion pieces from publications around the world. As Christianity Today's website grew, it launched other blogs. Olsen took on management responsibilities, and the Weblog feature as such was mothballed. But CT's efforts to round up important news and opinion from around the web continues, especially on our Gleanings feature.
Ted Olsen is Christianity Today's executive editor. He wrote the magazine's Weblog—a collection of news and opinion articles from mainstream news sources around the world—from 1999 to 2006. In 2004, the magazine launched Weblog in Print, which looks for unexpected connections and trends in articles appearing in the mainstream press. The column was later renamed "Tidings" and ran until 2007.
Previous Weblog Columns: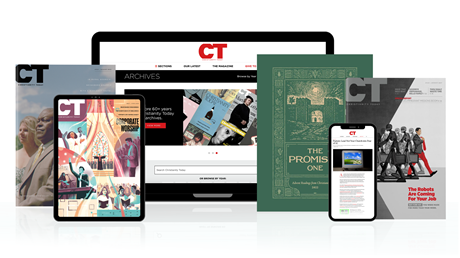 Annual & Monthly subscriptions available.
Print & Digital Issues of CT magazine
Complete access to every article on ChristianityToday.com
Unlimited access to 65+ years of CT's online archives
Member-only special issues
Subscribe
Florida Supreme Court Strikes Down 'Terri's Law'
Florida Supreme Court Strikes Down 'Terri's Law'