Norway's Minister of Culture and Church Affairs criticizes church prayers for soccer
Earlier this week, Lars Sperre, pastor of Trondheim, Norway's Tempe Church, told the national television network that he's praying for Rosenborg Trondheim, the soccer team that plays near his church. The team has dominated the league in recent years, with 11 straight titles. Now an Oslo team appears set to dethrone it.
"I have noticed that Rosenborg is struggling in the elite division and all who struggle need prayer," Sperre said. Besides, he added, when Rosenborg loses, his parishioners become very depressed, so why not petition God on such a matter?
Sperre may have been kidding, but his comments have elicited reaction from players, fans, theologians, fellow churchmen, and now even the government. (In Norway, those aren't necessarily separate categories: The Lutheran Church is the state church, and is officially headed by the Norwegian king.)
"First, football matches don't mean that much, second, then one has to pray that things go badly for the opposing team," Rosenborg player Fredrik Winsnes, a former missionary, said. The team's assistant trainer was even more critical: "I don't think God accepts such thoughts and attitudes."
More critical still is theology professor Jacob Jervell, who said, "Praying that your team will win is nearly blasphemy."
Even the government's Minister of Culture and Church Affairs has weighed in. Praying for soccer is "too banal," she told the newspaper Dagsavisen. "I don't want to meddle with what people pray for in private, but I think this is a bit flippant in regards to prayer in church." (That's according to the Oslo paper Aftenposten. A television station had a slightly different translation, calling it "absurd" instead of "banal" and "a little too much of a joke" instead of "flippant.")
Prime Minister Kjell Magne Bondevik is keeping his mouth shut. Perhaps it's too bad: He's a born-again Christian and former Lutheran pastor.
But is it really so bad to pray for victory? That's also the topic of conversation on a GetReligion thread about reality television—specifically, The Amazing Race (by far Weblog's favorite television show). One of the final teams was dating couple Brandon Davidson and Nicole O'Brien, who were outspoken in their faith and regularly prayed for help. Were these Christian models model Christians?
"Set aside for a moment the ethical dilemma of whether Christians should busy themselves as contestants on these shows," writes Doug LeBlanc. "Have they really convinced themselves that God is concerned about who will triumph in these competitions?"
"Why wouldn't God be interested in the outcome of The Amazing Race?" Mark Dirk responds. "Isn't his eye on the sparrow?"
The thread goes on from there. By the way (SPOILER ALERT), Brandon and Nicole lost. But the show's other vocally Christian team won.
Focus on the Family explicitly supports candidate
Speaking of reality television shows, Focus on the Family is taking action to support one show's contestant: American Candidate's Park Gillespie. Last week, Focus's CitizenLink news site interviewed the "unapologetic born-again Christian." Yesterday, Focus sent an e-mail message to supporters urging them to vote for the candidate:
Gillespie is representing the pro-life, pro-family positions we fight for every day passionately and winsomely. He considers it a miracle that he's gotten this far — into the final three — given the producers' liberal agenda. But he faces elimination this Sunday if he doesn't get a sufficient number of toll-free phone-in votes.
That's where you can come in — even if you don't have Showtime. The phone number to call to show your support for him will be posted on Gillespie's Web site … and will be available through a recorded message he has set up … at about 10 p.m. EDT Sunday.
Only one vote per phone will be counted, so if you believe in Gillespie's message and witness, you can copy this note and e-mail it to your friends and family so that they can vote, too.
As far as Weblog knows, it's the first time that Focus on the Family as an organization has explicitly urged its membership to support a presidential candidate. Good thing Gillespie isn't running for the actual Oval Office, or it might be an IRS violation.
(By the way, Weblog promised yesterday to round up prolife reactions to the Florida Supreme Court decision on Terri Schiavo. But Focus's CitizenLink has already done a good job of this, so just read its article if you're interested.)
More articles
Terri's Law decision:
Feed-tube law is struck down in Florida case | The court said that Gov. Jeb Bush violated separation of powers when he signed a law to keep Theresa Schiavo alive (The New York Times)
Florida Supreme Court strikes down 'Terri's Law' (Los Angeles Times)
Abortion:
Judge blocks law about RU-486 | Judge Susan Dlott granted a preliminary injunction that forbids the state from enforcing the law. There's a good chance it is unconstitutional, she wrote, because it doesn't provide any exceptions to protect the health of the mother (The Cincinnati Post)
Federal judge halts Ohio abortion pill law | A federal judge issued a temporary injunction Wednesday barring Ohio from enforcing legislation that would restrict access to the abortion pill RU-486 (Associated Press)
House votes to take "under God" from courts:
House votes to protect pledge from courts | The bill, approved on a 247-173 vote Thursday, would prevent federal courts, including the Supreme Court, from ruling on whether the words "under God" should be stricken from the pledge (Associated Press)
House restricts rulings on Pledge | The Republican-led House yesterday passed a bill to preclude the federal courts from hearing cases on the constitutionality of the inclusion of the words "under God" in the Pledge of Allegiance (The Washington Times)
House passes court limits on Pledge | By a vote of 247 to 173, the House adopted the measure, which its Republican authors said would prevent federal judges from striking the clause "under God" from the pledge as it is recited in classrooms, as well as at the opening of every Congressional day (The New York Times)
Church & state:
City asks religious leaders to help house homeless | Mayor Daley is turning to houses of worship for help in his 10-year plan to end homelessness in Chicago, asking churches, synagogues, and mosques to support homeless families by committing to pay their rent for at least a year (Chicago Sun-Times)
Group wants cross removed | A Wisconsin-based advocacy group is asking the Heritage Hjemkomst Center to remove a Celtic cross displayed on its grounds (The Forum, Fargo, N.D.)
Christianity cannot be legalized, says activist | Making Fiji a Christian State and aborting liberal democracy is a mischievous notion, former Methodist Church in Fiji president Reverend Josateki Koroi says (Fiji Times)
Devout farmer uses barn to bear witness to God's laws | Hundreds of cars travel Route 542 each day, and the drivers never see the Ten Commandments painted on the barn only 500 feet away (The Canton Repository, Oh.)
New state law protects tax status of churches | A new state law signed Wednesday protects churches' tax-exempt status when they rent parking lot space for public transportation (Daily Herald, Chicago suburbs)
Religion & politics:
Republicans admit mailing campaign literature saying liberals will ban the Bible | It said the mailings were part of its effort to mobilize religious voters for President Bush (The New York Times)
Ballots and believers | To get church-goers to vote may require more than prayer (John H. Fund, The Wall Street Journal)
Pulpit politicking urges social awareness | Church preachings are unlikely to sway voters (Barney Zwartz, The Age, Melbourne, Australia)
Same-sex marriage:
Same-sex ban stays on ballot | Oklahoma Supreme Court declines to assume jurisdiction (The Oklahoman)
What is a marriage? | Oregon is one of 11 states that will weigh in on "defense of marriage" amendments on Election Day - but the only state where opponents are given much chance of turning back the proposal (The Register-Guard, Eugene, Ore.)
Religion news in brief | Methodist and Presbyterian battles on gay ministers take new twist, Episcopal Church's leader urges patience, Arkansas church again enters political pulpit controversy, and other stores (Associated Press)
California's stem-cell initiative:
Both gambling measures failing | But voters favor funding stem cell research and requiring businesses to pay for health coverage (Los Angeles Times)
Stem cell supporters launch ad campaign | The four different ads in support of the proposition, called the California Stem Cell Research and Cures Initiative, suggest that the research is likely to provide profound medical breakthroughs, a contention that some scientists say is not yet clear (Los Angeles Times)
Religious freedom:
Discrimination against white male found | An English professor at the University of North Carolina illegally subjected a student to "intentional discrimination and harassment" because he was "a white, heterosexual Christian male" who expressed disapproval of homosexuality, the U.S. Education Department's Office of Civil Rights has ruled (The Washington Times)
Bosses get wakeup call on employee human rights | More religious diversity, workers with disabilities and an aging population mean employers have to learn to better accommodate all their staff (Stephen Hammond, The Globe and Mail, Toronto)
Anglican Israel divestment:
Some Anglicans suggest Israel divestment | Some Anglican leaders are recommending that the church withdraw investments from Israel to pressure the country to ease the "draconian conditions" imposed on the Palestinians, a church official said Thursday (Associated Press)
Anglican delegation to recommend divestment | Leading members of the Anglican church will recommend that their decision-making body adopt an anti-Israel divestment policy similar to the one the Presbyterian church passed earlier this summer (Haaretz, Tel Aviv)
IRD to release report documenting imbalance in mainline church human rights advocacy | Over one-third of criticisms aimed at Israel; None at China, North Korea, Saudi Arabia (Institute on Religion and Democracy)
Anglican group calls for Israel sanctions | Campaigners inspired by boycott of apartheid South Africa (The Guardian, London)
BBC drops Pope cartoon:
BBC scraps Pope cartoon under pressure | The British Broadcasting Corp. has scrapped a cartoon featuring Pope John Paul II on a pogo stick, following a wave of protests by Roman Catholics (Associated Press)
BBC drops pogoing Pope series after complaints (Reuters)
BBC pulls controversial Popetown | BBC Three has decided not to show a cartoon set in a fictional Vatican over concerns it would offend Catholics (BBC)
BBC drops 'offensive' Pope on pogo stick | The BBC has scrapped a cartoon poking fun at the Pope following an outcry among Roman Catholics, it said yesterday (The Telegraph, London)
BBC drops controversial Pope cartoon | The 10-part satire apparently featured an infantile Pope voiced by the comedian Ruby Wax, bouncing around the Vatican on a pogostick (The Guardian, London)
Catholicism:
Religion Today: "Archbishop Sean," one year later | Whether it's deserved or not, some Boston-area Roman Catholics now are calling O'Malley "The Iceman" as he pushes ahead with plans to close almost a quarter of the parishes in the nation's fourth-largest archdiocese (Associated Press)
Planners urge quick action on church property | Call for strategy on development (The Boston Globe)
Many are called to be secular servants | Catholics are living out the spirit of a religious order without taking vows of chastity, poverty and obedience (Chicago Tribune)
Pastor won't step down | A Roman Catholic priest has refused a demand from Cardinal Edward Egan to leave his church, setting in motion a rarely used procedure outlined in canon law for removing a pastor (The Journal News, White Plains, N.Y.)
Bishops at a turning point | The bishops' meeting in Denver may be, just possibly, a turning point in how the bishops deliberate and decide, and how they define their fraternal responsibilities to one another and to the body (Richard John Neuhaus, First Things)
Abuse:
'Code of silence' among priests shields abusers | Hundreds of clergy victims as children, many experts believe (Seattle Post-Intelligencer)
Media, Bridgeport diocese debate abuse documents | The media's battle to gain access to reams of court documents in the Bridgeport priest sex abuse lawsuits was waged Wednesday before the state Supreme Court, where a lawyer for the diocese described the odd procedural history of the case as "unrecognizable." (Associated Press)
Newspapers to state high court: Release church abuse records | Media attorneys urge Connecticut justices to grant access to sealed documents that detail allegations against priests in Roman Catholic Diocese of Bridgeport (Associated Press)
Mahony, counsel lament abuse victims' suffering | Some cases 'break your heart,' says the church's attorney. Legal battles over priest files remain (Los Angeles Times)
Church can't join suit to fight abuse law | A federal judge rejected a plea Thursday by the Los Angeles Archdiocese to join a constitutional challenge to the state law allowing hundreds of people to sue the Roman Catholic Church for decades-old child molestation (Los Angeles Times)
Crime:
A monstrous petty theft | In the middle of a Wednesday afternoon, some cowardly jackal stalked an old nun, followed her from one aisle to the next, grabbed her bag, and fled (Brian McGrory, The Boston Globe)
Prayer can reduce crime - top policeman | Assistant Chief Constable Simon Taylor says divine intervention can actually reduce crime, heal relationships and help bring broken communities back together (Eastern Daily Press, Norfolk, England)
Sexual ethics:
If I knew then | It is nothing short of grotesque to advise people against a simple, inexpensive device, easy to use and effective, lest somehow we offend those whose concept of God is of One who would rather that His (or Her) human creations die or sicken miserably than permit the use of a condom (David Brudnoy, The Boston Globe)
The president's blind eye | Underneath the surface, Bush's 1950s vision of a sexless world is no laughing matter. It is a deadly one (Derrick Z. Jackson, The Boston Globe)
Primary school sex teaching is pornographic, says Church | Roman Catholic Church, which recently condemned the Scottish Executive's plans for a new approach to sex education, expressed concern that books and videos recommended for use in primary schools showed childbirth and couples having sex (The Telegraph, London)
Theology:
Absolute right and wrong not the real world | Rigid moral codes work perfectly in theory. In practice, they often fail to serve the greatest good (Steve Gushee, Palm Beach Post)
Christians have been creating own likeness of Jesus | Unlike other faiths, which discourage the creation of likenesses of God, Christians have long puzzled over the appearance of their savior (The Fayetteville Observer, N.C.)
Books:
'Code' breakers search Paris for fictional facts | Few who take the various "Da Vinci Code" tours of Paris these days can fail to spot that the book blends fact with fiction (The Christian Science Monitor)
Bible understood differently in two new Quran translations | English-speaking Muslims, and non-Muslims who want to explore Islam's holy book, can cheer the arrival of two worthy translations. They differ, however, on passages about the Bible (Associated Press)
Film, theater, & television:
Pop culture slowly moves into the pew | What struck me most about the new movie "Woman, Thou Art Loosed" -- which, in the tradition of a certain type of black theater, is broad, frank and accessible -- is its setting (Donna Britt, The Washington Post)
Now I'm a believer | When rising British star Paddy Considine heard he had to play a born-again Christian, he signed up for an Alpha course as research - and found God (The Guardian, London)
Play shines compelling light on Catholic angst | Gay marriage sparks incisive look at church (The Denver Post)
'The God Gene' | A geneticist searches for the roots of human spirituality (Good Morning America, ABC, video)
Music:
Rap gets religion, but is it gospel? | It seemed at long last that commercial rap had finally come to Jesus (The Washington Post)
An alarm clock for the soul | Switchfoot wants to connect with audience on a spiritual level (Asbury Park Press, N.J.)
People:
Mourners gather in Ga. for slain hostage | Christian and Muslim religious leaders offer condolences to the family of Jack Hensley (Associated Press)
Sinead O'Connor pleads for privacy -- in an ad | The shaven-headed star, who said last year she was retiring from the music business, was responding to an article written earlier this week about her "latest wacky" campaign to rid the country of head lice (Reuters)
At long last love | Episcopal pastor, Habitat executive to tie knot (Rocky Mountain News, Denver)
Who says Christians aren't funny? | If God has a sense of humor, He's got a lot more to laugh at now (The Christian Science Monitor)
Church life:
Liberals 'rescued' from evangelical diocese | Evangelical Anglicans in Brazil claim they are being pressurised by the country's liberal primate and bishops (The Church of England Newspaper)
The Cloisters' Cross | A Suffolk cathedral has defended its decision to bring back a copy of an medieval relic which some believe to be anti-semitic (BBC, audio)
Church casts a wide net | First Baptist adds Christian message to hunting and fishing event (The State, Columbia, S.C.)
Female pastor leads to controversy among Georgia Baptists | Women have long been a rarity among Southern Baptist clergy and the 2000 revision of the Baptist Faith & Message, the denomination's chief doctrinal statement, took a hard line on female pastors (Associated Press)
Homeschooling:
Practicing faith and football | Christian boys who are home-schooled get a chance to experience a high school ritual. Some start with little more than enthusiasm (Los Angeles Times)
Homeschooling ambush | Under the guise of preparing students for a violent terrorist attack, educators in one public school district are casting homeschoolers as bomb-detonating militants. (Michelle Malkin, The Washington Times)
Other articles of interest:
God is my co-author | The World Journalism Institute wants to save our newsrooms, one reporter at a time (Columbia Journalism Review)
African Union to send troops in bid to curb Sudan violence | Nigeria's president, Olusegun Obasanjo, said Thursday that the African Union, of which he is the chairman, had decided to send thousands of troops and monitors to help curb the violence in the Darfur region of Sudan (The New York Times)
Related Elsewhere:
Suggest links and stories by sending e-mail to weblog@christianitytoday.com
Check out Books & Culture's weekly weblog, Content & Context.
See our past Weblog updates:
September 23 | 22 | 21 | 20
September 17 | 16 | 15 | 13
September 10 | 9 | 8 | 7
September 3 | 2 | 1 | August 31 | 30
August 27 | 26 | 24 | 23
August 20 | 19 | 18 | 17 | 16
and more, back to November 1999
Weblog
Launched in 1999, Christianity Today's Weblog was not just one of the first religion-oriented weblogs, but one of the first published by a media organization. (Hence its rather bland title.) Mostly compiled by then-online editor Ted Olsen, Weblog rounded up religion news and opinion pieces from publications around the world. As Christianity Today's website grew, it launched other blogs. Olsen took on management responsibilities, and the Weblog feature as such was mothballed. But CT's efforts to round up important news and opinion from around the web continues, especially on our Gleanings feature.
Ted Olsen is Christianity Today's executive editor. He wrote the magazine's Weblog—a collection of news and opinion articles from mainstream news sources around the world—from 1999 to 2006. In 2004, the magazine launched Weblog in Print, which looks for unexpected connections and trends in articles appearing in the mainstream press. The column was later renamed "Tidings" and ran until 2007.
Previous Weblog Columns: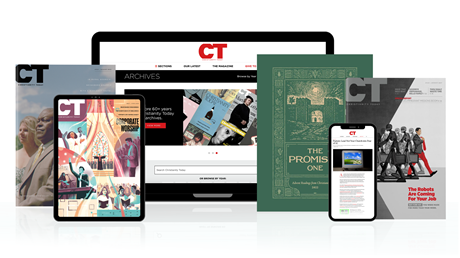 Annual & Monthly subscriptions available.
Print & Digital Issues of CT magazine
Complete access to every article on ChristianityToday.com
Unlimited access to 65+ years of CT's online archives
Member-only special issues
Subscribe
Norway Aflutter Over Soccer Prayers
Norway Aflutter Over Soccer Prayers